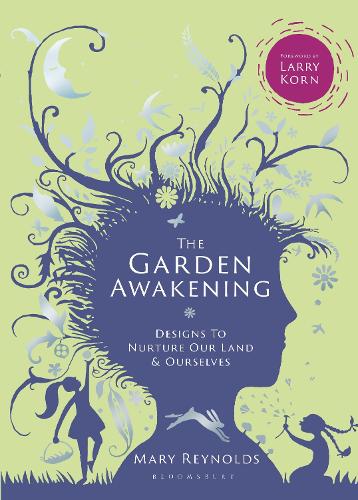 The Garden Awakening: Designs to Nurture Our Land and Ourselves (Hardback)
Mary Reynolds
(author)
Hardback
272

Pages / Published: 31/03/2016
Drawing inspiration from forest gardening and permaculture traditions, the award-winning garden designer Mary Reynolds encourages us to create a bond with the land to restore its health and feel its energy. She demonstrates how to create a magical garden that is an expanding, living, interconnected ecosystem. The Garden Awakening is thus a garden design book with a difference, where Mary encourages us to look at the land the way a parent looks at a child - as a gift and a responsibility.
Mary shows how using an integrated living system in the garden removes the need for the incessant war on nature. She explains how to design a balanced ecosystem in the garden using the ancient multi-tiered approach of forest gardening, a system based on observing and mimicking nature. This design approach allows ecosystems to be whole and in balance while providing a place for human beings to live happy and productive lives.
This beautifully illustrated book is both art and inspiration for any garden lover seeking to create a positive and natural space. It combines practical step-by-step instructions with spiritual, ancient Celtic stories to help you awaken any garden space, nurturing it to benefit both the land and the people in it.
To transform a garden into a beautiful, wild area that embraces the spiritual side of nature, Mary suggests elements that should guide our design. She describes these elements in a winning manner and in detail, explaining the importance of communicating with the land and working with it, rather than bending it to the gardener's will.
Her advice is to introduce patterns, shapes and symbols of nature like circles and spirals and selecting areas for rest and meditation as part of the design.
After restoring its wellness and forming an alliance with the land and listening to its needs, she suggests first planting a shelterbelt (hedgerows, trees and tall shrubs) to protect from exposure.
Then Mary shows how to bring the plan to life by planting the seven layers of a forest garden:
Upper Canopy TreesSub-canopy treesShrubsHerbaceous plantsGround coverUnderground plantsClimbers and vines
The Garden Awakening includes detailed lists of plants for the different forest garden layers, with information on preferred soil type, height, spread, fruiting time, and much more. There are tips on pest and slug control and natural remedies for the treatment of leaf blight, scab, mosaic disease and other garden problems.
Mary's activism and support for a gentler approach to gardening is the subject of the movie 'Dare to be Wild', It is a romantic story of the local girl made good and plots the acceptance of her wild gardening principles by the garden design establishment.
The Garden Awakening leaves us in no doubt that we need to nurture and protect our soil by allowing it to be a bit wild. It gives us the knowledge to do just that.
Publisher: Green Books
ISBN: 9780857843135
Number of pages: 272
Weight: 820 g
Dimensions: 234 x 168 x 29 mm
---
MEDIA REVIEWS
This is a fantastic book that you've written. I absolutely love it in the way that you capture the spirituality of the land and the magic of nature.
I hope that many, many people will read your book and get a better sense of being in tune with nature in their gardens as a result, and follow some of your tips for making the place more beautiful and wonderful and more of a sense of home. I really hope your book is very very successful.
-- Jane Goodall XXX need affiliation
The Garden Awakening re-awakens sweet memories of my childhood and a love for nature. Mary Reynolds book is like an inspirational 'clarion call' to all of us humans to reconnect again with nature, where many of us are caught and suffocate in a pressurized, exploitative, dysfunctional concrete jungle. She shows us how to physically and cognitively engage in gardening, where actively planting, growing maintaining and harvesting food can be carried out as a part of natural habitats holistic ecosystem. She communicates this simple and earthy message in a compelling but unobtrusive way, where gardening and landscaping can heal and restore nature, while simultaneously bearing fruit and nurturing a life sustaining enjoyable, relaxing, de-stressing, yet essential part of our everyday lives. These instinctive traits are rekindled naturally in us, as they are genetically ingrained in the cognitive development of DNA of homo sapiens, as we slowly evolved over millions of years as hunter gatherers and as early soil sowers and cultivators. Mary generously articulates and shares with us, her compelling persuasive twenty years of experience in creative gardening and landscape designs. She opens our world to a natural way of growing food by holistically working in harmony and in balance with nature's bio-diverse ecosystems.

-- Duncan Stewart - Irish eco-architect, environmentalist & TV presenter
A new manifesto for working with nature, The Awakening Garden seeks to re-establish our vital link with the world they live in. Mary Reynolds knows there is more, much more, to the outdoors than pretty gardens and her new book sets to show how you can unlock nature's secrets by immersion in what's around you.
-- Jim Carroll - Journalist, Writer, Broadcaster
Mary Reynolds, the ambassador for the elemental kingdom and a guide to those of us seeking to come home to ourselves through re-connecting with Mother Earth. Gifted with the Irish heritage of great story-telling, Mary weaves a fine tapestry of stories instilled with ancient druidic wisdom, which she offers helpful practical ways of applying in the modern world. Garden Awakening is a truly wonderful and highly inspiring read.
-- Marketa Irglova - Grammy and Oscar winning singer songwriter/Actor
Mary Reynolds weaves a wonderful tapestry in which the garden is not only a resilient, productive and healthy space that provides food, it is also a magical place of beauty, peace and inner nurture. She shows you step by step how to design that special place both practically and spiritually so that you can co-create your little patch of heaven.
-- Maddy Harland - Editor, Director, Co-Founder Permaculture Magazine | Permanent Publications
We know truth when we hear it, we know it when we see it, those who still have some contact with their soul and the soul of the earth. Mary Reynolds has been appointed a guide, something she possibly didn't ask for, but that's been bestowed upon her capable shoulders. She has a punk-like reluctance in her writing that I believe. She's really onto something, we must nurture the wildness within us, and see the beauty in the wildness without.
She connects back to a deep past, to a timeless growth and regrowth, to the natural, to the voices moving in the land, to a church not made by hands.
-- Glen Hansard - Grammy and Oscar winning singer songwriter/Actor
Mary Reynolds is not really a garden designer: at least not in the same way that the rest of us are garden designers. She is a custodian of the earth, a creature of the forest and, above all, a creative spirit whose work is so deeply anchored to the earth that her gardens are always a partnership rather than an imposition. In this book she explains her philosophy, her life and her dreams. You need to listen to her voice as what she says makes perfect sense.
-- James Alexander-Sinclair - RHS judge and council member, chairman of the RHS Gardens Committee, internationally acclaimed garden designer, writer, speaker and television presenter
The Garden Awakening has woken me up. Beautifully written with a message that will open your eyes to a whole new outside world. A revelation. Mary Reynolds preaches harmony. You will be a convert.
-- Eoin Colfer - Internationally acclaimed Author
'The Garden Awakening' offers a treasury of insight and advice for anyone who feels that our culture's relationship to land has profoundly lost its way and is seeking new inspiration. Her skilful drawing together of history and beauty, her acute appreciation of place, and her belief in taking nature as the model for how we design, together offer us something that feels deeply right and utterly timely. You will enjoy your sun-dappled walk through the scented glades of its pages, the weaving paths, soft underfoot, of its reasoning, and vibrant and delicate sprays of inspiration and ideas it leaves you with. Read it, then go plant a paradise.
-- Rob Hopkins - Founder of the Transition movement and author of 'The Power of Just Doing Stuff'
If the land has ever spoken to you, through the song of a bird, the creaking of a bough, or in the glimmering light of faerie dance, you have entered this story. Mary Reynolds here gives charming and practical expression to that wild, free, and joyful voice which beckons us all. Garnering insight from permaculture, biodynamics, and her own wonderful weird, she shows how to deepen the conversation until it becomes both profound and ecstatic. Garden Awakening reminds us that the natural but hidden connections between soil and soul are at once familiar, comfortable, and sovereign.
-- Peter Bane - Author 'The Permaculture Handbook: Garden Farming for Town and Country' www.permaculturehandbook.com
The Garden Awakening by Mary Reynolds brims with poetry and mythology and psychology and algebra and geometry and ancient symbols and dream-like parables and other unexpected things. In her hands the wounded earth becomes a living, breathing creature: it sighs and moans and remembers. We really should sit up and take notice she tells us - the earth won't forget.
-- Billy Roche - Playwright
The Garden Awakening performs the miracle of waking up and engaging someone like me with no prior interest in gardens; in fact, showing me an idea of the garden quite unlike anything I had ever imagined. This book is not only strikingly original, but lucid, inspiring and soundly practical.
-- Gillies MacKinnon - Film Director 'The Last of the Blonde Bombshells'
The Gardening Awakening by Mary Reynolds has put into words what gardeners feel they should be doing and know to be true but society doesn't encourage this way of thinking. Mary has tuned into nature and articulated it better than I have ever read before. Every gardener needs to read this book to empowered themselves to do what their heart desires.
-- Fergal Smith - Pro-surfer turned organic farmer, Moy Hill community garden, Co. Clare
We are creatures and a part of nature, not apart from it. This marvellous book is important because it has a muscular intensity rooted not in a naive romantic notion that - wouldn't it be nice if the world was this way, but instead has a sharp certain view that this is real and while elements of the interpretation have to be left, for now, to instinct... science will surely follow. I loved this book and feel that with each passing year it will become more important as the evidence we already have - that people with illness recover more quickly when in nature, that the microbial worlds that inhabit us are so closely related to those we find in the soil beneath our feet that before long the notion that we are all "earthlings" will mean something very big indeed. Everything we thought we knew about the world is about to change. We stand on the boundary of a Renaissance of science so profound that the concepts once deemed "hippy" or "alternative" will come to be seen as prescient. Mary Reynolds' book has a central truth at the heart of it. Ecosystems are complex to observe, but simple in concept and wherever humans interfere with natural balance, history proves us wrong.
- a remarkable, inspirational and admirable woman has written a book that should be essential reading for everyone interested in the real meaning of wellbeing in its widest sense and... I'd start with Ministers of Agriculture, Health and Education across the world.
-- Sir Tim Smit - Executive Vice-Chairman and Co-founder of the world famous Eden Project in Cornwall
You may also be interested in...
×
Download the Waterstones App
Would you like to proceed to the App store to download the Waterstones App?
Reserve online, pay on collection
Alternatively, for multiple items you may find it easier to
add to basket
, then pay online and collect in as little as 2 hours, subject to availability.
Thank you for your reservation
Your order is now being processed and we have sent a confirmation email to you at
When will my order be ready to collect?
Following the initial email, you will be contacted by the shop to confirm that your item is available for collection.
Call us on or send us an email at
Unfortunately there has been a problem with your order
Please try again or alternatively you can contact your chosen shop on or send us an email at