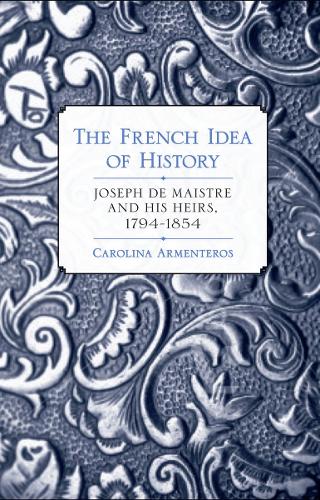 The French Idea of History: Joseph de Maistre and His Heirs, 1794-1854 (Hardback)
Carolina Armenteros
(author)
Hardback
376

Pages / Published: 07/07/2011
"A fierce absolutist, a furious theocrat . . . the champion of the hardest, narrowest, and most inflexible dogmatism . . . part learned doctor, part inquisitor, part executioner." Thus did Emile Faguet describe Joseph-Marie de Maistre (1753-1821) in his 1899 history of nineteenth-century thought. This view of the influential thinker as a reactionary has, with little variation, held sway ever since. In The French Idea of History, Carolina Armenteros recovers a very different figure, one with a far more subtle understanding of, and response to, the events of his day.
Maistre emerges from this deeply learned book as the crucial bridge between the Enlightenment and the historicized thought of the nineteenth century. Armenteros demonstrates that Maistre inaugurated a specifically French way of thinking about past, present, and future that held sway not only among conservative political theorists but also among intellectuals generally considered to belong to the left, particularly the Utopian Socialists.
Publisher: Cornell University Press
ISBN: 9780801449437
Number of pages: 376
Weight: 709 g
Dimensions: 235 x 156 x 30 mm
---
MEDIA REVIEWS
"Though Maistre neither practised the craft of history nor produced a comprehensive philosophy of history, he exercised such an influence over early nineteenth-century historical reasoning that echoes of his thought are still felt into our own time. Yet until this work, Maistre's lasting impact has rarely been acknowledged. Carolina Armenteros's book is of critical importance, and should be studied by anyone interested in issues related to the modern Christian appropriations of historical reasoning."-Kenneth L. Parker, Journal of Ecclesiastical History (July 2014)
"Carolina Armenteros's innovative and provocative study of Joseph de Maistre goes beyond previous attempts to reclaim the complexity of counterrevolutionary thinking for intellectual history. . . . Armenteros's close reading of Maistre leaves no doubt that he is closely connected to the key conceptual turn marking postrevolutionary historical thought in Europe."-David W. Bates, The Journal of Modern History (June 2014)
"The French Idea of History is valuable because it sheds a new and different light on French historical thinking, placing an unusual suspect like Maistre at the center... [It] is a challenging book, an intellectual tour de force in which an original story is told about the origin of (French) historical thinking."-Matthijs Lok, Tijdschrift voor Geschiedenis (Vol. 2, 2014)
"Carolina Armenteros has written a superb work on a writer many of us either dismissed or thought we knew well enough already."-Christopher Guyver, European History Quarterly (September 2013)
"A rich, learned, and ambitious book."-Aurelian Craiutu, History of European Ideas
"A most surprising book.... [Armenteros] writes some splendid pages that place Maistre's works in the context of such precursors and contemporaries as Madame de Stael, Nicolas-Sylvestre Bergier, and Jacques-Joseph Duguet. Equally impressive are her various discussions of the Russian context to Maistre's writing projects both great and small, especially those that show his serious engagement with questions of pedagogy."-Christopher O. Blum, Modern Age
"With impressive energy and erudition, Armenteros has overcome.... difficulties to recover Maistre's formative role in the articulation of a distinctively French idea of history."-Charles Sullivan, Common Knowledge(Spring 2013)
"One of the strengths of this book is the importance it places on Maistre's intellectualcontext. Armenteros goes to considerable lengths to describe the intellectual andhistorical backdrop against which Maistre's ideas emerged and developed. The accountshe gives is detailed and illuminating. In particular, she should be complimented for theway she shows how Maistre's famous 1819 Du pape (a work he composed when in SaintPetersburg) must be read in the context of religious and political developments in Russia,and the schism between the Eastern churches and Rome."-Michael Drolet, EnglishHistorical Review(August 2013)
"Armenteros has done major service in restoring this neglected thinker and prose stylistof the Right to his deserved place of eminence as a major influence on French politicaldiscourse of either persuasion."-Patrick Madigan, The Heythrop Journal(May 2013)
"In her.... work Carolina Armenteros shows how, paradoxically, Maistre is a majorelement of the creation of French historiography in the nineteenth century, respondingthrough his project marked by rationalism, empiricism and a commitment to humanliberty to the aporia caused by the rift between Enlightenment and Revolution."-Jean-Clement Martin, Annales historiques de la Revolution francaise
"This book represents the fullest articulation of her own distinctive position, following on from her recent spate of excellent articles. . . . Anyone interested in studying Maistre on his own terms should start with this excellent, lucid, erudite, and highly original book, but also bear in mind that the Maistre it reveals would probably have proved unrecognizable to most of his contemporaries"--Francesco Manzini, Modern Language Review (April 2014)
"Gracefully written and deeply researched, this is quite simply the most important book on Maistre to appear in some time. Yet it is far more than just an intellectual biography of a single individual: Wide-ranging and consistently insightful, Carolina Armenteros's book is a broad meditation on the paradoxes and power of the past."-Darrin M. McMahon, Ben Weider Professor of History, The Florida State University
"Armenteros marries meticulous scholarship with provocative and original arguments to produce a work that will become required reading for any scholars interested in Joseph de Maistre, counter-revolutionary thought, or nineteenth century philosophies of history."-Martin Simpson, French History (September 2012)
"The French Idea of History is a beautifully-even poetically-written book. Joseph de Maistre is unquestionably the most profound and influential representative of the theocratic school of post-French revolutionary political and social philosophers, and this book, altogether worthy of its subject, is the most profound biography of Maistre that now exists."-Dale K. Van Kley, The Ohio State University, author of The Religious Origins of the French Revolution
"Although Joseph de Maistre is widely recognized as a brilliant stylist, a master of French prose, he is also seen as an authoritarian defender of throne and altar, a zealous monarchist, and a bigoted and inflexible supporter of papal authority. His gifts as a stylist are sometimes used to discount his political theory; in Carolina Armenteros's trenchant expression, Maistre has been 'praised as a writer into oblivion as a political theorist.' In fact, argues Armenteros in this subtle, provocative, and at times stunningly original book, the traditional image of Maistre is deeply misleading. Far from being a complete reactionary seeking a return to an idealized past, Maistre was in at least some respects a moderate who recognized the necessity for political change-so long as it took place gradually, without bloodshed and within the framework of existing institutions."-Jonathan Beecher, UC Santa Cruz, author of Charles Fourier: The Visionary and His World
"With an impressively deep and extensive knowledge of her subject, Armenteros writes in a refreshingly clear and lucid style and her book contains original, thought-provoking interpretations of many of Maistre's most important and controversial works, such as Les Soirees de Saint-Petersbourg and Du pape. Armenteros has also situated these texts in their historical contexts in ways that are both revealing and often highly insightful."-Graeme Garrard, French Studies (October 2012)
"The French Idea of History is immensely rich in insights and suggestions . . . a marvelous piece of original research. What the author has achieved is to enable us to look beyond the Ultramontanist dimension of his thought which has so often led to Maistre being relegated to the sidelines of history, and to see the crucial influences of his work in later historical thinking."- Cyprian Blamires, Intellectual History Review (July 2012)
"Carolina Armenteros attempts to demonstrate in this book that Maistre was more . . . moderate than has been alleged, that he drew on some of the leading Enlightenment thinkers, and that his influence on a variety of approaches to the philosophy of history was enormous, at least until the mid-nineteenth century . . . this study, a rather old-fashioned history of ideas and of 'great' men, is well worth the attention of a broad range of intellectual, political, cultural, and religious historians."-Thomas Worcester, Canadian Journal of History (Winter 2012)
You may also be interested in...
Simply reserve online and pay at the counter when you collect. Available in shop from just two hours, subject to availability.
Thank you for your reservation
Your order is now being processed and we have sent a confirmation email to you at
When will my order be ready to collect?
Following the initial email, you will be contacted by the shop to confirm that your item is available for collection.
Call us on or send us an email at
Unfortunately there has been a problem with your order
Please try again or alternatively you can contact your chosen shop on or send us an email at