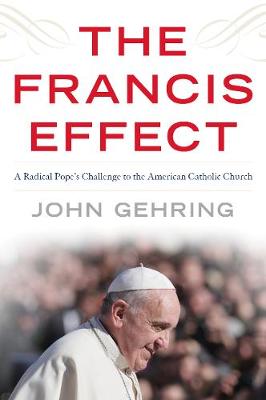 The Francis Effect: A Radical Pope's Challenge to the American Catholic Church (Paperback)
John Gehring
(author)
Paperback
286

Pages / Published: 13/07/2017
The Francis Effect explores how a church once known as a towering force for social justice became known for a narrow agenda most closely aligned with one political party, and then looks at the opportunities for change in the "age of Francis." Pope Francis has become an unlikely global star whose image has graced the covers of Rolling Stone, The New Yorker, Time, and even the nation's oldest magazine for gays and lesbians. The first Latin American pope, the first Jesuit, and the first to take the name of a beloved saint of the poor, Francis is shaking up a church that has been mired in scandal and demoralized by devastating headlines. His bracing critique of an out-of-touch hierarchy, pastoral style when it comes to divisive issues, and humble gestures rejecting the trappings of papal power have changed the conversation about the world's most powerful religious institution. But in the United States, Pope Francis finds a church that has been transformed over the past three decades by a vocal minority of culture warrior bishops, conservative intellectuals, and Christian evangelicals. The first half of the book analyzes the key trends that shaped the Catholic Church over the past century, while the second half looks at the words and actions of Pope Francis, and what they mean for real change.
Publisher: Rowman & Littlefield
ISBN: 9781538107515
Number of pages: 286
Weight: 417 g
Dimensions: 224 x 144 x 21 mm
---
MEDIA REVIEWS
With this book, Gehring has created a thoughtful response to the papacy of the first man to take, as his regnal name, that of Francis of Assisi, the medieval saint renowned for the radical simplicity of his life and message. In Gehring's view, Francis's ascendancy has both global implications and meanings particular to the West, specifically the United States. Pope Francis has already provoked discussion of the most divisive issues facing the church such as those related to marriage and family life, encouraged the revival of Liberation Theology, and been an outspoken advocate for action on climate change. VERDICT A thoughtful, important study of an ever-evolving and exciting time in the Catholic Church. * Library Journal, Starred Review *
Gehring, Catholic director at the advocacy group Faith in Public Life, presents a well-researched work that features dozens of Catholic voices driving the conversation about Pope Francis and his universal call for a radical embrace of the Gospel. Gehring is a veteran journalist who digs for the nuances at the heart of a story; in a media climate often filled with suspicion and polarization, it is refreshing to read something with true journalistic integrity. While not afraid of offering criticism, Gehring is most interested in finding common ground. The book focuses on the consistent, but challenging message that Pope Francis proclaims regarding care for the poor and the resonance of faith in all aspects of life. This message has transformed many faithful who felt disenfranchised by the Church's sex scandal and injected new and vital energy into Catholicism-a progression the author describes in his punchy style. Gehring is able to cover numerous topics that are accentuating Francis' effect on the worldwide Church, including LGBT rights, Catholic identity of institutions, religion and politics, and the necessity to stem the tide of Millennials exiting the Church in droves. Anyone who is curious about where the Catholic Church is headed in the 21st century will be fascinated. * Publishers Weekly *
In this narrative and analysis of the papacy of John Francis, Gehring provides a detailed primer of opposition to Francis within the Roman Catholic Church as well as a discussion of current progressive Catholic leaders. Focusing exclusively on Catholicism in the US, though referencing John Paul II and Benedict XVI, Gehring describes the rise of conservative Catholic leaders in the US hierarchy and the unofficial lay organizations that promote traditionalist views. During the ascendancy of traditionalist leaders, progressive thinkers and activists-once leading voices in Roman Catholic life in the US-found themselves increasingly on the margins of influence. By `Francis effect,' the author means the return to the forefront of progressive Catholics, who have different conclusions about church teachings on a variety of issues, including economics and sexuality. Gehring offers an up-to-date summary of the diverse perspectives of Catholic leaders in the US and the role that Francis is playing in the conflict among those holding differing views. Gehring invites readers to consider the future of a Roman Catholic Church that has experienced new life with the ascendancy of its progressive wing. The future has yet to tell if unity can exist without uniformity. Summing Up: Highly recommended. Lower-division undergraduates through faculty and professionals; general readers. * CHOICE *
The majority of Gehring's book is on the Church itself, and Francis's efforts at reform from within. The author does an excellent job of rendering clearly what might seem to outsiders like so much inside baseball, tracing the movement of prelates according to Francis's appointments and removals, explaining the extent of his work bringing women into contributory roles within the Church's leadership, and examining his impact on the welcoming of lesbian and gay Catholics into the life of the Church. Perhaps each of Francis's reforms inside the Church is, in itself, small; even Gehring worries that some will view the Francis effect as nothing more than a 'change in tone.' But by taking all of his reform efforts thus far together, Gehring builds a compelling, readable case for viewing Francis as a Pope uniquely equipped to struggle against the vices of his age. * New Republic *
I recommend this book highly. . . .Gehring does a fine job tracing briefly the history of both the rise of the religious right and the generally left-leaning alliance of the Church with a variety of more progressive causes that preceded it. . . .The greatest strength of this book . . . is the reporting Gehring undertook in evaluating what effect Francis has begun to have on the U.S. Church. I found his report on his visit to Mt. St. Mary's seminary especially enlightening. . . .Gehring's book is a quick read and a useful point of reference. . . .(Indeed, another strength of this book is his careful detailing of the politics of the bishops' conference, where Gehring worked previously.) It is well written and insightful, never getting bogged down, and, finally, posing the question the bishops need to start answering week after next: Is the Church in the U.S. going to stand with Francis or not? And, if so, what changes can we anticipate and welcome? These are important questions and they will not be answered easily or quickly, but Gehring has given us a fine frame for wrapping our heads around the issues at stake. * National Catholic Reporter *
Gehring's book provides a valuable roadmap to the different forces at play. The book is populated by mini-vignettes of dozens of Catholics-well-known and otherwise-who weigh in on Francis. . . .[T]hey give a helpful panorama of the Catholic landscape according to Gehring. * America: The Jesuit Review of Faith & Culture *
The strength of Gehring's treatise is his juxtaposition of the fresh winds of mercy and reform that Francis has unleashed alongside the history of the transformation of the American bishops from the 1970s to the present.... Anyone wanting a smart, readable, and optimistic account of the Francis era will welcome Gerhring's account. * Theological Studies *
John Gehring has created a stirring, multidimensional account of Catholicism in the twenty-first century. Through a highly engaging, well-researched narrative, he paints a comprehensive picture of the Church dynamics of the past few decades. His insights make sense of my experience and why I'm finding renewed joy in the Gospel. It is the Francis effect! -- Sister Simone Campbell, author of A Nun on the Bus: How All of Us Can Create Hope, Change, and Community
Pope Francis transcends political categories: like any pope he is neither liberal nor conservative; neither progressive nor traditionalist; and certainly neither Democrat nor Republican. But that doesn't mean that his words and deeds have not had a powerful impact on people who self-identify with all of these categories. In this well-researched, thoughtful, and careful analysis, Gehring shows how Pope Francis has influenced both the Catholic Church in the United States and the American political discourse, thus altering the spiritual and cultural landscape for perhaps decades to come. -- James Martin, SJ, author of The Jesuit Guide to (Almost) Everything and Jesus: A Pilgrimage
In Pope Francis's young papacy, he has already proven to be a transformative figure in the global Catholic Church-and, even more, one of the few real conversation changers in the world today. Gehring's accessible and insightful book skillfully documents the deep divisions in U.S. Catholicism and U.S. politics that have emerged in the past few decades. In the process, Gehring shows us why the bold vision of Pope Francis is so necessary and so appealing to many Catholics, other people of faith, and non-believers alike. I highly recommend this book to anyone who wants to understand what Francis's message may mean for the future of this country. -- Jim Wallis, New York Times bestselling author of The (Un)Common Good: How the Gospel Brings Hope to a World Divided
Gehring's remarkable, well-documented analysis of the Church's challenges, struggles, and hopes in a dramatically evolving world since the Second Vatican Council comes at a propitious moment of opportunity. The `Francis effect' offers a profoundly relational and exciting vision that should lead to a new solidarity in the human family, one in which everyone is valued and no one is excluded. -- William S. Skylstad, Bishop Emeritus of Spokane, Washington; former president of the U.S. Conference of Catholic Bishops
Gehring exactly captures the elation Pope Francis has inspired by describing his papacy as `an unexpected gift.' In The Francis Effect-his shrewd, thoughtful, and richly detailed account of the struggles inside the American Catholic Church-he explains why. Gehring combines a deep understanding of the forces at work within Catholicism with a believer's knowledge that faith not only informs but also transcends day-to-day politics. He is so right in insisting that Francis opens an unparalleled opportunity for the Church that it dare not miss. -- E.J. Dionne Jr., Georgetown University; author of Souled Out and Our Divided Political Heart
Gehring takes a very perceptive look at how the Francis pontificate is challenging Catholic leadership in the United States after years of a narrow `culture war' vision of the church's mission. The book offers fresh insight into the real `Francis effect,' which involves a profoundly new understanding of the church's doctrinal tradition and its development. -- John Thavis, former Rome bureau chief for Catholic News Service and author of The Vatican Diaries
Gehring provides an acute account of how a vocal minority of `culture warrior' bishops and activists tried to reduce Catholic teaching to Republican talking points. More importantly, he also shows how Pope Francis is healing wounds and breathing new life into the Catholic Church in America. -- M. Cathleen Kaveny, Darald and Juliet Libby Professor of Law and Theology, Boston College
How the Francis era is received by an American hierarchy still clinging to the habits of the last two papacies will be a drama worth watching. For journalists and commentators, Gehring has written a first-class primer of events to come. For historians and ordinary Catholics in the pews, he also offers a rich chronicle of the throes the American church has struggled through over the past three decades. -- Drew Christiansen, SJ, former editor of America magazine; Distinguished Professor of Ethics and Global Development, Georgetown University
This timely book weaves historical analysis with up-to-date reporting and fresh insights to explain why Pope Francis's pontificate is a crossroad moment for the Catholic Church in the United States. -- Massimo Faggioli, University of St. Thomas; author of Pope Francis: Tradition in Transition
No other book better maps the painful division that two decades of culture war have wreaked upon the Catholic Church in America. Yet, this is a book inspired by rising hope. The way forward from division, Gehring insists, is underway in the joyful and pastoral papacy of Pope Francis. -- Stephen Schneck, The Catholic University of America
Gehring's wide-ranging explorations detail both the tensions within the U.S. church and the movements that could make the `Francis effect' one that re-energizes Roman Catholics. He shows just how Francis inspires hope for a church that can be united but diverse-engaging and challenging the secular culture, but not at war with it. -- Terrence W. Tilley, Avery Cardinal Dulles, SJ, Professor of Catholic Theology, Fordham University
Gehring's essential book reminds us that `the Francis effect' promises not a revolution for the Catholic Church, but rather a restitution. In the context of US politics, this means returning to a broad, multi-issue defense of human dignity that will expand the Church's public agenda and ensure that Catholic bishops will retain a prophetic voice in the US long after today's `culture war' politics have passed into history. -- Timothy A. Byrnes, Colgate University; author of Catholic Bishops in American Politics
It is well-known that significant divisions for a century or more have existed among the US bishops. This book documents the more recent differences so that each reader can evaluate the merits of these disputes. The radical, joyful, pastoral style of Pope Francis has already had a noticeable and welcome effect on the American Church. Anyone interested in the far-reaching influence of Francis's papacy will find Gehring's book a valuable contribution to the Francis phenomenon and the bridge he has formed between traditionally opposing groups. -- Joseph A. Fiorenza, Archbishop Emeritus of Galveston-Houston
Surveying both the painful casualties of the Church's involvement in the culture wars and the surprising hope unleashed by Francis's papacy, Gehring's book is a must-read for anyone interested in how politically engaged, progressive Catholics are responding to this new moment in both the Church and society. -- Vincent Miller, Gudorf Chair in Theology and Culture, University of Dayton; author of Consuming Religion: Christian Faith and Practice in a Consumer Culture
Gehring provides the most thoughtful answer yet to the biggest question about America's biggest church-what has been `the Francis Effect,' both inside and outside Catholicism? While pundits and partisans provide their superficial and self-serving conclusions, here the answer is grounded in rich historical context, careful nuance, and incisive observation. Anyone who wants to go beyond the headlines and understand the potential for-and constraints upon-change in the Francis Era should read this book. -- David E. Campbell, University of Notre Dame; author (with Robert Putnam) of American Grace: How Religion Divides and Unites Us
Gehring has written a wonderful book about how the culture wars have led both Left and Right away from what it really means to be Catholic, and how the `Francis Effect' is leading us all back unitedly in the simple truths of the Gospel. For those devoted to their faith-or those who are simply interested in the topic-this is a must-read. -- Nicholas Cafardi, former dean and professor of law, Duquesne University; editor of Voting and Holiness
This supremely engaging book will be a cathartic read for progressives who are faithful Catholics-and are tired of being told otherwise by people Gehring identifies as `watchdogs of orthodoxy.' Gehring's aim is not only to show how Francis is re-centering Catholic identity on generosity of spirit and a commitment to the poor; he also persuades that `conservatives' and `liberals' have more in common than the culture warriors would have them think, and that younger generations of Catholics aren't interested in those tired battles anyway. As Gehring puts it, Francis is calling the church to a radical spiritual and social renewal, with a big dose of unpredictability, and a prophetic mission of hospitality. This is the book to read for those who want to situate Francis's impact within the history and present politics of the U.S. Catholic Church. -- Lisa Cahill, J. Donald Monan Professor of Theology, Boston College
The Francis Effect is perfectly timed for this moment, when Pope Francis has both captured the world's attention and tossed something of a grenade into U.S. politics. In this deeply-reported and indispensable book, Gehring examines American Catholicism's tangled political history and the impact already felt by Francis's leadership. The result is a must-read for anyone who wants to understand American politics. -- Amy Sullivan, author of The Party Faithful: How and Why Democrats Are Closing the God Gap
Thoroughly researched and beautifully written, Gehring's book is a powerful analysis of the historic and existing tensions between conservative and progressive Catholics in the U.S. and the consequences of their continued divisions. Importantly, he offers not just a critique but a path forward-one grounded in the teachings of Pope Francis-to unite Catholics for the common good. -- Mark J. Rozell, George Mason University, author; The New Politics of the Old South: An Introduction to Southern Politics, Sixth Edition
You may also be interested in...
Simply reserve online and pay at the counter when you collect. Available in shop from just two hours, subject to availability.
Thank you for your reservation
Your order is now being processed and we have sent a confirmation email to you at
When will my order be ready to collect?
Following the initial email, you will be contacted by the shop to confirm that your item is available for collection.
Call us on or send us an email at
Unfortunately there has been a problem with your order
Please try again or alternatively you can contact your chosen shop on or send us an email at