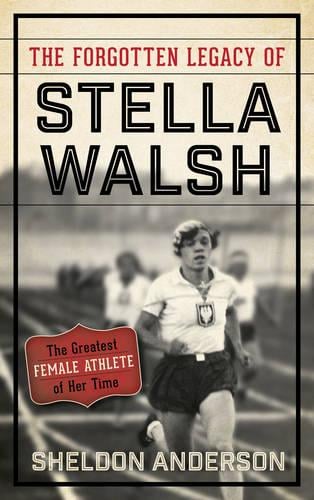 The Forgotten Legacy of Stella Walsh: The Greatest Female Athlete of Her Time (Hardback)
Sheldon Anderson
(author)
Hardback
244

Pages / Published: 08/09/2017
Stella Walsh, who was born in Poland but raised in the United States, competed for Poland at the 1932 and 1936 Olympics, winning gold and silver in the 100 meters. Running and jumping competitively for three decades, Walsh also won more than 40 U.S. national championships and set dozens of world records. In 1975, she was inducted into the National Track and Field Hall of Fame, yet Stella Walsh's impressive accomplishments have been almost entirely ignored. In The Forgotten Legacy of Stella Walsh: The Greatest Female Athlete of Her Time, Sheldon Anderson tells the story of her remarkable life. A pioneer in women's sports, Walsh was one of the first globetrotting athletes, running in meets all over North America, Europe, and Asia. While her accomplishments are undeniable, Walsh's legacy was called into question after her murder in 1980. Walsh's autopsy revealed she had ambiguous genitalia, which prompted many to demand that her awards be rescinded. In addition to telling her fascinating story, The Forgotten Legacy of Stella Walsh provides a close look at the early days of women's track and field. This book also examines the complicated and controversial question of sex and gender identity in athletics-an issue very much in the news today. Featuring numerous photographs that help bring to life Walsh's story and the times in which she lived, this biography will interest and inform historians of sport and women's studies, as well as anyone who wants to learn more about a Polish immigrant who was once the fastest woman alive.
Publisher: Rowman & Littlefield
ISBN: 9781442277557
Number of pages: 244
Weight: 490 g
Dimensions: 237 x 160 x 23 mm
---
MEDIA REVIEWS
In this lively biography, Anderson, a history professor at Miami University, narrates the life of Stella Walsh, a trailblazer in women's track and field. Walsh was born in Poland in 1911 as Stanislawa Walasiewicz, and when she was an infant her family emigrated to the U.S. and settled in the Slavic community of Cleveland, Ohio. Walsh was a natural athlete who excelled in sprinting in high school and was invited by a local sports club to compete in regional track meets. Walsh became one of the fastest sprinters in the world and competed in the 1928 Olympics for the Polish national team because she'd never received her U.S. citizenship. In the 1932 Olympics in Los Angeles, she won gold in the 100 meter race for Poland. In the 1936 Berlin Olympics, Walsh lost to American runner Helen Stephens and was forced to submit to genital inspection to confirm she was a woman. Walsh remained hugely popular and became a regular on the North American circuit during the war, setting more world records. Upon her death in 1980, an autopsy was performed, revealing that she was intersex. This led to a dispute over her achievements. Anderson is sympathetic toward Walsh, persuasively writing that `whatever anguish she might have felt, she always thought of herself as a woman.' With humanity, detail, and grace, eschewing judgment and awkward posturing, Anderson revives the life of a neglected world-class athlete. * Publishers Weekly *
Polish-born Stanislawa Walasiewiczowna was only three-months old when she immigrated with her parents to the U.S., where her American schoolteachers eventually changed her name to Stella Walsh. A track star, Walsh set more than 50 world records over her lengthy career, which included winning a gold medal in the 100-meter dash at the 1932 Olympics and a silver in the same event at the '36 games. She was murdered in 1980, shot by thugs who were trying to hold her up. An autopsy revealed that she had an extremely rare medical condition, gonadal mosaicism; she had male (nonfunctional) genitalia and no female reproductive organs. Those are the bare bones of her life, but Anderson's respectful and wide ranging biography isn't interested in just the bare bones. Not only does the author tell the story of Walsh's life, he talks about the larger stories of women in sports in the early years of the twentieth century, the perception of Polish people in America following the assassination of President McKinley-the assassin, Leon Czolgosz, was American of Polish descent-and WWI, the Olympic organizers' restrictions on women competitors, and the difficulties that female athletes encountered in finding funding. A detailed biography of the life and times of a once-famous woman who is almost entirely forgotten now. * Booklist *
This book is well worth reading. Stella Walsh excelled in running at the Olympic gold level and she set many records and broke barriers throughout her career. She deserves a place in our memory and she can teach us valuable lessons. No other female athlete of her era traveled the world as much, not even the tennis great Helen Wills. No other athlete combines the issues of ethnicity and gender into such a compelling, teachable opportunity. That opportunity is this book. Every library should acquire a copy and everyone should read it. Purchasing your own copy will enhance the sports collection on your shelves. It will also make a great gift for your daughter or niece. This is not just a great sports story. It is a gripping and moving narrative of a unique woman who endured much to achieve her dreams. * Arete *
Although many academic studies have broached the subject of Stella Walsh's remarkable life, none have even come close to the detail and depth provided by Sheldon Anderson. Brilliantly researched and eminently readable, Anderson's superb biographical work explores the myth and reality of an iconic female athlete. -- Toby Rider, assistant professor of kinesiology, California State University, Fullerton
It is clear that this book has been meticulously researched, and I can certainly recommend it to anyone who is interested in learning more about the life and times of Stella Walsh. -- Dr. Joanna Harper, adviser to the International Olympic Committee on matters of gender and sport
The Forgotten Legacy of Stella Walsh is an important study of one of the most significant athletes of the twentieth century. Anderson offers insightful analysis of Walsh's transatlantic life, her ties to the Polish-American community, her amazing record of achievement and longevity, and her tragic death. He ably demonstrates how the deeply embedded sexism and class bias of American and Olympic amateur sports constrained Walsh's athletic career, at the same time illuminating how Walsh turned athletics into a space of freedom and self-expression. -- Susan Cahn, professor of history, University at Buffalo, and author of Coming on Strong: Gender and Sexuality in Women's Sport
Historian Anderson (Miami Univ., Ohio) delivers a chronological history of Stella Walsh's triumphant and tragic life in this equally intriguing and important read. His powerful revitalization of history challenges the perceptions of Walsh's athletic legacy overshadowed by the controversial complexities of her gender. The author lets Walsh speak through a plethora of direct quotes while he uses detailed historical context to describe her life. The book touches on multiple Olympic games, Nazi Germany, athletics, politics, sexism, and regional history. While this is a short read, Anderson leaves nothing out in exploring Stella Walsh's story. At times the author takes lengthy detours from Walsh's journey, seemingly in an attempt to convey a full portrait of a world with very different views from today's world. Although the author's approach may leave readers slightly distracted, his book will be appeal to most readers interested in sports history and gender identity. * CHOICE *
You may also be interested in...
Simply reserve online and pay at the counter when you collect. Available in shop from just two hours, subject to availability.
Thank you for your reservation
Your order is now being processed and we have sent a confirmation email to you at
When will my order be ready to collect?
Following the initial email, you will be contacted by the shop to confirm that your item is available for collection.
Call us on or send us an email at
Unfortunately there has been a problem with your order
Please try again or alternatively you can contact your chosen shop on or send us an email at