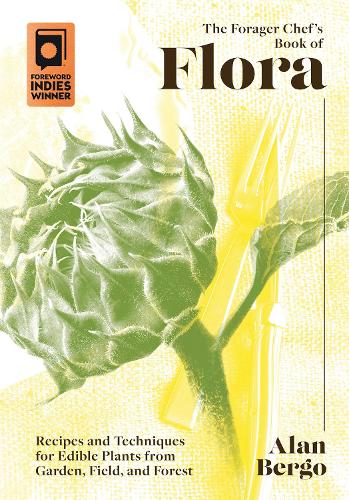 The Forager Chef's Book of Flora: Recipes and Techniques for Edible Plants from Garden, Field, and Forest (Hardback)
Alan Bergo
(author)
Hardback
288

Pages
Published: 23/09/2021
There's magic afoot! Edible green growing things we'd mistaken for weeds; everyday vegetables capable of far more than we'd give them credit for; and a most companionable, knowledgeable, and encouraging guide to help us see, cook, taste, and delight in it all. Lori De Mori, coauthor of Towpath
The book will serve the professional chef and home cook in equal measure. It is mind expanding, experimental and utilizes a magnificent diversity of plants. Ben MacKinnon, founder and co-director, E5 Bakehouse
From root to flower - and featuring 180 recipes and over 230 of the author's own beautiful photographs - explore the edible plants we find all around us with the Forager Chef Alan Bergo as he breaks new culinary ground!
In The Forager Chef's Book of Flora you'll find the exotic to the familiar-from Stinging Nettle Soup to Spruce Tip Panna Cotta to Heirloom Tomato and Purslane Panzanella - with Chef Bergo's unique blend of easy-to-follow instruction and out-of-this-world inspiration.
Over the past fifteen years, chef Alan Bergo has become one of the most exciting and resourceful culinary voices, with millions seeking his guidance through his wildly popular website and video tutorials. Bergo's inventive culinary style is defined by his encyclopedic curiosity and his abiding, root-to-flower passion for both wild and cultivated plants.
The Forager Chef's Book of Flora demonstrates how understanding the different properties and growing phases of roots, stems, leaves and seeds can inform your preparation of something like the head of an immature sunflower - as well as the lesser-used parts of common vegetables, like broccoli or aubergine. As a society, we've forgotten this type of old-school knowledge, including many brilliant culinary techniques that were born of thrift and necessity. For our own sake and that of our planet, it's time we remembered. And in the process, we can unlock new flavors from the abundant landscape around us.
The Forager Chef's Book of Flora invites wild food to the table with creative, low-stress recipes using plants that can be found outside one's front door. Foreword Reviews
Publisher: Chelsea Green Publishing Co
ISBN: 9781603589482
Number of pages: 288
Weight: 943 g
Dimensions: 254 x 178 x 20 mm
---
MEDIA REVIEWS
"You see a sunny meadow. Alan Bergo sees a salad: all blue violet leaves and wild carrot tops. This accomplished chef cooks the wilderness. As he grinds flour from tree nuts, makes black walnut honey, braises sunflower heads like artichokes, and invents 'green electricity,' a magical lovage sauce, Bergo turns nature into food. With such stylish recipes and extraordinary photographs (Bergo's own), The Forager Chef's Book of Flora encourages a whole new world of cooks to explore the wild."-Dorothy Kalins, founding editor, Saveur; author of The Kitchen Whisperers
"You haven't tasted most of the vegetables your ancestors ate. Today, everything is disdained that is too small or too green or doesn't keep for long on the produce shelf. We've been beguiled through generations into The Great Food Forgetting. But big, cheap, and easy have a profound cost: boring food, bad teeth, diabetes, and loss of the primal pleasure of interacting with the green world like a biologically normal human. How do we recover the birthright of perfect eating? By making forgotten food unforgettable. That's the dream that makes Alan Bergo's eyes sparkle, and sets his hands to work. As you'll see in these pages, his eyes and hands work very well together. Follow his guidance from the rediscovered culinary amusement park that surrounds you all the way to your kitchen, and your mouth will confirm everything that your heart suspected. This real, good food is worth remembering."-Sam Thayer, author of The Forager's Harvest, Nature's Garden, and Incredible Wild Edibles
"This is so much more than a cookbook. Of course there are tantalizing recipes, but there are also walks in the woods, explorations of plant families, revelations of unusual flavors, well-crafted plant profiles, and explanations of why things work the way they do. In The Forager Chef's Book of Flora, Alan shares his philosophical and practical approach to making wonderful food, with exquisitely detailed flavor combinations and useful tips that could only come from a consummate pro. His passion for these wild and cultivated flavors is inspiring and will undoubtedly change the way you cook."-Ellen Zachos, author of Backyard Foraging
"The joy and delight in Alan's writing are contagious. After reading just the introduction, I wanted to escape to the countryside to start foraging so I could cook his inspiring recipes. This book has so many layers. Not only does it contain an abundance of recipes and information about the plants, it provides us with a history from all over the world where people commonly cooked with these ingredients. His passion and enthusiasm are endless. I was instantly engrossed and keep going back for more. I feel like this book will continue to educate me every time I pick it up! I can't wait to start cooking from it."-Laura Jackson, chef; coauthor of Towpath
"There's magic afoot! Edible green growing things we'd mistaken for weeds; everyday vegetables capable of far more than we'd give them credit for; and a most companionable, knowledgeable, and encouraging guide to help us see, cook, taste, and delight in it all."-Lori De Mori, coauthor of Towpath
"There are a lot of reasons to love this book, but chief among them is its accessibility: Alan's recipes are approachable, and rooted in the various cultures that invented them. No pinkie-in-the-air foams or molecular whatnot here, just beautiful renditions of beloved dishes that hinge on the edible, wild world that lives all around us."-Hank Shaw, cookbook author; owner of the James Beard Award-winning website Hunter Angler Gardener Cook
"Alan Bergo is one of the most talented and knowledgeable foragers and chefs of my generation. I've followed his adventures for many years now and am delighted to see all of his delectable food in this vastly inspiring and creative tome. Alan's journeys from the garden bed to the heart of the wilderness and back to your kitchen will instill in you the urge to forage for your food and the desire to learn about all the wonderful ways that you can use nearly any vegetable, wild or cultivated. The Forager Chef's Book of Flora is an indispensable guide to all the wondrous flavors, tastes, textures, smells, and sights of the wild foods of our world."-Jeremy Umansky, chef/owner, Larder Delicatessen & Bakery; coauthor of Koji Alchemy
"Alan Bergo is one of the most important contemporary voices in the food of the Great Lakes North, and one of the most completely skilled wild-food chefs in America. He combines scholarship, science, vast curiosity, and a deep respect for the indigenous origins of American food. Through his efforts to reteach us how delicious our own food is, he is doing us an enormous and long-overdue favor. He is reintroducing us to our true native cuisine-a cuisine with breadth, flavor, and subtlety to rival the traditional cuisine of any other region on Earth."-Steve Hoffman, James Beard MFK Fisher Distinguished Writing Award Winner
"I am wild about this book. I now carry a bag wherever I walk for gathering dandelions and purslane. I pick up acorns and hickory nuts, and am now thinking of so many new ways to make use of the immense larder that is nature. The sensibilities of the forager combined with that of the chef, truly inspiring."-Ken Albala, PhD, professor of history at the University of the Pacific; author of food histories, cookbooks, translations and reference works, and video courses Food: A Cultural Culinary History and Cooking across the Ages
"This tome of a book, packed with a globally inspired fusion of playful recipes that have been gleaned during Alan's journey as a chef and forager, is loaded with practical tips for seeking out, storing, and serving your foraged greens. The book will serve the professional chef and home cook in equal measure. It is mind expanding, experimental and utilizes a magnificent diversity of plants."-Ben MacKinnon, founder and codirector, E5 Bakehouse
"If you find wild foods as delightful as I do, and the act of foraging as empowering as Alan Bergo does, you will be charmed by the slew of wild recipes and unusual edibles in the pages of his much-anticipated The Forager Chef's Book of Flora. Even familiar garden plants like lilies, hyacinths, and hostas will begin to look distinctly appealing in terms of dinner. Dive in!"-Marie Viljoen, author of Forage, Harvest, Feast and 66 Square Feet
Publishers Weekly-
"[An] excellent debut. . . . Advocating that plants are edible in their entirety is one thing, but this [book] delivers the delectable means to prove it."
Foreword Reviews-
"The Forager Chef's Book of Flora invites wild food to the table with creative, low-stress recipes using plants that can be found outside one's front door."
"[A] remarkable new cookbook, Bergo provides stories, photographs and inventive recipes."-Star Tribune
You may also be interested in...
×
Download the Waterstones App
Would you like to proceed to the App store to download the Waterstones App?
Reserve online, pay on collection


Thank you for your reservation
Your order is now being processed and we have sent a confirmation email to you at
When will my order be ready to collect?
Following the initial email, you will be contacted by the shop to confirm that your item is available for collection.
Call us on or send us an email at
Unfortunately there has been a problem with your order
Please try again or alternatively you can contact your chosen shop on or send us an email at