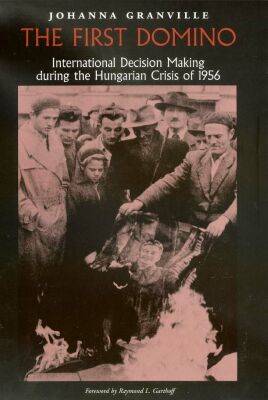 Hardback
352

Pages / Published: 31/01/2004
In the spring and summer of 1956 the Soviet Union invaded Hungary to reassert control of the country. This text is a full analysis, drawing on archival collections from the Eastern bloc countries to reinterpret decision making during this Cold War crisis. Johanna Granville selects four key patterns of misperception as laid out by political scientist Robert Jervis and shows how these patterns prevailed in the military crackdown and in other countries' reactions to it. Granville examines the statements and actions of Soviet Presidium members, the Hungarian leadership, US policy makers and Yugoslav and Polish leaders. She concludes that the United States bears some responsiblity for the events of 1956, as ill-advised US covert actions may have convinced Soviet leaders that America was attempting to weaken Soviet hegemony over Eastern Europe. Granville's multi-archival research tends to confirm the post-revisionists' theory about the old war: it was everyone's fault and no one's fault. It resulted from the emerging bipolar structure of the international system, the power vacuum in Europe's centre, and spiralling misconceptions.
Publisher: Texas A & M University Press
ISBN: 9781585442980
Number of pages: 352
Weight: 680 g
Dimensions: 235 x 155 x 32 mm
---
MEDIA REVIEWS
." . . a fascinating study, meticulously documented, that not only sheds new light on an agonizing incident in the Cold War, but shows how it fits with theories of decision-making. Using archives from several countries, Granville demonstrates that leaders woefully misunderstood each other, had very different perspectives, and failed to realize that their views were not shared."----Robert Jervis, Adlai E. Stevenson Professor of International Politics, Columbia University; President, American Political Science Association; and author, Perception and Misperception in International Politics--Robert Jervis
." . . Granville has combined new information with thoughtful analysis to enrich our understanding of one important event in Cold War history, and thus contributes to a better understanding of the broader canvas of that history as well."--Raymond L. Garthoff, former CIA Analyst; Ambassador to Bulgaria; Senior Analyst, Brookings Institution; and author of several bestselling books, including A Journey through the Cold War
" . . . With her extensive scholarly examination of the Soviet intervention in Hungary, Johanna Granville makes a wonderful contribution to the new field of international Cold War history. With a wealth of new sources from the former East Bloc, Granville recreates the true atmosphere of the biggest crisis in the communist world after Stalin's death, a bizarre mixture of ideological rigidity, fears, hopes, and disastrous misperceptions. I hope that not only Westerners, but also Russians, will be able to read this book."--Vladislav Zubok, professor of international history, London School of Economics, and award-winning author of A Failed Empire: The Soviet Union in the Cold War from Stalin to Gorbachev and Inside the Kremlin's Cold War: From Stalin to Khrushchev.
" . . . This is the best available analysis of the international history of the 1956 Hungarian rebellion against communism. Johanna Granville has written a book that through first-rate research brings together the key sources on that crisis and thereby helps explain the decisions reached not only in Budapest and Moscow, but also in Washington and Belgrade."--Odd Arne Westad, professor of history, Harvard University, and author of The Global Cold War: Third World Interventions and the Making of Our Times, winner of the Bancroft Prize

"A pioneering work on East European Cold War history, this is a remarkable study of Cold War history because the author has availed herself of recently opened Soviet and other archives to describe how Hungary became the first 'domino' in a process that 'resulted ultimately in the Soviet Union's loss of hegemony over Eastern Europe in 1989.'"--Arnold Beichman, a Hoover Institution research fellow, is a columnist for The Washington Times.
--The Washington Times
"The First Domino. . . it stands with the finest work available in either English or Hungarian on the events of the revolution."--Mark Pittaway, senior lecturer, Open University, International Affairs--International Affairs
"Johanna Granville is one of the most industrious and talented of the scholars who have seized upon new archival opportunities to deepen our understanding of the Cold War."--Lee Congdon, emeritus professor of history, James Madison University, History: Review of New Books--History: Reviews of New Books
"Johanna Granville's The First Domino brings new evidence and insight to a well studied topic... should appeal to many different audiences-- Cold War students, East European scholars, military historians, and political scientists. Its lessons on the limits of military force and pitfalls associated with decision making are timeless and make it particularly valuable for use at staff and war colleges."--James D. Marchio, analyst, Defense Intelligence Agency; The Journal of Military History--The Journal of Military History
." . . the first book in English comprehensively to cover both the domestic and foreign policy aspects of the 1956 revolution using the newly available archival material."--Slavonic and East European Review--Slavonic and East European Review
"Johanna Granville is the most knowledgeable American scholar on the Hungarian Crisis, or Revolution of 1956, and its ramifications. [ . . . ] The book is the first English-language monograph based on all available Hungarian, Polish, and Russian archival sources as well as a wide array of secondary sources. [ . . . ] Dr. Granville gives an excellent, detailed account of the Hungarian leadership's policy discussions in the midst of rapidly growing unrest, of Soviet Presidium discussions on Hungary, and Janos K d r's role as mediator between Nagy and Khrushchev before he chose to work with the latter. At the same time, Dr. Granville relates and analyzes the interaction of Yugoslavia's leader Josip Broz Tito and Poland's Gomulka with the Hungarian Crisis. She demonstrates that while Tito was willing to offer asylum to Nagy and his ministers in the Yugoslav Embassy in Budapest, and counted on the inclusion of Nagy in a new Hungarian government supported by Moscow, Tito also feared the spillover effect of Hungarian events in Yugoslavia. Dr. Granville's account of Gomulka's reactions, particularly his opposition to Soviet military intervention, is correct. [ . . . ] A path-breaking monograph on Soviet and Hungarian decision-making in the Hungarian crisis of 1956, Johanna Granville's book is also the best English-language study of the subject so far and deserves a wide readership."--Anna M. Cienciala, emeritus professor of history, University of Kansas, Russian Review--Russian Review
You may also be interested in...
Simply reserve online and pay at the counter when you collect. Available in shop from just two hours, subject to availability.
Thank you for your reservation
Your order is now being processed and we have sent a confirmation email to you at
When will my order be ready to collect?
Following the initial email, you will be contacted by the shop to confirm that your item is available for collection.
Call us on or send us an email at
Unfortunately there has been a problem with your order
Please try again or alternatively you can contact your chosen shop on or send us an email at