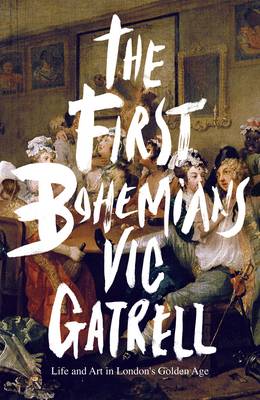 The First Bohemians: Life and Art in London's Golden Age (Hardback)
Vic Gatrell
Hardback
Published: 03/10/2013
Check availability
At your local shop
The colourful, salacious and sumptuously illustrated story of Covent Garden - the creative heart of Georgian London - from Wolfson Prize-winning author Vic Gatrell. In the teeming, disordered, and sexually charged square half-mile centred on London's Covent Garden something extraordinary evolved in the 18th century. It was the world's first creative 'Bohemia'. The nation's most significant artists, actors, poets, novelists, and dramatists lived here. From Soho and Leicester Square across Covent Garden's Piazza to Drury Lane, and down from Long Acre to the Strand, they rubbed shoulders with rakes, prostitutes, market people, craftsmen, and shopkeepers. It was an often brutal world full of criminality, poverty and feuds, but also of high spirits, and was as culturally creative as any other in history. Virtually everything that we associate with Georgian culture was produced here. Vic Gatrell's spectacular new book recreates this time and place by drawing on a vast range of sources, showing the deepening fascination with 'real life' that resulted in the work of artists like Hogarth, Blake, and Rowlandson, or in great literary works like The Beggar's Opera and Moll Flanders. The First Bohemians is illustrated by over two hundred extraordinary pictures, many rarely seen, for Gatrell celebrates above all one of the most fertile eras in Britain's artistic history. He writes about Joshua Reynolds and J. M. W. Turner as well as the forgotten figures who contributed to what was a true golden age: the men and women who briefly dazzled their contemporaries before being destroyed - or made - by this magical but also ferocious world. Reviews: "A gorgeously engrossing book, bracingly sceptical of received pieties ...combines scholarship with originality, colour and imagination to a rare degree...Boozy, arty and sexually charged, Covent Garden in the mid-1700s surges spectacularly into life in this engrossing history". (John Carey, Sunday Times). "With his mastery of historical geography, Gatrell locates this Bohemian cadre of artists, engravers, actors and authors all within the square quarter-mile around Covent Garden Piazza...Gatrell brings it all to life...In its sweep of visual arts, social history, literary criticism and bawdy culture, [The First Bohemians] provides a superb chronicle of a golden age of authentic, urban creativity". (Tristram Hunt, Sunday Times). "Colourful ...entertaining...Gatrell does a fine job of tracing how the scurrilous behaviour of London's residents often inspired some of the finest works of art and literature ...the richness of detail makes The First Bohemians a pleasure to read ...his enthusiasm feels infectious". (Economist). "Gatrell's richly documented (and wonderfully illustrated) study ...[shows] how an unconventional way of looking at the world - vivid, unpretentious and often richly comic - eventually found its way to the heart of our culture, and we are richer for it". (Noel Malcolm, Sunday Telegraph). "Gatrell argues persuasively that it was their proximity to this mayhem that made the artists and writers in 18th century Covent Garden so vivid and exciting...[He] proves a dab hand at recreating the blazing furnace of 18th century Covent Garden...Gatrell is a natural iconoclast". (Craig Brown, Mail on Sunday). About the author: Vic Gatrell's last book, City of Laughter, won both the Wolfson Prize for History and the PEN Hessell-Tiltman Prize; his The Hanging Tree won the Whitfield Prize of the Royal Historical Society. He is a Life Fellow of Caius College, Cambridge.
Publisher: Penguin Books Ltd
ISBN: 9781846146770
You may also be interested in...
We would love to hear what you think of Waterstones. Why not review Waterstones on Trustpilot?