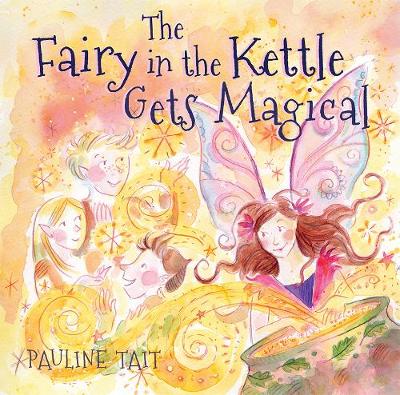 The Fairy in the Kettle Gets Magical - The Fairy in the Kettle 3 (Paperback)
Pauline Tait
(author)
Paperback
30

Pages
Published: 07/05/2019
"They could remember its warm amber glow shimmering and sparkling as it danced through the air, twisting and turning as it went." When Leona was woken early one morning, she knew something had to be wrong. But as she rushed to meet the elders, nothing could prepare her for what she was about to hear. Life in Fairy Glen was about to change...the words fairy dust were echoing in the air!
Publisher: SilverWood Books Ltd
ISBN: 9781781328118
Number of pages: 30
Dimensions: 216 x 216 mm
---
MEDIA REVIEWS
"Another fabulous children's fantasy picture book in The Fairy in the Kettle series from Scottish author Pauline Tait, the third in the series. Magical, imaginative, vibrant, warm, happy-coloured art that transports us to a dancing land of enchantment as we join the close community of the Bramble Glen fairies on their adventure to stop the pixies from stealing their fairy dust-with a little help from their friends, the fireflies! Excitedly looking forward to the forthcoming fourth book in the Fairy in the Kettle series." - Producervan E., NetGalley; "This is a gentle, charming book that has all the ingredients (dancing, friendship and a sprinkling of adventure) to keep little fairy fans happily spellbound." - Roaring Reads; "The Fairy in the Kettle is a magical sweet story that children are going to love. Full of beautiful illustrations, wonderful characters and a magical storyline." - Elizabeth Whittard, NetGalley; "Brilliantly illustrated pictures will capture you and your child's imagination, the perfect bedtime dream book. You and your child will enjoy the time spent with each other as you discuss the magical scenes and delightful story of lost fairy dust stolen by pixies long ago. They will be awed by the clever fairies working together to find the fairy dust before it's too late. Very enjoyable story my daughter and I snuggled together to read at bedtime. Continue the beautiful stories Pauline Tait, we'll be reading them." - Deanne Patterson, NetGalley; "Great story about teamwork! The illustrations are so cute and colourful. I absolutely love the cover! This would be an amazing book for lots of little children!" - Carolyn Schugel, NetGalley; "This is an astounding children's book: the pictures are gorgeous and lovely, the story is incredible and the rhymes and stylistic devices make it such a poetic text! I also loved the plot and all the topics that were encapsulated into this amazing fairy tale: friendship, discovering each other, sharing, going on a quest...I warmly recommend this tale!" - Marie-Helene Fasquel, NetGalley; "I am so in love with this book! Absolutely gorgeous bright watercolour style illustrations that jump from the page. A magical story about friendship, all wrapped together with fairy dust. This is the nicest picture book I have read in a while - truly beautiful. I wish I had small girls still to read this with, but I will have to settle with buying it for friends." - Gemma Flanagan, NetGalley; "When I saw that this book was available on NetGalley, I just had to try this one. I really enjoyed it - the illustrations were so cute. And the characters were just adorable. I loved this story and would love to share it with any little kids I know." - Alannah Clarke, NetGalley; "I love the illustrations, they are so beautiful and eye catching. My daughter loves everything girly, glittery and magical and this ticked all of the boxes for her. A wonderful read and a delight." - Keily Smith, NetGalley; "Very cute and very sweet. This book will spark the imagination of any young child and would be a wonderful addition to their library." - Amanda Williams, NetGalley; "My kids loved this book and really enjoyed me reading it to them. Highly recommended." - Emma Edwards, NetGalley; "The Fairy in the Kettle Gets Magical is a wonderful fantasy picture book by a Scottish author. It's full of beautiful pastel illustrations and has an uplifting and sweet storyline of the fairies of Bramble Glen. It's vibrant and warm, and I'm sure children will love this! There's a great message of the importance of friendship, community and working together to find what you're looking for. Pauline Tait has a way with words that make the story flow beautifully - truly enjoyable book." - Henna Rinne, NetGalley; "At first I wasn't so sure I was going to like this but it turned out to be a very good story about fairies. If you enjoy fairy stories then this is a great one to read. The illustrations were nice and colourful and did work well with the story. I loved that there was also fireflies in this. A great picture book." - Rachel McKitterick, NetGalley; "A beautifully illustrated book full of adventure for little imaginations to enjoy. I read this to the children I nanny and they enjoyed it. The illustrations kept them engaged even when the story started to become less interesting in the middle. We all need reminded sometimes that there is magic within us and to not give up even when you feel like there's no hope. I and the children I nanny, are grateful to NetGalley for the opportunity to read an ARC in exchange for an honest review. I'm sure we will be enjoying this book for numerous times to come." - Mary Blankenship, NetGalley; "This is a nice, adventure-y story, but what I really liked were the illustrations. I love the colours. The characters of the different, well, characters are right there in their faces. I especially thought the poor, sleepy fireflies were nicely done. I really like this whole series. I hope there are more." - Allison Dollar, NetGalley; "A simple and enchanting adventure, with very colourful illustrations on working together and the magic within yourself. A delightful story to be shared with young children. I give it four stars!" - Charlotte Crow, NetGalley; "This is a funny, quirky children book about fairies. It is very delightful and can easily brighten up a preschooler who loves fairies!" - Thi Nguyen, NetGalley; "I love how the story has been written. Just like the last time, the pictures were good and my kids liked looking at them. I look forward to reading more books from you." - Julie Strife, NetGalley; "A few years ago, I had read a book called "The Fairy in the Kettle" by Pauline Tait, along with artwork by Debbie Bellaby. So, imagine my surprise when I found out that this book was turned into a series and I actually got my hands on the third book in the series "The Fairy in the Kettle gets Magical" and it was quite a cute read! One day, Leona the Kettle Fairy was being awakened by one of the other fairies and it was then that she knew that something was wrong. When Leona met up with her friends and the elders, she finds out that the citizens of Fairy Glen were running out of fairy dust and they needed the fairy dust to maintain their powers. So, Leona and her friends decided to go out of Fairy Glen and find the fairy dust to restore the fairies' powers. Pauline Tait has done a great job at writing this book as it was both cute and interesting to read through! I liked the fact that this story is much more adventurous compared to the first book as the fairies have to go on a mission to save the fairies' source of power. I also loved the great friendship that Leona has with her friends as they go on missions together and I love how supportive they are of each other! Debbie Bellaby's artwork is adorable to look at as all the fairies look so cute and I loved the simplistic yet colorful look of the characters and the world that they live in. The only problem that I had with this book was that the pacing was a bit slow at times and there was not a lot of action sequences in this book that would keep me interested. Overall, "The Fairy in the Kettle gets Magical" is a great read for anyone who loves reading about fairies and magic in general! I would recommend this book to children ages four and up since there is nothing inappropriate in this book." - Ronyell Coaxum, NetGalley; "Leona and her friends live in Elders Hollow, however the fairy dust is running out and they need to find where they hid their supplies. A beautiful illustrated book. Easy the read. Definitely one little girls will love." - Catherine Harrold, NetGalley; 'I was browsing the 'read now' category on NetGalley and I found this lovely magical children's book. Ever since I started working at the library I've been surprised at how well written children's book can be and the art in some children's books are just WOW *insert heart eyes*. Drawing style: It's not my style as I like children's drawings to have a little more detail but it was cute and to the point. It was clear what was going on without having to read the text. I loved the wide range of colour and the bright colours used. Writing style: It was nice and to the point. A child would understand what the story was about and an adult wouldn't get too bored reading this over and over to their child.' - Marlou Klijn, NetGalley; "This is our third visit with Lenora and her friends, the fairies of Willow Glen. This is a cute story with wonderful, whimsical illustrations. They are beautiful, colourful watercolours that captivate the viewer. The message in the story is that of working together to achieve your goal, but it is subtle. The text has a beautiful rhyming cadence that makes it wonderful to a read aloud. I recommend this one to family, school, classroom and public libraries." - Carla Johnson-Hicks, NetGalley
You may also be interested in...
×
Download the Waterstones App
Would you like to proceed to the App store to download the Waterstones App?
Reserve online, pay on collection


Thank you for your reservation
Your order is now being processed and we have sent a confirmation email to you at
When will my order be ready to collect?
Following the initial email, you will be contacted by the shop to confirm that your item is available for collection.
Call us on or send us an email at
Unfortunately there has been a problem with your order
Please try again or alternatively you can contact your chosen shop on or send us an email at