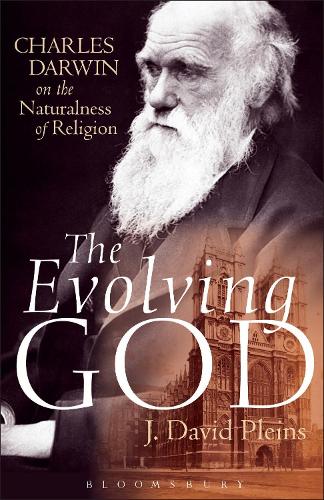 Paperback
192

Pages / Published: 01/08/2013
We can order this from the publisher
In focusing on the story of Darwin's religious doubts, scholars too often overlook Darwin's positive contribution to the study of religion. J. David Pleins traces Darwin's journey in five steps. He begins with Darwin's global voyage, where his encounter with religious and cultural diversity transformed his understanding of religion. Surprisingly, Darwin wrestles with serious theological questions even as he uncovers the evolutionary layers of religion from savage roots. Next, we follow Darwin as his doubts about traditional biblical religion take root, affecting his career choice and marriage to Emma Wedgwood. Pleins then examines Darwin's secret notebooks as he searches for a materialist theory of religion. Again, other surprises loom as Darwin's reading of Comte's three stages of religion's development actually predate his reading of Malthus. Pleins explores how Darwin applied his discovery to the realm of ethics by formulating an evolutionary view of the "Golden Rule" in his Descent of Man. Finally, he considers Darwin's later reflections on the religion question, as he wrestled with whether his views led to atheism, agnosticism, or a new kind of theism. The Evolving God concludes by looking at some of the current religious debates surrounding Darwin and suggests the need for a deeper appreciation for Darwin as a religious thinker. Though he grew skeptical of traditional Christian dogma, Darwin made key discoveries concerning the role and function of religion as a natural evolutionary phenomenon.
Publisher: Bloomsbury Publishing Plc
ISBN: 9781623562472
Number of pages: 192
Weight: 222 g
Dimensions: 216 x 140 x 18 mm
---
MEDIA REVIEWS
For a thoroughly researched and readable account of Darwin's thinking about religion, this is a book that could hardly be bettered. It is authoritatively and attractively written. Darwin scholars will be familiar with most of the material, but it is recast with original insight and to good effect. [...] Darwin once said that to gain the approbation of one's fellow men is the "highest pleasure on this earth". On the strength of this book, it is a pleasure that Professor Pleins should certainly enjoy. -- John Hedley Brooke * Reviews in Science and Religion *
This book is the most nuanced discussion of Darwin's religious views that I have seen. At a time when studies of Darwin's ideas and even devotion to Darwin are at a high point, this particular work calmly, methodically, insightfully and without polemic treats Darwin's religious sensibilities in such a way as to overcome countless biases and inaccuracies in many previous discussions. Its lucid style and readability make it an attractive book for both undergraduate and graduate students, but also for a very wide readership beyond the academy. -- John F. Haught, Senior Fellow, Science & Religion, Georgetown University, USA
In this masterful overview, the author helpfully shifts the discussion about Darwin and religion away from Darwin's 'loss of faith' to a more nuanced picture of Darwin as the theist/deist/agnostic who continued to engage with religion, indeed intellectually struggled over religion, until his dying day. The book subverts the polarised narratives of the 'new atheists' and provides instead a more relevant text for the contemporary interaction between science and religion. -- Denis Alexander, Emeritus Director, The Faraday Institute for Science and Religion, St. Edmunds College, University of Cambridge, UK
A thoughtful and comprehensive treatment of Charles Darwin's thinking about religion, brought vividly to life by a warm and genuine sympathy for the people and their ideas. It is a book to be read both by the expert and the general reader. -- Michael Ruse, Lucyle T. Werkmeister Professor of Philosophy, Director of the Program in the History and Philosophy of Science, Florida State University, USA
J. David Pleins sets out to do one thing, and he does it very well. He presents, and discusses, Charles Darwin's thought about God and religion. This goes far further than addressing the chestnut whether, and at what stage, Darwin was a Christian believer, a more general theist, an agnostic, or an atheist, although that question is discussed carefully. Indeed, like the rest of the book, it is addressed with meticulous reference to primary texts: principally letters and notebooks, supplemented by accounts of conversations documented by others. [...] A sensible plea for contemporary debates to be as informed and thoughtful as Darwin's own. [...] Darwin has more to offer contemporary religious thought than even his magisterial work on physical evolution would suggest. -- The Revd Dr Andrew Davison, Tutor in Doctrine at Westcott House, Cambridge, UK. * The Church Times *
Pleins (Santa Clara Univ.) provides a brief but thoroughly documented study of Darwin's lifelong engagement with religious belief. The title is somewhat misleading. This is not a book about an "evolving Cod" (a theological claim); instead, as the subtitle suggests, it is a study of Darwin's own developing insights into the evolution of human religion. As described by Pleins, Darwin developed a compelling case in The Descent of Man for the evolution of religion and morality, but struggled for the rest of his life with the possible consequences of that discovery: atheism, agnosticism, or a new kind of theism? In his conclusion, Pleins recommends the example of Darwin's critical reflection in contrast to "the fuming of the fundamentalists and the posturing of the New Atheists," and hopes that this approach can point the way to a deeper understanding of the relation between religion and science. Since the author's 11 3 pages of text are backed up with 34 pages of notes and an additional 1 3-page bibliography, this book provides not just a challenging argument, but also a wide range of references for anyone wishing to look further into the topic. Summing Up: Recommended. Upper-division undergraduates and above. -- C. D. Kay, Wofford College * CHOICE *
This is a marvelous book on Darwin and religion. -- Keith Stewart Thomson, Oxford University * Reports of the National Center for Science Education *
Given the flurry of activity and publications in 2009 coinciding with the bicentenary of Charles Darwin's birth and the sesquicentennial of the publication of the Origin of Species, it could be supposed that there would be little more to say about Darwin's contemporary significance. The book proves that supposition wrong. [...] Drawing primarily on Darwin's Descent of Man, this book argues, convincingly in my view, that more can be said about Darwin's search for explanation with respect to religious beliefs. [...] What is striking, however, about Pleins's account is the extent to which historical details are used to inform his position. This makes for a lively and readable account that will be attractive in a teaching context. [...] [T]his book needs to be read and widely appreciated in both scholarly and pedagogical contexts. * Horizons (Celia Deane-Drummond, University of Notre Dame) *
In this readable and informative volume, J. David Pleins offers... a clearly written and laser-focused historical guide for understanding the evolution of Darwin's thinking about religion.... Contrary to those who assume Darwin was unequivocally and unabashedly atheistic, Pleins persuasively argues otherwise.... A good and worthwhile read. -- William J. Meyer, Maryville College * Journal of the American Academy of Religion *
The topics of Charles Darwin's faith and changing views of religion have certainly been addressed before, but J. David Pleins presents a fresh approach. This relatively short, but densely-packed, study adds a certain depth and precision to the scholarly conversation of Darwin's thoughts on evolution as applied to religion ... The Evolving God is recommended for academic libraries ... For readers interested in exploring the source material for Darwin's thoughts, Pleins's book is highly recommended. -- Martha A. Adkins * Catholic Library World *
... a solid piece of scholarship, thoroughly documented from primary sources, and as nuanced as Darwin's own changing views on religion. Both the scholar and general reader will profit from this text, which develops an engaging narrative of Darwin's developing views on religion in five steps corresponding to the chapters making up the book ... this book is highly recommended and deserves a wide audience. -- S. Brian Stratton, Alma College * Theology Today *
"In The Evolving God, J. David Pleins examines Charles Darwin's enduring engagement with religious and theological questions. Pleins's brief monograph traces the development of Darwin's thought on religious issues from his early studies of the natural theology of William Paley and others, to his speculations on religion and morals during his five-year voyage on the Beagle, and finally to his mature thoughts on the relevance of religious questions in the light of his theory of evolution. While much previous scholarship has focused on the drama of Darwin's own loss of Christian faith, Pleins seeks to tell a different (and in some ways more interesting) story about the great scientist as a lifelong "seeker" who never lost interest in the religious issues that engaged his fellow Victorians." -- Marjorie Wheeler-Barclay, Randolph College, USA * Victorian Studies, 58:1 *
You may also be interested in...
×
Download the Waterstones App
Would you like to proceed to the App store to download the Waterstones App?
Reserve online, pay on collection.
Or,
add to basket
, pay online, collect in as little as 2 hours, subject to availability.
Thank you for your reservation
Your order is now being processed and we have sent a confirmation email to you at
When will my order be ready to collect?
Following the initial email, you will be contacted by the shop to confirm that your item is available for collection.
Call us on or send us an email at
Unfortunately there has been a problem with your order
Please try again or alternatively you can contact your chosen shop on or send us an email at