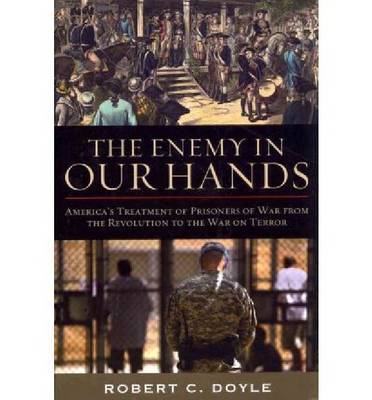 The Enemy in Our Hands: America's Treatment of Prisoners of War from the Revolution to the War on Terror (Paperback)
Robert C. Doyle
(author)
Paperback
488

Pages / Published: 15/07/2011
Revelations of abuse at Baghdad's Abu Ghraib prison and the U.S. detention camp at Guantanamo Bay had repercussions extending beyond the worldwide media scandal that ensued. The controversy surrounding photos and descriptions of inhumane treatment of enemy prisoners of war, or EPWs, from the war on terror marked a watershed moment in the study of modern warfare and the treatment of prisoners of war. Amid allegations of human rights violations and war crimes, one question stands out among the rest: Was the treatment of America's most recent prisoners of war an isolated event or part of a troubling and complex issue that is deeply rooted in our nation's military history?
Military expert Robert C. Doyle's The Enemy in Our Hands: America's Treatment of Prisoners of War from the Revolution to the War on Terror draws from diverse sources to answer this question. Historical as well as timely in its content, this work examines America's major wars and past conflicts-among them, the American Revolution, the Civil War, World Wars I and II, and Vietnam-to provide understanding of the United States' treatment of military and civilian prisoners. The Enemy in Our Hands offers a new perspective of U.S. military history on the subject of EPWs and suggests that the tactics employed to manage prisoners of war are unique and disparate from one conflict to the next. In addition to other vital information, Doyle provides a cultural analysis and exploration of U.S. adherence to international standards of conduct, including the 1929 Geneva Convention in each war. Although wars are not won or lost on the basis of how EPWs are treated, the treatment of prisoners is one of the measures by which history's conquerors are judged.
Publisher: The University Press of Kentucky
ISBN: 9780813134604
Number of pages: 488
Weight: 637 g
Dimensions: 229 x 152 x 30 mm
---
MEDIA REVIEWS
"The lesson... is clear: an improvised POW policy for a conflict with an irregular foe leads into a legal and ethical quandry." -- Joint Forces Quarterly
""Doyle's comprehensive and balanced analysis of the ways America has treated enemy prisoners of war should be required reading for anyone addressing that controversial subject. Thoroughly researched and clearly written, incorporating civilian as well as military prisoners, covering a spectrum from Loyalists to American Indians to Germans and Japanese, The Enemy in Our Hands offers a unique perspective on who and what Americans are."--Dennis Showalter, author of Patton and Rommel: Men of War in the Twentieth Century" --
""Given the worldwide controversy over America's handling of captured personnel during its recent military incursions in Iraq and Afghanistan, Robert C. Doyle's The Enemy in Our Hands provides a much-needed, scholarly perspective on this country's historical treatment of prisoners of war, or "enemy combatants," as President George W. Bush referred to them. Because so much of this material has not previously appeared in print, The Enemy in Our Hands reinforces Doyle's reputation as America's foremost scholar on POWs, past and present."--Lewis H. Carlson, author of Remembered Prisoners of a Forgotten War: An Oral History of Korean War POWs and We Were Each Other's Prisoners: An Oral History of World War II American and German Prisoners of War." --
""Incredibly informative and insightful, Robert Doyle reveals fascinating truths about the treatment of enemy POWs. I now realize just how lucky I am to have survived almost six years in the hands of my brutal North Vietnamese captors. No nation, during any war, has extended such humane treatment to POWs as by the United States."--Captain Mike McGrath, USN (ret.), author of Prisoner of War -- Six Years in Hanoi, and former president of NAM-POWS, Inc." --
""Casting a wide net, this book delivers a scholarly, lucid overview of America's handling of POWs of all stripes: military, civilian, and irregular.... Doyle delves deeply, and military buffs will consider it the definitive treatment."-- Publishers Weekly" --
""The moral and historical issues here will be of interest to military students, historians, political scientists, ethicists, and similar scholars.... Strongly recommended."-- Library Journal" --
""[The Enemy in Our Hands] is supported by sound scholarship but written in clear, non-pedantic language appropriate to its remarkably insightful and balanced analysis.... A definitive single volume."-- Proceedings of the US Naval Institute" --
""[Doyle] examines American actions regarding POWs from George Washington's leadership through both World Wars to the present."-- Tucson Citizen" --
""As current events continually shape the context of modern warfare, Doyle's work will assist American consideration of how its treatment of EPWs defines national character."-- Franciscan Way" --
""With the very definition of 'torture' subject to partisan politics, [Doyle] is content to objectively relay the precedents that shaped America's treatment of captured enemies without pointing fingers or making sweeping judgments.... What readers are left with is a lively primer illuminating the people, events and prejudices that have shaped the government's handling of prisoners of war and homegrown political dissidents over time."-- Miller-McCune" --
""The Enemy in Our Hands is an insightful and balanced work of history, supported by sound scholarship and written in clear, non-pedantic language. It gives the reader a comprehensive review of American foreign policy over six decades, giving a guided tour of America's battles and wars to get to the heart of the treatment of prisoners by the United States and, collaterally, the treatment of American prisoners by other countries."-- Naval History" --
""Comprehensive, covering all of the expected prisoner of war populations, as well as the perhaps less expected topics of Loyalist and Quaker prisoners during the American Revolution, Native Americans as POWs, the Spanish American War and the War in the Philippines, domestic internees during World War II, the Phoenix program in Vietnam, and prisoners of the 'War on Terror.'"-- Book News" --
""Show[s] the improvised and inconsistent nature of US policies in most past wars....Doyle emphasizes individual experience in the cultural history of war and relies more on personal interviews. He also places heavier emphasis on civilian captives and methods of dealing with wartime disloyalty. Highly recommended."-- Choice" --
""Brings together a vast quantity of mostly secondary sources to describe the way in which the United States has treated POW's over approximately 240 years.... Fills a void that has existed for many years."-- On Point" --
" "The Enemy in Our Hands represents a significant contribution to the study of American military history and superb starting point for scholars interested in America's treatment of its enemies."-- Military Review" --
""Contains an informative chapter on the Vietnam War. Doyle shows that with some notable exceptions, Americans in Vietnam treated enemy prisoners in accordance with Geneva Convention rules."-- VVA Veteran" --
""Doyle provides excellent context for non-expert readers... the importance of captives to the outcome, and a vivid picture of life in captivity."-- Choice" --
""This is a must read, a valuable resource, and an outstanding documentation of prisoners in American wars."--Journal of America's Military Past" --
""A superb study that examines EPWs, interned enemy aliens, and American political prisoners with valuable primary documents and statistics in the extensive appendix. This work will generate debate on the definition of POWs since Doyle has broadened the context to include enemy nationals and political prisoners. By analyzing a wider range of security threats, Doyle is not limited by conventional standards in framing the debate regarding the future development of national policies and international law to deal with non-state combatants." --American Historical Review" --
"" The Enemy in Our Hands exmaines American actions regarding POWs from George Washington's leadership in the American Revolution through both World Wars to the present." -- The Lone Star Book Review" --
""A thorough treatment of the subject...highly readable and relevant."--Teaching History" --
You may also be interested in...
Simply reserve online and pay at the counter when you collect. Available in shop from just two hours, subject to availability.
Thank you for your reservation
Your order is now being processed and we have sent a confirmation email to you at
When will my order be ready to collect?
Following the initial email, you will be contacted by the shop to confirm that your item is available for collection.
Call us on or send us an email at
Unfortunately there has been a problem with your order
Please try again or alternatively you can contact your chosen shop on or send us an email at