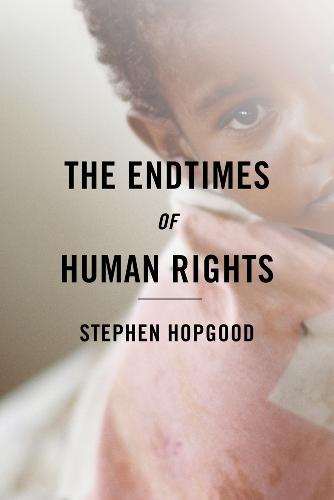 Paperback
272

Pages / Published: 08/10/2015
"We are living through the endtimes of the civilizing mission. The ineffectual International Criminal Court and its disastrous first prosecutor, Luis Moreno-Ocampo, along with the failure in Syria of the Responsibility to Protect are the latest pieces of evidence not of transient misfortunes but of fatal structural defects in international humanism. Whether it is the increase in deadly attacks on aid workers, the torture and 'disappearing' of al-Qaeda suspects by American officials, the flouting of international law by states such as Sri Lanka and Sudan, or the shambles of the Khmer Rouge tribunal in Phnom Penh, the prospect of one world under secular human rights law is receding. What seemed like a dawn is in fact a sunset. The foundations of universal liberal norms and global governance are crumbling."-from The Endtimes of Human RightsIn a book that is at once passionate and provocative, Stephen Hopgood argues, against the conventional wisdom, that the idea of universal human rights has become not only ill adapted to current realities but also overambitious and unresponsive. A shift in the global balance of power away from the United States further undermines the foundations on which the global human rights regime is based. American decline exposes the contradictions, hypocrisies and weaknesses behind the attempt to enforce this regime around the world and opens the way for resurgent religious and sovereign actors to challenge human rights.Historically, Hopgood writes, universal humanist norms inspired a sense of secular religiosity among the new middle classes of a rapidly modernizing Europe. Human rights were the product of a particular worldview (Western European and Christian) and specific historical moments (humanitarianism in the nineteenth century, the aftermath of the Holocaust). They were an antidote to a troubling contradiction-the coexistence of a belief in progress with horrifying violence and growing inequality. The obsolescence of that founding purpose in the modern globalized world has, Hopgood asserts, transformed the institutions created to perform it, such as the International Committee of the Red Cross and recently the International Criminal Court, into self-perpetuating structures of intermittent power and authority that mask their lack of democratic legitimacy and systematic ineffectiveness. At their best, they provide relief in extraordinary situations of great distress; otherwise they are serving up a mixture of false hope and unaccountability sustained by "human rights" as a global brand.The Endtimes of Human Rights is sure to be controversial. Hopgood makes a plea for a new understanding of where hope lies for human rights, a plea that mourns the promise but rejects the reality of universalism in favor of a less predictable encounter with the diverse realities of today's multipolar world.
Publisher: Cornell University Press
ISBN: 9781501700668
Number of pages: 272
Weight: 425 g
Dimensions: 229 x 152 x 16 mm
---
MEDIA REVIEWS
"[R]eadable and brilliantly written, as well as... [rich] in information... and... controversial but challenging ideas."
-- Pierre Hassner * Survival *
"Christian Imperialism is a very welcome addition to the field of both missionary history and the history of the early American republic... For historians of missionsit shows that Americans were deeply involved in global missionary work well before they had officially crafted an overseas empire. For scholars of the early American republicit challenges that customary periodization of empire and demands that we look both within and beyond borders to recognize that the American past was never exclusively American."
-- Edward E. Andrews * Journal of Church and State *
"According to Hopgood, we are witnessing the last gasp of human rights as the prospect of one world under secular human law is receding and thefoundations of universal liberal norms and global governance are crumbling (p. 1). It is from this vantage point that Stephen Hopgood launches into a nuanced and powerful demolition of the normalising metanarrative of the Human Rights agenda.... [T]his is a compelling text as Hopgood grapples with issues of 'who gets to decide global rules' and who gets to define "legitimate exceptions to them" (p. 2). Further, we see Human Rights are not, and never have been, above the fray of national sovereignty as organisations and states have always sought to set the parameters of the political sphere and define who would be excluded from the outset."
-- Brian R. Gilbert * Critical Race and Whiteness Studies *
"Hopgood's point of view, sure to be controversial, is argued with clarity, passion, and verve. Hopgood challenges those concerned with humanitarianism to look beyond Western-led human rights organizations, especially to activists working within their own communities, for hope. It seems certain that this book will cause both celebration and discomfort, even outrage, within the human rights community. Readers with an interest in human rights policy, humanitarianism, and even cultural history more broadly will find much to like in Hopgood's brisk, witty prose, even if they are discomfited by his arguments."
* Library Journal *
"In this scathing indictment of the human rights movement, Stephen Hopgood contends that it has sold out its moral clarity for an alliance with interventionist liberal states.... Hopgood's provocation is powerful, and his privileging of locally and nationally inspired activism rings true. He does an excellent job of drawing together specific incidents to support his controversial views.... The Endtimes of Human Rights is a bracing alert for human rights professionals and all who care about global ethics. Scholars, practitioners, and NGO contributors will need to reckon with this important book."
-- Clifford Bob * Ethics & International Affairs *
"This is a provocative, angry book-and an important one.... The book is particularly good on the link between human rights and liberalism, and how the larger the human rights non-governmental organization is, the greater the likelihood that it has been tamed by capital, existing to raise money rather than raising money to exist.... This is a disturbing read, the anger driving the narrative, the passion evident in every paragraph."
-- Conor Gearty * Times Higher Education Supplement *
"The Endtimes of Human Rights is a brilliant book. Stephen Hopgood puts forward an important and controversial argument about the cultural parochialism of the human rights regime and predicts that we are coming to the end of the 'church of human rights.' Drawing on cultural history, Hopgood traces the political foundations of humanitarianism as a parochial expression of European and especially Christian values, and its unconscious use of universal language to push forward the cultures and values of European Christianity. Hopgood takes us to the edge of a future where our comfortable and comforting language of human rights is unmasked for what it is: a language that grows out of particular cultures and historical circumstances at a time when these cultures are no longer dominant and circumstances have changed as power shifts in the global system. For many, this will come as an unpalatable, even shocking argument."
-- Janice Stein, Belzberg Professor of Conflict Management in the Department of Political Science and the Director of the Munk School of Global Affairs, University of Toronto, author of
The Cult of Efficiency
"Human rights, Stephen Hopgood argues in this hard-hitting provocation, began as the last version of Europe's Christianity but was transformed into the imperial language of America's hegemony. Hopgood compellingly analyzes the mutation of advocacy from sentimental compassion at the grassroots level to 'international justice' among elites, preparing his powerful call for a return to the decentralized movement that first allowed humanism traction. The Endtimes of Human Rights suggests that when the church goes wrong, the time can come to call for a reformation or even to celebrate a Black Mass."
-- Samuel Moyn, Columbia University
"This barnstormer of a book is both rigorous and a page-turner, both provocative and careful, both deconstructive and constructive. Stephen Hopgood challenges all fans of human rights with the prospect that the human rights movement is collapsing in its moral authority. Whether readers shake or nod their heads as they make their way through the pages-and I find myself doing both-they will find themselves engaged in a sparkling conversation with a lively intellect."
-- Daniel Philpott, University of Notre Dame
You may also be interested in...
Simply reserve online and pay at the counter when you collect. Available in shop from just two hours, subject to availability.
Thank you for your reservation
Your order is now being processed and we have sent a confirmation email to you at
When will my order be ready to collect?
Following the initial email, you will be contacted by the shop to confirm that your item is available for collection.
Call us on or send us an email at
Unfortunately there has been a problem with your order
Please try again or alternatively you can contact your chosen shop on or send us an email at