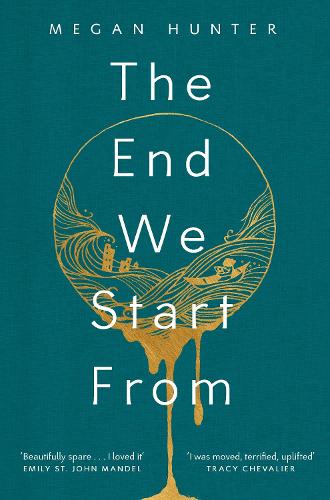 Hardback
140

Pages / Published: 18/05/2017
I am thirty-two weeks pregnant when they announce it: the water is rising faster than they thought. It is creeping faster. A calculation error. A badly plotted movie, sensors out to sea.
In the midst of a mysterious environmental crisis, as London is submerged below flood waters, a woman gives birth to her first child, Z.
Days later, the family are forced to leave their home in search of safety. As they move from place to place, shelter to shelter, their journey traces both fear and wonder as Z's small fists grasp at the things he sees, as he grows and stretches, thriving and content against all the odds.
This is a story of new motherhood in a terrifying setting: a familiar world made dangerous and unstable, its people forced to become refugees. Startlingly beautiful, Megan Hunter's The End We Start From is a gripping novel that paints an imagined future as realistic as it is frightening.
And yet, though the country is falling apart around them, this family's world - of new life and new hope - sings with love.
Waterstones booksellers have been reporting great things about this unsettling debut novella. A masterclass in short fiction at its finest, Megan Hunter's debut stands head and shoulders above other dystopias. It is poetic, personal and achingly, frighteningly believable.
Publisher: Pan Macmillan
ISBN: 9781509839100
Number of pages: 140
Weight: 231 g
Dimensions: 197 x 130 x 14 mm
---
MEDIA REVIEWS
The End We Start From is a beautifully spare, haunting meditation on the persistence of life after catastrophe. I loved it. -- Emily St. John Mandel, author of Station Eleven
A shot of distilled story . . . engrossing, compelling and finally hopeful -- Naomi Alderman, author of The Power, winner of the 2017 Baileys Women's Prize for Fiction
Extraordinary . . . The End We Start From is reminiscent of Cormac McCarthy's The Road . . . Megan Hunter's remarkable debut novel feels like the other half of the story * Financial Times *
Powerful . . . an uplifting celebration of the reality of motherhood in the face of terrifying global disaster * Daily Mail *
I'll be recommending this book for years to come. Utterly brilliant, hugely important. Here's the thing: it's perfect. -- Nathan Filer, author of Costa Prize-winning The Shock of the Fall
A stunning tale of motherhood. Megan has crafted a striking and frighteningly real story of a family fighting for survival that will make everyone stop and think about what kind of planet we are leaving behind for our children * Benedict Cumberbatch *
A short, haunting story about the end of days, sparse, beautiful and heroic -- Evie Wyld * Observer *
Extraordinary . . . a spare, futuristic fable about a brand-new mother navigating a flooded world * Vogue *
Virginia Woolf does cli-fi . . . tender and tremendous * Independent *
Extraordinary . . . it is her portrayal of motherhood - that tender-terrifying experience of bringing a child into a world - that has remained with me. I read it in one sitting, and was deeply moved. -- Hannah Kent, author of Burial Rites and The Good People
The End We Start From is strange and powerful, and very apt for these uncertain times. I was moved, terrified, uplifted - sometimes all three at once. It takes skill to manage that, and Hunter has a poet's understanding of how to make each word count. -- Tracy Chevalier, author of Girl With a Pearl Earring
I can't remember ever having read a novel quite as sparing or as daring as Megan Hunter's The End We Start From, or one that delivers so mighty an impact from such delicate materials. It is a moving, wistful and compelling debut. -- Jim Crace, author of Harvest
An exceptional, alarming and beautiful book, which still echoes months after I finished reading it. Megan Hunter is a writer of unnerving power. -- Evie Wyld, author of All the Birds, Singing
A dystopia that feels utterly convincing as our narrator gives birth to her son in a London under threat of advancing flood waters. She lives in the gulp zone so must head off into a familiar territory that has become terrifying in search of shelter and safety. This slender take on new motherhood has stayed with me - not least in making me think about the UK as a place to flee from rather than to, and to imagine Londoners turned refugees. -- Cathy Rentzenbrink * Stylist *
Startling . . . beautiful and insightful. Everyone who reads this will come away feeling renewed * Elle Magazine *
Megan Hunter's slender, startling debut shimmers with light, even as the novel heads into dark territory . . . tender and profound -- Psychologies Book of the Month
The End We Start From is so good and clever: a beautiful, timely book about survival (both domestic and global) shot through with hope and humanity -- Lisa Owens, author of Not Working
Beautiful . . . Water isn't the thing here, love is. And how we survive as the level of love rises -- Cynan Jones, author of The Dig and Cove
Exceptional, stunning. I devoured it -- Megan Bradbury, author of Everyone is Watching
The End We Start From is relentlessly, achingly personal. Hunter reminds us that disasters are rarely experienced in panorama. Instead, we live bone-deep inside our narrator. This book is fierce, sorrowful, and spiked with moments of bright joy. -- Rowan Hisayo Buchanan, author of Harmless Like You
Spellbinding . . . a debut [that] packs a punch that belies its brevity, with the author's background in poetry shining through . . . The End We Start From is a slender novel, but more profoundly moving than novels six times as long. It is perfectly balanced between fear and wonder. The world around them may be falling apart in the most extraordinary way, but ordinary life goes on and, as Hunter makes us understand, what a beautiful life it is. * The Bookseller *
I held my breath reading this beautiful and timely novel. With precise yet lyrical language Megan Hunter gets to the centre of who we are, where we are, and why it matters. The End We Start From is a work of art -- Christie Watson, author of Tiny Sunbirds Far Away
This debut is a story of a new mother and her baby who are turned into refugees after a mysterious environmental crisis. The End We Start From is a relevant story of our times which shrewdly ponders the meaning of survival and humanity in desperate times * Wales Arts Review *
In a future London, a mysterious environmental crisis is causing flooding. On the day a woman gives birth to her first child, Z, her home and the city is submerged, and she and her husband R are forced to leave in search of safety. In a scant 127 pages, Megan Hunter creates a powerful and painful story of love and endurance, and of the experiences of being a mother and a refugee * Stylist *
A haunting dystopian tale unlike any you've read before. In the aftermath of an environmental disaster, London is submerged by floodwater and the narrator, who remains unnamed, is forced to flee with her newborn baby. Despite the world as they know it crumbling around them, mother and son grow and thrive in this dangerous new Britain, where they've been recast as refugees. Poetic, precise, and surprisingly full of warmth, this is a beautiful story about the first months of motherhood and the places where hope springs, even in the darkest of times * AnOther *
Brilliant . . . Hunter traces - with expert precision and such lyricism - who we are when life is minimised . . . an echo of Jenny Offill's Dept of Speculation . . . a visceral, poetic confession -- Sinead Gleeson * Irish Times *
Fans of Station Eleven will love this. * Red magazine *
The End We Start From is an effective, unusual and ambitious debut, which keeps the reader pinned to the page * Guardian *
Set in a post-apocalyptic Britain, Megan Hunter's debut is lyrical, uplifting and unmissable * Stylist *
Megan Hunter uses words sparingly. In her startlingly poetic debut, The End We Start From, she even rations her letters. She calls her characters R and Z and each paragraph is only a sentence or two long. Hunter tangles the delight and disorientation of new motherhood with scenes of societal collapse. As everything seems to be ending, as London floods, a new life begins, hot and pink and hungry. Hunter writes with delicacy and precision; her imagery is pearlescent in places. It's a sliver of a novel, but it shimmers. * Observer *
Natural disasters and climate-related catastrophes might make for a compelling setting, but to really catch a reader's interest, you need to have the personal touch. And this is a novel that takes that principle down to its sparsest, simplest best, focusing on one woman and her child through a year of turmoil . . . best read in one sitting to fully absorb the haunting, brutal yet loving atmosphere of the narrator's journey . . . does a great job of capturing the intensity of early parenthood . . . a tale of survival in extreme conditions * SFX *
Hunter's spare, drumskin-tight prose zings off the page, and ingenious descriptions abound . . . It may only consist of 127 pages of impressionistic, staccato sentences, but this is a book of wide horizons and big ideas, and it's no surprise that Benedict Cumberbatch's company have just acquired movie rights. For Hunter the future looks very bright indeed. * Scotland on Sunday *
A story of sheer catastrophe, peppered with endearing experiences and milestones of new motherhood. The element which defines this short piece of dystopian fiction is the unique, elegant writing style . . . The End We Start From is beautiful, thought-provoking and most of all, hauntingly believable. It is a tale of hope at a time when the country truly needs it. A stunning debut. * Manchester Evening News *
In this short, fragmentary novel, an environmental disaster plunges England into chaos as one woman gives birth to her first baby . . . Narrated by the mother, the prose is stripped right back, with passages in italics referring to a variety of creation myths. This economy of style empowers a narrative celebrating motherhood, which is ambitious, original and disturbing - and took me back to those raw early days of parenthood. -- Fanny Blake, Summer Books Pick * Daily Mail *
Apocalypse and rebirth are central to Hunter's story. Like Emily St John Mandel's luminous Station Eleven, or Margaret Atwood's MaddAddam trilogy, you read it with the conviction that this is what it would be like . . . Hunter's apocalypse is a tender one . . . The End We Start From promises the possibility of life afterwards. * New Statesman *
Sparse and poetic . . . beautifully written * Independent *
The postapocalyptic literary novel is currently in vogue almost to the point of redundancy, but Hunter's slim yet sharp debut offers a level of precision and interiority rarely seen in the genre . . . The narrator forges relationships with other survivors as she moves from place to place in search of safety and community, but the journey toward recognizing the world for what it has become is made all the more poignant as she begins to see it through the eyes of Z, a child who has never known it to be anything other than what it is now. Told in a voice that is by turns meditative, desperate, and hopeful, this novel showcases Hunter's considerable talents and range * Publishers Weekly *
Poetic and succinct . . . an etiological exercise for a climate-changed world . . . The power of Hunter's story is both in its spare prose, which undulates and captures searing images as poems might otherwise do, and in the connection of its future to the past. Italicized bits of origin tales accompany forays into the unknown, and meditations on what has been lost are heartrending in their clarity and familiarity . . . Settings, from remote houses to islands to refugee camps, are rendered with precision, and prove to be a mixture of alien and familiar. Though the story is marked by incredible loss, the hope beyond the devastation is worth holding on for. Hunter's is an uncommon disaster tale-lovely, intimate, and foreboding * Foreword *
The story may seem familiar-the dystopian nightmare, the mass migration, food shortages, an uncertain future-but debut novelist Hunter's spare prose and luminous writing give it a fresh immediacy * Library Journal (Starred review) *
The real strength of this wonderfully earthy novel is in its sharpened lens on motherhood's apocalyptic-feeling joys and terrors, and how they can form an all-encompassing world * Vogue *
In elegiac lines, Hunter tells a love story through the eyes of a new mother, who witnesses the death of an old life and the start of a new one . . . a perfect portrait of rebirth the final testament that time, and life, do go on, despite our best efforts * Elle Magazine *
Through the narrator's restrained, episodic, and suspenseful recounting, Hunter excels particularly in portraying both devastating calamity and the aspects of mothering that are unchanged by it . . . A uniquely intimate tale of motherhood amid catastrophe * Booklist *
You may also be interested in...
Simply reserve online and pay at the counter when you collect. Available in shop from just two hours, subject to availability.
Thank you for your reservation
Your order is now being processed and we have sent a confirmation email to you at
When will my order be ready to collect?
Following the initial email, you will be contacted by the shop to confirm that your item is available for collection.
Call us on or send us an email at
Unfortunately there has been a problem with your order
Please try again or alternatively you can contact your chosen shop on or send us an email at