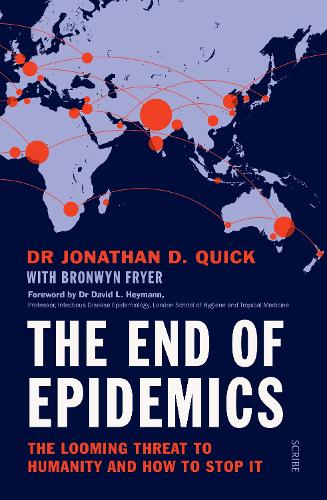 Paperback
288

Pages / Published: 08/03/2018
AIDS. Ebola. Bird flu. SARS. These and other epidemics have wiped out millions of lives and cost the global economy billions of dollars.
Experts predict that the next big epidemic is just around the corner. But are we prepared for it? And could we actually prevent it?
Somewhere out there, a super virus is boiling up in the bloodstream of a bird, bat, monkey, or pig, preparing to jump to a human being. This as-yet-undetected germ has the potential to kill more than 300 million people and reduce global GDP by 5-10%. That risk makes the threat posed by ISIS, a ground war, a massive climate event, or even the dropping of a nuclear bomb on a major city pale by comparison.
But there is hope.
In The End of Epidemics, leading public health authority Dr Jonathan D. Quick tells the stories of the heroes, past and present, who've succeeded in their fights to stop the spread of illness and death. He explains the science and the politics of combatting epidemics. And he provides a detailed seven-part plan showing exactly how world leaders, health professionals, the business community, media, and ordinary citizens can work together to prevent epidemics, saving millions of lives.
Publisher: Scribe Publications
ISBN: 9781911344377
Number of pages: 288
Dimensions: 234 x 153 x 22 mm
---
MEDIA REVIEWS
`[S]even ways of preventing an infectious disease from reaching its pandemic potential ... What makes [The End of Epidemics] a good, highly readable primer are its convincing examples and vivid human stories.'
* The Economist *
`Dr. Quick's urgent message makes one hope that this book will reach a huge audience and that its exhortations will be acted on everywhere.'
* The Wall Street Journal *
`[An] informed, cogent and - honestly - frightening book.'
-- Michael Brooks * New Statesman *
`Pragmatic, insightful and research-rich, this is a key volume for the policymaker's shelf.'
* Nature *
`In The End of Epidemics, Quick and co-author Bronwyn Fryer spell out the seven biggest things we need to stop those outbreaks becoming epidemics. It is an impressive wish list.'
* New Scientist *
`This detailed book not only breaks down the science behind killer viruses, but tells the stories of medical pioneers whose tireless work has prevented debilitating epidemics, and could even help put an end to them forever.'
* GQ Australia *
`Dr Quick has written a fascinating book. Following decades working in some of the world's most epidemic-prone countries, he argues for scientific and public health developments that can save humanity from deadly micro-organisms.'
-- Dr. David Heymann, professor, Infectious Disease Epidemiology, London School of Hygiene and Tropical Medicine
`Infectious disease outbreaks rival natural disasters and wars in their capacity to endanger human health, cripple economies and disrupt societies. The End of Epidemics shows us that by learning from the past we can build a world more resilient to infectious disease. But we must act quickly.'
-- Dr. Jeremy Farrar, director, Wellcome Trust
`A down to earth account of what we know about epidemics, packaged wisely in 7 basic recommendations for action. The End of Epidemics proposes a new marriage of stakeholders: patients, communities, industry, doctors, political leaders, NGOs and philanthropies. Must read!'
-- Dr. Joanne Liu, International President, MSF (Doctors Without Borders)
`Dr. Quick makes a compelling case for the public and private sector to elevate their work on preparation, response and rehabilitation around epidemics. The End of Epidemics makes the case from a social and an economic perspective that we have a collective responsibility to take action now.'
-- Paul Polman, Chief Executive Officer, Unilever
`The End of Epidemics presents actions, insights and a compelling tale of how individuals - whether citizens or leaders - can stand together with science and innovation to slow or stop the ever-present risk of disease outbreaks and epidemics. His message: the power of Seven, power of one and the power of many.'
-- Dr. Heidi Larsen, director, Vaccine Confidence Project
`Rich in stories, The End of Epidemics is a powerful wake up call to get serious about epidemic threats. Quick offers down to earth solutions to prevent small and mega pandemics, a hundred years after the catastrophic 1918 Spanish flu.'
-- Professor Peter Piot, director, London School of Hygiene & Tropical Medicine
`The End of Epidemics presents the challenge represented by global epidemiological risks and offers a convincing set of prescriptions to address them. It is a captivating book that combines the best public health evidence with compelling real-life stories.'
-- Dr. Julio Frenk, president, University Of Miami; former minister of health, Mexico; and former dean, Harvard T.H. Chan School of Public Health
`Quick is an internationally recognised leader in global heath - his focus on innovation and new technologies is vital to pandemic threat prevention and preparedness to save lives around the globe.'
-- Dr. Rajiv Shah, president, Rockefeller Foundation
`Jonathan Quick offers a compelling and intensely readable plan to prevent worldwide infectious outbreaks. The End of Epidemics is essential reading for those who might be affected by a future pandemic - that is, just about everyone.'
-- Sandeep Jauhar, bestselling author of Intern and Doctored
`Dr. Jonathan Quick has written an insightful, accessible and personal history of modern epidemics, including such killers as smallpox and Ebola, and their dramatic impact on our lives and world. More importantly, Dr. Quick is not merely wringing his hands about the infectious catastrophes that are surely facing us, but focuses on the important actions needed to prevent social, economic and health consequences of inattention. Governments, international institutions, the private sector, and civil society had better take heed: prepare and plan now - or pay the price, in dollars and lives, tomorrow.'
-- Rear Admiral Kenneth Bernard, former senior official for Biodefense And Health Security under President G.W. Bush and President Clinton
`A well-documented and gripping account of the peril posed by pandemics. Dr. Quick, a global health leader from the front lines of the AIDS and Ebola, weaves rich historical facts and decades of personal experience to ring the alarm over the pandemic threat.'
-- Dr. Ariel Pablos-Mendez, former head of Global Health, US Agency for International Development
`Once in a while, we get a state-of-the-art synthesis of the complex problem of epidemics. Once in a very great while, such a summary is informed by deep experience battling them and by both passion and pragmatism. Only rarely - and this is the case in Quick's The End of Epidemics - is such an informed synthesis as readable as it is informed and as humane as it is pragmatic. The result is inspiring.'
-- Paul Farmer, MD, Harvard Medical School, Brigham and Women's Hospital, Partners In Health
`Sobering reading for public health officials and infectious disease students and perhaps inspiration for would-be activists to get busy. For general readers: get your flu shot.' * Kirkus Reviews *
`[I]nformative ... Without excess alarmism, Quick and Fryer show that such factors as climate change, terrorism, and the global food system put the next pandemic just around the corner.'
* Publishers Weekly *
'For readers interested in their own well-being and public health as well as ways to advocate for issues of great concern and urgency.'
* Library Journal *
`Quick offers a humane, readable, coherent analysis for would-be health leaders and disease responders, organised simultaneously as a handy reference tool for crisis response, and an outbreak explainer that in parts, thanks to assisting science writer Bronwyn Fryer, sizzles.'
* The Lancet *
`We could certainly use some of the advocacy for public health spending Quick calls for and-soon.'
* New Scientist *
You may also be interested in...
Simply reserve online and pay at the counter when you collect. Available in shop from just two hours, subject to availability.
Thank you for your reservation
Your order is now being processed and we have sent a confirmation email to you at
When will my order be ready to collect?
Following the initial email, you will be contacted by the shop to confirm that your item is available for collection.
Call us on or send us an email at
Unfortunately there has been a problem with your order
Please try again or alternatively you can contact your chosen shop on or send us an email at