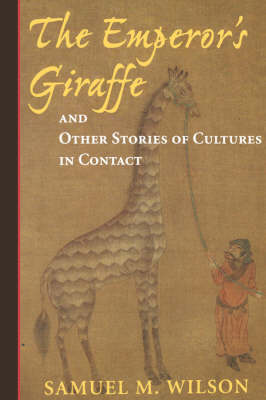 The Emperor's Giraffe: And Other Stories of Cultures in Contact (Paperback)
Samuel P. Wilson
Paperback
Published: 05/05/2000
Can be ordered from our supplier
An outbreak of a disease known as the "black vomit" prevents the English from strengthening their hold in "The New World" in the eighteenth century, with huge repercussions; the untimely death of an emperor prevents Chinese and Portuguese explorers from meeting along the coast of West Africa in the fifteenth century; the most significant factor in the Spanish exploration of North America turns out not to be Spain's mighty armies or her unrivaled fleet, but the lowly mosquito. In human history, little things can make a big difference, as Samuel Wilson demonstrates in The Emperor's Giraffe and Other Stories of Cultures in Contact.Focusing on individuals caught by chance in pivotal times and places, Wilson explores the ways in which seemingly small decisions made during the initial "contact period" between two cultures have had a huge impact on the course of history. Many of the stories illustrate that, despite thousands of years of isolation, the states and empires of the Old World were remarkably similar in structure and organization to those of the Americas. And the course of events in these past societies was at least partially determined by decisions made by people very much like ourselves--armed with imperfect knowledge and fueled by personal agendas.More than anything else, The Emperor's Giraffe shows that the consequences of these "contact periods" are still very much with us, in some rather surprising ways. Who could have predicted that the British colonization of the West Indies would come to a symbolic end with a 1950 England--West Indies cricket match? Who would have guessed that centuries-old European folk tales would make their way to America and be brought back to Europe hundred of years later in the guise of Disney characters? Little known events with large consequences and remarkable characters fill these interesting, informative, and sometimes surprising essays.
Publisher: The Perseus Books Group
ISBN: 9780813337869
You may also be interested in...
We would love to hear what you think of Waterstones. Why not review Waterstones on Trustpilot?