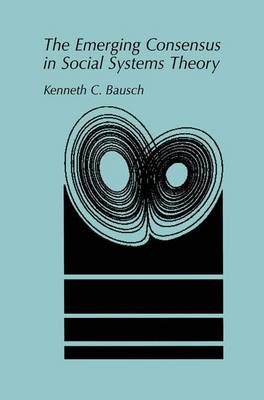 The Emerging Consensus in Social Systems Theory (Hardback)
Kenneth C. Bausch
(author)
Hardback
419

Pages / Published: 31/07/2001
In The Emerging Consensus of Social Systems Theory Bausch summarizes the works of over 30 major systemic theorists. He then goes on to show the converging areas of consensus among these out-standing thinkers.
Bausch categorizes the social aspects of current systemic thinking as falling into five broadly thematic areas: designing social systems, the structure of the social world, communication, cognition and epistemology.
These five areas are foundational for a theoretic and practical systemic synthesis. They were topics of contention in a historic debate between Habermas and Luhmann in the early 1970's. They continue to be contentious topics within the study of social philosophy.
Since the 1970's, systemic thinking has taken great strides in the areas of mathematics, physics, biology, psychology, and sociology. This book presents a spectrum of those theoretical advances. It synthesizes what various strains of contemporary systems science have to say about social processes and assesses the quality of the resulting integrated explanations.
Bausch gives a detailed study of the works of many present-day systems theorists, both in general terms, and with regard to social processes. He then creates and validates integrated representations of their thoughts with respect to his own thematic classifications. He provides a background of systemic thinking from an historical context, as well as detailed studies of developments in sociological, cognitive and evolutionary theory. This book presents a coherent, dynamic model of a self-organizing world. It proposes a creative and ethical method of decision-making and design. It makes explicit the relations between structure and process in the realms of knowledge and being. The new methodology that evolves in this book allows us to deal with enormous complexity, and to relate ideas so as to draw out previously unsuspected conclusions and syntheses. Therein lies the elegance and utility of this model.
Publisher: Springer Science+Business Media
ISBN: 9780306465390
Number of pages: 419
Weight: 1830 g
Dimensions: 235 x 155 x 33 mm
Edition: 2001 ed.
---
MEDIA REVIEWS
No End to the Fresh Ideas
People new to systems thinning and cybernetics are looking for handy resources to get started. This book requires something more. However, once a person gains a basic understanding, this book has proven to me to be one of the best. It points the reader in a number of directions for further study, and gives a useful summary of what the reader will find there.
Its treatment of the famous Luhmann-Habermas debates was especially helpful, and I plan to use a number of other sections in my own studies and college teaching for some time to come. I find that the writer understood the importance of orienting the reader who hadn't been comfortable with the science and mathematics that often go with systems thinking.
The author does an especially good job trying to integrate certain concerns with democracy, participative management, and widespread involvement that a systems approach sometimes neglects in pursuit of social engineering by a technical elite.
This book was heavier than a simple introduction, so it is not exactly the front door to systems thinking, but I have found it to be a hallway to many rooms that I am still exploring - thanks to Kenneth Bausch.
Nathan Harter, Greensburg, IN, United States

`Ken Bausch's book will become the bible in social systems theory. It offers the most complete overview of the systems literature, and it is a wonderful book for students and others seeking references on the subject.'
Louis Jacques Filion, Maclean Hunter Professor of Entrepreneurship, HEC, The University of Montreal Business School
`Bausch's new book presents a lucid account of modern system thinking regarding social processes, and points to two significant innovations in the making: the realization that processes are creative rather than deterministic, and the power that computations provide to their study.'
Hector Sabelli, MD, PhD, Director, Chicago Centre for Creative Development
`This book does not produce a metanarrative for our postmodern age. It does, however, reveal the terrain upon which such a narrative will run. The narrative will not be ethnocentric like the past metanarratives of feudal Christianity, Western superiority, and scientific enlightenment. This metanarrative will portray how things come to be, maintain themselves, and change. It will provide a general understanding of how we move into an uncertain future. To a surprising extent, this narrative will capture outstanding elements of the archetypal myths while providing a dynamic context for rapid decision-making.'
From the Foreword by Bela H. Banathy Ed.D, President, International Systems Institute and Alexander Christakis, President, CWA Ltd.
`Ken Bausch presents a masterful synthesis of social theory in a systemic framework. The breadth and depth of his understanding of social theory and systemic theory is impressive ... The choices are straightforward: invest a few years trolling the philosophy, sociology and systemic theory sections in the library; or read the coherent perspective offered in The Emerging Consensus in Social Systems Theory.'
David Ing, IBM Advanced Business Institute
'Kenneth Bausch has written a huge, impressive and often demanding book. I have rarely encountered a single volume that spans so many disparate areas. By his own count, he considers "over 1000 works," many of which, he notes, have "never before met each other." Seeking some red thread that can organize it, a "creative bifurcation" in his words, is obviously not an easy task. For him, it requires both a "critical mass," which the number of his sources provides, and an "intensive interaction among... ideas."
Operationally, he uses a combination of approaches that include "Relating these ideas unconsciously in metaphoric maps... " "Assisting these unconscious processes with conscious cognitive activity..." "Using pen and paper along with methods of parcelation, comparison, saliency generation, and relationship accounting to assist cognitive efforts..." and "Using welldesigned computer programs... to expedite decision-making processes." He notes, "In the generation of this book, I carefully parceled hundreds of statements into five categories (designing social systems, the structure of the social world, communication, cognition, and epistemology), and whittled down their numbers on the criteria of novelty, saliency, and clarity" and "employed the computer assistance afforded by the Interactive Management methodology to create further affinity clusters and patterns of long and deep logic among those statements. I state his methodology at the beginning because, while his breadth of interests is a source of what is impressive, it is his methodology that is the source of what is demanding in this book.
In the first case, Bausch begins by noting Habermas' "systems" interpretation and Luhmann's "phenomenology of meaning" interpretations of Talcott Parsons' attempted sociological synthesis-in fact much of his book revolves around the debate of the late 1960s and early 1970s between these two notables. As he returns to their differences he incorporates the work of Kauffman, Laszlo, Prigogine, Maturana, Varela, Churchman, Checkland, Banathy, Warfield, Kampis, Goertzel and others.
It is the sheer volume of writers that makes the work so demanding. Given that the book is "only" 427 pages in length, each source must be given only limited space. This requires that only their central themes, as generated by his paradigm can be included. For those readers conversant with these authors, Bausch's contribution is quite valuable: for those of us less acquainted with this corpus, it is somewhat off putting. One either experiences running into walls or seemingly endlessly going to primary sources to discover the arguments that Bausch finds so salient. This, in itself, is certainly not an argument against the book's obvious value-it is, however, a warning to anyone who would approach it as a review of the extensive literature that the author surveys.
I highly recommend this book for those equipped to follow its valuable arguments; for those not so equipped, however, it can appear frustrating, like following arrows in a smoke-filled room.'
Alan Stein, Wagan Institute, Garrison, NY
You may also be interested in...
Simply reserve online and pay at the counter when you collect. Available in shop from just two hours, subject to availability.
Thank you for your reservation
Your order is now being processed and we have sent a confirmation email to you at
When will my order be ready to collect?
Following the initial email, you will be contacted by the shop to confirm that your item is available for collection.
Call us on or send us an email at
Unfortunately there has been a problem with your order
Please try again or alternatively you can contact your chosen shop on or send us an email at