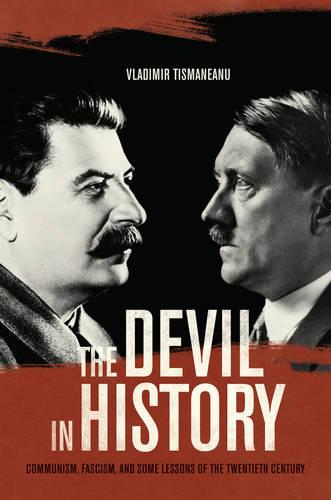 The Devil in History: Communism, Fascism, and Some Lessons of the Twentieth Century (Paperback)
Vladimir Tismaneanu
(author)
Paperback
336

Pages / Published: 02/05/2014
The Devil in History is a provocative analysis of the relationship between communism and fascism. Reflecting the author's personal experiences within communist totalitarianism, this is a book about political passions, radicalism, utopian ideals, and their catastrophic consequences in the twentieth century's experiments in social engineering. Vladimir Tismaneanu brilliantly compares communism and fascism as competing, sometimes overlapping, and occasionally strikingly similar systems of political totalitarianism. He examines the inherent ideological appeal of these radical, revolutionary political movements, the visions of salvation and revolution they pursued, the value and types of charisma of leaders within these political movements, the place of violence within these systems, and their legacies in contemporary politics. The author discusses thinkers who have shaped contemporary understanding of totalitarian movements--people such as Hannah Arendt, Raymond Aron, Isaiah Berlin, Albert Camus, Francois Furet, Tony Judt, Ian Kershaw, Leszek Kolakowski, Richard Pipes, and Robert C. Tucker. As much a theoretical analysis of the practical philosophies of Marxism-Leninism and Fascism as it is a political biography of particular figures, this book deals with the incarnation of diabolically nihilistic principles of human subjugation and conditioning in the name of presumably pure and purifying goals. Ultimately, the author claims that no ideological commitment, no matter how absorbing, should ever prevail over the sanctity of human life. He comes to the conclusion that no party, movement, or leader holds the right to dictate to the followers to renounce their critical faculties and to embrace a pseudo-miraculous, a mystically self-centered, delusional vision of mandatory happiness.
Publisher: University of California Press
ISBN: 9780520282209
Number of pages: 336
Weight: 499 g
Dimensions: 229 x 152 x 20 mm
---
MEDIA REVIEWS
"[A] fine and undoubtedly enduring study. This affinity of Leninism with Nazism is the argument of Tismaneanu's book. It is a claim that since 1945, and particularly the Cold War, has generated much controversy. A distinguished book."--William Pfaff"New York Review of Books" (06/20/2013)
"This volume achieves the rare distinction of being at once nuanced and impassioned. It is likely to remain a durable contribution to a deeper understanding of the great historical outrages of the past century which were closely linked to the concept and reality of totalitarianism."--Paul Hollander"New Criterion" (04/01/2013)
"An ambitious and challenging rereading of twentieth-century history."--John Gray"Times Literary Supplement (TLS)" (01/02/2012)
"A definitive account of the origins, the appeal, the doctrinal foundations and the political technology of history's two bloodiest political faiths . . . this profound and rich book is also a cautionary tale."--Leon Aron"Wall Street Journal" (01/12/2013)
"The parallels between communism and fascism have often been noted, fueling endless debates over whether the movements were fundamentally similar or different. The Devil in History . . . presents a genuinely fresh perspective on this topic."--Andrew Nagorski"Foreign Affairs" (01/01/2013)
"Tismaneanu's lucid narrative walks us through an intellectual landscape that traces the trajectory of totalitarian thinking back to its origins."--J. P. O'Malley"The Daily Beast" (09/28/2012)
"The book offers a fascinating read with an incredible wealth of bibliographic sources that will benefit all those interested in the topic. The author has succeeded in giving not only a solid account of the spirituality and history of communist and fascist regimes, but also an outstanding testimony of liberal political and normative thinking."--Camil Roman"Cambridge Review of International Affairs" (05/08/2013)
"Vladimir Tismaneanu is the perfect political analyst for today, for he is an expert on both the legacies of Nazism and Communism. In spite of optimistic diagnoses and rampant wishful thinking, these two pathologies are not dead. Vladimir Tismaneanu's illuminating book is an antidote against new experiments in utopian radicalism and social engineering."--Ion Mihai Pacepa"WND" (07/08/2013)
"Many books have been written about the similarities and differences between communism and fascism, both in theory and practice. None, however, matches the insight, analysis, and deep thought found in The Devil in History."--Ronald Radosh"Weekly Standard" (08/12/2013)
"The account provided is particularly strong on separating the critical paradigms of Marxism that emerged in East and West. . . . Getting the record straight here is important and challenges any simplistic notion of Eastern Europe's conversion to liberalism."--Richard Shorten"American Historical Review" (12/01/2013)
"Tismaneanu seeks to fulfill the ancient Jewish commandment of remembering and reminding, zachor, lest we forget and it may return. . . . Tismaneanu argues convincingly that a reckoning with the past can be both exorcism and therapy, and insists that there should be no silence or thick line separating the present from the embarrassing past. No reader of this book can accuse its author of ignoring the past."--Aviezer Tucker"Perspectives on Politics" (12/01/2013)
"At a time when liberal values are showing their frailty and salvationist mythologies are returning to favour in different places, an absorbing comparative essay is provided on the origins, ravages and ultimate failure of the radical totalitarian movements of the last century: communism and fascism. Vladimir Tismaneanu is an appropriate guide, a polymath steeped in the philosophical, literary and social science texts spawned by defenders, apostates and analysts of this phenomenon."--Tom Gallagher"International Affairs" (09/01/2012)
"Tismaneanu's real concern is to examine what he calls the 'maximalist utopian aspirations' expressed by communist and fascist regimes in Europe to try to understand how it is that systems that set out with a utopian agenda--world revolution or national rebirth--end up constructing murderous dystopias. There is a consensus in the Western world that these were 'delusional visions', as Tismaneanu calls them, but both European communism and fascism have died as mainstream political forces, making it easier to see them as deluded. The core of this perceptive and intelligent analysis is addressed to the more troubling question of how they were possible at all."--Richard Overy"Times Higher Education" (09/13/2012)
You may also be interested in...
Simply reserve online and pay at the counter when you collect. Available in shop from just two hours, subject to availability.
Thank you for your reservation
Your order is now being processed and we have sent a confirmation email to you at
When will my order be ready to collect?
Following the initial email, you will be contacted by the shop to confirm that your item is available for collection.
Call us on or send us an email at
Unfortunately there has been a problem with your order
Please try again or alternatively you can contact your chosen shop on or send us an email at