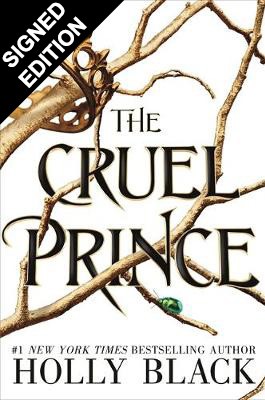 The Cruel Prince (The Folk of the Air) - The Folk of the Air (Hardback)
Holly Black
(author)
Hardback
Published: 02/01/2018
Signed Edition
Of course I want to be like them. They're beautiful as blades forged in some divine fire. They will live forever.And Cardan is even more beautiful than the rest. I hate him more than all the others. I hate him so much that sometimes when I look at him, I can hardly breathe.
One terrible morning, Jude and her sisters see their parents murdered in front of them. The terrifying assassin abducts all three girls to the world of Faerie, where Jude is installed in the royal court but mocked and tormented by the Faerie royalty for being mortal.


As Jude grows older, she realises that she will need to take part in the dangerous deceptions of the fey to ever truly belong.


But the stairway to power is fraught with shadows and betrayal. And looming over all is the infuriating, arrogant and charismatic Prince Cardan . . .


Dramatic and thrilling fantasy blends seamlessly with enthralling storytelling to create a fully realised and seductive world, brimful of magic and romance.
Publisher: Hot Key Books
ISBN: 9781471407710
Weight: 576 g
Dimensions: 240 x 162 x 34 mm
---
MEDIA REVIEWS
Lush, dangerous, a dark jewel of a book. Black's world is intoxicating, imbued with a relentless sense of peril that kept me riveted through every chapter of Jude's journey. And Jude! She is a heroine to love--brave but pragmatic, utterly human. This delicious story will seduce you and leave you desperate for just one more page -- Leigh Bardugo, #1 New York Times bestselling author of Six of Crows and Crooked Kingdom
Stands out amid a plethora of fairy-court fantasies . . . Complex, nuanced characters, frank sensuality and thorn-sharp, intricate storytelling all conspire to ensnare. * Guardian *
Whatever a reader is looking for-heart-in-throat action, deadly romance, double-crossing, moral complexity-this is one heck of a ride * Booklist *
I require book two immediately. Holly Black is the Faerie Queen. * Victoria Aveyard *
An enjoyable read * SFX Magazine *
I am awarding this book 5*/5 with no hesitation - it was lively, gripping, exciting, and had some amazing plot twists which kept me turning the pages * Sammy's Shelf *
It's only a week into 2018 and I've already fallen in love with a new author, Holly Black. I know I'm extremely late to this party, but wow her books are good. If you like faeries but also messy and complicated humans, trust me you'll love her! * What Rhi Read *
Holly Black creates an enticing world that's as sinister as it is appealing, and a heroine more than equipped to manoeuvre within. Impossible not to enjoy. Shadowhunters fan should read this at their earliest opportunity * SciFi Now *
A veritable queen of dark fantasy, Holly Black spins a thrilling tale of intrigue and magic in her newest novel. Ten years after the faeries murdered her parents and stole her away, 17 year old Jude is fighting to be accepted by her captors. Unmissable for fans of Sarah J. Mass and the Grisha trilogy * Buzzfeed UK *
This splendidly wicked and richly created story is one you won't want to miss * Buzzfeed *
With brave world building, complex characters and an intriguing plot all piled into one novel, this is a huge success * The Page Is Printed *
Fantasy adventure at its brilliant, intelligent, thought-provoking best * LoveReading *
In this story she has once again proved why she is known by some as the 'Queen of Faerie because she successfully creates a dark, twisted world inspired by the old folktales where the fae are capricious and cruel, yet sets it alongside a modern world that feels all too familiar * Chrikaru Blog *
A gripping tale packed with beautiful writing, a well crafted world, complex characters and fast paced action. The book definitely felt like a set up for something much bigger that I can't wait to get my hands on * Amy Jane Alice *
Holly Black created a world of Faerie that is ruthless, cruel and dangerous and it's so much fun to see all of that unfold over the course of the story! * The Caffeinated Bookworm Life *
The way Black spins the world is honestly mesmerizing. We've got faerie courts of every kind, each as mysterious and bloody wicked as you can possibly imagine. The creatures are varied, from pixies to undines to goblins. She uses phrases and descriptions in the best way possible to not only make you feel like you're actually there, but you can practically taste the sickly sweet faerie fruits and the dark magic in the air * Stones of Rome *
Holly Black has a way of weaving the fantastical into reality that few other authors manage with any real success. Whether she's writing about vampires or faeries, Black creates worlds so real that you risk losing yourself in them * Wondra's World *
I really cannot recommend The Cruel Prince highly enough. If you've read Holly's other books you'll get an extra kick out of it, but you don't need to, as this is a separate series. I'm already dying for book 2 and I can't believe I have to wait a year for it. I'm not entirely sure how I'm going to cope! * The Untitled Book Blog *
I can see why Holly is known as the Queen of Faeries. With this book alone, I was able to see that she knows this world well and has the ability to craft a rich and compelling story filled with evocative details that made me feel as though I were navigating Faerie myself. As if I could taste the sickening sweetness of the faerie fruit and run my fingers over the embroidery of the vibrant fabrics making up gowns for the balls. When I wasn't reading, I was thinking about the book, the characters, the impending danger which left me uneasy, until I had devoured it all. Just the right amount of things are resolved, and the explosive ending leaves the perfect set up for a sequel that could be even better than this. If, like me, you enjoy reading about morally grey characters and how far they are willing to go to gain power, then you should give this book a shot. It was my first Holly Black novel and it will certainly not be the last. I can't wait to discover what other worlds she has created - maybe that will help with the agonising wait for book 2 * Violette Books *
A dark and beguiling fantasy that sees how human strengths and weaknesses can be used for good and bad. This addictive tale and its vibrant cast of characters has hints of King Arthur's Court and a knight's quest with a magical twist * South Wales Evening Post *
this book knocked my socks off. Honestly, it had the perfect mix of court intrigue, well thought-out plot twists, amazing character development and sizzling chemistry (*swoon*) * Chased by my Imagination *
If you love old school fairytales and a dark, twisted plot, then you must read The Cruel Prince. I'm still amazed and cannot stop thinking about it * Astra Litte *
Holly Black writes beautifully, that's a fact. I was hooked from the very first chapter until the very last sentence of the book, this is so addictive you can't stop reading before knowing everything. And at the end you come asking for more * Beauty and the Bookstore *
This book is a real page turner! I was totally engrossed by the first chapter and it gets better and better whole the way through. I'm so sad that I've finished this book, I crave its sequel right now * MisLivsie *
Packed with court intrigues, vendettas and tangled loves and lineages and betrayals * Geek Chocolate *
This is a great start to a series and I'm now looking for other Holly Black books to read because I love her writing style. I love all things fey and have read numerous books in a similar setting and this is one of my favourite * Shutterpug *
The Cruel Prince was a refreshing read first and foremost. Void of unnecessary YA tropes and cliche characters, it made me giddy and reminded me of the days I could read YA fantasy without throwing the book across my room at least once. (Maybe there is hope yet). The story started right of the bat with gruesome murder (not a spoiler) wasting no time with finery and capturing my attention with an iron grip. And from there it went uphill. The pace was steady and fast with a captivating story line. It kept me on the edge of my seat the entirety of the time and the second half of the book, oh my lord. It was impossible to move my eyes from my book, even for a second! * Bookishues *
If you're looking for an amazing book about faeries, with great characters and amazing world building, look no further. I could probably go on for days but I definitely recommend you pick this up. Regardless if you've read any of Holly Black's previous works, it won't let you down * Midsummer Night's Read *
This book was fantastic. We were given a magical world filled with wonder, fantasy and lots of bloodlust. This book has everything you could need in a Young Adult novel, a strong willed heroin, an angst filled bad boy and of course a whirlwind romance * The Star *
an intriguing dark fantasy novel with a fascinating array of characters * The Owl on the Bookshelf *
This is a very clever and intricate book, and I am seriously looking forward to more political intrigue, plotting, spying, murders, revenge and clever ways to avoid lying in the next installment * Book For Thought *
Dark and twisted, this Faerie-tale kept me hooked from beginning to end with its glorious twists and turns * Kelly's Ramblings *
A very compelling and dramatic start to what I'm sure will be a very successful series. Holly Black has a way of ingeniously mixing just the right amount of action, tension, viciousness and romance in with the fantastical. She has created a fearsome world and even more fearsome characters. Jude is a force to be reckoned with, humanly flawed but fierce and strong. I loved her. The only problem now is, we have to wait until next year for the sequel. Hurry up Holly, my mortal heart could barely take the cliffhanger ending * Askews Newsletter *
The Cruel Prince was a surprising and fantastic read. Though I only bought this because it was at such a good price, it has such a complex and dark plot. I couldn't help but find myself comparing it to Game of Thrones for expecting the unexpected * Book Mood Reviews *
The Cruel Prince was one of the first YA fantasy books published in 2018 and whilst the whole year is still ahead of us, it's likely to be one of the best too. The long wait for book two has already begun. * Culture Fly *
Jude is a brilliant, furious creature - the product of murder, danger and brutality, strength built upon her fragility and weaknesses as a mere mortal, easily swayed and damaged by the world around her. * Hux Tales *
I found this absolutely compelling, mesmerizing even, as Black reeled me into this incredible world she created. Her imagery is tremendously vivid, but this is definitely a book I'd love to see played out on screen, just to see how all of the characters and the kingdom around them look. Black masterfully weaved suspense, intrigue, emotions, violence, and even a little romance to fantastic effect. * Either Sadness Or Euphoria *
I obviously loved this book. Definitely a 5/5 stars for me! It threw so much at you and everything stuck. I loved every aspect of this book and can't wait to get deeper into this faerie realm that Black is building for us. * Thrice Read *
I absolutely loved it. I found the writing rich and full of details (not too much though) and this drew me into the world. * Fleur's Makeup Box *
The Cruel Prince is a dark, twisty tale of jealousy, cruelty, betrayals and political intrigue and I thoroughly enjoyed it. * For What It's worth *
If you like the idea of a dark faerie young adult book, I definitely recommend The Cruel Prince as a fulfilling read. The story is quite unique for its genre, and the characterisation is extremely good for young adult fiction * Geeks Media *
Enjoyable story around a surprisingly relatable teenage drama. From school bullies, flings and finding your own place in a crazy and violent world, Holly Black has created an interesting new take on the well known fae story * A Novel Way To Move *
The writing is terrific, as is the quasi-Jacobean plotting * New Statesman *
An exceptional achievement! It's fast paced and complex, the characters are complicated and three dimensional, the sense of atmosphere and detail is captivating. In fact it feels almost like a faerie version of Game of Thrones, with level of ambiguity and viciousness that is truly refreshing for a story in this genre. One of the most enjoyable and immersive reading experiences of the last twelve months * Starburst Magazine *
This was so hyped to me that I somehow created an image in my head of how this book would be and, honestly, you can't even comprehend how wrong I was. Nothing was like I expected and I don't even know how I can up with so many preconceived notions when in reality I knew nothing about this book. But holy sh*t, do I need The Wicked King right. Now * Imi Reviews Books *
The storyline was without a doubt too, one of the best I've read in awhile. It was all very enchanting with a constantly surprising turn of events and plenty of danger and deception. I was always on edge wondering if something major was going to happen because it really all just came on so suddenly sometimes and I loved that. There was never a lapse in storyline either so it was a constant stream that made it very hard to put down since I never really had the feeling of being tired of it. Now, like everyone else who has read this book, I'm in for the torturous wait for the second book and I'm so eager to get my hands on it. Just like this book the sequel, The Wicked King, is sure to be one of the most anticipated releases of the year in 2019 * Bookish Kirra *
I loved this story and highly recommend to anyone who likes YA books with strong female character, snarky comments and lots of action * Blind Date with Books *
The Cruel Prince is a story both of faeries and political intrigue, of magic and mind control, swords and knives and poison. It is beautiful mix of the modern world and the magic of faerie stories * Library to Living Room *
What a beautifully stunning book. I can't be more excited for the next book in the series. Wow, what a cliffhanger. So messy and so very very delightful * Tor's Imagination *
Full of visceral descriptions and real, interesting characters, Holly Black's world of Faery is a brutal beast, and one that's hard to put down * Lipsyy *
An author always to watch out for, Holly Black's new series doesn't disappoint... this tale of a kingdom and deadly power struggles as seen through human eyes in asn absolute must read * Irish Independent *
A lush, immersive experience that will delight readers who have enjoyed The Game of Thrones where plot and counter-plot are the norm; where little is what it seems * Books For Keeps *
a pacey, engaging read, but with enough substance to be really satisfying, and Black gives us delicious tidbits of larger parts of the fairy world that I really hope will be explored later on. I'm looking forward to the next installment * Isabelle Marie Flynn *
I also loved how the story unfolded. Black set up her plot line brilliantly and through well placed though not super obvious hints you could vaguely figure out where things were going to go. It was well crafted and still allowed room for a few surprises.I highly recommend this fast paced and bloody read * Northern Plunder *
The Cruel Prince kept me on the edge of my seat the whole time. Jude was a really edgy, imperfect, relate-able character and I really liked her * Book Nerd Rambling *
You may also be interested in...
×
Download the Waterstones App
Would you like to proceed to the App store to download the Waterstones App?
Reserve online, pay on collection


Thank you for your reservation
Your order is now being processed and we have sent a confirmation email to you at
When will my order be ready to collect?
Following the initial email, you will be contacted by the shop to confirm that your item is available for collection.
Call us on or send us an email at
Unfortunately there has been a problem with your order
Please try again or alternatively you can contact your chosen shop on or send us an email at