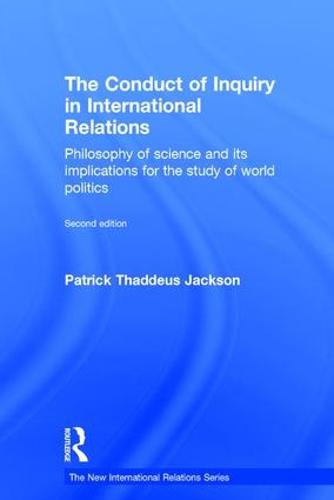 The Conduct of Inquiry in International Relations: Philosophy of Science and Its Implications for the Study of World Politics - New International Relations (Hardback)
Patrick Thaddeus Jackson
(author)
Hardback
272

Pages / Published: 31/03/2016
The Conduct of Inquiry in International Relations first edition was winner of the ISA-Northeast's Yale H. Ferguson Award, and the ISA Theory Section's Best Book of the Year award.
The Conduct of Inquiry in International Relations provides an introduction to the philosophy of science issues and their implications for the study of global politics. The author draws attention to the problems caused by the misleading notion of a single unified scientific method, and proposes a framework that clarifies the variety of ways that IR scholars establish the authority and validity of their empirical claims. Jackson connects philosophical considerations with concrete issues of research design within neopositivist, critical realist, analyticist, and reflexive approaches to the study of world politics. Envisioning a pluralist science for a global IR field, this volume organizes the significant differences between methodological stances so as to promote internal consistency, public discussion, and worldly insight as the hallmarks of any scientific study of world politics.
In this second edition, Jackson has centralised the philosophical history of the `science question' into a single chapter, providing a clearer picture of the connections between contemporary concerns about the status of knowledge and classic philosophical debates about the relationship between human beings and the world they inhabit. The central chapters feature more detailed and pedagogically useful illustrations of the methodological positions discussed, making the book even better suited to clarify the philosophical distinctions with respect to which a scientific researcher must locate herself.
The second edition will continue to be essential reading for all students and scholars of International Relations, Political Science and Philosophy of Science.
Publisher: Taylor & Francis Ltd
ISBN: 9781138842649
Number of pages: 272
Weight: 544 g
Dimensions: 235 x 159 mm
Edition: 2nd New edition
---
MEDIA REVIEWS
`In this nicely revised edition, Patrick Jackson makes a significant contribution to IR meta-theory with an impressive range of knowledge and a reassuring depth of understanding on important philosophical issues.' - Hidemi Suganami, Emeritus Professor of International Politics, Aberystwyth University, UK
Praise for the first edition:
'The Conduct of Inquiry in International Relations outlines a constructive and convincing path for getting beyond unproductive debates about the relative merits of the various methodologies that inform IR. Calling for a post-foundational IR that rests on a more expansive definition of science than that which is conventionally accepted by the field, Patrick Jackson makes a compelling case for an engaged pluralism that is respectful of the different philosophical groundings that inform a variety of equally valid scientific traditions, each of which can usefully contribute to a more comprehensive and informed understanding of world politics.' - J. Ann Tickner, School of international Relations, University of Southern California, USA
'This is a book that will have a deep and lasting impact on the field. It displays impressive and sophisticated scholarship, but lightly worn and presented in an engaging manner, student-friendly but never patronising or afraid to challenge the reader. I know no better account of the various ways by which one can study IR scientifically and I am confident that this is a text that will be very widely adopted.' - Chris Brown, Professor of International Relations, London School of Economics, UK
'Neatly framed, balanced, informed, lucid and, yes, important, this is the rare book I wish I had written myself. Not that I could have done it nearly as well.' - Nick Onuf, Professor Emeritus of International Relations at Florida International University, USA
'In this vigorously argued, incisive and important book P.T. Jackson liberates us from the misplaced polarity between "hard, scientific" and "soft, interpretive" approaches that has bedeviled international relations scholarship for half a century. Neither approach has any grounding among philosophers of science with their insistence on the irreducibly pluralist nature of science. The immense value of this book is its accessibility and the intimate connections it builds between theories of international relations and their philosophical foundations - or lack thereof. Neo-positivist, reflexivist, critical realist and analytical stances can now engage in ecumenical dialogue rather than shouting matches or with silent scorn. If you are accustomed to worship only in your favorite chapel, here is an invitation to visit a magnificent cathedral. Graduate field seminars in international relations now have access to a first-rate text.' - Peter J. Katzenstein, Walter S. Carpenter, Jr. Professor of International Studies, Cornell Universtiy, USA
'Not only is The Conduct of Inquiry in IR a breathtakingly original and rigorous analysis of the scholarly work in the field, it is also an excellent teaching tool for graduate and upper level undergraduate students. By showing how ontological starting points lead to a variety of methodological options, Patrick Jackson opens up a broad toolkit for the production of knowledge in IR. His use of philosophy of science is both rich and accessible to the unacquainted reader, and brings to the light numerous misunderstandings, false argumentations, and incorrect presumptions that have become common to the field. As a result, The Conduct of Inquiry is both revealing and instructive, and a must-read to all who have an interest in reflecting on what's actually being done in IR.' - Gerard van der Ree, Universiteit Utrecht, The Netherlands
'In addition to providing a novel way of organizing approaches to social scientific inquiry in the field, The Conduct of Inquiry of International Relations makes insightful and provocative claims about important issues in the philosophy of science. At its heart, Jackson's book is a powerful call for pluralism built on a diverse and inclusive understanding of what it means to do social science.' - The International Studies Association Theory Section Book Award, 2013
'Jackson has written a practical text that students can use to situate themselves and their works within a given tradition, avoid using certain language and techniques, and produce a coherent work without jumping from one paradigm to another. In this regard, The Conduct of Inquiry in International Relations serves as a useful textbook for graduate students and junior researchers. It is a comprehensive, educative and ambitious work that could ease dialogues among scholars from various epistemic communities.' - Mehran Mazinani, Journal of Critical Realism, Vol. 11, 4, 2012
'Jackson's book offers a lucid presentation of four traditions of research, illustrated with sympathetic discussions but also thoughtful critiques of leading exemplars. The Conduct of Inquiry in International Relations is one of those rare texts that transcends its genre as it constitutes an original analysis of the foundations of social inquiry. One of its achievements is to situate each of the four approaches in distinct philosophical traditions, and to explicate their different genealogies and intellectual and normative commitments.' - Richard New Lebow, International Affairs, Vol. 87, 5, September 2011
'I must confess that I had begun to despair that I would ever read anything regarding the "science question" in International Relations (IR) that did not either founder on the Scylla of philosophical dilettantism or drown in the Charybdis of disciplinary obscuritanism. Patrick Thaddeus Jackson's The Conduct of Inquiry in International Relations has cured me of that despair. Skillfully navigating between the twin hazards that have proven fatal to so many earlier efforts, Jackson provides us with a pluralistic vision of scientific inquiry in the field of IR that is philosophically sound yet accessible to non-specialists in the philosophy of science.' - Andrew A Latham, in Review of Politics
'The book is very well written, and it does a great job of laying out its methodological taxonomy. It presents a lot of philosophy to an IR audience in a clear, concise, and accurate way.' - Daniel McArthur, in Education and Culture: The Journal of the John Dewey Society
You may also be interested in...
Simply reserve online and pay at the counter when you collect. Available in shop from just two hours, subject to availability.
Thank you for your reservation
Your order is now being processed and we have sent a confirmation email to you at
When will my order be ready to collect?
Following the initial email, you will be contacted by the shop to confirm that your item is available for collection.
Call us on or send us an email at
Unfortunately there has been a problem with your order
Please try again or alternatively you can contact your chosen shop on or send us an email at