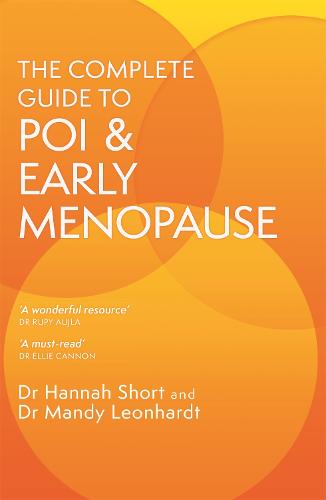 Paperback
320

Pages
Published: 23/06/2022
Support for every stage of your journey through early menopause and Premature Ovarian Insufficiency.

Finding out in your teenage years or early twenties that you are menopausal can be devastating; receiving the same diagnosis in your late thirties is overwhelming; learning that you are post-menopausal while undergoing fertility treatment in your early forties may leave you blind-sided. This is not the more natural, expected hormonal transition at mid-life that other, older women experience.

The Complete Guide to POI and Early Menopause offers a road-map to navigating the emotional and hormonal rollercoaster that accompanies these diagnoses. Drawing on their own experiences and their clinical expertise, the authors bring together the latest research, insights and the voices of women themselves with a whole-body approach that prioritizes empowerment and health.

It covers:
- Causes of early menopause and POI
- When, and how, to seek a diagnosis
- Medical and surgical menopause
- Hormonal and non-hormonal treatments
- Nutrition, Lifestyle & Self-care
- Fertility
- Sexual wellbeing, relationships and self-identity
- Early menopause, education and work

Inclusive, compassionate, and featuring FAQs, guidelines and further resources, this book is the only one you will ever need if you are facing the unique challenges of menopause and POI at a stage of life when you least expected it.
Publisher: John Murray Press
ISBN: 9781399801249
Number of pages: 320
Weight: 398 g
Dimensions: 232 x 152 x 28 mm
---
MEDIA REVIEWS
Women's health - especially POI and early menopause - has historically not been given the priority it deserves. The stories of the women throughout this elegantly crafted book demonstrate just how important it is to design care around them. Informative and essential reading. * Mr Eddie Morris, Menopause specialist and former Chair, British Menopause Society *
A beacon of hope for anyone facing premature ovarian insufficiency or early menopause - an incredibly important and timely publication from two of the UK's leading experts in female hormonal healthcare. * Dr Helen Kemp, editor of 'Surgical Menopause Not Your Typical Menopause' *
A wonderful resource for conditions that affect countless women, yet don't receive adequate attention. * Dr Rupy Aujla MBBS BSc MRCGP, founder 'The Doctor's Kitchen' *
An excellent, concise book. It has so much practical information that as a GP I will apply in my clinical care, and it's the first to cover cultural aspects around early menopause - making it a standout inclusive book. * Dr Nighat Arif, BBC resident GP, ITV 'This Morning' GP *
A must-read, with all the information and practical advice a woman could need when faced with POI or an early menopause. But more than that, it offers support, understanding and the empathy that comes from the lived experiences of countless women who have also confronted this under-recognised condition. * Dr Ellie Cannon, GP and 'Mail on Sunday' columnist *
Much-needed - an incredible guide and resource for health professionals and people with early menopause alike. As a cancer doctor, this book will provide me with the confidence to discuss issues relating to early menopause more openly, with a trusted, evidence-based and inclusive resource that will support physical and mental well-being using a whole person approach. The professional knowledge and personal experience that Hannah and Mandy have captured is unique, important and makes this book exceptional in its scope and reach. * Dr Shireen Kassam, Consultant Haematologist and Lifestyle Medicine Physician *
Bloody Marvellous! An outstanding piece of work clearly written with great care and attention to detail. Informative and insightful, a true labour of love.
Brava
Hannah and Mandy, this will help so many. * Diane Danzebrink, Therapist, Speaker, Educator; Founder of Menopause Support and the #MakeMenopauseMatter campaign *
If you want to know everything about an early menopause, then this is the book for you. Written by two women who are brilliant doctors, with easy-to-understand explanations and sound evidence-based advice. As one of the authors experienced an early menopause first-hand, the book offers valuable insight into a condition that is still poorly understood. I highly recommend it. * Dr Bella Smith, GP Partner (@thedigitalgp @thewell_hq) *
An excellent comprehensive resource not only for women in early menopause, but anyone in the women's healthcare field. The topics covered will empower women to make informed decisions and advocate for themselves in a health care system that is often lacking the complete picture regarding the impact that the loss of female reproductive organ functionality has on overall physical and mental health. * The Surmeno Connection *
This book is so in-depth, offering all the information, clinical evidenced research, practical advice and helpful tips that anyone who has POI or is going through early menopause, their partners, family members and friends will need to lead happy, healthy lives. It should be on the reading list of every medical school and in every GP practice, such a valuable resource for both patients and healthcare professionals. * Samantha Evans, co-founder of Jo Divine and sexual health and pleasure expert *
For millions of women, early menopause is often misunderstood, misdiagnosed and they are left feeling abandoned with their symptoms. This fantastic resource from two of my favourite doctors will now be my go-to resource and recommendation for my menopause community. * Amanda Thebe, Menopause Coach, Podcast Host and author of 'Menopocalypse' *
As someone going through an early menopause due to surgery and chemotherapy, this really is the complete guide for me. With the medical information explained in simple language, a range of helpful tips, and anecdotes from others experiencing early menopause, this will be my go-to guide going forward. I will certainly be recommending this book to others in my situation. * Sara Liyanage, author and founder, @tickingoffbreastcancer *
Hannah and Mandy write with wisdom, knowledge, experience and compassion. While the menopause has long been neglected by the healthcare profession, early menopause and POI are even more so - leaving patients feeling isolated and unsure of where to turn. This inclusive and comprehensive book is such a valuable resource. I'm confident it will be instrumental in improving both awareness and support for all women and AFAB people affected by this particularly overlooked area of menopause care. * Sarah Graham, health journalist and author of 'Rebel Bodies: A guide to the gender health gap revolution' *
If you, your partner, friend, or colleague has experienced premature ovarian insufficiency or early menopause - this is a must read. This expertly written, evidence-based book busts commonly held myths and explains POI and early menopause in a really supportive and easy to understand way, covering treatment options, self-help, fertility options, psychological wellbeing, libido and more. The holistic approach that Hannah and Mandy take in these pages perfectly supports women by empowering them with the knowledge they need to manage their condition. * Dr Anne Connolly MBE, chair of the PCWHF and RCGP Champion for Women's Health *
I love this book! The authors don't shy away from using medical terms, but explain them in clear, plain language, which will be helpful if they happen to be used in a consultation. The book also gives useful practical guidance, such as how to prepare for a consultation and speak to a clinician, as well as what HRT preparations are suitable for vegans. I commend the authors for raising issues rarely mentioned in 'mainstream' menopause medicine, including the experiences of people of non-White heritage and transgender and non-binary people, and for so powerfully sharing the voices of people affected by POI and early menopause. Essential reading. * Dr Nneka Nwokolo, consultant physician in sexual health and HIV medicine and co-founder, @shadesofmenopause *
Understanding and awareness of our hormone history and hormone health is woeful. When you're given a cancer diagnosis, all you worry about is staying alive and understanding your treatment options. Many don't consider that being slammed into an early menopause is often one of them. If you discover you're at high genetic risk of cancer development and opt for risk-reducing surgery such as having your ovaries removed - you are similarly thrust into menopause, with a multitude of symptoms and impacts. It's after these events that the frantic search for information begins. This book is full of the expertise, evidence and personal experience that so many need; a literal information life-line. * Athena Lamnisos, CEO, gynaecological cancer charity, The Eve Appeal *
There is no stone left unturned in this excellent read. This book is so needed and I am thrilled to see Hannah & Mandy covering all aspects of early menopause with so much evidence-based factual information. An essential read for those experiencing early menopause and a crucial best friend on this journey which is so complicated and complex. This book will empower and support so many women. * Catherine O'Keeffe, Menopause Coach and Speaker *
This book provides a 360 degree insight and approach to POI and early menopause, the first of its kind in the menosphere. It equips the reader with an array of information from both a medical and non-medical perspective. The authors also cast the net far and wide to include a diverse understanding, which is a refreshing change. The narratives that are explored in this book offer different views for people to understand others' menopausal needs. * Nina Kuypers, Founder, Black Women in Menopause *
This book is a very welcome and much needed source of information, clear and accessible, with many quotes from people who have been through the process of finally obtaining a diagnosis. The authors highlight that this is still too often a journey which is difficult and too often women are dismissed or their symptoms not identified as being due to ovarian failure. I highly recommend this to people wondering about whether these diagnoses could apply to them, or who have recently been diagnosed. I would also urge all GPs and other Healthcare professionals caring for women to read it to gain a better understanding of these conditions. * Dr Katy Munro, GP Headache Specialist, Host of Heads Up podcast, Author of 'Managing Your Migraine' *
At last - a friendly, factual and informative book for women like me who have had an early menopause. I wish this book had been around when I needed it. * Dr Liz O'Riordan, Speaker, Author, Storyteller, Podcast Host and Co-author of 'The Complete Guide to Breast Cancer' *
I wish this book had been available when I experienced premature ovarian insufficiency at age 38. Despite being a fully trained ObGyn, I did not know where to turn for reliable medical and lifestyle advice. Dr Hannah Short and Dr Mandy Leonhardt's book is a must read for anyone living with POI, their loved ones and for all health professionals. My patients are going to hugely benefit from this thoroughly researched, evidence-backed gem that compassionately covers a condition that is rarely highlighted despite so many living with the consequences. * Dr Nitu Bajekal, MD, FRCOG, Dip IBLM Senior Consultant ObGyn and Author of 'Living PCOS Free' *
This book is vital reading for doctors and people with early menopause; a much needed resource that I am grateful to be able to share with my patients. Thank you! * Dr Gemma Newman MBBCH DRCOG DFFP MRCGP (2008) GP, Author and Podcast Host *
If you have never encountered gonadotropin-releasing hormone being compared - convincingly - to a shop-floor manager, you should read this book. Drs Hannah Short and Mandy Leonhardt do their very best to combine clear scientific and medical information with techniques to make it understandable and accessible. Throughout, they seek to inform with compassion, alongside evidence-based rigour. POI and early menopause, still too rarely discussed, has been waiting for a book as good, kind and informative as this. * Rose George, Journalist and author of 'Nine Pints' , 'The Big Necessity' and 'Ninety Percent of Everything' *
Reading this book is like someone putting a caring arm around your shoulder in a time of need. This brilliantly written book is an essential resource for all women with POI and early menopause but also for the health care professionals that look after them. * Dr Juliet McGrattan, former GP and author of 'Sorted: The Active Woman's Guide to Health' *
A wonderfully human and well thought out book which sensitively covers the latest science, the psychology and impact of a condition which deserves more publicity... insightful advice for anyone trying to navigate their health journey with POI or premature menopause. * Dr Ayan Panja, GP, author and podcast host. 'Saving Lives in Slow Motion' *
I love the way this book is grounded in evidence-based medicine; it is relatable, understandable, and not only gives knowledge but tools. It will be a valuable addition not only to any health care professional who works in the women's health space, but also for patients themselves. This book will have a firm place on my bookshelf, and will be a great tool with which to support my patients. Thank you. * Dr Samantha Newman, MBChB BSc., DipOMG, GPSI Womens Health, FemaleGP, Napier, New Zealand *
This is a book that has been needed for a very long time indeed. It will bring relief and clarity to the millions who are faced with what can be a devastating diagnosis. Whether you felt that motherhood was the path for you or not, our identity can be so intricately woven with our reproductive status, and being robbed of that involuntarily is a profound and life-changing loss.

What I found outstanding about this book is that alongside the clearly explained medical sections are significant chapters dedicated to the potential emotional, relational, and psychological fallout from a diagnosis of POI or early menopause and where to seek guidance, connection and support. This is something rarely touched upon by medical professionals at the time of diagnosis and, in its absence, patients (and those around them) can be left feeling scared, isolated and overwhelmed by this frightening landscape they are left to navigate alone.

This is also a radically inclusive book, touching upon the experiences and perspectives of those who are other than white, cis-gendered, heterosexual, able-bodied, middle-aged and middle class - which makes for an incredibly refreshing and much-needed change! The menopause can be a challenging time of life for anyone as they cross over into a new way of relating to their body, and society's harsh judgments about post-menopausal bodies - this book will be a wise and comforting friend for those who face this challenge earlier than expected and help them feel empowered and less alone.
* Jody Day, Psychotherapist, Founder of Gateway Women and author of 'Living the Life Unexpected: How to Find Hope, Meaning and a Fulfilling Future Without Children' *
This book covers everything from the diverse causes and treatments of POI, to navigating loss of fertility and addressing issues related to sexual wellbeing, education and employment. It is factual, evidence based and also holistic, empathetic and shows the huge insight, clinical experience and knowledge of the authors. The book includes all the latest research around the topic, taking into account personal preferences and sexual diversity, and provides individualised treatment options and solutions for the many different scenarios that make up POI in the modern world. The patient stories provide real women's lived experiences and perspectives.
This is a must-have companion for women going through POI and will also be an invaluable resource to doctors and other allied health professionals involved in all aspects of women's healthcare.
* Dr Annice Mukherjee, Consultant Endocrinologist and author, 'The Complete Guide to the Menopause' *
For far too long, women's health issues have been considered taboo for discussion. As someone who experienced a chemically induced early menopause in my 30's, there was little, if any, credible or trusted places to seek information. This book explains everything so well, written in language that is easy to understand by authors who absolutely 'get' the subject matter. It makes effective use of case studies and relatable experiences and intuitively provides all the answers. My only wish is that it had been available 10 years ago!

As the legislator who orchestrated the abolition of the Tampon Tax, here in the UK, and a lifelong advocate for women's health I am delighted to be able to wholeheartedly recommend this book, knowing it will provide a lifeline for so many women.
* Paula Sheriff, Former MP, women's health advocate, personal experience of medical menopause and breast cancer *
This is a brilliant, informative, well written book on POI and early menopause. It is an invaluable educational resource and shines much needed light on these conditions. It is easy to read and packed with information to empower patients and educate professionals. * Dr Jacqueline Brickley BSc.MB.ChB.MRCGP.Dip.SEM.MDCH, General Practitioner and Menopause Specialist *
The guide I wish I had when I first entered early menopause and a book which I am sure I will go back to time and time again as I continue my own journey through surgical menopause. The validation these pages provide makes this guide essential reading for anyone diagnosed with POI and early menopause. Education and understanding is key to living your best life in POI and early menopause, and this guide covers it all.
Written with friendly and compassionate tones throughout, the lay out of the book makes it easy to identify which sections of the book you want to choose to focus on, which can be essential if concentration or fatigue are an issue due to health conditions (including, but not limited to, menopause!).
* Emily Grace, Mental Health Campaigner, @PeriodsPower *
An essential, affirming and myth-busting guide to all things early menopause. * Dr Seema Yasmin, author of 'Viral BS: Medical Myths and Why We Fall For Them' *
You may also be interested in...
×
Download the Waterstones App
Would you like to proceed to the App store to download the Waterstones App?
Reserve online, pay on collection


Thank you for your reservation
Your order is now being processed and we have sent a confirmation email to you at
When will my order be ready to collect?
Following the initial email, you will be contacted by the shop to confirm that your item is available for collection.
Call us on or send us an email at
Unfortunately there has been a problem with your order
Please try again or alternatively you can contact your chosen shop on or send us an email at