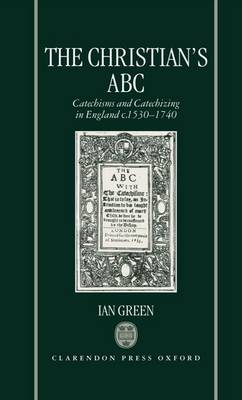 The Christian's ABC: Catechisms and Catechizing in England, c.1530-1740 (Hardback)
Ian Green
Hardback
Published: 28/03/1996
Can be ordered from our supplier
This is really three books in one: a study in church history; an essay in theology; and a bibliographical source for scholars working in various disciplines, and for librarians with catechisms of unsure provenance. Ian Green has written the first major study of the catechisms and techniques of catechizing used in early modern England, from the Reformation through to the Evangelical Revival. He begins by demonstrating the existence of several hundred different catechisms, with literally millions of copies circulating throughout the country, in parish churches, homes, schools and colleges. He then describes the techniques by which children, adolescents, and less well-educated adults were encouraged to master a specially simplified version of the core doctrines contained in the best-selling catechisms of the day, Ian Green goes on to indicate the high level of consensus and continuity in catechetical teaching, and suggests that such differences as there were consisted in either the disparity between the simpler message of many elementary works and the more demanding content of more sophisticated catechisms, or in the less predictable contrast between, on the one hand, the teaching of non-Calvinists and first generation Calvinists, and on the other, that of later Calvinists from Perkins to Westminster theologians. Catechetical teaching, especially on the Ten Commandments, covered all aspects of contemporary life and the book ends with an annotated list of catechisms which enables those with an interest in educational, literary, or linguistic history, or in political and social as well as religious history, to track down quickly works that could be of particular value to them.
Publisher: Oxford University Press
ISBN: 9780198206170
You may also be interested in...
We would love to hear what you think of Waterstones. Why not review Waterstones on Trustpilot?