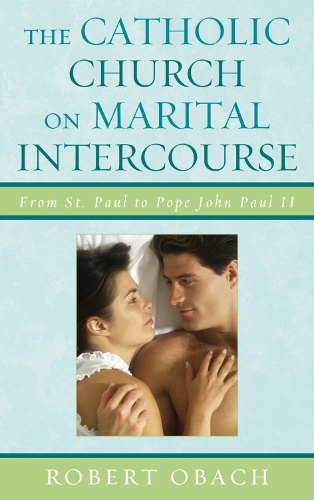 The Catholic Church on Marital Intercourse: From St. Paul to Pope John Paul II (Hardback)
Robert Obach
(author)
Hardback
236

Pages / Published: 16/12/2008
The Catholic Church on Marital Intercourse treats the way in which the Catholic Church has moved away from an attitude of conditional acceptance of marital intercourse on the basis of its utility to recognition that the dynamics of sexual union are both good and holy, not only because that is the way children are conceived, but also because the marital act enhances the love of husband and wife for each other.
Publisher: Lexington Books
ISBN: 9780739130872
Number of pages: 236
Weight: 485 g
Dimensions: 239 x 161 x 22 mm
---
MEDIA REVIEWS
From whence do the teachings of the Church about sex within marriage come? Why does the Catholic Church teach that the only form of sexual intercourse that is morally permissible between husband and wife is that which is open to the possibility of having children? These and other vital questions around the Church's teaching on sexuality have their roots deep within the history of the Church, of western philosophy and the theology that sprang from it. In his book, Robert Obach tackles these and other such questions with great thoroughness and insight. Set within the context of his own personal story and the existential questions and contradictions of growing up Catholic in the 1950s, Obach takes the reader on a journey of discovery and understanding. This book represents an important missing piece in our moral thinking about such a core aspect of our personhood as the meaning of our sexuality. -- David M. Riley, regional director, Office of Evangelization and Catechesis, Archdiocese of Cincinnati
It is said the "fools rush in where angels fear to tread." Dr. Obach is no fool, but rather a thorough and competent scholar who offers an excellent overview of the Church's views on sexual intercourse. He is indeed treading valiantly in a "dangerous" area for theologians, one strewn with casualties. Nonetheless, he proceeds courageously and offers the fascinating story of the evolution and revision of the Church's position on sex. Reading this profoundly interesting account, readers realize that so much of Christian sexual morality has been based on out-dated literal views of the bible, non-existent science, archaic theological perspectives and the ignoring of human experience. While it is hopeful that in contemporary times the Church has embraced personalistic and love-centered views on sexuality, there still exists an absolutist position linking sex with procreation. Dr. Obach is to be congratulated on making a major contribution with this history of the Church's positions on an area so central to life, but which still today remains moot in sermons and theological writing. Much is to be learned here by every Christian reader. -- Brendan Hill, Xavier University
The development of doctrine is a phrase which comes to us from the writings of John Henry Cardinal Newman in the mid-19th century as he described the multifaceted changes in Catholic theology during the past nineteen centuries. Development is also a good way to talk about the Church's teaching regarding marital sexuality. Dr. Obach shows how the attitudes of early Christian writers and Church Fathers impacted the development of the Catholic Church's teaching on marital sexuality. This book provides us with insights into the consistency of teaching, the how and why of development, and the many ways in which such changes have affected the people in the pews. -- Carol Ann Cannon, Archdiocese of Cincinnati and the University of Dayton
This book could not have come at a more opportune time. The Catholic Church, rocked by a loss of credibility in her teaching on marital sexuality, is in urgent need of Obach's incisive blend of history, theology, and personal experience. A must-read for anyone interested in helping the Catholic Church meet the social and cultural challenges of modern life. -- Trudy Krisher
In the introduction, the author risks sharing his personal discovery of what marriage involves in a candid and entertaining trip through his memories of years of Catholic schooling. That journey culminates in serious philosophical questions that lead into this scholarly summary of Catholic teaching about marriage and sexuality. Ironically, that scholarly summary follows the author's personal discovery about sexual relationships: recounting negative warnings against or reluctant tolerance of rather than real celebration of God's creation of male and female designed to become one. For the serious reader willing to move through the ages and various experts, this volume provides a comprehensive look at Catholic teaching over many centuries. One can only hope that the recent statements of John Paul II and the first encyclical of Benedict XVI will begin to move the Catholic teaching toward a more positive appreciation of sexual intimacy in marriage. -- Sr Victoria Vondenberger, Archdiocese of Cincinnati
This book is a comprehensive synthesis of the history of the Catholic Church's teaching on marital sexuality and intercourse. With understanding and clarity, Robert Obach uncovers the breadth and depth of the Catholic Church's teaching on marital love and sexuality. This book provides the framework for dialogue for laity, bishops, and theologians on the contemporary issues of Catholic sexuality. -- John Trokan, College of Mount St. Joseph
This work is an outstanding combination of history and theological reflection within the Catholic tradition on the Church's teaching on sexuality and marriage. It clarifies the development of that teaching and puts it in its social and intellectual context. Obach begins with Jewish background and ends with Pope John Paul II's theology of the body while thoroughly presenting the time in between. A great book that needs to be read. I highly recommend this work for those who want to deepen their understanding of sexuality and of the Catholic tradition on this subject. -- Dan Thomas
It's hard to imagine a more timely moment than today for the appearance of Robert Obach's book. In the wake of the American hierarchy's recent decision to reemphasize the Church's sexual teachings at the expense of its social justice doctrines, Obach's history provides a valuable antidote. Study his account how philosophies like Stoicism and Jansenism shaped Catholic doctrine and you will better understand the yawning chasm between the preoccupation with sexual prohibitions and the Gospels' heavy focus on love, justice and peacemaking. Ponder St. Alphonsus Ligouri's solution to the vexing birth control dilemmas in his day - "don't ask and don't tell" lest the faithful be put into a state of "bad faith" - and you might wonder if Catholic sexual rigorism is a near occasion of sin. Trace the doctrinal evolution through centuries when it condemned intercourse intended for pleasure or marital intimacy rather than procreation, then consider Pope Pius XII's "radical" innovations permitting pleasure and rhythm to prevent conception, and you will better understand today's widespread theological dissent against the alleged "changeless" Church teachings. If the past is has lessons for the present, then Obach's history is a godsend for theologians, spiritual directors and the faithful searching for a more humane, Gospel-based sexual morality. -- Ned Cuddy, Damaen College, Buffalo, New York
With a readable style and interesting personal references this book corrects a misconception in the church about the role of sex in life. The Church has "always placed the sexual dimension in the context of sin," and even today if sex is mentioned in a sermon, it usually is about prohibitions. This book helps us understand that it is possible to talk of sex as part of the "good news" of Jesus mission? Obach's insights on how St. Augustine came to his conclusions on original sin helped make sense of that for me, and why the social/political world situation enabled Augustine's viewpoint to prevail. Obach illuminates the path of the celibate hierarchy who have formulated a theology of sex that is counterproductive for laity who want to experience the truly "good news" of Jesus. This book will help married couples move on, aided by God's creative spirit. -- Raymond Berthiaume
This book could easily be subtitled, 'Everything you wanted to know about the history of Catholic teaching on marriage, but were afraid to ask.' It's a virtual encyclopedia of the Catholic Church's complicated love affair with marital sexuality, a sexuality about which the Church could say little good for most of its history. Shedding detailed light on theory after theory of the deepest, religious meaning of sexual love-each of which affects our modern understanding in some way-the book arrives at the post-Vatican II Church, and Pope Paul VI's controversial landmark 1968 encyclical Humanae Vitae. Obach then explores Pope John Paul II's "Theology of the Body," which he calls "the most positive understanding of marital intercourse thus taught in the history of the Church." He sees the glimmering of dawn for a Church which can now talk about love as a "beautiful thing." In the end, he sees a positive moment in the Church's fairly recent recognition, in this era, that, yes, marital sexuality is about begetting children, but about more, too: about expressing spousal love. But the Church is clearly only at the beginning of its recognition. Echoing St. Augustine in the fourth century, Obach, father and grandfather, writes "Late have we loved with the joyful awareness that our marital union mirrors the love of Christ for his Church!" -- John Feister, St. Anthony Messenger Press
Perhaps no place is the lingering suspicion that the Divine is ultimately meant to be the prohibition of the human more operative in church teaching than in its teaching on marital sexuality and intercourse. Robert Obach's bold and incisive history of this teaching shines a bright light of honesty and candor which reveals that official church teaching on sexuality has been shaped by many forces, cultural, philosophical and theological, but simultaneously has been reluctant to embrace the thoroughgoing "good news" of marital sexuality simply taken for granted in the scriptural witness and explicitly celebrated in the "Song of Songs" or the gospel of John, for example. Obach's personal testimony lends richness to a genuinely fascinating expose of the ebb and flow of Catholic teaching on such a central reality of human life. At the same time, it gives the reader hope that the official church teaching is moving closer to the genuine, gospel-rooted, experience of married couples everywhere. -- Rev. Robert Erickson, Clerics of St. Viator
Unquestionably feeling for a sense of intelligent vulgarization, Robert Obach succeeds in surveying Roman Catholic doctrine about sexual life ranging both from procreation without pleasure to pleasure without procreation and from the inception of the church to John Paul II. First of all, in a style available to the average believer, Obach shows how, in spite of common assumptions, Roman Catholic teaching has belonged less to the realm of eternal and unchangeable truths than to the arena of change and development. Secondly, he skillfully focused on what for the believer is the heart and matter of the issue, namely marital union (exemplified through both sex and love) as mirror of the love of Christ for his church. And thirdly, what in a mood of utter reverence he calls the two truths of the church : on the one hand the church as a mother and, on the other, the church as ... a woman. Referring to her, indeed, Obach keeps using the feminine pronoun. But what a female teenager hears from her mother as mother is one thing. Quite another could be what she needs to hear from her as a woman. Read Obach and find out! -- Gabriel Vahanian
This is a great book, a real contribution to the faith. It should be required reading for all engaged couples as well as our Seminarians. Not only is it full of wisdom, it's an easy read as well. The Church since St. Augustine has always run up the flag of procreation when it comes to intercourse, which is ok, but usually, only 20-25% of a couple's married life is lived in fertility; wouldn't God want us to embrace in the union of our bodies beyond that? Robert Obach shows that our bodily unions exemplify the union we'll have with Christ in eternity. -- Deacon Bill Smith, Diocese of Santa Barbara, CA
Provides readers with a concise historical overview of the past nineteen centuries regarding Church teaching on martial sexuality. * Horizons: The Magazine of Presbyterian Women *
Overall, O.'s history is an accurate and helpful primer on the development of Catholic theologies of marriage and marital intercourse. * INTAMS review: Journal for the Study of Marriage & Spirituality *
You may also be interested in...
Simply reserve online and pay at the counter when you collect. Available in shop from just two hours, subject to availability.
Thank you for your reservation
Your order is now being processed and we have sent a confirmation email to you at
When will my order be ready to collect?
Following the initial email, you will be contacted by the shop to confirm that your item is available for collection.
Call us on or send us an email at
Unfortunately there has been a problem with your order
Please try again or alternatively you can contact your chosen shop on or send us an email at