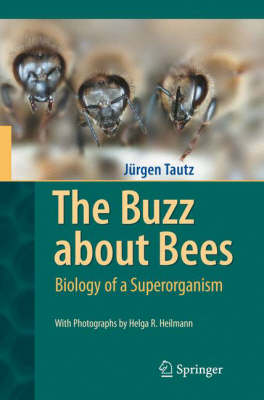 Hardback
284

Pages / Published: 01/04/2009
We can order this from the publisher
Tis book, already translated into ten languages, may at frst sight appear to be just about honeybees and their biology. It c- tains, however, a number of deeper messages related to some of the most basic and important principles of modern biology. Te bees are merely the actors that take us into the realm of phys- ology, genetics, reproduction, biophysics and learning, and that introduce us to the principles of natural selection underlying the evolution of simple to complex life forms. Te book destroys the cute notion of bees as anthropomorphic icons of busy self-sacr -i fcing individuals and presents us with the reality of the colony as an integrated and independent being-a "superorganism"-with its own, almost eerie, emergent group intelligence. We are s- prised to learn that no single bee, from queen through drone to sterile worker, has the oversight or control over the colony. - stead, through a network of integrated control systems and fee- backs, and communication between individuals, the colony - rives at consensus decisions from the bottom up through a type of "swarm intelligence". Indeed, there are remarkable parallels between the functional organization of a swarming honeybee colony and vertebrate brains.
Publisher: Springer-Verlag Berlin and Heidelberg GmbH & Co. KG
ISBN: 9783540787273
Number of pages: 284
Weight: 736 g
Dimensions: 235 x 155 x 20 mm
Edition: 1st ed. 2008. Corr. 2nd printing 2009
---
MEDIA REVIEWS
From the Reviews of the German Edition:
(Phaenomen Honigbiene, Spektrum, 2007)
"...In small steps, ... the author approaches the deeper nature of bees ... With ... 250 photos, ... the presentation is excellent. Over 50 of them are full-page photos and give the volume ... a particular aesthetic allure. Any beekeeper ... who has ever tried to photograph their bees would be envious. As a basic work, 'The Buzz about Bees' is not only a milestone in bee literature for ... beekeepers, but ... recommended for anyone interested in nature. It links new up-to-date insights with established knowledge ..." (Gilbert Brockmann, in: ADIZ/db/IF, 2007, p. 2)
"It is hard to decide what is better about this book: the pictures or the text. Let's start with the pictures. You look at them and are astounded and numerous adjectives occur to you: radiant, brilliant, magnificent, sharp, informative ... When it comes to the text, I have to admit: Tautz has it easy. ... Not only in the pictures, but also in the text, bees really come alive. ... 'The Buzz about Bees' is the most wonderful book ..." (Hubert Rehm, in: Laborjournal, 09/2007, p. 82)
"... The work never comes across as dry or lecturing, not least thanks to the wonderful pictures ... But all nature fans who have always wanted to know 'how bees do it' will find just what they want. In ten clearly structured chapters, Tautz describes the life of the individual bees and of the entire swarm ... Tautz ... links bees and their way of life with many aspects of modern human technology. ... Read it, be amazed - and enjoy a slice of bread and honey as you do so!" (Christine Scholtyssek, in: Spektrum der Wissenschaft, September 2007, p. 92)
"... 'The Buzz about Bees' is ... marvelously illustrated ... The pictures are aesthetically attractive, and ... provide rare insight into ... life in the bee colony. Readers familiar with scientific literature will initially be surprised: an academic book completely free from diagrams and tables, and all in an easy-to-read style with linguistic concessions to popular science. ... The book's content provides a graphic presentation of how the 'miraculous' elements of bees' life result from a perfected interplay of physical, chemical, and biological processes in the superorganism of the bee colony ..." (Martin Dambach, in: Entomologie heute, 2007, Issue 21, p. 221)
From the reviews:
"Excellent and Informative, July 26, 2008"
"I found this book to be extremely well written and easy to understand. The detail provided in all the information in this book really gives excellent insight into the structure of the hive and the behavior of the bees without getting bogged down in incomprehensible jargon. Additionally, the plentiful photographs are incredible. Anyone who is interested in honeybees should read this book." (J. Desimone, Helmetta, NJ, USA in: amazon.com)
"Educational, impressive, entertaining till the last page, July 19, 2008"Last year I was fortunate enough to read Juergen Tautz's book, "The Buzz about Bees". It was hard to put the book down, once I started reading it. Finally it has been published in English and I am delighted that I can share this book with all my friends here in the US. "The Buzz about Bees" is a fascinating and groundbreaking book! Tautz and his team have done an excellent job presenting their research and studies, also the photographs are of very high quality and are quite beautiful. Tautz's approach to understanding the life of the bees is very innovative and inspiring. Many new and mesmerizing facts about bees are presented such as the mammal-like qualities of the bees. The journey through the book continues from "the bee colony - a mammal in many bodies" and moves to the "super-organism", which describes the honeybee colony as an undividable entity and as "an organic interpretation of an individual". The captivating facts put forth by the author are many. Tautz explains "propagated immortality" which is the unique way in which bees proliferate, and the flower wisdom of the bees illustrated with impressive details (ex. bees can gather and carry the amount of nectar of almost half their body weight). Tautz goes on to reveal more aspects of pollination, such as how the flowering world and the bees coevolved on earth, to the extent to which we depend on them - critical in this time where many pollinators are endangered species! He introduces the concept of the "comb-wide-web" to describe the important relationship between wax comb and communication capacities of bees. The talent of the author is evident in his ability to combine excellent scientific work within a wider philosophic framework. As a gifted communicator, he launches this charming and intriguing journey into the beautiful world of the bees and enables us to understand the life of bees on a new and deeper level. In this book you may find, why bees have held humans in their thrall since millennia. All together, "The Buzz about Bees" is a fascinating book, with numerous facts and detailed photographs, compelling for readers of different ages and backgrounds. Educational, impressive, entertaining till the last page, this is a book for anyone who is interested in bees, nature, and the miracle of life." (Michael Thiele 'Beekeeper', Sebastopol, CA, USA in: amazon.com)
"The Buzz about Bees is more concerned with the minutiae of the honeybee's life ... it manages to be accessible and entertaining as well. As Jurgen Tautz ... points out, colonies show an eerie collective intelligence and should be treated as highly sensitive entities, a point that is often not understood by those who keep bee colonies and treat them like 'poor migrant workers', transporting them to climates to which they are not adapted while keeping them in cramped conditions in which disease spreads rapidly." (Robin McKie, The Observer, July, 2008)
"The most up-to-date honey bee biology book I've ever seen. It has an incredible collection of photos showing things never seen, and it explains much of honey bee biology with a clarity seldom reached. ... Chapters cover bees and flowers, sex, royal jelly, construction comb, intelligence, family and the difference between a colony as an organism, and a group of individual bees - climate control, comb construction and hygiene. Basically, everything is connected to everything else in a honey bee colony. Don't lose sight of that." (Kim Flottum, Bee Culture, July, 2008)
"I confess I knew very little about bees before reading it, but a combination of beautiful, detail photographs and an insightful text means that the remarkable lives of these creatures are revealed in great detail. Particularly fascinating were both the complexity of the bees' system, and the nature of the colony as a superorganism - in fact, the book is subtitled Biology of a superorganism. ... it is excellent." (Brian Clegg, PopularScience, July, 2008)
"The book is in essence a series of illustrated lectures on different aspects of bees. ... is lavishly illustrated with perfect photographs by Helga Heilmann, and will surely become a popular source of biological understanding for beekeepers and everyone who wants to understand more of the sophisticated way that a honey bee colony exists." (Bees for Development Journal, Issue 88, 2008)
"Tautz provides a profound insight into the daily life of the hairy honey maker and overcomes plenty of common prejudices about bees. ... The Buzz about Bees has the potential to become a classic as well. ... In addition, the book delivers useful advice for everyday life ... . This is a marvellous book with almost 300 marvellous bee photos ... ." (Weanee Kimblewood, Lab Times, Issue 5, 2008)
"A honeybee book with a real difference. ... And Helga Heilmann's stunning colour 'action' photographs take you inside the bee colony as never before ... . Jurgen Tautz has a real knack for bringing science to a general audience ... . It's an interesting read - dip in ... . is one of the very few good honeybee books that you won't be satisfied just to borrow from the library: you'll want to have a copy on your own bookshelves, to pick up again and again." (Rebecca Leaman, Central Beekeepers Alliance, September, 2008)
"This book makes clear one thing, even for a reader lost in the dense fog of scientific explanation therein: We humans simply can't live without bees. Bees fertilize 120,000 species of flowering plants, including nearly all of those that give us food; humans and domestic animals can't live exclusively on self-pollinating grain. ... For anyone willing to spend the time to study these pages, learning about the 'superorganism' that is a beehive will be fascinating. The photographs are beautiful and informative, and the translation excellent." (The Internet Review of Books, Vol. 2 (1), 2008)
"The book ... proves a useful peg on which to hang the story, one that is interesting for experts, and lay readers alike. Tautz starts with an original and fast introduction to the biology of the honeybee, with a chapter that consists solely of photographs and captions. It is surprisingly effective. ... 'Phanomen Honigbiene', the original German version of the book, became a best-seller when published last year. The English version reviewed here is well on its way to outperforming that success." (Sander Voormolen, NRC Handelsblad, October, 2008)
"Tautz presents a highly accessible and engaging summary of bee biology with special focus on the hive as an organism from the sociobiological perspective. I am not an entomologist nor a sociobiologist but found the biological explanations understandable. ... Besides being informative and understandable, this book also contains beautiful photographs and figures ... . I've shown this book to non-beekeeping individuals who have spent a great deal of time just looking closely at those pictures. ... is a necessary addition to any beekeepers library." (Abelisto, Canaries in a Coal Mine, October, 2008)
"The subtitle, Biology of a Superorganism, tells us the approach this book takes about bees. ... this book will appeal to those who wish a fuller understanding of the biology of bees. ... This is a beautiful book filled with spectacular color photographs of bees." (Ann W. Harman, North Piedmont Beekeepers Association, Vol. 29 (10), October, 2008)
"This comprehensive introduction to honeybee biology ... explores such topics as how bees obtain and communicate information about flowers, 'whole-animal gametes,' and the comb's contributions to the sociophysiology of the colony. ... accessible to the public, and his lucid text will reward lay readers, apiarists, students, and professional biologists ... ." (Science, Vol. 322, December, 2008)
"A heavy well bound book with an interesting picture on the cover. The feel of the book is good, the paper quality is good. ... stunning pictures taken by Helga R. Heilmann, just draw the reader into the book, leaving you wanting to take them all in as quickly as possible. ... I wouldn't hesitate to recommend this book for beekeepers and interested readers ... ." (Nigel Hurst, The Scottish Beekeeper, Vol. 85 (12), 2008)
"'The Buzz About Bees: Biology of a Superorganism' is a complete and comprehensive study on this fascinating species. ... 'The Buzz About Bees' is utterly intriguing and a very high recommendation for both etymologists and non-specialist general readers ... ." (Small Press Bookwatch, December, 2008)
"This book, translated from the German, is magnificently illustrated with colour photographs on all spreads. It offers an up-to-date overview of the world of the honeybee and is probably the only book you will need to understand the current science of honeybees. It will be useful as a library reference, for project work and for higher level students including undergraduates." (John Feltwell, Biologist, Vol. 56 (1), February, 2008)
"With spectacularly beautiful colour photographs and an easy understandable text The Buzz about Bees tells the story of honeybees in a new perspective. The Buzz about Bees will appeal to many; natural historians will enjoy the exquisite photographs; students considering studying biology should read this book as a primer to appreciate the principles upon which the biological sciences are based ... . Professional biologists will enjoy the restatement of evolutionary principles ... and the consequences of kin selection and natural selection for such systems." (Wordtrade.com Life Science, 2008)
"The theme of this book is the concept of a honey bee colony as a superorganism in which the entire colony functions as one entity comprising many individuals. ... It is very well illustrated, with beautiful photographs ... . I enjoyed reading this book and strongly recommend it to all those interested in learning how one of the most interesting, and intensely studied species functions, and about its contribution as an ecosystem 'service provider'." (C. Eardley, African Entomology, Vol. 17 (1), 2009)
"For those who feel that honeybees are sorely overlooked in all this, there is Jurgen Tautz's new book, The Buzz about Bees: Biology of a Superorganism (2008) ... . this book is aimed squarely at the general reader, and so falls in a different category altogether. ... The Buzz about Bees is illustrated with countless, fantastic color photographs ... which beautifully capture all aspects of the life of the honeybee. ... will surely reward lay readers, apiarists, and professional scientists ... ." (BioScience, Vol. 59 (8), September, 2009)
"Excellent writing, superb pictures. This book covers the current thinking about bees and superoganisms in a manner accessible to anyone. Enjoy!" (Mark W. Moffett, Amazon, May, 2010)
"The Buzz about Bees - the Biology of a Superorganism by Jurgen Tautz ... . This is a quite an extraordinary book in so many ways. It is one of the best produced books that I have read for a long time ... . The book is jammed packed full of facts about the individual actions of the honey bee and the combined activities of the honey bee colony. ... It is an outstanding book that all should make the effort to read." (Stephen Palmer, British Beekeepers' Association News, December, 2010)
"This beautifully illustrated little book on honey bees is a nice primer for anyone interested in the biology of this fascinating insect. ... The book is geared toward the interested general public, as the text is easy to read and biological concepts are well explained. ... The author provides a readable volume with fascinating images, which is sure to be attractive to bee enthusiasts and useful to teachers. Graduate students and researchers may benefit from the unique images ... on honey bees." (Anna Dornhaus, The Quarterly Review of Biology, Vol. 86 (1), March, 2011)
"The book is filled with hundreds of top quality photos, illustrating the topics covered. ... will be most enjoyed by apiarists or those in the animal/natural sciences. ... The Buzz About Bees is a solid addition to the extant literature, covering in great detail an amazing and often overlooked species. ... I would recommend this book to students of biology and lovers of nature." (Benjamin S. Crosier, Evolution: Education and Outreach, Vol. 4, 2011)
You may also be interested in...
×
Download the Waterstones App
Would you like to proceed to the App store to download the Waterstones App?
Reserve online, pay on collection.
Or,
add to basket
, pay online, collect in as little as 2 hours, subject to availability.
Thank you for your reservation
Your order is now being processed and we have sent a confirmation email to you at
When will my order be ready to collect?
Following the initial email, you will be contacted by the shop to confirm that your item is available for collection.
Call us on or send us an email at
Unfortunately there has been a problem with your order
Please try again or alternatively you can contact your chosen shop on or send us an email at