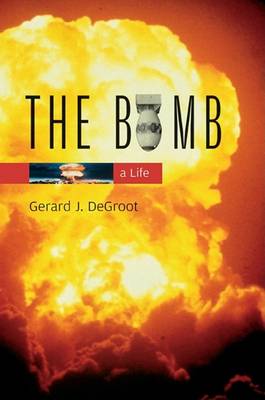 Hardback
432

Pages / Published: 26/03/2008
Traces the life of the atomic bomb, from its birth in turn-of-the-century physics labs in Europe, to its maturity in test sites and missile silos around the globe, examining the implications and legacy of this powerful weapon of mass destruction.
Publisher: Harvard University Press
ISBN: 9780674017245
Number of pages: 432
Weight: 717 g
Dimensions: 240 x 164 x 35 mm
Edition: New edition
---
MEDIA REVIEWS
Did we ever learn to love the bomb? Perhaps not, this opinionated and lively history shows...A splendid distillation of nuclear history, and just the thing for students of the modern age.
Gerard DeGroot's history of the weapon that transformed the world after the destruction of Hiroshima and Nagasaki in 1945 looks at its scientific development, the devastating consequences of its use and the strange ways it burrowed into popular imagination.
This fascinating account charts the Bomb's short but devastating rise from theoretical possibility to malevolent ubiquity. From the febrile atmosphere of the physics labs to the Cuban missile crisis and beyond, this portrait of man's most Promethean invention is consistently gripping.
This is a succinct, lucid and reliable survey which begins with Ernest Rutherford who, in 1910, postulated that atoms had nuclei, and concludes with the impact of the 9/11 attacks on theories of thermonuclear deterrence and pre-emption...This is a surprisingly evenhanded, fair, and judicious account which develops a number of significant themes..."The Bomb: A Life" is a beautifully written synthesis...It deserves to be widely read.
Gerard DeGroot's "The Bomb: A Life" takes readers on a stroll down a memory lane pocked with shell craters...DeGroot's book offers a wealth of relevant detail, made all the more relevant by the fact that we're no safer today than in 1960.--Gregory McNamee"Kirkus Reviews" (04/20/2005)
Our post-Sept. 11 country should find "The Bomb"'s story enlightening. Gerard J. DeGroot has done more than write the best single-volume history of the bomb's early life in the original nuclear family: the United States, the Soviet Union, and their British, French, and Chinese offspring. He has also narrated themes that run through this generation and perhaps the next. As characters move across the page--Oppenheimer, Teller, Sakharov, Truman, Churchill, Stalin, de Gaulle, Mao, LeMay, Reagan and Gorbachev--one sees that the dangers these men created and confronted resemble the current dramas of terrorism, proliferation and military intervention...The most troubling part of the nuclear story is the way leaders rationalize their willingness to use doomsday weapons--and to blur the just-war distinction between legitimate military targets and innocent civilians...DeGroot tells his story fairly and fluently.--George Perkovich"Washington Post Book World" (03/20/2005)
Gerard DeGroot's superb 'biography' of mankind's most terrible weapons does something that has rarely, if ever, been attempted. Bringing together the scientific, political, cultural and historical threads, he looks at the Manhattan Project and its rivals in Nazi Germany and Soviet Russia; and he widens the net to take in the efforts of Britain, France and other members--official or not--of the nuclear club. Ranging from atomic physics to rock 'n' roll, the result is a book that is pacey, readable and enormously wide-ranging...This is a book that really makes you think, as well as being hugely entertaining. I have read many books about different aspects of this enormous subject, but none that brings the diverse pieces together so well, in such an absorbing and truly masterly way.--Andrew Crumey"Scotland on Sunday" (06/13/2004)
DeGroot...has written an interesting and informative book. It is easy to read, full of detail about the personalities involved, and written in a way that need not terrify non-physicists...The photographs bring on both nostalgia and amazement...Interesting, provoking and even entertaining in a gruesome way, this book is a valuable addition to the nuclear library.--Bruce Kent"The Tablet" (08/28/2004)
DeGroot's fascinating book is a history of the nuclear bomb, the scientists who worked on it, the politicians who armed themselves with it and the lies told to justify its existence...There is much to recommend about this book...This is a fascinating work that will help educate a new generation of anti-war campaigners to the consequences of nuclear war, as well as reminding us all that Blair and Bush aren't the first leaders to threaten death on an enormous scale.--Martin Empson"Socialist Review" (09/01/2004)
This very balanced history of nuclear weaponry, a straightforward chronology, should be required reading at every college and university, to promote some national introspection.--Roger Chapman "Material Culture "
Thoroughly researched, beautifully written, and irradiated by a wry sense of humour and a (mostly) well-restrained anger, [DeGroot's] biography of the bomb is absolutely gripping. It cannot fail to be given that every chapter in the story makes for powerful narrative, and is rich in exotic characters: Einstein, Robert Oppenheimer, Harry S. Truman, Stalin, Beria, John F. Kennedy, and more...Gerard DeGroot has marshaled the facts about the bomb's history from early atomic science onwards--concentrating mainly on the period up to the 1960s--with great skill and elegance. This is a book crammed with information, but so beautifully arranged that one scarcely notices what a complete education it purveys. It ends with a very just evaluation of what the existence of the bomb says about the flawed nature of human beings: their mutual distrust, their power hunger, their propensity to be impressed by anything big...It is...inevitable that the number of weapons, and their availability, will result
Pausing to consider the glory days of atomic enthusiasm (check out the mushroom-cloud-adorned Miss Atomic Bomb of 1957), DeGroot traces the vexed history of nuclear weapons from the Manhattan Project to present-day proliferation. Disarmament campaigns get their due, but the author also argues that talk of arms reduction became futile once nations had accepted 'the mad giant of deterrence.'--Chris Jozefowicz"Discover" (05/01/2005)
A skillfully condensed narrative of the nuclear era, fascinating in the selection of details and riveting in its revelations of how possessing nuclear weapons changed those involved, and changed America.--William S. Kowinski"San Francisco Chronicle" (07/31/2005)
This year brings the 60th anniversary of those two terrifying days in August 1945 when we learned to love and hate the atomic bomb. To mark the milestone, there's no better read than "The Bomb: A Life", a wry biography of the weapon that made humankind think about the end of the world. University of St. Andrews history professor Gerard DeGroot reveals everything you ever wanted to know about nuclear weapons, including things you were too terrified to ask. And he has fun doing it...The beauty of DeGroot's work is his knack for the telling detail. In his effort to portray the nuclear arms race as a crazed competition that didn't have to be in 1945 but couldn't be avoided 10 years later, he doesn't let the documentary evidence stifle the story.--Michael Jacobs"USA Today" (04/20/2005)
"The Bomb" chronicles nuclear weapons from their conception in the 1930s through the end of the century, focusing mainly on the decisions made from 1940 to 1962 to develop and use devices of unimaginable destruction and become ironically reliant on them for maintaining peace. Was it the Soviets or the Americans who pushed thecrazy escalation in megatons and warheads? The answer isn't so simple as I once thought. I count this among the best history books I've read. DeGroot's effort clarifies a bewildering and, in retrospect, insane time.--David Schoonmaker "American Scientist "
Nuclear weapons haunted life throughout the second half of the 20th century, playing an integral role in the Cold War. DeGroot here draws on many sources to produce an easy-to-read account of that anxious time. Though primarily a work of political, military, and diplomatic history, this book also offers sections on how (mostly Western) society adapted to the threat of possibly quick, massive destruction. Details about the bomb's early development and first use are well known, but it is interesting to learn what was happening in other countries as they responded by trying to build a bomb or at least adapt their thinking. What is horrifying is the widespread self-delusion or lack of understanding regarding the bomb's destructive potential among both governments and civilians.--Daniel K. Blewett"Library Journal" (01/15/2004)
DeGroot's remorselessly even-handed study of his subject leaves little room for complacency. It is scant satisfaction to those of us of a certain age to learn that the Cuban Missile Crisis really was that bad. If Kennedy had listened to Curtis LeMay and his Pentagon colleagues, Cuba would have been the trigger for an all-out nuclear attack on the Soviet Union...Kennedy took other advice, Kruschev withdrew, and all we Bomb Age teenagers survived to buy another Beatles record. But it was close. And, as we realised by the end of this excellent book, it still is.--Roger Hutchinson"The Scotsman" (07/10/2004)
DeGroot's study is profound and rich in detail. His extensive narrative is captivating.--Henning Hoff"The Independent" (08/31/2004)
Gerard DeGroot has written a lively and thought-provoking history of the nuclear bomb. It is, inevitably, a dark and scary book, but it is not without moments of grisly comedy.--Harry Reid"Glasgow Herald" (06/12/2004)
If "The Bomb" is a book about fear, and the dreadful lengths to which it can drive people, it is equally one about naivete. Nobody fully understood what they were unleashing on the people of Hiroshima...DeGroot is a gripping, accessible narrator...who doesn't duck his subject's many moral conundrums.--Dorian Lynskey"Word" (07/01/2004)
DeGroot makes full use of newly available material from Russia, and the gripping story of the invention and building of the bomb, spiced with wartime strategic manoeuvring, scientific intrigues and espionage, has never been better told.--George Walden"Sunday Telegraph" (08/01/2004)
DeGroot's explanation of how the world got itself into a blackly surreal situation where there were perhaps 15 minutes between business as usual, and countless miles of burning rubble populated by millions of charred corpses is one of the best to appear so far. The book covers both the science of the bomb as well as its politics, and how the semi-rationality of escalation took on a life of its own...This is one of the most insightful books on the subject ever written--an effortlessly readable but quite terrifying modern classic.--Richard Wentk"Focus" (09/01/2004)
Gerard DeGroot...has produced a timely account of mankind's most awful invention, wrly wrapped as a biography...This is a clever cocktail of reportage, analysis and anecdote, from the physics of the bomb's conception to the B-movies it inspired (notably "Night of the Lepus", in which the world is threatened by giant mutant rabbits.) There are also some well-aimed blows at the late Ronald Reagan, who despite hagiographical obituaries tinkered with the superpower balance with a dangerous whimsy.--Peter Millar"The Times" (08/14/2004)
You may also be interested in...
×
Download the Waterstones App
Would you like to proceed to the App store to download the Waterstones App?
Simply reserve online and pay at the counter when you collect. Available in shop from just two hours, subject to availability.
Thank you for your reservation
Your order is now being processed and we have sent a confirmation email to you at
When will my order be ready to collect?
Following the initial email, you will be contacted by the shop to confirm that your item is available for collection.
Call us on or send us an email at
Unfortunately there has been a problem with your order
Please try again or alternatively you can contact your chosen shop on or send us an email at