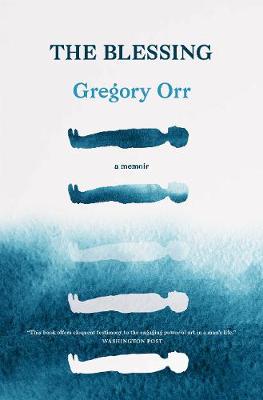 The Blessing: A Memoir (Paperback)
Gregory Orr
(author)
Paperback
256

Pages / Published: 29/08/2019
Hailed on its original publication as "eloquent testimony to the engaging power of art in a man's life" (Washington Post), this deeply moving memoir, long out of print, is reissued with an illuminating new afterword. When acclaimed poet Gregory Orr was twelve years old, he shot and killed his brother in a hunting accident. From the immediate aftermath-a period of shock, sadness, and isolation-it quickly became clear that support and guidance would not be coming from his distant mother. Nor would it come from his father, a philandering country doctor addicted to amphetamines. Left to his own devices, the boy suffered.

Guilt weighed on him throughout a childhood split between the rural Hudson Valley and jungles of Haiti. As a young man, his feelings and a growing sense of idealism prompted him to activism in the civil rights movement, where he marched and was imprisoned, and then scarred again by a terrifying abduction. Eventually, Orr's experiences led him to understand that art, particularly poetry, could work as a powerful source of healing and meaning to combat the trauma he carried.

Throughout The Blessing, Orr articulates his journey in language as lyrical as it is authentic, gifting us all with a singular tale of survival, and of the transformation of suffering into art.
Publisher: Milkweed Editions
ISBN: 9781571313867
Number of pages: 256
Dimensions: 216 x 140 mm
---
MEDIA REVIEWS
Praise for The Blessing

"[Orr] is a poet in the lyric tradition-the poetry of emotions, often in the voice of individual experience, which also lends itself to song." -Krista Tippett, On Being

"Orr has dedicated his life and work to redeeming suffering through poetry as lyric biography. He feels this project has saved him from wandering in a wilderness, reassured by conversations with readers and with writers living and dead who have faced similar loss, pain, and transformative beauty. All his work is of a piece, poems, essays, and memoir: a song of experience, joining a chorus of meaning."-American Academy of Arts and Letters

"Orr balances lyric grace with careful restraint to produce a convincing memoir about facing down despair. . . . Orr manages to confer spiritual power upon his readers by finding meaning in what most of us could not bear to endure."-San Francisco Chronicle

"The Blessing is an extraordinary book, full of luminous details, beautifully clear writing, and short, gorgeous chapters. . . . While The Blessing tells the story of becoming a poet and recounts a childhood full of wonder, it is more insistently a tale of survival, of a painful blessing, wounding, and growing through trauma and tragedy."-American Poetry Review

"Orr has accomplished an incredible feat, managing to bring together his tragic and triumphant personal narrative with his belief in the importance and impact of the personal lyric poem. . . . A sophisticated and convincing case for the `transformative power' of lyric poetry, as evidenced in Orr's own life experiences."-Valparaiso Poetry Review

"For Orr, poetry was a thread to hold onto during his darkest hours. Once he had hold of that thread, Orr knew that he could find his way out of the labyrinth of his own consciousness. . . . This book offers eloquent testimony to the engaging power of art in a man's life."-Washington Post

"The inadvertent shooting death of his brother by poet Orr gives this memoir a god-awful specific gravity and spurs the author's search for ways to live on. . . . Writing has sustained him. . . . Here, the old and new meanings of `blessing'-to sprinkle with blood, to confer spiritual power-harrowingly collide."-Kirkus

"The Blessing proffers twin gifts to the reader. The first is the story . . . The second, equally powerful, is Orr's writing. It's remarkable to me that so gifted a lyric poet could be so fine a story-teller . . . The Blessing is a remarkable achievement-honest, lyrical, poignant, and, above all, life-affirming." -Virginia Quarterly Review

"Orr's book is an amazing chronicle of his early life and of the answers he discovers to the questions he must ask. It is also an essential window into how art-in this case, poetry-can play an important role in survival and transformation." -Creative Nonfiction

"Orr has distilled the anguish of his youth right down to its holy bones in a breathtaking chronicle of long-term shock and the arduous road to expiation. In each poem-like chapter, tension, sorrow, and the darkness give way to the mystical beauty of metaphor as Orr struggles to make sense of yet another horror, including his mother's death in Haiti and his violent experiences as a Civil Rights worker in the Deep South. Everywhere young Orr turned, he confronted the worst of humanity and the chilling sense of a world without a soul until he found poetry, the thread, Orr writes, that leads us out of the labyrinth of despair and into the light." -Booklist

"An astounding memoir saturated with themes of death, shame, and guilt . . . The Blessing is highly recommended for all libraries." -Library Journal

"Orr's gripping chronicle of his troubled boyhood is alternately self-conscious, moving, and revelatory . . . It never fails to entertain, mystify, and surprise." -Publishers Weekly

Praise for Gregory Orr

"Orr's thesis is the transcendent power of personal lyric poetry, its balm, and, far more than that, its ability to enable persons who have undergone trauma to fortify and in a sense to re-create themselves by speaking out through the exactitude and dignity of poetry. This is an utterly simplified sentence about an extremely complicated universal process-extraordinary and yet not hard to follow in Orr's clear writing, which is fortified by a wonderous collection of examples and quotations-almost, I want to say, witnessings." -Mary Oliver

"The heart of Orr's poetry, now as ever, is the enigmatic image . . . mystical, carnal, reflective, wry." -San Francisco Review

"The craft on display [in River Inside the River]-the distillation of emotion and language-will inspire respect from even the less spiritually minded reader; there is no doubting Orr's authenticity. This is a man who found healing in the words of others, and I for one am thankful for his generosity in making a gift to us of his own." -The Guardian

"A master of the lyric poem." -Paris Review

"Orr serves as a sage and gentle guide, sharing wisdom about the creative process and how poetry can enrich those who embrace it . . . [A Primer for Poets and Readers of Poetry] is revolutionary . . . because it shows readers how to turn an occasional, burning impulse into a lifelong pleasure." -Washington Post

"Three decades have passed since Orr published his strange and quirkily inward first book, Burning the Empty Nests, and joined the ranks of what was then called, often derisively, the neo-surrealist school. Seven collections later, he has come far enough from those brief, knotted poems-whose images gave them an other-planetary density out of proportion to their size-to tackle the demanding rhyme scheme of the villanelle in the 'new' portion of his 'New and Selected.' Curiously, though, Orr has remained much the same obsessive, slyly meditative poet, but one who, thankfully, has opted not to write the same poem again and again. Or at least not in the same way. He's still preoccupied with mortality and renewal, themes he was pretty much consigned to with his accidental fatal shooting of his brother at the age of 12, followed not long after by the death of his mother. Growth has just meant a continuous distancing from those experiences, even as he writes about them-and everything else-more explicitly, the hard-to-decipher parables giving way to a quietly observed naturalism." -New York Times Book Review

"Orr is the Accomplished Poet par excellence with an eye as sharp as Seamus Heaney's." -David Wilson

"A reader unfamiliar with Orr's work may be surprised, at first, by the richness of both action and visual details that his succinct, spare poems convey. Lyricism can erupt in the midst of desolation." -Boston Globe

"Orr's poems have always had the stunning ability to place mindfulness almost instantly back inside the mind. Once again, a river inhabits its true banks, and a soul its boundless person." -Naomi Shihab Nye


You may also be interested in...
×
Download the Waterstones App
Would you like to proceed to the App store to download the Waterstones App?
Simply reserve online and pay at the counter when you collect. Available in shop from just two hours, subject to availability.
Thank you for your reservation
Your order is now being processed and we have sent a confirmation email to you at
When will my order be ready to collect?
Following the initial email, you will be contacted by the shop to confirm that your item is available for collection.
Call us on or send us an email at
Unfortunately there has been a problem with your order
Please try again or alternatively you can contact your chosen shop on or send us an email at