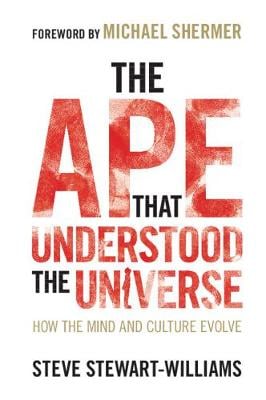 The Ape that Understood the Universe: How the Mind and Culture Evolve (Paperback)
Steve Stewart-Williams
(author)
Paperback
Published: 21/11/2019
The Ape that Understood the Universe is the story of the strangest animal in the world: the human animal. It opens with a question: How would an alien scientist view our species? What would it make of our sex differences, our sexual behavior, our altruistic tendencies, and our culture? The book tackles these issues by drawing on two major schools of thought: evolutionary psychology and cultural evolutionary theory. The guiding assumption is that humans are animals, and that like all animals, we evolved to pass on our genes. At some point, however, we also evolved the capacity for culture - and from that moment, culture began evolving in its own right. This transformed us from a mere ape into an ape capable of reshaping the planet, travelling to other worlds, and understanding the vast universe of which we're but a tiny, fleeting fragment. Featuring a new foreword by Michael Shermer.
Publisher: Cambridge University Press
ISBN: 9781108732758
Weight: 570 g
Dimensions: 228 x 153 x 20 mm
---
MEDIA REVIEWS
'In The Ape that Understood the Universe, evolutionary psychologist Steve Stewart-Williams provides a masterful account of how the mind and culture evolve. Stewart-Williams is an exceptionally good writer, a witty and learned guide through challenging but exciting terrain that includes psychology, biology, anthropology, philosophy, and animal behavior. The Ape that Understood the Universe is a rare accomplishment: equal parts intellectual exhilaration and beautifully crafted narrative. Read this book for its literary grace, and learn along the way why you are an ape that can understand the universe.' Todd Shackelford, Oakland University, Michigan 'A great introduction to human nature – whether you're a member of our species or an alien scientist puzzled by this planet's dominant life-form. Stewart-Williams shows how genes and memes entwine to explain our deepest concerns and our highest aspirations. This fun, easy-going, science-savvy book will make you smarter about your emotions, your relationships, and your society.' Geoffrey Miller, author of The Mating Mind, Spent, and Mate 'This is a highly imaginative (and solidly informed) book about the nature of human nature – who we really are. Stewart-Williams has a firm grip on the latest data in evolutionary psychology and cultural evolution, all elegantly woven into a fine narrative packed with provocative (and astute) ideas. It's an insightful, accurate and refreshingly amusing read.' Helen Fisher, author of Anatomy of Love and Why Him? Why Her? 'In The Ape that Understood the Universe, Steve Stewart-Williams takes the reader from first principles to a deep understanding of the evolutionary and cultural underpinnings of human behavior. Not only has Stewart-Williams produced a work of deep understanding, he has also produced one which is a real page turner. A twenty-first century successor to The Selfish Gene.' Lance Workman, co-author of Evolutionary Psychology: An Introduction 'If you hate the idea of selfish genes, this book should change your mind. With vivid examples and fascinating evidence, Stewart-Williams provides a powerful challenge to the 'culture is all' lobby. The best update of the gene's-eye view I have seen for a long time. This book will turn your view of human nature inside out and upside down.' Susan Blackmore, author of The Meme Machine and Consciousness: An Introduction 'An eloquent and elegant exploration of human nature in the light of evolution, illuminating many modern social and political dilemmas.' Matt Ridley, author of The Red Queen and Nature via Nurture 'Although there are many books covering evolutionary approaches to the human mind and behavior, this is one of the best, in terms of its choice of topics, insightful coverage, knowledge of the subject-matter, and quality of writing. I enthusiastically recommend it both to those familiar with the area and to newcomers.' John Archer, University of Central Lancashire 'This is a fantastically comprehensive, clear, and highly entertaining sweep of every important facet of evolutionary psychology. It does something other books do not do: It presents the opposing arguments to various evolutionary theories and then objectively lays out the evidence for why they don't hold up. If you want to debate the evolution deniers, this is the book for you. I loved this book and highly recommend it to anyone who wants to understand evolutionary psychology or understand it far better.' Amy Alkon, science-based syndicated columnist and author of Unf*ckology: A Field Guide to Living with Guts and Confidence 'The premise of Steve Stewart-Williams' magnificent contribution to the scientific study of human nature - an anthropologist from an alien planet visits Earth and tries to make sense of this bipedal ape called Homo sapiens - is one of those perspective-shifting thought experiments that results in readers gaining hitherto unknown insights into our peculiar species, and buries once and for all the fatuous blank slate model of humanity that discounts our deep connectedness to all other animals. A compelling read - I learned something new on every page.' Michael Shermer, Publisher of Skeptic, columnist for Scientific American, Presidential Fellow of Chapman University and author of Heavens on Earth: The Scientific Search for the Afterlife, Immortality, and Utopia 'This book is nothing short of brilliant, unpacking both the profound and the ridiculous in our emerging picture of human nature and cultural evolution. We won't really be the ape that understood the universe until we understand ourselves, and Steve Stewart-Williams has drawn us an irreplaceable roadmap.' Baba Brinkman, Science Rapper 'This is an engaging, intriguing, and ultimately most satisfying look into what the human mind can do and how it got that way.' G. T. Dempsey, Geolounge (www.geolounge.com) 'My response to Stewart-Williams's book was 'Damn, this is good!' Frankly, whether you are [an] advocate or detractor you should acquaint yourself with this book - love it or loathe it you will learn a lot from reading it. And you will find that reading to be a captivating, page-turning, voyage of discovery. Stewart-Williams is not only an experienced evolutionary psychologist but also a talented and insightful writer with a memorable turn of phrase.' Lance Workman, The Psychologist "A strength of the book is its writing style. The book is written with verve. It's playful, lighthearted, crisp, fast-paced, and yet accurate and concise. A reader can distill the basic foundations and examples of evolutionary psychology and cultural evolutionary theory here while enjoying the ride (read), whether or not they believe in aliens. I would recommend this book over older popular treatments of evolutionary psychology, or, say, Dawkins's 1976 classic The Selfish Gene … If said aliens nabbed Stewart-Williams and this book, they would find a sharp, fun, contemporary, succinct overview that best represents evolutionary psychology and also covers the basics of cultural evolutionary theory.' Peter Gray, Human Nature 'Stewart-Williams succeeds in exposing the oddities in our behavior that do, in fact, require explanation … The Ape that Understood the Universe is a thrilling review of our best explanations of human behavior at a time when such theories are under attack … for those who are open to having their politically correct preconceptions challenged, The Ape that Understood the Universe is a wonderful entry point into learning how the scientific method works - it doesn't care what you believe, nor what you wish were true.' Logan Chipkin, Aero 'Simply put, The Ape That Understood the Universe is a thorough, readable, and indispensable guide to the human species and how it operates.' Robert Verbruggen, The American Conservative
You may also be interested in...
×
Download the Waterstones App
Would you like to proceed to the App store to download the Waterstones App?
Reserve online, pay on collection


Thank you for your reservation
Your order is now being processed and we have sent a confirmation email to you at
When will my order be ready to collect?
Following the initial email, you will be contacted by the shop to confirm that your item is available for collection.
Call us on or send us an email at
Unfortunately there has been a problem with your order
Please try again or alternatively you can contact your chosen shop on or send us an email at