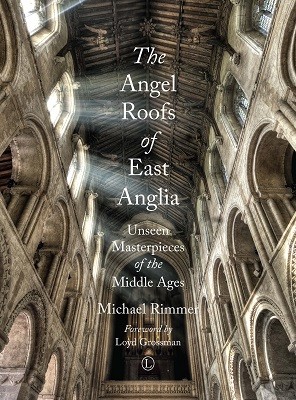 The Angel Roofs of East Anglia: Unseen Masterpieces of the Middle Ages (Paperback)
Michael Rimmer
(author)
Paperback
142

Pages / Published: 27/08/2015
We can order this from the publisher
Shortlisted for the East Anglian Book Awards 2016! It has been estimated that over 90% of England's figurative medieval art was obliterated in the image destruction of the Reformation. Medieval angel roofs, timber structures with spectacular and ornate carvings of angels, with a peculiar preponderance in East Anglia, were simply too difficult for Reformation iconoclasts to reach. Angel roof carvings comprise the largest surviving body of major English medieval wood sculpture. Though they are both masterpieces of sculpture and engineering, angel roofs have been almost completely neglected by academics and art historians, because they are inaccessible, fixed and challenging to photograph. 'The Angel Roofs of East Anglia' is the first detailed historical and photographic study of the region's many medieval angel roofs. It shows the artistry and architecture of these inaccessible and little-studied medieval artworks in more detail and clarity than ever before, and explains how they were made, by whom, and why. Michael Rimmer redresses the scholarly neglect and brings the beauty, craftsmanship and history of these astonishing medieval creations to the reader. The book also offers a fascinating new answer to the question of why angel roofs are so overwhelmingly an East Anglian phenomenon, but relatively rare elsewhere in the country.
Publisher: James Clarke & Co Ltd
ISBN: 9780718893699
Number of pages: 142
Weight: 380 g
Dimensions: 254 x 189 mm
---
MEDIA REVIEWS
'Look at this book and give thanks that these angelic hosts were beyond the reach of the destroyers. Here for the first time they are rightly celebrated as a precious legacy from late medieval England.' Sir Roy Strong, Art historian and former director of the National Portrait Gallery and V&A Museum Michael Rimmer allows us to enter worlds that are otherwise remote. His text provides privileged access to the minds both of the medieval kings and carpenters who produced the roofs, and the early modern religious vandals who diminished them. But the greatest privilege is to see the roofs themselves through his camera lens. As we move from distant views of angels in whole ranks to close-ups of their faces and their attributes, we seem to hear the music of their instruments and the song of their voices, even feel the fluttering of those magic wings. To hold this book in your hands is to gain early entry to Paradise. Professor John Onians, Professor Emeritus of World Art, University of East Anglia The cultural revolution that shook the British Isles during the sixteenth and seventeenth centuries destroyed so much of the evidence of our vibrant earlier liturgical life. This wonderful book documents one of the major survivals of Roman Catholic England in meticulously researched text and the most sumptuous colour photographs. The late Gothic style of perpendicular architecture demanded elaborate roofs, and the angels that fluttered above the faithful were at once a vision of heaven and an articulate statement of orthodox Catholic doctrine. Michael Rimmer's exhaustive survey of the angel roofs of East Anglia and beyond will provide the essential companion to these treasures for years to come. Simon Knott, Creator of The Churches of East Anglia websites Angel roofs are one of the glories of English carpentry and woodcarving. They are predominantly located in parish churches in East Anglia and adjoining counties where so many stunning buildings were created between 1400 and the Reformation. Despite some damage they survive in considerable numbers. Examples from thirty-five different churches are represented in Michael Rimmer's outstanding photographs, which reveal the visual quality of these works of art, in many cases for the first time. The book also has an accessible and stimulating introduction in which he sets out major issues in the study, history and development of this largely neglected but fascinating subject. Professor T.A. Heslop, Professor of Visual Arts, University of East Anglia The Angel Roofs of East Anglia is a wonderful book about a remarkable form of medieval English architecture. In the Middle Ages, English carpenters designed and built a number of the world's most innovative and ingenious timber framed buildings. Hammer beam roofs, some of which were adorned with carved and painted angels - most notably the one completed in 1399 that spans the Hall of Westminster Palace - were the English carpenter's most spectacular achievement. Rimmer's book explains and celebrates a forgotten but truly awe-inspiring type of craftsmanship and construction. David Leviatin, Editor of The Mortice and Tenon Magazine The Angel Roofs of East Anglia captures perfectly the sheer beauty and fun of this amazing feature of East Anglian churches. The angels tell us so much about the history not only of the churches that they adorn but the craftspeople who created them. The Churches Conservation Trust is enormously proud to look after some of the amazing places photographed in the book; I think that when people see what treasures exist on their doorsteps Angel Roofs will inspire a whole new generation to visit and enjoy this country's historic churches. Crispin Truman, Chief Executive of The Churches Conservation Trust Thank you for . . . your breathtaking photographs of the angels in Westminster Hall. They are magnificent images. Lt Col E. Lloyd-Jukes OBE, Yeoman Usher, Black Rod's Department, House of Lords Michael Rimmer's book is outstanding. His magisterial survey of every angel roof in the country focuses largely on the rich heritage to be found in Norfolk and Suffolk. The photography is superb and the text provides fascinating details of the history, construction and craftsmanship of these masterpieces in oak dating mainly from the 1400s. It is a happy thought that the author dedicates the work in part to the soul of the craftsman known as the Methwold Master. D.P. Mortlock, author of The Guide to Suffolk Churches and, with C.V. Roberts, The Guide to Norfolk Churches This is a gem of a book. If you want to discover something of an inheritance, something of how the visual and the spiritual can encourage each other, something of the wonder of faith and skill of human hands dedicated to the glory of God, then read this book. Neil Thorogood, Reform Magazine, February 2016 "I've discovered a book that brings together all that's mysterious and magnificent about our medieval churches. It's called 'The Angel Roofs of East Anglia: Unseen Masterpieces of the Middle Ages' and it's packed with sensational photographs of roof angels that have lurked in the darkness of our church roof spaces for centuries. ...Rimmer's book is a great read - not too long, not too detailed but enough to get you hooked and wanting more. And a unique photographic record of every angel roof in East Anglia." -Angels and Pinnacles (blog), September 28, 2015 "...a lavishly illustrated, scholarly study..." -Canon David Winter, Church Times. 30 October 2015 "The photographs alone make this book worthwhile, but with Rimmer we learn all the fascinating detail about the medieval carpenters such as their travel, their range of tools, their rates of pay and a whole lot more." -Marion Welham, East Anglian Daily Times, Saturday September 26, 2015 "...a very interesting book, very readable, with fantastic photography... This book makes very good reading, and is useful to take with you when visiting churches." -Jan Lovell, Alde Valley Suffolk Family History Newsletter, 30 October 2015 "...astonishing..." -Christopher Howse, The Telegraph, 3 October 2015 "In this unique book, he [Michael Rimmer] believes that the roofs offer us a window on a vanished past, to a time when East Anglia was the most populous and prosperous part of the country, the doorway to trade with Europe... The illustrations...remind us of what has been lost and how the wonders of what remains should be preserved." -Audrey Jamieson, St. Mary Mildenhall's Newsletter, October 2015 "This is a must-have book for anyone interested in ecclesiastical woodcarving. Michael Rimmer has written a definitive work on the 'Angel Roofs'... This book would suit those who have an interest in church carvings, those who have an interest in late-medieval woodwork or those who would like to find and explore some of these churches first-hand." -The Woodcarvers Gazette, Vol. 3, Issue 11, Winter 2015 "Rimmer's stunning photographs allow us to see the angels in all their splendour - their expressions, the objects they carry, the robes they wear and the set of their wings." -Marion Welham, EADT Suffolk Magazine, Dec 2015 "I am delighted to advise Angel Roofs of East Anglia does not disappoint; the beautiful photographs of the roofs and close ups of individual angles, all of which were taken by the author, are simply stunning; equally, the skill and artistry demonstrated in the composition, exposure and overall photographic layout is nothing short of a tour de force." -Andy Sheppard, Little Waldingfield History Society, September 2015 "One of the great things about this fascinating book is how the author has managed to capture individual angels in such detail... You quickly realise that, far from being 'generic angels', they all have very different personalities." -Trevor Heaton, Eastern Daily Press, September 12-September 18, 2015 "This is a slim volume, packed with heavenly delights - I can't recommend it enough." -Lucy Stewart, SPAB Magazine, Spring 2016 "This is an exceptional book. Whilst it has only 127 pages, every one of them counts, and many are tours de force. ... Rimmer's Angel Roofs, with its remarkable photographs, conveys the very essence of the art of the medieval carpenter and carver, which even the most extensive line drawings cannot hope to illustrate. -Daniel Miles FSA, Journal of Timber Framers Guild, No. 124, June 2017
You may also be interested in...
×
Download the Waterstones App
Would you like to proceed to the App store to download the Waterstones App?
Reserve online, pay on collection


Thank you for your reservation
Your order is now being processed and we have sent a confirmation email to you at
When will my order be ready to collect?
Following the initial email, you will be contacted by the shop to confirm that your item is available for collection.
Call us on or send us an email at
Unfortunately there has been a problem with your order
Please try again or alternatively you can contact your chosen shop on or send us an email at