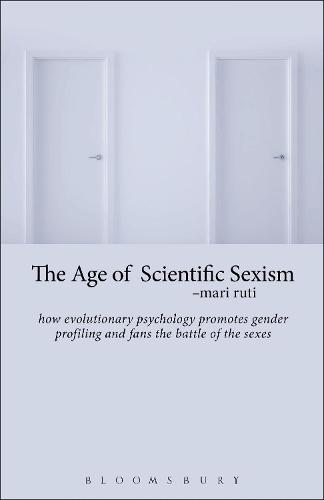 The Age of Scientific Sexism: How Evolutionary Psychology Promotes Gender Profiling and Fans the Battle of the Sexes (Hardback)
Mari Ruti
(author)
Hardback
224

Pages / Published: 30/07/2015
We trust our sciences to operate on a plane of objectivity and fact in a world of subjectivity and cultural ideologies, but should we? In The Age of Scientific Sexism, philosopher Mari Ruti offers a sharp critique of the gender profiling tendencies of evolutionary psychology, untangling the insidious threads of various gender mythologies that have infiltrated-or perhaps even define-this faux-science. Selling stereotypes as scientific facts, evolutionary psychology continually brings retrograde models of sexuality into mainstream culture: it insists that men and women live in two completely different psychological, emotional, and sexual universes, and that they will consequently always be locked in a vicious battle of the sexes. Among these regressive arguments is the assumption that men's sexuality is urgent and indiscriminate, whereas women are "naturally" reluctant, reticent, and choosy-a concept constructed to justify masculine behavior, such as cheating, that women have historically found painful. On its most basic level, The Age of Scientific Sexism explores our impulse to "explain" romantic behavior through science: in the increasingly egalitarian gender landscape of our society, why are we so eager to embrace the rampant gender profiling that evolutionary psychology promotes? Perhaps these simplistic gender caricatures owe their popularity, at least in part, to our overly pragmatic society pragmatic society, which encourages us to search for easy answers to complex questions.
Publisher: Bloomsbury Publishing Plc
ISBN: 9781628923803
Number of pages: 224
Weight: 408 g
Dimensions: 216 x 140 x 14 mm
---
MEDIA REVIEWS
With wit and directness, Ruti (philosophy, Univ. of Toronto) deconstructs popular accounts of evolutionary psychology regarding sex and gender. Being an outsider to the field of evolutionary psychology (her field is critical theory), Ruti positions herself as a nonspecialist reader and analyzes understandings of sex and gender as developed in literature targeting that group of nonspecialists. In the first two chapters, she outlines the standard narrative of sexuality and gender, as delivered in popular work on evolutionary psychology, by examining the work of Robert Wright and David Buss. In chapters 3 and 4, she uses the work of Geoffrey Miller and of Christopher Ryan and Cacilda Jetha to outline some of the contemporary modifications of the standard narrative. In the last chapter Ruti proposes that current evolutionary arguments promote the mainstream understanding of mating behavior as a pillar for heteronormativity in terms of both reproduction and marriage. The author is insightful and clever in delineating the ideological implications of the logical and empirical limitations of evolutionary psychology, especially as presented to the general public. Interesting and intellectually stimulating, this book is a must read for everyone interested in psychology, gender, and sexuality studies. Summing Up: Essential. Upper-division undergraduates, graduate students, researchers, faculty, and professionals. -- I. I. Katzarska-Miller, Transylvania University, USA * CHOICE *
[Evolutionary Psychology] advocates and researchers claim that the ways in which (straight) men and women relate, pair off, mate, and pass on their genes have their roots in ahistorical, static traits supposedly shared with cavemen and cavewomen ... As Ruti explains, when the "strength" of certain traits also happens to line up with gender stereotypes that would have been right at home in the 1950s, things seem a little too pat, often to the point of this "science" fitting neatly into status-quo, retrograde ideas about how men and women act when it comes to love and sex ... reading Ruti's takedown of evo psych is akin to listening to the world's most delightful gender-studies tour guide ... The Age of Scientific Sexism manages to be informative, entertaining, and persuasive in its exploration of a "science" that is anything but. -- Anna Hamilton * Bitch Media *
The Age of Scientific Sexism tracks the insidious migration of social Darwinism from a largely discredited academic sub-discipline to a mass-marketed area of pop psychology. Passionate and personal in tone, the book exposes the antiquated gender scripts and lazy science that flourish in the field of evolutionary psychology-and why it's important to resist its patriarchal seductions. * Janice Haaken, Professor Emeritus of Psychology, Portland State University, USA *
The Age of Scientific Sexism sneaks up on you: it starts with an important critique of evolutionary psychology-one that every Introductory Psychology student should read-and subtly opens to a robust queering of straight sex and an unabashed treatise on the truth of humanity's wide-spectrum sexuality. Mari Ruti's reflections unmask the empirical and logical shortcomings of evolutionary psychology, particularly in their popularized guise, showing how we have instantiated shame yet again in current discourses of sex. This is a feminist issue, a psychological issue, but also one concerned with an ethics of love, desire, and passion, with which every person lives with immediately and concretely. This book makes you think. I thank Mari Ruti for it. * Kareen R. Malone, Professor of Psychology, University of West Georgia, USA, and member of the Apres Coup Psychoanalytic Association, New York, USA *
A bold, fresh take on gender with a dagger straight to the heart of the societal scripts that promise happiness but too often undermine it. This book is a brilliant read that will leave you feeling smarter and more emboldened to lead your best and most passionate life. * Bella DePaulo, author of Singled Out: How Singles Are Stereotyped, Stigmatized, and Ignored, and Still Live Happily Ever After and Project Scientist in Psychology at the University of California, Santa Barbara, USA *
Evolutionary psychology has offered a way of thinking about gender differences in sex, desire, and romance that has been tremendously influential. The standard narrative has infiltrated some of the most popular self-help books (such as John Gray's Men are from Mars, Women are from Venus) and has been perpetrated so relentlessly that it has become part of the conventional wisdom of our time. Mari Ruti, a professor of critical theory at the University of Toronto, isn't buying it. ... She blows giant holes in some of the most influential studies academics cite in support of the standard narrative. ... She shows readers what is exaggerated in the standard narrative and what is marginalized or ignored. ... In a bravura analysis, Ruti shows how the stereotyping and stigmatizing of single people (including single parents) is part of the package of evolutionary psychology and its standard narrative. So is the glorifying of traditional marriage. ... The Age of Scientific Sexism is a smart, compelling, thoughtful read. -- Bella DePaulo * PsychCentral *
You may also be interested in...
Simply reserve online and pay at the counter when you collect. Available in shop from just two hours, subject to availability.
Thank you for your reservation
Your order is now being processed and we have sent a confirmation email to you at
When will my order be ready to collect?
Following the initial email, you will be contacted by the shop to confirm that your item is available for collection.
Call us on or send us an email at
Unfortunately there has been a problem with your order
Please try again or alternatively you can contact your chosen shop on or send us an email at