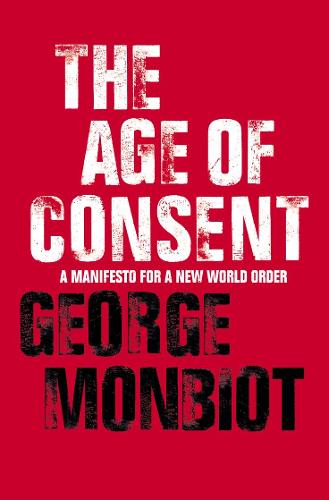 Paperback
Published: 05/04/2004
Click

&

Collect
From your local shop
Naomi Klein's 'No Logo' told us what was wrong. Now, George Monbiot shows us how to put it right. Provocative, brave and beautifully argued, 'The Age of Consent' is nothing less than a manifesto for a new world order. 'Our task is not to overthrow globalisation, but to capture it, and to use it as a vehicle for humanity's first global democratic revolution.' All over our planet, the rich get richer while the poor are overtaken by debt and disaster. The world is run not by its people but by a handful of unelected or underelected executives who make the decisions on which everyone else depends: concerning war, peace, debt, development and the balance of trade. Without democracy at the global level, the rest of us are left with no means of influencing these men but to shout abuse and hurl ourselves at the lines of police defending their gatherings and decisions. Does it have to be this way? George Monbiot knows not only that things ought to change, but also that they can change. Drawing on decades of thinking about how the world is organized and administered politically, fiscally and commercially, Monbiot has developed an interlocking set of proposals all his own, which attempts nothing less than a revolution in the way the world is run. If these proposals become popular, never again will people be able to ask of the critics of the existing world order, 'we know what they don't want, but what do they want?' Fiercely controversial and yet utterly persuasive, the ingenious solutions Monbiot suggests for some of the planet's most pressing problems mark him as perhaps the most realistic utopian of our time and a man whose passion is infectious and whose ideas, many will surely come to agree, are becoming irresistible.
Publisher: HarperCollins Publishers
ISBN: 9780007150434
You may also be interested in...
"Perspective changing"
This is a brilliantly accessible and fascinating look at the 21st century world. Acknowledging the failings of capitalist globalisation, Monbiot attempts to provide a roadmap for a more egalitarian and democratic... More
"Beware - You Are Compelled to Think Here !!"
I have only read the first few chapters but it has already encapsulated my own beliefs that I have held for many yeara about Global Politics and Corruption. Its a difficult read as I found my self putting the book... More
We would love to hear what you think of Waterstones. Why not review Waterstones on Trustpilot?