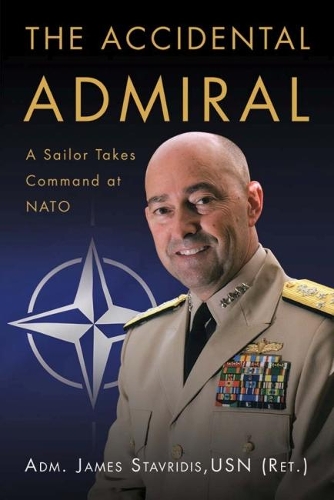 The Accidental Admiral: A Sailor Takes Command at NATO (Hardback)
James Stavridis
(author)
Hardback
288

Pages / Published: 30/09/2014
Despite demonstrated prowess in the handling of ships and sailors, five years after receiving his commission, Jim Stavridis was planning on getting out of the Navy and going to law school. His assignments officer, a young lieutenant commander by the name of Mike Mullen (who would go on to become Chairman of the Joint Chiefs) noticed something special in Stavridis, however, and convinced him to stay on active duty by dangling the prospect of Uncle Sam sending him to graduate school. Going ashore for a few years, Stavridis earned his MALD and PhD in international relations from the Fletcher School of Law and Diplomacy at Tufts University. The experience that taught him to look beyond the horizon and to think and act globally.

Throughout his career Stavridis was anything but uniform in the way he approached his duties. An avid reader and prolific author he wrote more than 55 articles, commentaries, and book reviews in the Navy's professional journal Proceedings beginning when he was still a midshipman and continuing to this day. He has also written for some of the leading papers and journals in the United States, including the New York Times, Washington Post, Atlantic Magazine, Naval War College Review, and many others His career was marked by unusually challenging assignments including command of a U.S. Navy guided missile destroyer in the early '90s; two stints as a top aide to two different Secretaries of the Navy (one a Republican and the other a Democrat); and command of an aircraft carrier battle group. Stavridis narrowly missed being killed on September 11, 2001 when an American Airlines aircraft plunged into the Pentagon not far from his office. He was subsequently put in charge of a Navy think tank, ""Deep Blue,"" which was tasked with reimagining the service's role in a post-9/11 environment. Already selected for his first star as 9/11 unfolded, his rise through the ranks was swift - even going directly from one-star to three-star admiral without ever wearing two stars - when he was selected to be the senior military assistant to the very demanding Secretary of Defense, Donald Rumsfeld. Surviving that crucible, he was nominated for his fourth star at the age of 50, one of the youngest persons to serve at that rank in modern history. He then became the first naval officer to lead the U.S. Southern Command - responsible for all U.S. military operations in the Caribbean and Central and South America. At the end of that assignment he was picked to be the first naval officer to serve as Supreme Allied Commander of NATO - a job first held by Dwight D. Eisenhower and then by a string of prominent generals. When he was given that assignment, the New York Times referred to Stavridis as a ""renaissance Admiral,"" something Stavridis turned into ""the accidental Admiral"" given he was the first sailor to head to that command. That is where this book, The Accidental Admiral picks up - as Stavridis enlightens readers about securing such a position and serving as NATO's top man in uniform for four years. They were challenging years indeed. Stavridis was responsible for NATO operations in Afghanistan, its conduct of a military intervention in Libya and preparation for possible war in Syria - as well as worrying about the Balkans, cyber threats, piracy, all while cutting NATO by 30% due to budget reductions by the 28 nations of the Alliance. More than just describing the history of what happened, Stavridis shares with reader the ""why"" and gives insights into the personalities of those with whom he dealt, ranging from President Barack Obama; Secretary of State Hillary Clinton; Secretaries of Defense Robert Gates, Leon Panetta, and Chuck Hagel; Afghan President Hamid Karzai; Generals David Petraeus, Stanley McChrystal, John Allen and many more. The Accidental Admiral is more than just a memoir. The book is also a very personal reflection of the burdens and benefits of leadership, and Stavridis also shares his insights on strategic communications, planning, and the convergence of threats that will confront the U.S. and its allies in the near future.
Publisher: Naval Institute Press
ISBN: 9781612517049
Number of pages: 288
Weight: 612 g
Dimensions: 229 x 152 x 25 mm
---
MEDIA REVIEWS
"First, Stavridis provides valuable historical perspective of the major conflicts that occurred or were ongoing during his time at the helm of NATO/EUCOM. Second, he shares his views on strategic leadership to include the advantages and pitfalls that come with Twitter, Facebook, and the other tools of a more interconnected world. Fans of Admiral Stavridis's previous works are surely going to enjoy The Accidental Admiral. For new readers, it can serve as a valuable introduction that will then pull them toward his other works."--Naval Historical Foundation
"Stavridis writes with a career's worth of confidence in never being too concerned with rocking the boat. He continues to consider himself a 'disruptive innovator, ' based on a career advanced with 'house money' and never expecting advancement. In The Accidental Admiral, he appeals to modern militaries to consign their traditional introspective and repetitive practices and instead develop akin to the modern technological world, which embraces risk and innovates rapidly."--Australian Defence Force Journal
"The Accidental Admiral is valuable, and perhaps even vital, for those seeking to understand the history and context of major foreign policy decisions during the Obama administration. On balance, Stavridis agreed with President Obama's decisions more often than he disagreed with them. But some of those disagreements were on hot-button issues. Most notably, the Admiral endorses a longer and firmer commitment to Afghanistan and associates himself with Senator McCain's interventionist position on Syria. Stavridis, however, does this without any of the buck-passing or back-biting that have featured prominently in many other recent foreign policy critiques. Accidental Admiral has many other strengths. The book offers rich lessons in the challenges of running too many headquarters, regularly interacting with dozens of foreign heads of state and senior defense officials, and overseeing major military operations in multiple hotspots. The book's 10th chapter on leadership should be mandatory reading for all military officers, and not just in the United States. 'Spend at least one-fourth of your disposable time on personnel matters, and 'Make mentorship a priority, ' Stavridis intones. The Admiral clearly understands the human factor in everything as well as anyone - not least in the context of leadership."--War on the Rocks.com
"The Accidental Admiral covers only a short period of time but it is packed full of absorbing and fascinating stuff. His book is one of the best autobiographies of a senior officer to appear for many a year. Stavridis, who is a prolific reader of everything from social media to newspaper editorials in three languages, also writes extremely well and without a plethora of acronyms. After so many dry and dull military stories, the Stavridis story is like a cleansing gale of salt air. His autobiography is breathtaking and unputdownable."--Warships International Fleet Review
"Much of the strength of the book lies in its style and structure. The text is admirably succinct but retains warmth and candour throughout, which make for an engaging read. A good balance is struck between specific events during the author's command and general issues of concern to today's senior officer... In this concise and readable memoir, Admiral Stavridis has provided an insightful overview of NATO operations during his eventful command. More importantly, perhaps, he has made a well-informed contribution to the debate about the future of the Alliance."--The Naval Review
"Admiral Jim Stavridis is one of the most forward-thinking military officers and enlightened leaders of his generation. Afghanistan, Libya, the Balkans, Syria, piracy and cyber threats were just a few of the enormous challenges he superbly handled as Supreme Allied Commander at NATO. The Accidental Admiral gives readers a window into what it is like to wrestle with the toughest 21st century problems of strategy and diplomacy."--Robert M. Gates, Secretary of Defense, 2008-11; author of Duty: Memoirs of a Secretary at War
"Admiral James Stavridis is a military intellectual who has written an engaging, deeply thoughtful book about leadership in the crucible of great events. In particular, his arguments about the continued relevance of NATO are prescient given the crisis in Ukraine. His defense of Generals Stanley McChrystal, David Petraeus, and John Allen is both poignant and necessary. This book should be required reading for young officers."--Robert D. Kaplan, best-selling author of Balkan Ghosts: A Journey Through History and The Revenge of Geography: What the Map Tells Us About Coming Conflicts and the Battle Against Fate
"Jim Stavridis is a unique breed of leader--at once both a seasoned practitioner, and a thoughtful, charismatic intellectual. He embodies the very definition of a 'renaissance man.' A generation of our leaders benefited from working for and with Jim--myself included. Readers of The Accidental Admiral will benefit from the insights of a proven leader's reflections of a pivotal time in history."--Gen. Stanley A. McChrystal, USA (Ret.), Commander, U.S. Forces Afghanistan, 2009-10; co-founder and partner of the McChrystal Group
"There was nothing accidental about Jim Stavridis becoming an Admiral or Supreme Allied Commander in Europe. He is one of the best of the new breed of military officers--equally proficient at waging war and waging peace, equally learned in military history and cultural history. Whether dealing with Afghanistan, Russia or the Middle East, Jim has always demonstrated an ability to find new ways to look at and try to resolve age-old problems. In The Accidental Admiral, he brilliantly shares hard won lessons learned on the application of 'smart power' in the modern world and also offers readers critical insights into leadership, innovation, planning and communication. After I got to know Jim and to appreciate the range of his intellect and interests, I regularly would ask, 'What are you reading Admiral?' The books he recommended were always great reads from which I learned a lot. The same will be true for anyone who reads The Accidental Admiral."--Joseph I. Lieberman, Senior Counsel, Kasowitz, Benson, Torres & Friedman; United States Senator, Retired
"His chapters on leadership, strategic communications, and innovation are also useful words for all military leaders."--Parameters
"Coalition warfare, whether based on established alliances such as NATO, or so-called coalitions of the willing like that against the Islamic State (ISIS) group, continue to be the order of the day and appear to be Canada's preferred method for sending forces off to what we rightly or wrongly call 'war' these days. This highly engaging account of one man's approach to this type of generalship (or more accurately the art of the admiral) is both timely and a very worthwhile read."--Canadian Naval Review
"Stavridis says he wants to show the reader not what happened during his four years, but rather why it happened. He proceeds to take the reader on a tour of challenges: from the toppling of Qadhafi to the civil war in Syria, Israeli security, a resurgent Russia, the Balkans, and finally, of course, Afghanistan. Thus the first few chapters are a whirlwind of individuals, meetings, and events. Among all this, he often pauses within chapters to highlight some of the more important senior military and political officials that make up the NATO alliance. His new memoir is a refreshing dose of honesty, intelligence, and reflection--much needed in today's Navy and tomorrow's leaders."--Naval War College Review
"Stavridis' perspective on how he arrived as the first admiral to ever hold the senior position at NATO proves interesting. After taking command in 2009, he recounts in six chapters his most pressing challenges. He does this primarily through a geographical lens with chapters focused on Afghanistan, Libya, Syria, the Balkans, Israel, and Russia. In each chapter he paints a candid picture from a strategic leader's viewpoint on how he approached the problems he encountered in each region. After the historical tour of challenges, he shifts to a discussion of leadership in a broader sense. There are five chapters on various aspects of leadership. Most of these leadership tents are valid, not just at the four-star military level, but to all leaders."--Military Review
"Adm. Stavridis has been variously called a 'renaissance admiral, ' 'a military intellectual, ' 'the best of the new breed of military officers.' All appropriately laudatory, but I suspect he'd settle for something simpler--the son of a man who set a high standard by serving as a (naval) officer for more than 30 years, perhaps; a devoted husband and a proud father, who was chosen to speak to his daughter's NROTC graduating class; an accidental admiral, a sailor and a patriot, whose success and service to his country was no accident at all."--The Washington Times
"Adm. Stavridis, through his recollection of his friendship with Amb. Rogozin and others, demonstrates that he understands well the importance of partnerships and friendships in navigating global crises as part of the "smart power" agenda that he personally promotes. U.S. foreign policy--toward Russia and in general--would benefit if it remembered that isolating adversaries may feel moral, but resolving crises requires a foundation of personal engagement. The White House could learn a lot from Adm. Stavridis."--The Diplomatic Courier
"Admiral James Stavridis may be an 'accidental admiral' but he is no ordinary commander. He is equal parts thinker and doer, asking hard questions and continually challenging himself and the men and women under his command. His tour of duty as Supreme Allied Commander in Europe encompassed some of the most trying and important issues of our time in Europe and the Middle East. A rollicking and fun read."--Anne-Marie Slaughter, President and CEO of The New America Foundation; Director, Policy Planning Staff, U.S. Department of State, 2009-11
You may also be interested in...
Simply reserve online and pay at the counter when you collect. Available in shop from just two hours, subject to availability.
Thank you for your reservation
Your order is now being processed and we have sent a confirmation email to you at
When will my order be ready to collect?
Following the initial email, you will be contacted by the shop to confirm that your item is available for collection.
Call us on or send us an email at
Unfortunately there has been a problem with your order
Please try again or alternatively you can contact your chosen shop on or send us an email at