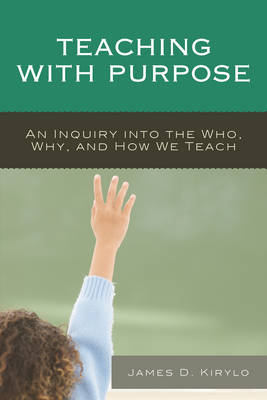 Teaching with Purpose: An Inquiry into the Who, Why, And How We Teach (Paperback)
James D. Kirylo
(author)
Paperback
202

Pages / Published: 02/05/2016
For five days a week for approximately nine months out of the year totaling countless hours, teachers work with other people's most treasured gifts-their children. That the teacher is the most important element in fostering an energetic, engaging, and inspiring classroom environment where authentic learning can unfold cannot be overstated. Indeed, it is the teacher who understands self or does not; it is the teacher who is prepared or is not; it is the teacher who has command of subject matter or does not; it is the teacher who inculcates in an appropriate way or does not; and, it is the teacher who is patient, understanding, empathetic, and enthusiastic or is not. To that end, Teaching With Purpose underscores what it means to be an insightful teacher, foundationally emphasizing that the central aspect toward richly transforming education is through the professionalization of what it means to be a teacher. Written in accessible language, and attentive to connecting theory to practice, the benefits and features of this book are mindful of a diverse readership.
Publisher: Rowman & Littlefield
ISBN: 9781475812947
Number of pages: 202
Weight: 313 g
Dimensions: 230 x 151 x 15 mm
---
MEDIA REVIEWS
Teaching with Purpose offers a new hope to teachers seeking guidance for how they can develop basic human virtues while teaching..... On the whole, this is a useful, handy book for teachers, language philosophers, researchers, as well as a helpful text for teacher-leaders who believe in self-understanding, developing caring relationships, and the ability to inspire. * Global Education Review *
There is no greater job than that of a teacher; Teaching with Purpose: An Inquiry into the Who, Why, and How We Teach inspires us to be the very best teacher. Teachers have the opportunity to challenge their students to greatness; they have the opportunity to build relationships that support and nurture individual children, while also appreciating their diversity. Dr. James Kirylo's book is an essential read for future teachers, graduate students, and teachers at all levels who seek to better understand or refine their craft. Dr. Kirylo offers a strong theoretical background, while providing descriptions of best practices. This book is an inspiring resource that promises to offer teachers, and those studying teaching, the opportunity for self-reflection and the challenge of refining teaching. -- Jan Lacina, PhD, Texas Christian University
James D. Kirylo writes a remarkable book in Teaching with Purpose. He inspires us to consider the well-being of every child and our privileged role as a teacher which comes from a heart-centered approach. He lifts the teaching profession to a noble stature, one of love, faith, hope, humility, compassion and persistence. He advocates building relationships with students and believing that all students are unique and valued. He illuminates the influential power teachers have. Teachers create purposeful opportunities, believing in the possibilities of each child. Thus, teaching is a human endeavor, and Kirylo masterfully humanizes the educational process! -- Sandra J. Stone, Ed.D., Professor Emeritus, Northern Arizona University
James D. Kirylo skillfully reminds us of what constitutes as purposeful teaching at a time when test taking seems to be valued over teaching students to become life-long learners. He pithily articulates the major principles that all teachers must bear in mind- that the rectitude of teaching depends much on the teacher's disposition and ability to reflect, to build relationship with students, to hone every child's natural talent and gifts so they may attain their full potential with a sound understanding that teaching is after all a political endeavor! Using the parent voices to raise some of the ills of the current times in education, Kirylo brings to sharp focus the issues to highlight the important principles of teaching! A necessary read for every teacher to stay grounded! Bravo! -- Vidya Thirumurthy, Associate Professor of Education, Pacific Lutheran University
In this time of teacher-bashing, James Kirylo's book offers new hope. Kirylo describes teaching as the development of basic human virtues, including self-understanding, caring relationships, the ability to inspire, and attention to those most in need. The book will enhance both new and veteran teachers' appreciation of why the profession is so vital, while bringing them up-to-date on a wide variety of educational topics. This is a deeply satisfying book. -- William Crain, Professor of Psychology, The City College of New York, and author of Theories of Development: Concepts and Applications
In Kirylo's book, career teachers are respected, celebrated, championed, and understood, and assessment is taken off of its undeserved pedestal and placed back into the skilled educator's tool box, where it belongs. A refreshingly balanced read. -- Mercedes K. Schneider, Ph.D., career teacher and author, Common Core Dilemma-- Who Owns Our Schools?
Teaching with Purpose inspired me in the same way I have been encouraged by the writings of Nel Noddings, Elliot Eisner, and Parker Palmer. With a focus on who we are as teachers, why we teach, and how we teach, this exemplary book is a "must read" for all prospective, novice, and veteran teachers. -- Jerry Aldridge, Professor of Education, Emeritus, University of Alabama at Birmingham
In this inspiring book, scholar and educator James D. Kirylo examines in plain language the deep ethics of teaching. Highly readable and eminently thoughtful, Kirylo's text emphasizes six key dispositions needed for the development of creative, humane teachers: love, faith, hope, humility, compassion, and persistence. Kirylo calls upon educators to live out such values in their teaching practice so as to evoke the humanity and intelligence in each student. He patiently and thoughtfully examines the many challenges of being a good teacher in times like these. Drawing on Freire's notion of teachers and students as "unfinished beings" whose ongoing formation is the project of critical pedagogy, and on Dewey's insistence that education is growth in life itself and not a preparation for later living, Kirylo offers a text which will elevate all educators who pursue these transformational goals with him. -- Ira Shor, professor, City University of New York Graduate Center, Professor, Composition/Rhetoric and Urban Education, City University of NY Graduate Center, Author of Empowering Education and with Paulo Freire, A Pedagogy for Liberation
For too long, schools have been places young people go to watch their teachers work. Professor Kirylo posits an alternative educational universe, built on loving children, faith, hope, humility, compassion and persistence. His message of equity, diversity, social justice and diversity is a challenge to all of us who believe that empowerment of teachers and the opportunity of schooling is the driving force for the benefit of the common good. Prof Kirylo's vision is that teachers help young people invent their futures rather than for teachers to spend so much energy perpetuating the status quo. His blueprint should be on the reading list for new teachers, teacher educators and policy-makers who are busy inventing tests and standards on the deck of the Titanic. -- John Fischetti, Dean of Education/Head of School, University of Newcastle Australia
In Teaching with Purpose, James D. Kirylo probes the complexity of what it means to teach and learn in today's schools; showing that effective teaching is not just a matter of what teachers do, but also a matter of who they are and how they come to know their students. Drawing upon philosophy, history, and psychology, Kirylo reminds readers that at its heart, high quality education requires teachers to look deeply at their own identities, while also grounding their pedagogy within the context of authentic relationships. This scholarly, yet accessible text, will both inform and inspire educators, as well as those who aspire to the profession. -- Patricia A. Crawford, Associate Professor, Early Childhood Education; Language, Literacy & Culture University of Pittsburgh
You may also be interested in...
Simply reserve online and pay at the counter when you collect. Available in shop from just two hours, subject to availability.
Thank you for your reservation
Your order is now being processed and we have sent a confirmation email to you at
When will my order be ready to collect?
Following the initial email, you will be contacted by the shop to confirm that your item is available for collection.
Call us on or send us an email at
Unfortunately there has been a problem with your order
Please try again or alternatively you can contact your chosen shop on or send us an email at