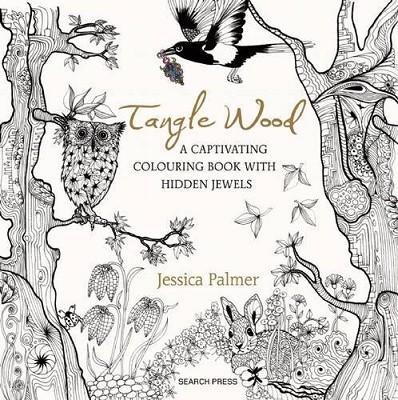 Tangle Wood: A Captivating Colouring Book with Hidden Jewels (Paperback)
Jessica Palmer
(author)
Paperback
80

Pages / Published: 10/08/2015
Illustrator and papercutter, Jessica Palmer, has created 80 pages of enchanting hand-drawn pictures for you to colour and lose yourself in. The images all have a magical woodland theme, and each one includes a `hidden jewel', intricately worked into the design, which will include rings, brooches, pendants, chains, bracelets and earrings featuring insects, animals and leafy patterns. The book includes designs that fit on a single page as well as those that extend across a double-page spread. Some of the designs fill the entire page and others sit within it. Others have space left for the reader to extend the design themselves.
Publisher: Search Press Ltd
ISBN: 9781782213536
Number of pages: 80
Weight: 340 g
Dimensions: 222 x 222 x 15 mm
---
MEDIA REVIEWS
Tangle with Jessica Palmers Hidden Treasures
Tangle Wood: A Captivating Colouring Book with Hidden Jewels Paperback - October 1, 2015 by Jessica Palmer (Author)
Enter the calming and beautiful, magical world of illustrator and papercutter, Jessica Palmer. Jessica has created 80 pages of enchanting hand-drawn pictures for you to color and lose yourself in. The images all have a magical woodland theme, and each one includes a `hidden jewel', intricately worked into the design. Rings, brooches, pendants, chains, bracelets and earrings featuring insects, animals and leafy patterns. The book includes designs that fit on a single page as well as those that extend across a double-page spread and there are even those that have space left for the reader to extend the design themselves. A stunning book with lay flat, unbreakable `flexi' binding and high quality paper resistant to ink bleeding. Unleash your creativity and calm the soul.
https://adultcoloringworldwide.com/2016/01/07/tangle-with-jessica-palmers-hidden-treasures/
-- Cheryl Colors * Adult Coloring Worldwide *
This is my favorite of Jessica's colouring books. I love the designs and the theme. Jessica's book are such fun.
Jessica hides little trinkets in the pictures and you can spend some of your time searching for them. My son loves this part. Jessica's designs are fun and quite a lot are very realistic. She also gives you blank space where
you can add a picture, draw and colour yourself or anything you choose to do. I love her flowers and plants
and how they almost look like they are going to blow in the wind. Colouring is becoming a fantastic popular pastime. It's so relaxing and meditative. I can't even pick a favorite because there are so many.
The book is full of beautiful pictures to give you hours of fun colouring.
* Crochet Addict UK *
Comment: delightful. I even enjoy it uncoloured as the ink detail is really interesting. I'd love to see more black background images.
Drawing: quite detailed in a good way, especially on bark, vines & feathers.
Layout: double-sided pages, many double spread images.
Paper Quality: creamy, fairly thick. The artist recommends using pencils, watercolour pencils & brush pens. So probably no alcohol markers. You'd need to test first.
Features: Hide & seek element, lots of frames as in the photo, several blank spaces that you can fill with drawings if you like or experiment with backgrounds. No words telling you what to do!
* http://colouringreviews.blogspot.co.uk *
Book:
This is a smaller square book than most of the colouring books out at 22.2cm square. It's a perfect size for travelling, commuting or at home. The cover is a soft matte card with designs from the book on the cover. The spine is glue and string bound, meaning the pages are reinforced. Some images do enter the spine, but the spine becomes quite pliable with use. Coloured pencils lay down well on the off white, textured paper. I experienced no bleeding with waterbased markers or fine liners, but some shadowing. This is a shame, as the images are double sided. Pages are not perforated.
Images
As the title suggests, this is a book filled with woodland creatures and scenes combined with patterns and `tangles'. It begins with a fox in the shade of a huge tree, and continues through scenes of woods, animals, a hidden shack, some plant themed frames, and the sun/moon peeking through the trees. The book does have a `hidden object' aspect to it, with one of the introductory pages containing the items. This is easily ignored if you don't like this part of the book. There is a variety of single and double paged spreads, with the majority being double pages. The artwork is a unique style of sketching and patterned areas, giving the book a sense of consistency throughout the book. Intricacy varies a little, with a mix of larger and smaller areas. The patterns contained in most of the images are quite detailed, but these are able to be block coloured if necessary. Line thickness varies a little, but is primarily thin-moderate throughout.
Health
Nature is one of the best things you can colour for times when you are feeling anxious or depressed. The theme, along with the colour palette is innately calming.
The book is suitable for those with fluctuating concentration as there is larger, more detailed images and simpler, smaller pics as well. This means you can choose an image that suits your concentration levels and time investment.
The line thickness and intricacy means that it may be suitable for those with vision or fine motor skills impairments, but please check the images before deciding.
* https://chronicallybatgirlcolours.wordpress.com/ *
I thought this book had beautiful, natural illustrations with hidden surprises. There is lots of variation and the opportunity to develop different effects according to colour combinations used. I love the use of design that creates twists and turns in the illustrations. Lots to get your teeth into and fun to colour.
* Christine Dymond *
Of all the coloring books on the market, I think this is the absolute best! I am so in love with it, and none of the others I saw came close to it. I can't wait for Jessica's next book. I love how lovingly she paint animals. Thank you for making it!


* Anna James *
We all know kids love colouring, but there's a huge growth in grown-up colouring books too. Designed to promote creativity, mindfulness and fun, these books are often designed by talented artists with intricate, beautiful images. For those who have slightly older children with an artistic flair, they provide a bit more challenge than the average kids' options too, and it's a great indoor activity to do together. We love illustrator and papercut artist Jessica Palmer's latest Tangle Wood book, with 80 enchanting woodland-themed designs, each with a hidden `jewel' to find - perfect for wildlife-loving families.
* Vegetarian Living *
What struck me immediately about this beautiful book is the excellent quality of the paper and the book is beautifully bound. Now I want to find out how the paper reacts to the colouring-materials.
For my first design I used Bruynzeel pastel pencils. The owl-design in this book really lended itself for these pencils. The paper is perfect for using these pencils because of it's somewhat rough structure. The pastel attaches well on the paper. The next design is coloured with Faber Castell Polychromos. These pencils colour fine on this paper. Partly due to the roughness of the paper that absorbs the pigment well. There was no need for blending these colours. And even with a little more pressure the paper stayed well. Finally the test with the felt-tips to see whether they can be used in this book. I used the Staedler triplus and the Stabilo 88. These are extremely suitable for the more detailed designs in this book. This also goes well and the felt-tips don't press through. They colour nicely and the ink doesn't run out. A very beautiful book of excellent quality. You can use all sorts of materials in it. There is also room for making your own designs or complement designs. Find the items that were mentioned on the first page. Highly recommended for many hours of colouring-fun. For the full review and images: http://volwassenenkleurenook.nl/?p=5388
* Volwassenen Kleuren Ook *
August 2015
Tangle Wood is a stunning new colouring book, released for sale just 10 days ago by Search Press Ltd. It is in the same vain as Animal Kingdom and Enchanted Forest, with intricate, woodland-centeric illustrations. The book features a vast range of heavily patterned forest creatures such as rabbits, fairies, foxes, gingerbread houses, hedgehogs, owls, ornate Romany wagons and loads of birds. The mythical and mysterious animals seem to hold the secrets of the forest, which is a very bizarre thing to say about a colouring book but the illustrations are THAT good... flicking through the pages feels like discovering a magic world.
It really is like stumbling into the woods and getting lost in the tangle of vines, flowers and leaves within, the foliage getting thicker and darker as you press on, hundreds of tiny eyes watching your every move... okay, I've made it sound like a horror story when in fact it's just a beautifully illustrated colouring book! Pictures always work better than words- so trip over your feet into the hedgerow and discover the mysterious world of Tangle Wood! -
See more at: http://colourwithclaire.weebly.com/home/tangle-wood-by-jessica-palmer#sthash.aWILhSfR.dpuf
* colourwithclaire.weebly.com *
August 2015
This book is truly beautiful and the images are unlike anything else I've seen because they're so detailed, patterned and charming. You need to see this book to realise just how wonderful it is. If you like colouring nature images that are highly detailed then you'll just love this book. It takes you on a journey rather than being a collection of similarly themed images. You start off seeing some of the jewels that have been hidden within the wood and are greeted by a large tree and a friendly looking fox, you discover a gingerbread house and walk past all sorts of species of birds. You walk further into the trees and happen upon all manner of woodland creatures including badgers, rabbits, foxes, deer and hedgehogs, you encounter a family of owls and a kingfisher who's caught his lunch. By the end of the walk you've reached what's probably the heart of the wood and night has fallen and your path is lit by a smiling full moon. This book is so much more than a colouring book. It tells a story, it has hidden elements in the form of jewels and jewellery pieces and it sparks your imagination and creates a wonderful world of escapism. The images are highly detailed and intricate and many encompass typical zentangle patterns that you can either colour between so you're colouring teeny tiny sections or colour over to create patterned blocks and sections. Some of the images aren't complete or have large sections around them that have been left blank and while I was confused by these at the beginning and it felt a little unfinished on certain pages, after reading the introduction page it explained that these spaces are left so that you can add your own details, backgrounds, and to continue the picture on in your own way. I think this feature is great because it means that you can add to the book or leave it without there being text in the way and detracting from your beautiful colouring. There are also a number of floral and faunal frames that are circular, square and even heart-shaped that you could either leave as they are or add to if your drawing skills are honed!
For the full review and pictures:https://colouringinthemidstofmadness.wordpress.com/2015/08/29/tangle-wood-a-captivating-colouring-book-with-hidden-jewels-a-review
* Lucy Fyles- Colouring in the midst of madness *
Adult coloring books are enjoying a current wave of popularity as a stress reliever, and Search Press have brought out several already. Here is a new one unlike the others that invites the colorist into a magical woodland world.
Lose yourself in a tangle of trees, birds, animals, flowers and more, and while you color keep a look out for a selection of hidden drawings. The paper is a cream color instead of the usual white giving the book a vintage feel like an old children's book. This is echoed in the ink, which is a dark gray with a slightly waxy look to it, a novel appearance. Pictures are detailed indeed, suiting sharp eyes and the finest of pens and are printed on both sides of the page. This means you get twice as much for your money, but you are more limited in what you use to color the drawings. I would suggest colored pencils or gel pens to eliminate bleed through rather than the saturated colors of felt pens and paints. Pictures vary from the type covering the whole page to those you can finish drawing yourself and frames to draw something inside. There is even a "this book belongs to" page to write your name in. Colorists looking for a challenge will find many happy hours await them with this intricate and imaginative book.
* Myshelf.com *
This colouring book by Jessica Palmer is simply enchanting. Jessica has illustrated this book beautifully. And all the illustrations are begging to be coloured. There is just a problem. You can't pick just one to colour .
Jessica welcomes you to Tangle Wood . She invites you to find hidden animal charms in each picture , and also gives you tips of mediums to use. What I adored on the Welcome page , was the concept of how she invites the colourer to Tangle Wood.
`Come inside and discover a magical place full of woodland creatures, fairy objects and a tangle of mysterious plants and gorgeous flowers'
She has included some of the jewels to find in Tangle Wood. This allows the colourer the chance to find more. I love this concept, unlike most other colouring books that uses the same concept , where they give you all the items to find.
Jessica has also given you plenty of space on most pages to doodle and draw . But you don't feel like you have to. They would look gorgeous left blank.
Please buy this book. If you love The Enchanted Forest by Johanna Basford , you will adore Tangle Wood.
For the full review and pictures, please visit: https://thecolouringbookqueen.wordpress.com/2015/09/14/tangle-wood-by-jessica-palmer-a-review/
* thecolouringbookqueen.wordpress.com *
September 2015
For those who wish to simply enjoy Jessica's artwork and need something more therapeutic will find her colouring book Tangle Wood fits the bill. Here we find images of all forms of animals, birds, plants, trees and in each picture is hidden a piece of jewellery for us to find and colour. Both a joy and an inspiration and worth every penny.
* Yorkshire Gazette & Herald *
Colouring books for adults are the newest craze to hit the shops this year, and even when you browse the bestseller lists, colouring books crop up along with the top fiction and non-fiction reads. I must admit, I flick through lots of them when I see them out and about, but there have been lots where there are one or two nice pages inside and then the others are a bit bland, and samey. There doesn't always seem to be anything special about them. When I saw this new publication from Search Press however, I knew I was onto a colouring winner.
Jessica Palmer is a papercutter, which is the most amazing talent, it just looks so difficult and intricate, and way above anything I could even contemplate doing. Anyway, she has just brought out her first colouring book, and I hope it won't be her last.
Tangle Wood has 75 pages of beautiful woodland designs in it, some are on one page only, and some extend to two pages. There are complex scenes, and much simpler ones where you can add your own ideas and designs should you be able to draw (unlike me who sticks to colouring only). I loved the detail involved in the images, it's not only so wonderfully done but the pictures are gorgeous
* craftingnotcleaning.blogspot.co.uk *
I have been colouring in Tangle Wood, it is not until I started that I realised how clever and truly brilliant it is. Am quite addicted keep saying to myself I will do one more section then I feel I have to do another! A great way to relax and create. Magical.
* Karen J Gerrad - Seams Beauty Ltd *
You may also be interested in...
Simply reserve online and pay at the counter when you collect. Available in shop from just two hours, subject to availability.
Thank you for your reservation
Your order is now being processed and we have sent a confirmation email to you at
When will my order be ready to collect?
Following the initial email, you will be contacted by the shop to confirm that your item is available for collection.
Call us on or send us an email at
Unfortunately there has been a problem with your order
Please try again or alternatively you can contact your chosen shop on or send us an email at