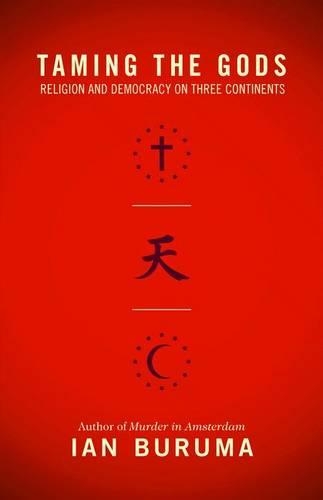 Taming the Gods: Religion and Democracy on Three Continents (Paperback)
Ian Buruma
(author)
Paperback
144

Pages / Published: 31/08/2012
Why religion must be separated from politics if democracy is to thrive around the world

For eight years the president of the United States was a born-again Christian, backed by well-organized evangelicals who often seemed intent on erasing the church-state divide. In Europe, the increasing number of radicalized Muslims is creating widespread fear that Islam is undermining Western-style liberal democracy. And even in polytheistic Asia, the development of democracy has been hindered in some countries, particularly China, by a long history in which religion was tightly linked to the state.

Ian Buruma is the first writer to provide a sharp-eyed look at the tensions between religion and politics on three continents. Drawing on many contemporary and historical examples, he argues that the violent passions inspired by religion must be tamed in order to make democracy work.

Comparing the United States and Europe, Buruma asks why so many Americans-and so few Europeans-see religion as a help to democracy. Turning to China and Japan, he disputes the notion that only monotheistic religions pose problems for secular politics. Finally, he reconsiders the story of radical Islam in contemporary Europe, from the case of Salman Rushdie to the murder of Theo van Gogh. Sparing no one, Buruma exposes the follies of the current culture war between defenders of "Western values" and "multiculturalists," and explains that the creation of a democratic European Islam is not only possible, but necessary.

Presenting a challenge to dogmatic believers and dogmatic secularists alike, Taming the Gods powerfully argues that religion and democracy can be compatible-but only if religious and secular authorities are kept firmly apart.
Publisher: Princeton University Press
ISBN: 9780691156057
Number of pages: 144
Weight: 170 g
Dimensions: 216 x 140 x 9 mm
---
MEDIA REVIEWS
"[Buruma] writes intimately about the relationship between politics and faith in Britain, the Netherlands, France, China, Japan and the United States. And beneath every cliche--about American religious fervor, French intolerance or Japanese godlessness--he uncovers ironies that wreak havoc with popular stereotypes... Taming the Gods is an admirably learned book. Buruma's writing is spare and careful, and one never feels that he is stretching his material to fit some all-encompassing theory... Ultimately, Buruma's message is that people should respect other faiths while insisting that the faithful not violate democracy's rules of the game. And in the skeptical, informed, affectionate tone he adopts toward the countries he chronicles, his book exemplifies that spirit."--Peter Beinart, New York Times Book Review "Ian Buruma's study of the relationship between religion and democracy in America, Asia and Europe does not allude to Todorov's magisterial work ... but it deserves a place next to Todorov on the bookshelf... Buruma seeks to chart a path through the swamps and thickets of competing religious values and cultural identities... This is a useful contribution to what is becoming one of Europe's most urgent debates."--Malise Ruthven, Times Literary Supplement "By examining the history of church/state relations in the U.S. and Europe, the role of religion in the politics of China and Japan, and the growing role of Islam in contemporary Europe, Buruma makes 'an attempt to sort out, in different cultures, how democracies have been affected ... by these tensions [between religious and secular authorities].' One of his most provocative investigations involves secular, liberal Europeans, some of whom now find common ground with conservatives in their opposition to Islam."--Publishers Weekly "Buruma examines the role that religion plays in the modern state, a subject that has been so belabored ... that it requires all of Buruma's essayistic skill to condense these debates into a compact work. That he succeeds says much about his talent for unwinding complex topics, as well as for approaching overly familiar discussions in unfamiliar new ways... Buruma's comparative approach demonstrates, in the kind of sober voice that is all too often drummed out by political hysteria, that it is in the interest of both politics and religion to keep to their respective realms."--Ben Moser, Harper's Magazine "A new book by the insightful and eclectic writer Ian Buruma delves into the complicated part that religions play both in the turbulence and in reactions to it... It's a fun book that skips from Sinclair Lewis's Elmer Gantry to Tocqueville, from Spinoza to Matteo Ricci, an early Jesuit missionary to China, and from Thomas Jefferson to Salman Rushdie."--Katherine Marshall, Washington Post "On Faith" "Because of Buruma's clarity and temperance, [Taming the Gods is] a most informative primer on systems of church-state rapprochement in the modern era."--Ray Olson, Booklist "A contrary history, which depicts the long struggle between faith and liberty issuing finally into a shared civic religion more elevated and esteemed than those based on terrestrial convictions alone."--David Wallace-Wells, BookForum "Buruma's cosmopolitan and historical perspective and his sense of complexity distinguish Taming the Gods from much other writing on religion and politics... Concrete detail, historical perspective, and practical wisdom. His major target turns out not to be the irrationality of religion but the irrationality of the political and social debate, especially in Europe, surrounding religion. The word that sums up his concern in his concluding essay is 'hysteria'--not a god or goddess but more than anything else what his book is attempting to tame."--Peter Steinfels, American Prospect "[Taming the Gods] argues that the intrusion of religion into politics threatens democracy in the U.S., in Europe, and--more surprisingly--in China and Japan."--Josh Lambert, Tablet Magazine "Buruma's short book is useful as a reminder of how religion has played an influential role in various nations at various times, and how support of Enlightenment values can suddenly evaporate when people are confronted by new circumstances (such as the 'rise' of Islam in some European countries)."--M. A. Orthofer, The Complete Review "In a debate driven by raucous emotion ... Buruma's is the quiet voice of reason... If there is a lesson that emerges from Buruma's inquiry, it is that there are many ways of integrating religion into society."--John Gray, Literary Review "Buruma's elegant short book considers 'Religion and Democracy on Three Continents' (US, Europe, Asia) and ranges from America's first evangelical 'great awakening' in the 18th century to Mao's boasts of burying thousands of scholars and the 'rush hour of the gods' in postwar Japan. Voltaire, De Tocqueville, Hume and Spinoza are set talking among themselves, watched over by the book's eminence grise, Confucius."--Steven Poole, Guardian "In a measured and balanced way, [Ian Buruma] lays out the history and philosophy behind the big debates about religion: separation of church and state, compatibility of religion and democracy, the advent of militant fundamentalism and violence inspired by religion. Without glossing over the complexity of these crucial questions, he makes it all accessible to a lay reader... The strengths of this book are its clear analysis of the messy melange that makes up an open democratic society, its diagnosis of underlying insecurities fuelling heated debate and its even-handed arguments on how to best harness competing forces productively."--Peter Kirkwood, Australian "Taming the Gods is an elegant, essay-length book that begins with a spirited look at Sinclair Lewis' Elmer Gantry and concludes with an insight from Confucius. In between, the author swivels his lens from the United States, to Japan and China, and finally back to Europe... [B]asically tough and lucid in an arena that could do with a good deal more thought--and a lot less cant."--Karen Long, Cleveland Plain Dealer "Buruma is that rare bird equally at home not only in Europe and America, but also in East and West. He devotes a chapter to Europe and America, one to China and Japan, and a third to Europe again, but this time focused on its confrontation with Islam. Throughout all, Buruma sounds a recurrent note. It is the toxicity of blending religion and politics, whether when religion usurps the mantle of politics or politics usurps that of religion... [C]oncise and fascinating."--Clifford Orwin, Globe and Mail "We would do well to ask ourselves the kind of fundamental questions posed by [Buruma's] erudite and thought-provoking book."--Jonathan Sumption, Spectator "The Anglo-Dutch journalist Ian Buruma excels at the synthesis of ideas across cultures and continents... Impeccably rational, Buruma offers a persuasive, subtle case for an old-fashioned liberal tolerance, one in which the religious and political spheres are mingled but in which neither exerts a disproportionate force against the other."--The National "Buruma has an enjoyable style and deserves credit for venturing into choppy waters where efforts are made to accommodate apparently contradictory beliefs, rather than sailing on the beguilingly calm seas of fundamentalist principle."--Sholto Byrnes, New Statesman "This is terrain littered with stereotypes and cross-Atlantic sneers: European scoffs at militant American Christianity, US retorts at militant Euro secularism, and clash-of-civilisation auguries. Buruma keeps the temperature refreshingly cool. With no axe to grind, the writer--who was raised outside the church by Dutch liberal parents--keeps his insights rooted in political philosophy, history and the Enlightenment thinkers."--South China Morning Post "In this short book by Bard College Professor Ian Buruma the roles of religion and democracy in the contemporary world are thoughtfully examined... The central question he deals with throughout this book is whether democratic values can be protected against religious bodies that claim they, and they alone, possess the truth."--Charles Stephen, Lincoln Journal Star "Taming the Gods is a story, an intellectual journey, full of erudition and economy, a pleasant and interesting read. Yet it is also a careful negotiation around several unwritten assumptions."--Max Dunbar, 3 AM Magazine "Taming the Gods goes beneath the superficial counterpositions of today's religion debates--religion versus secularism, multiculturalism versus intolerance--to identify some more interesting dynamics at work. Perhaps most usefully, Buruma shows that ideological disorientation within Western culture is at least as important as tensions between West and East, or even 'secular liberalism' and radical Islam."--Dolan Cummings, Cultural Wars "Buruma's professional and personal background makes him an apt observer of religion's impact on the politics of the countries on these diverse continents... Though Buruma's book deals with concepts that are deeply held and controversial, he handles them academically, avoiding stuffy, antagonistic interrogatives."--Jonathan D. Fitzgerald, Newark Star Ledger "[E]rudite and elegantly written... Buruma does make a compelling case."--Glenn C. Altschuler, Jerusalem Post "The virtue of Taming the Gods is that it leaves all avenues open, seeking to inform the reader while avoiding firm conclusions on an issue that is intrinsically complex, and still in flux."--Gilles Andreani, Survival "[Buruma's] illustrative examples and cross-cultural linkages in the emerging religious and political contexts in seven countries, along with the book's brevity and excellent flow of its prose, mean that a reader will be duely rewarded for time invested interacting with Buruma's latest English-language monograph."--Christopher Hrynkow, Journal of Interdisciplinary Studies
You may also be interested in...
×
Download the Waterstones App
Would you like to proceed to the App store to download the Waterstones App?
Reserve online, pay on collection.
Or,
add to basket
, pay online, collect in as little as 2 hours, subject to availability.
Thank you for your reservation
Your order is now being processed and we have sent a confirmation email to you at
When will my order be ready to collect?
Following the initial email, you will be contacted by the shop to confirm that your item is available for collection.
Call us on or send us an email at
Unfortunately there has been a problem with your order
Please try again or alternatively you can contact your chosen shop on or send us an email at