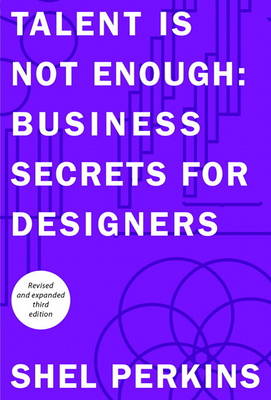 Talent is Not Enough: Business Secrets for Designers (Paperback)
Shel Perkins
(author)
Paperback
600

Pages / Published: 21/08/2014
The best business guide for design professionals just got even better! This revised and expanded third edition includes everything designers need-besides talent-to turn their artistic success into business success. You'll find information on key issues facing designers from freelancing to managing established design firms. A strong visual focus and to-the-point text take the fear factor out of learning about thorny business realities like staffing, marketing, bookkeeping, intellectual property, and more. These smart business practices are essential to success in graphic, Web, and industrial design. Here are just a few of the things you'll learn:

* How to get on the right career path
* The best way to determine pricing
* How to avoid common legal pitfalls
* How to manage large projects
* The secrets of efficient design teams
* How to forecast your workload and finances
* Dealing with international clients
* The merging models of ad agencies and design firms

Talent Is Not Enough provides a big-picture context for these and other challenges and shares practical, real-world advice. Since its first publication, the book has become an essential resource for both students and working professionals in these areas and more:

* Design planning and strategy
* Corporate identity development
* Publication and editorial design
* Brand identity and packaging design
* Advertising and promotion design
* Marketing communications
* Environmental design
* Industrial design
* Motion graphics
* Interaction design
* Information design

"It is rare to find one individual with such a wide range of knowledge in the design-related fields. And, because of his experience as a designer, Shel brings a sensitivity and understanding to administrative issues while still respecting the artistic side of our industry."
-Frank Maddocks, President, Maddocks & Company


"Now that design skills have become a commodity, you need business skills to focus them. Shel has written a crackerjack book that will be on the shelf of every ambitious designer."
-Marty Neumeier, author of The Designful Company, Zag and The Brand Gap
Publisher: Pearson Education (US)
ISBN: 9780321984111
Number of pages: 600
Weight: 746 g
Dimensions: 216 x 148 x 27 mm
Edition: 3rd edition
---
MEDIA REVIEWS
"Now that design skills have become a commodity, you need business skills to focus them. Shel Perkins has written a crackerjack book that will be on the shelf of every ambitious designer."
Marty Neumeier
President, Neutron LLC; author of Zag and The Brand Gap
"This is the best left-brain business book I've ever read for right-brain designers. And, having two right brains, I know what I'm talking about. I'm recommending Shel's book to every student of mine and buying a copy for each designer on my staff."
Brian Collins
Chief Creative Officer, Brand Integration Group,
Ogilvy & Mather Worldwide
"Damn good advice! This is a fantastic business handbook for designers. It's loaded with the specific, usable, real-world business knowledge that designers need. Shel has done a masterful job of making the information simple, clear, and easy to follow. This is a must-have book for any designer who wants to succeed in business."
Billy Pittard
President, Pittard Inc.
"This is the most concise and brilliantly informative guide I have ever wished I'd read before establishing three studios for ATTIK. Shel has managed to capture a vast array of learning that most of us only gather after many years of trial and error - a guide that every independent designer or agency owner should have within arm's reach."
Will Travis
President, U.S. Operations, ATTIK
"Shel Perkins' book Talent Is Not Enough is a gift to the design community. It is an extraordinary resource jam-packed with wisdom, advice, and sage counsel. It is truly a business bible for professional designers."
Debbie Millman
President, Design Group, Sterling Brands;
host of Design Matters on VoiceAmerica Internet Talk Radio;
author of How to Think Like a Great Graphic Designer
"The title says it all. You can learn the hard way, or you can read this book."
Brian Singer
Manager, Communication Design, Facebook;
author of Graphic Content and 1000 Journals
"If only I could give a copy of Talent Is Not Enough to every graduating student! It's an invaluable guidebook. I wish it had been around before I went through my own education in the school of hard knocks."
Louise Sandhaus
Program Director, Graphic Design,
California Institute of the Arts
"This is a virtual encyclopedia of essential design business information. I've practiced on both sides of the freelance/in-house fence for more than twenty-five years and it amazes me that there's not a single business question I've encountered that doesn't have an in-depth answer in this book. Just as important as the range of advice is the fact that Shel's conversational writing style makes all the information accessible and easy to understand. This is the go-to resource for all design business topics."
Andy Epstein
Chair, AIGA Task Force on In-House Design;
author of The Corporate Creative: Tips and Tactics for Thriving as an In-House Designer
"I have always found the business end of running a design studio to be somewhat daunting. I wish I had this thoughtful, clear, and accessible guide to business development ages ago so that I did not have learn through trial and error."
Mark Randall
Principal, World Studio;
Program Chair, Impact: Design for Social Change, School of Visual Arts
"Every designer should have this book. If you've met the man or heard him speak, you get a sense of how brilliant he is, but you really have to read this book to appreciate how well he can explain the landscape of the design business."
Doug Cheever
Goodreads.com
"Shel's book is a how-to for everyone in the business - from start-up design firms to established agencies to in-house teams. I'm reading it again and I'm still learning things. It's the next best thing to an in-person consultation."
Stanley Hainsworth
Chairman and Chief Creative Officer, Tether;
author of Idea-ology: The Designer's Journey
"I wish I had read this book when we started our business seventeen years ago. Or even ten years ago. Or even last month, come to think of it. There is a ton of incredibly valuable information in here."
Bonnie Siegler
Co-founder, Number Seventeen
"There is no doubt that Gravity Tank owes its success in part to Shel Perkins and the business values he taught me early in my career. Now all that wisdom is captured in Talent Is Not Enough. All creative professionals running their own business should grab a copy immediately and start reaping the benefits."
Chris Conley
Partner and Co-founder, Gravity Tank;
Track Lead, Human-Centered Product Design, IIT Institute of Design
"An invaluable resource for designers and small creative businesses. I made the mistake of lending this book out once and it never came back - so I bought it again."
Amy Stafford
Your Shining Red Thread
"My students are required to read this book. It makes it crystal clear that landing (and keeping) a design job requires much more than just talent and technical ability."
Mary Scott
Chair, School of Graphic Design, Academy of Art University
"As a first-time owner of a design studio, I find this book to be an invaluable reference guide. It provides options for challenges I face every day and the security of knowing I can deal with the unexpected. This is a must-have for any design professional."
Brian Jacobs
Founder, Brick Design
"Where was this book when I was first starting out? Today, I keep it close to hand. It's a fabulous resource for everyone in the design industry. Thank you, Shel."
Sylvia Harris
Information Design Strategist, Citizen Research & Design
"It wouldn't be an exaggeration to say that just about everything I know about running a design agency I learned from Shel and this book."
Eric Heiman
Principal, Volume Inc.
"Finally - a comprehensive business guide written just for us. No designer should live without this book!"
Lynda Weinman
Co-founder, Lynda.com;
author of Designing Web Graphics
"Many design firms and designers have benefited from Shel's sound business perspectives and advice. Now he has written a valuable guide that continues that process. The lucky readers of Talent Is Not Enough: Business Secrets For Designers will absorb many important messages that are essential to success. Shel deserves a 'thank-you' for rendering this service to all designers."
Roz Goldfarb
President, Roz Goldfarb Associates;
author of Careers by Design
"Destined to become a dog-eared reference for all those parts of running a design firm that they never taught in college."
Mitchell Mauk
Principal, Mauk Design
"Although designers are highly skilled at applying their creativity toward solving design-related problems, most lack the fundamental business knowledge that would enable them to start or optimally run a firm. Whether you're a student, design contractor, or design firm owner, Shel Perkins' book, Talent Is Not Enough: Business Secrets For Designers, is a comprehensive source of information on the professional practice of design."
Gerard Furbershaw
Co-founder and COO, Lunar Design
"A great overview of all of the issues that designers need to know to be in business."
Nathan Shedroff
Chair, Design MBA Programs, CCA;
author of Making Meaning and Experience Design
"A confident and perceptive mentor, Perkins creates a painless navigation through a range of strategies and issues."
Communication Arts Magazine
"Shel Perkins has brought together the key insights and techniques every designer needs, whether they work from a spare room or a Madison Avenue cubicle. Use this book religiously: you'll have more energy for what matters most - creativity."
Bill Camarda
Read Only
"Whether you're just getting out of design school, thinking of going out on your own, or having large-firm growing pains, this is the book for you."
Mike Lenhart
GraphicDesignForum.com
"Packed with information on everything from how to get started to how to stay afloat."
STEP Magazine
"This book is simply a must-have for anyone working in the design profession."
Deanna Moore
AIGALosAngeles.org
"Shel Perkins spells out every aspect of business for every type of designer in a language that is easy to understand. From career paths to pricing to legal issues, no stone is left unturned. This book is an invaluable asset."
Troy Finamore
Finamore Design
"It is by far one of the best - if not the best - graphic design business book I have read."
Daniel Schutzsmith
GraphicDefine.org
"This is a fantastic book; everyone should have a (well-worn) copy. In Shel's typical style, the information is delivered in clear, concise language. Required and highly valuable reading for us all."
Rob Bynder
Principal, Robert Bynder Design
"Our favorite design consultant and your future best friend, Shel Perkins, literally wrote the book on this subject. Because he's a designer himself, he can give advice in a way that doesn't make creative types want to hurt themselves."
Alissa Walker
UnBeige
"Perkins' book should be required reading for any designer who would like to turn their design degree into a paycheck."
Robert Blinn
Core 77
You may also be interested in...
Simply reserve online and pay at the counter when you collect. Available in shop from just two hours, subject to availability.
Thank you for your reservation
Your order is now being processed and we have sent a confirmation email to you at
When will my order be ready to collect?
Following the initial email, you will be contacted by the shop to confirm that your item is available for collection.
Call us on or send us an email at
Unfortunately there has been a problem with your order
Please try again or alternatively you can contact your chosen shop on or send us an email at