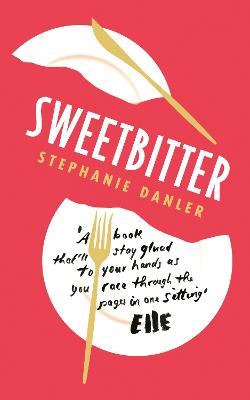 Hardback
368

Pages / Published: 02/06/2016
'A fantastic read - think Girls meets Kitchen Confidential' Stylist
'An adrenalised love song' Mail on Sunday
'A stunning debut novel' Jay McInerney, author of Bright Lights, Big City
*AN OBSERVER BOOK OF THE YEAR 2016 | A NEW YORK TIMES BESTSELLER | A USA TODAY BESTSELLER | AN INDIE BESTSELLER*
Tess is the 22-year-old narrator of this stunning first novel. Moving to New York, a place at the centre of the universe, from a place that feels like 'nowhere to live', she lands a job at a renowned Union Square restaurant and begins to navigate the chaotic and punishing life of a waiter, on and off duty. As her appetites awaken - not just for food and wine but also for knowledge and friendship - Tess becomes helplessly drawn into a dark, alluring love triangle.
Sweetbitter is a novel of the senses. Of taste and hunger, of love and desire, and the wisdom that comes from our experiences, both sweet and bitter.
Publisher: Oneworld Publications
ISBN: 9781780749150
Number of pages: 368
Dimensions: 216 x 135 x 26 mm
---
MEDIA REVIEWS
'Outrageously good, with some of the most exquisite food-writing I've come across.'
*
Irish Independent
*
'A must-read'
* Irish Times *
'A raw, shucked, pungent, wild love story.'
* Marie Claire *
'A stunning debut novel, one that seems destined to help define a generation.'
* Jay McInerney *
'Danler's writing is lush, ambitious and precise, and it's impossible not to be impressed and taken in by her story's grip on the heartbeat of youth and anxiety in a fast-moving city...At times manic, at times heartbreaking, it's a sure-fire holiday read'.
* Irish Independent *
'When provincial 22-year-old Tess arrives in New York to become a waitress at a high-end restaurant, she's struck by a new appetite for life, and love, for the first time'.
* Grazia *
'A fantastic read - think Girls meets Kitchen Confidential'.
* Stylist *
'An intoxicating smorgasbord of culinary exploration. [Danler's] vivid description will have your mouth watering...a whip-smart, charming and wry coming-of-age story. In a literary world increasingly populated with gritty anti-heroines, Sweetbitter is a welcome breath of fresh air'.
* Sunday Herald *
'Playful and questing, it's an adrenalised love song to the openness of the city and its privileged enclaves; to the torrid connections and giddy independence it inspires; and to the intensity of the seasons that broil and then bite'.
* Mail on Sunday *
'This clever debut is all about illusions...Danler's intense, psychedelic style makes you feel slightly drunk, and you won't view eating out in the same way again'.
* Daily Mail *
'The vervy sassiness ultimately avoids emulation or hipster desperation.. Tess develop into something greater than the collection of snappy one-liners and smart observations some of her male predecessors turned out to be. This is a deep-thinking, feeling woman, as vulnerable as she is tenacious. Her coke-enhanced sexual exploits...are often oddly moving, beautifully written little confessions... As her self-awareness grows, it's increasingly difficult to resist her charms.'
* Big Issue *
'A smart meld of sexy subjects within a classic come-of-age framework, written in a particular kind of intense, self-consciously semi-poetic prose....its straight-faced commitment to the sensual high notes - from sea urchins to sexual obsession - will assure plenty of attention.'
* BookOxygen *
'Impressively polished, the rare much-hyped book that lives up to its billing: endearing yet unsentimental, smart and fun, a bildungsroman mercifully free of cliche. Lyrical, insightful, and funny...a total immersion in what it's like to be young and hungry. The reader is sure to gasp along with each new discovery until she has finished and is left wanting more.'
* Eugenia Williamson, Boston Globe *
'A killer novel...a worthy addition to the rich literary tradition of writing about coming of age in New York City and, like the best of these novels, it captures the spirit of a generation in the process.'
* Mallory Rice, S-W-E-E-T *
'This book will be a hit... one bite and you will devour it.'
* Sarah Jampel, Food 52 *
'Reading Sweetbitter is an exercise in the senses, every word a delicious bit of visceral chew.'
* Jenny Bahn, sixtyhotels.com *
'Food and feeling are natural partners; this debut novel...is a feast of both. Like her sexual awakening, Tess's culinary enlightenment is vivid and exquisite.'
* Annalisa Quinn, npr.org *
'Danler's food writing is outrageously good. Danler's writing about everything, in fact, is outrageously good. [Sweetbitter] is a literary jewel, a beautiful display of crisp, evocative writing that will have anyone who loves words and language salivating...I have a feeling Sweetbitter may turn out to be a delectable appetizer in a long, fruitful writing career.'
* Catherine Mallette, Star-Telegram *
'Perfectly captures the raw possibility of a young woman's first year in New York, opening up to a whole new world of wine, food, love and heartbreak.'
* Mackenzie Dawson, New York Post *
'An unpretentious, truth-dealing novel... about hunger of every variety. Ms. Danler is a sensitive observer... and gifted commenter on many things. Sweetbitter is going to make a lot of people hungry.'
* Dwight Garner, New York Times *
'An outstanding job...brilliantly written...so engrossing to read, I missed a flight even though I had already checked in and was waiting at the gate. [Danler is an] excellent writer. Sweetbitter is the Kitchen Confidential of our time.'
* Gabrielle Hamilton, New York Times Book Review *
'Stephanie Danler's prose - like the New York life her young heroine longs for - intoxicates the senses. A charming, harrowing debut.'
* Jonathan Dee, author of The Privileges and A Thousand Pardons *
'Sweetbitter is the most delicious fine dining: oysters so perfect they make you moan, impossibly expensive champagne, truffle shavings like snowflakes. This story of food and lust and youth and the negotiations of intimacy is so breathless, so intense, so utterly absorbing, I'm still nursing my emotional hangover. Step aside Catcher in the Rye, Sex and the City, and Woody Allen. We have a new New York City - the most dazzling one yet. Stephanie Danler's debut is extraordinary.'
* Diana Spechler, author of Who By Fire and Skinny *
'Incandescent, with visceral and gorgeous descriptions of flavors, pitch-perfect overheard dialogue, deep knowledge of food, wine, and the restaurant business...Danler aims to mesmerize, to seduce, to fill you with sensual cravings. She also offers the rare impassioned defense of Britney Spears. As they say at the restaurant: pick up!'
* Kirkus (starred review) *
'Stephanie Danler has written an excellent coming-of-age novel built around the down-and-dirty adventure of meeting the public in a service job. A mix of humor, realism, and occasional ghastliness, this well-told tale will keep you helplessly binge-reading to find out what happens next to its endangered heroine. An accomplishment!'
* Atticus Lish, author of Preparation For the Next Life *
'Sweetbitter... dresses the bones of a classic coming-of-age story with the lusty flesh and blood of a bawdy early twenty-first-century picaresque... Danler... quickly draws you into the sparkling surfaces and the shadowy underbelly of the city... [Tess's] insatiable hunger for tactile, sensual satisfaction dares you to tag along. The journey is high-minded and dirty, beastly and bountiful.'
* Elle *
'Rich in sensory descriptions, the kind of book that one doesn't just read but devours.'
* Time Out *
'The prose in itself is a dopamine tease: when Danler describes the brininess of a Kumamoto oyster chased with chocolate stout or the lights over the bar in summer twilight, I wanted to get drunk and slurp seafood with my friends.'
* The Paris Review *
'mmaculately true to its time and place. [Danler's] food writing is lush and precise... and her confiding narrator, Tess, a raw, knowing, and crisp companion.'
* Vulture *
'Danler's ravishing debut is like inhabiting the heady after-midnight hours of a city drunk on its own charms...[her] descriptions of food and drink go beyond mouth-watering, verging on orgasmic...a first novel [that] tantalizes, seduces, satisfies.'
* Leigh Haber, O Magazine *
'Tess' sensual awakening to food: creamy, ash-dusted cheeses; anchovies drenched in olive oil; dense, fleshy figs like "a slap from another sun-soaked world" [is] the book's true romance - the heady first taste of self-discovery, bitter and salty and sweet.'
* Leah Greenblatt, Entertainment Weekly *
'Danler can be a brilliant observer of the city; she can make dialogue snap; she is unafraid to give us a protagonist whose drive can be monstrous.'
* Newsday *
'Sweetbitter is the rare novel that transcends its hype... Come for the Meyer-lemon-tart narrator, Tess; stay for author Danler's lush and precise writing about food, drugs, and dives.'
* New York Magazine *
'Danler's sexy, astute debut is really a love story about the addictive pull of restaurant life... Anyone who's ever tied on an apron will think, "Finally, someone wrote a book about us." And nailed it.'
* People *
'Danler exquisitely captures the world of restaurants in writing that is equal parts dreamy and sharp-edged. A vibrant celebration of taste, wine, pleasure, and New York City.'
* Food & Wine *
'Sweetbitter is urgent and heady, written with great attention to both environment and inner life, detailing desire and intimacy and the navigation of lust. The descriptions of life inside the restaurant are every bit as exhilarating as the lush descriptions of food throughout - heirloom tomatoes and Kumamoto oysters and endless Sancerre.'
* Guernica *
'Danler's novel paints a visceral, evocative portrait of what it's like to move to New York in your early twenties. Her spot-on descriptions of New York 10 years ago and Tess' evolution from naif to world-weary server, all in just one year, elevate "Sweetbitter" - the opposite of "Bittersweet" - above its chic-lit trappings into an irresistible coming-of-age tale that can truly be savored.'
* Mae Anderson, Associated Press *
'The perfect coming of age read'.
* Marie Claire *
'A book that'll stay glued to your hands as you race through the pages in one sitting.'
*
Elle
*
'I loved this novel so, so much. It's rare that a book conveys with such unerring precision what it's like to be young... This book belongs with all the great essential young-female-in-New York classics.'
-- Kate Christensen, author of the PEN/Faulkner Award-winning novel
The Great Man
'Gorgeous, sensual prose and a page-turning plot line that casts a spell down to the very last sentence of the final page...tantalizing in all the right ways'
* Refinery29 *
'Danler writes about food with sensory gusto as Tess learns how to distinguish the fine points of every wine, how to identify an heirloom tomato or oyster, how to shave a truffle...Throughout, Danler evokes Tess's voice-intimate, confiding, wonderstruck, depressed-with deft skill. This novel is a treat, sure to find a big following.'
* Publishers Weekly *
'There's even a Dangerous Liaisons-type love triangle with the beautiful, naive young narrator at its apex... The writing is mostly incandescent, with visceral and gorgeous descriptions of flavors, pitch-perfect overheard dialogue, deep knowledge of food, wine and the restaurant business... From her very first sentences... Danler aims to mesmerize, to seduce, to fill you with sensual cravings. She also offers the rare impassioned defense of Britney Spears. As they say at the restaurant: pick up!'
* Kirkus, starred review *
'captures what a crazed, high-octane world a top-flight restaurant can be.'
* Daily Mail, 2020 *
You may also be interested in...
×
Download the Waterstones App
Would you like to proceed to the App store to download the Waterstones App?
Reserve online, pay on collection
Alternatively, for multiple items you may find it easier to
add to basket
, then pay online and collect in as little as 2 hours, subject to availability.
Thank you for your reservation
Your order is now being processed and we have sent a confirmation email to you at
When will my order be ready to collect?
Following the initial email, you will be contacted by the shop to confirm that your item is available for collection.
Call us on or send us an email at
Unfortunately there has been a problem with your order
Please try again or alternatively you can contact your chosen shop on or send us an email at