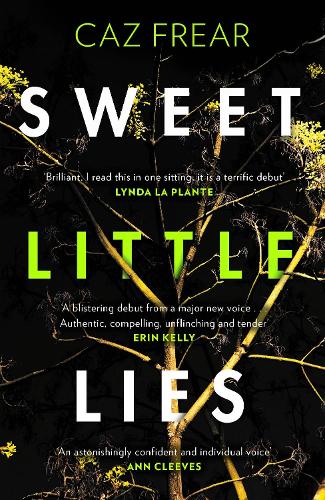 Sweet Little Lies (Paperback)
Caz Frear
(author)
Paperback
480

Pages
Published: 29/06/2017
WINNER OF THE RICHARD AND JUDY SEARCH FOR A BESTSELLER COMPETITION
'A blistering debut from a major new voice. I couldn't put it down. Authentic, compelling, unflinching and tender and written with real verve and assurance' ERIN KELLY


'Debut novels don't come better than this one, which begs the question - Caz Frear, where have you been?' RICHARD MADELEY


'Taut, gripping, surprising and original - a fabulous read' JUDY FINNIGAN


'Caz Frear's ability to write tight, tense dialogue with a dark comedic slant is brilliant. I read Sweet Little Lies in one sitting, it is a terrific debut' LYNDA LA PLANTE


'BRILLIANT! Unputdownable and great writing. Recommended' MARIAN KEYES


'An astonishingly confident and individual voice' ANN CLEEVES


WHAT I THOUGHT I KNEW


In 1998, Maryanne Doyle disappeared and Dad knew something about it? Maryanne Doyle was never seen again.


WHAT I ACTUALLY KNOW


In 1998, Dad lied about knowing Maryanne Doyle. Alice Lapaine has been found strangled near Dad's pub. Dad was in the local area for both Maryanne Doyle's disappearance and Alice Lapaine's murder - FACT Connection? Trust cuts both ways . . . what do you do when it's gone?


FOR FANS OF ERIN KELLY AND BELINDA BAUER, GET READY FOR THE SUSPENSE NOVEL OF THE YEAR.


'A killer premise. An original voice. An utterly compelling story that will keep you up all night' FIONA CUMMINS, author of Rattle


'Impossible to put down' ALEX GRAY


'The best debut I've read in a very long time' WILLIAM RYAN


'An incredibly strong and confident voice that has hit the page fully-formed' CATHERINE RYAN HOWARD, author of Distress Signals


'A perfect storm of a crime novel . . . one of the best novels in this genre' LIZ LOVES BOOKS
Publisher: Zaffre
ISBN: 9781785763359
Number of pages: 480
Weight: 348 g
Dimensions: 198 x 129 x 27 mm
---
MEDIA REVIEWS
Debut novels don't come better than this one, which begs the question - Caz Frear, where have you been? Taut, gripping, surprising and original - a fabulous read Caz Frear's ability to write tight, tense dialogue with a dark comedic slant is brilliant. I read Sweet Little Lies in one sitting, it is a terrific debut BRILLIANT! Unputdownable and great writing. Recommended A blistering debut from a major new voice in Crime Fiction; I couldn't put it down. Authentic, compelling, unflinching and tender and written with real verve and assurance. Frear is brilliant on conflicting loyalties and guilty consciences An astonishingly confident and individual voice I can't wait for the next adventure of the tough, Cat Kinsella - Sweet Little Lies was one of the best debut crime novels I've ever read! Sweet Little Lies is written with panache and is kick-ass feminist, as well as laugh-out-loud funny Sweet Little Lies is a tremendous debut. Caz Frear delivers on a compelling premise with taut prose, snappy dialogue, and a fresh, confident voice. Highly recommended! Impossible to put down. What can I say? Bloody brilliant! Wish I had been as good a writer when I started, that's for sure. I wish this lady a very happy and successful future. Love her characters, that is [Caz Frear's] main strength, I think and her dialogue is terrific. Really authentic and sometimes made me laugh out loud A killer premise. An original voice. An utterly compelling story that will keep you up all night Sweet Little Lies won Richard and Judy's 'Search for a Bestseller' competition, and it's easy to see why from the very first page: Caz Frear has an incredibly strong and confident voice that has hit the page fully-formed. It's difficult to stand out as a debut when you've written a police procedural - there's so many of them - but in Frear's confident hands (and Detective Constable Cat Kinsella's company) this one definitely does. Bonus: I laughed. A LOT The best debut I've read in a very long time Sweet Little Lies is a perfect storm of a crime novel. With its wonderfully divisive characters and a beautifully layered plot, it is without doubt worthy of its competition win and one of the best novels in this genre I have read this year. Caz Frear has created an engaging and wittily observant main protagonist in Cat Kinsella then saddled her with an intriguing moral dilemma. If you like your crime brilliantly unpredictable you are in the right place The plot is brilliantly played out with a few curveballs, offering us suspense and a great surprise twist at the end which I definitely didn't see coming! Sweet Little Lies is a brilliant debut novel from an author I'm definitely wanting to read more from very soon, if you love crime thrillers then Caz Frear with Sweet Little Lies is your next stop! I think "page turner" is probably the best description for Sweet Little Lies . . . This one is well worth popping onto your holiday reading pile this summer! Written with the assurance of a seasoned author, Sweet Little Lies is a superb page-turner, packed with impressive police procedural, a fascinating, festering, twisting mystery that weaves tantalisingly between past and present, and a plot that thrills and confounds to the final showdown. A remarkable debut from an exciting new author . . . Caz Frear has produced a confident and accomplished debut, mixing police procedural and domestic noir to good effect and building up a cast of strong characters to carry an intriguing plot that turns into one of the best murder stories I've read for a long time. Her writing voice is darkly lyrical and the story has layers within layers that gradually peel off to reveal unexpected truths in places I hadn't even thought to look. She plays totally fair with her readers at all times, which makes each revelation even more satisfying than the last. Sweet Little Lies proves that quality writing and strong storytelling will always combine to produce an unbeatable result. This is a book that deserves to be a resounding success I have hit the debut writer jackpot lately and Sweet Little Lies by Caz Frear is another book that FLOORED me! WOW! This book . . . where do I begin without giving anything way? Caz does a flawless job with this book! She had me questioning everything, everyone and every possible possibility! For a debut novel, Sweet Little Lies is superb . . . Caz Frear has written a fantastic first novel, the writing kept me hooked from start to finish and unable to put the book down until I'd read the last word On the surface Sweet Little Lies is a book about disappearance, suspicion and murder, but it's also a book about family and the weird and wonderful dynamics that exist between the mind of a very human detective and the sweet little lies everyone else believed . . . Lot of twists and unexpected revelations. Sit back and enjoy! This police procedural works at a level where clues are revealed and mysteries are unravelled all leading to the finale which is mind blowing and unexpected . . . I didn't work this mystery out, the murderer and the reasons why the murder happened were cleverly hidden. I would love this to become a series . . . Sweet Little Lies is a promising debut novel by an author to watch . . . I really enjoyed Sweet Little Lies and don't hesitate to recommend it to lovers of mystery and crime Cat is a complex and troubled character, determined to do the right thing, even if that means having to betray family or keep secrets from those who trust her. What starts of as a relatively slow novel, soon gathers pace, and the ending will (probably) leave you open mouthed. It was certainly unexpected It was one of the better crime novels I've read and it deserves an afternoon of your time Sweet Little Lies is a sharp, intelligent novel which offers a more emotive side to the usual police investigation novels, because DC Cat Kinsella's own family may be snarled up in their most recent case: the murder of Alice Lapaine, and an older case involved Maryanne Doyle #SweetLittleLies is a tense and suspenseful debut from Caz Frear and definitely one for the watching! Secrets and lies are the main themes underlying the plot and oh what twisted secrets and lies they are indeed . . . by the time I had turned the last page, I was already wondering when the next in the series is going to be published! A cleverly crafted plot and realistic overview of Police procedures and dark humour will ensure that you are not going to be disappointed when you pick this one up off the shelf! Five must-read crime thrillers: Another writer to have come up with an outstanding debut recently is Caz Frear. Sweet Little Lies won the Richard and Judy competition for a new bestseller and it's easy to see why. This is a police procedural, with a team of credible and interesting detectives, a great sense of place and a brilliant central character in Cat Kinsella. Sweet Little Lies is a book about identity and about families, the ones that work and the ones that are destructive and dangerous. Frear has an astonishingly confident voice for a new writer and there's a dark humour that lifts the storytelling to a different level. I hope this is the beginning of a series This book is filled to the brim with secrets and lies which kept me on my toes waiting for the next revelation. There are a few surprises along the way and this really helped to keep the momentum going right until the very end As far as crime novels go, this is by far my favourite, and the book itself has become one of my favourites of the year. I can't wait to read more by Caz Frear! I was captured by this great book from the very beginning . . . I think the mystery here was one of those most engaging ones I've come across lately. I needed to know what had happened. How exactly was everything connected? And unlike recent disappointments, I absolutely loved the way the author crafted the book's third and final act. The twists and turns weren't obvious and the explanations were complex, but it all made sense in the end As premises go, this one is great for a mystery that keeps you on the edge of your seat. Cat narrates this story and it's a delicate balance between work and home, what she knows from the investigation and what she knows, or maybe just suspects, from her personal life. Cat is a great narrator with a sharp eye (befitting of her role) and a sharp tongue to match. I read a lot of thrillers but very few from inside the police control room, and this one was brilliant for whizzing you straight to the heart of the action and watching the investigation unfold Caz Frear hasn't just written a perfect crime thriller, she's added her amazing dry wit throughout to make it stand out from the crowd . . . Sweet Little Lies is an outstanding debut novel and I'd love to see Cat Kinsella make an appearance in more novels. With her fresh and witty writing, Caz Frear gives an overdue wake up call to tired crime fiction, encouraging readers back to crime fiction after having their heads turned by the overloaded psychological thriller genre I thought this was an extremely well-rounded novel, great characters and a great plot! . . . a dark story, one that got darker as the reveal came . . . a brilliant debut novel from Frear The plot is well-crafted and revealed at a pace that held my attention throughout. Caz Frear is certainly an exciting new voice on the crime thriller scene; I mean what a way to start! Sweet Little Lies is a terrific read and I really do hope that we'll be seeing more from her in the not too distant future If you're a fan of murder mysteries then you'll absolutely love this. It's about a detective who believes her own father has something to do with a missing girl, whilst also trying to figure out the case of a dead woman. I'm trying not to give too much away but this is honestly one of the best books I've read in a long time - even better than Gone Girl and The Girl on the Train I'd definitely recommend this complex, convincing and deeply satisfying thriller about family bonds, and how far we would go to protect the ones we love, in spite of everything I adored this novel. The plot is great, but it's our lead character, Cat and her voice . . . which in essence reflects Caz Frear's writing that I really loved With brilliant characterisation alongside inspired plotting this is a book that you will not want to put down until you turn that last page. I'm not at all surprised that it won the Richard and Judy Search for a Bestseller Competition 2016, it is very hard to believe that a book that ticks all the boxes so decisively is a debut novel A cracking thriller, original, pacy, gripping with some fantastic characters that for some inexplicable reason got under my skin. With a complex but plausible plot, some fabulous dialogue and humour thrown in, Sweet Little Lies really does deserve all the high praise it has received Caz Frear not only writes with confidence, but has also managed to plot a very twisty tale. With just the right mix of humour, darkness and well-written narrative, Sweet Little Lies is an impressive crime novel filled with unreliable characters and plenty of intrigue Caz Frear's debut novel is a winning mix of the procedural and the domestic. The story is gripping and the writing filled with insights into dysfunctional families and the lies people tell, just to keep the peace. But the greatest achievement is Cat herself. Flawed detectives are nothing new, but here's one you'll fall in love with from the very first page and stay with until the final twist. Sweet Little Lies is an honest to goodness triumph With a host of flawed but believable characters, this is a suspenseful police procedural, and with Cat's wry humor added, it's a sure winner. Don't miss this one. Highly recommended Sweet Little Lies by Caz Frear is my pick of the year for many reasons. Not least because every single character matters. Each one of them, regardless of how minor, is painted with such care. It has been months since I read the book, yet I can still recall Maryanne's school friends gossiping about her in the café, and the barmaid in the pub with the tattoos. DC Cat Kinsella, the protagonist, is smart, relatable, and funny, but never clichéd. The story is about a missing girl, Maryanne, whose body turns up many years later. Cat's dad lied about knowing her and now her body has been found near his pub. As Cat pieces together Maryanne's missing years she fears her father is involved. A great read, often humorous and always gripping. I look forward to reading Caz Frear's next book Trust cuts both ways . . . what do you do when it's gone? A truly satisfying - and gritty - mystery There's something about the tried-and-true police procedural that always keeps me coming back for more-and finding an author who can write a police procedural in as fresh, modern a way as can Caz Frear is a genuine treat Frear manages the suspense skillfully and drives both strands forward with meticulous investigative work
You may also be interested in...
×
Download the Waterstones App
Would you like to proceed to the App store to download the Waterstones App?
Reserve online, pay on collection


Thank you for your reservation
Your order is now being processed and we have sent a confirmation email to you at
When will my order be ready to collect?
Following the initial email, you will be contacted by the shop to confirm that your item is available for collection.
Call us on or send us an email at
Unfortunately there has been a problem with your order
Please try again or alternatively you can contact your chosen shop on or send us an email at