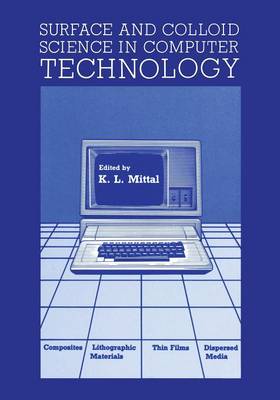 Paperback
Published: 13/10/2011
Can be ordered from our supplier
This volu. e chronicles the proceedings of the Sy~osiUM on Surface and Colloid Science in Co~uter Technology held as a part of the 5th International Conference on Surface and Colloid Science, and 59th Colloid and Surface Science Sy~sium sponsored by the Division of Colloid and Surface Cha. istry of the Aaerican Cha. ical Society, and the International Association of Colloid and Interface Scientists at Clarkson University, Potsdam, N. Y. , June 24-28, 1985. Computer technology has many aspects, e. g. , hardlNlare develoPllent, softtNlare developent, and information processing. HoMever, in this Symposium Me Mere exclusively concerned INIith the materials considerations pertaining to microelectronics; surface and colloid science plays a very vital role in the materials aspects of microelectronics/colllputer technology. A complete catalog of instances lNIhere surface and colloid science is important lNIOuld be prohibitively long, so here a fe. eclectic examples should suffice to underscore the importance of interfacial aspects of materials in the INIOnderful INIOrld of computers. As for colloidal phenomena, the dispersion behavior of ceramic polNlders (in making the substrate on lNIhich semiconductor chip is placed) and magnetic particles (for making magnetic tapes and disks) is of critical i~ortance, This calls for fundamental understanding of stability behavior in both aqueous and nonaqueous media, and the INlays to control dispersion characteristics.
Publisher: Springer-Verlag New York Inc.
ISBN: 9781461290605
You may also be interested in...
We would love to hear what you think of Waterstones. Why not review Waterstones on Trustpilot?