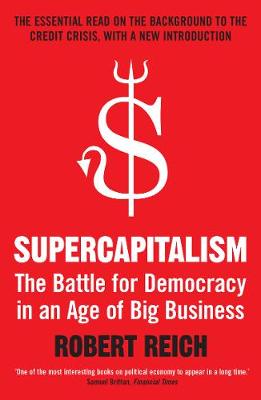 Supercapitalism: The Battle for Democracy in an Age of Big Business (Paperback)
Robert B. Reich
(author)
Paperback
288

Pages / Published: 05/03/2009
Capitalism should be made to serve democracy, and not the other way around, argues Robert Reich.Supercapitalism - turbocharged, Web-based, able to find and make almost anything just about anywhere - is working wonderfully well to create wealth. But democracy, so argues Robert Reich, US Secretary of Labour under Bill Clinton - charged with caring for all citizens - is failing under its influence.Reich explains how widening inequalities, heightened job insecurity, and global warming are the logical outcomes of supercapitalism. He shows that companies, fighting harder than ever to be competitive, have become more deeply involved in politics, and how the tools used to temper society's problems - taxation, education, trade unions - have withered as supercapitalism has burgeoned."Supercapitalism" sets out a clear course to a vibrant capitalism and a concurrent, equally vibrant democracy. Business and politics must be kept distinct; the legal fiction that corporations are citizens must end - whether Wal-Mart, Google, Microsoft or Nike are good or evil misses the point. We must stop treating companies as if they were people and must abolish corporate income tax, charging shareholders instead, and hold individuals rather than corporations guilty of crimes. Only people can be citizens, and only citizens should be allowed to participate in democratic decision making.Important, timely, authoritative and thrilling, "Supercapitalism" is a tour-de-force of modern popular political writing and is essential reading for anyone concerned that government and big business are too familiar bedfellows.
Publisher: Icon Books Ltd
ISBN: 9781848310469
Number of pages: 288
Dimensions: 198 x 129 mm
---
MEDIA REVIEWS
'Robert Reich's timely book should act as a wake-up call to the body politic.' -- Tribune
`One of the most interesting books on political economy to appear in a long time.' -- Samuel Brittan, Financial Times
`Supercapitalism is a rounded and explicit discussion of how capitalist structures have stretched into the realm of democracy and eroded it.' -- Mario Pisani, New Statesman
`Reich's book is fluently written, highly informative and a thoroughly absorbing read.' -- Sunday Business Post
'A much-needed call for a reassessment of capitalism and recommendations for how to fix the mess we're in. An important book that needs to be read.' -- Joseph Stiglitz
'Supercapitalism is a grand debunking of the conventional wisdom in the style of John Kenneth Galbraith... the main thrust of Reich's argument is right on target... Reich documents in lurid detail the explosive growth of corporate lobbying expenditures and campaign contributions since the 1970s. Today's presidential candidates should study his message carefully.' -- New York Times
`The most original and honest criticism of the status quo that I have read for a long time.' -- Literary Review
`In Mr Brown's reading pile is `Supercapitalism' by Robert Reich, Bill Clinton's former Labour Secretary. Mr Reich argues that firms and financiers, from Wal-Mart to Wall Street, have caused such a dizzying gulf between rich and poor that the "common good" has disappeared and Americans have lost control of their democracy. Perhaps Mr Brown should have studied this prophetic work sooner.' -- Daily Telegraph
`There are many good reasons to read this book, not least the genuine importance of the issues under consideration.' -- Spectator
`Smart and provocative . . . Reich's proposed responses to `Supercapitalism' are at once bold and surprising . . . [he] challenges us to think deeply about political economy.' -- News & Observer
`Critically important . . . the value of this book isn't in proposing a specific policy prescription. It's about waking up and educating several generations of Americans who can't seem to understand that you can't have it all for free . . . It's the most important message anyone can impart today.' -- San Francisco Bay Guardian
`Reich is that most exotic of species: an economist who can write.' -- San Francisco magazine
``Supercapitalism' is not a polemic or a call to arms. Reich is merely trying to dent capitalism's rock-star status while suggesting to a dazed citizenry that, as Shakespeare said of Caesar's Rome, the fault is not in our stars but in ourselves.' -- San Francisco Chronicle
`Surprising . . . Reich paints a disturbing portrait of a world in which corporations have become our quasi-government.' -- Sunday Star-Ledger
`An engaging and insightful account.' -- Harvard Business Review
`Reich documents in lurid detail the explosive growth of coporate lobbying expenditures and campaign contributions since the 1970s. . . . `Supercapitalism' is a grand debunking of the conventional wisdom in the style of John Kenneth Galbraith.' -- New York Times
`Reich turns the standard liberal critique of corporations on its head.' -- Forbes
`A thoughtful and heartfelt critique of the ruthless, hell-bent-for-profit brand of capitalism that has been in vogue under Democrats and Republicans alike since roughly the end of the Cold War.' -- Portfolio
``Supercapitalism' describes important and sweeping economic changes. . . . Reich has a talent for making economics accessible and sometimes even fun.' -- Los Angeles Times
`Robert Reich is our generation's John Kenneth Galbraith. He has an unfailing eye for the big picture of politics and economics, and delivers sobering news with eloquence and wit. A splendid book.' -- Michael Sandel, author of `Democracy's Discontent'
`A thought-provoking analysis. Reich reveals how the flood of corporate money is undermining our faith in democracy and argues that corporate social responsibility cannot be a substitute for true democracy. A must-read for anyone interested in the health of American democracy.' -- Laura Tyson, former chairman, National Economic Council
`With characteristic brilliance and eloquence, Robert Reich calls for something so sensible and simple it's striking: let capitalism serve democracy, rather than the other way round. He has written that rarest of books: a myth-busting business page-turner that's perfectly timed to recast our most critical public debates.' -- Jacob Hacker, author of `The Great Risk Shift'
`Robert Reich has done it again, offering a powerful new perspective on the predicaments in which we as Americans find ourselves. `Supercapitalism' high-lights a new kind of social conflict - between ourselves as consumers and investors and ourselves as democratic citizens.' -- Robert D. Putnam, author of `Bowling Alone'
``Supercapitalism' reminds us that the power of political courage grows when it is joined with clear thinking. Reich has delineated the role corporations play in our democracy today, argued persuasively why it needs to be limited, and offered solutions to return control of the government to the people. He has done his part. Now it is up to the citizens to respond if we are to have a more just America.' -- Bill Bradley, author of `The New American Story'
You may also be interested in...
Simply reserve online and pay at the counter when you collect. Available in shop from just two hours, subject to availability.
Thank you for your reservation
Your order is now being processed and we have sent a confirmation email to you at
When will my order be ready to collect?
Following the initial email, you will be contacted by the shop to confirm that your item is available for collection.
Call us on or send us an email at
Unfortunately there has been a problem with your order
Please try again or alternatively you can contact your chosen shop on or send us an email at