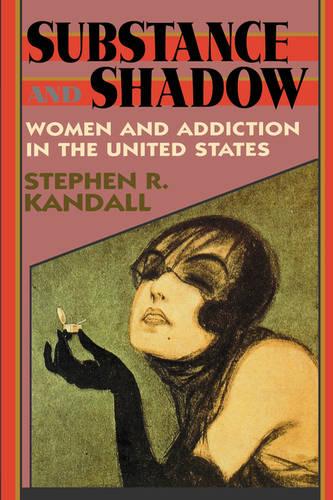 Substance and Shadow: Women and Addiction in the United States (Paperback)
Stephen R. Kandall
(author)
Paperback
376

Pages / Published: 05/05/1999
In 1989 Jennifer Johnson was convicted of delivering a controlled substance to a minor. That the minor happened to be Johnson's unborn child made her case all the more complex, controversial and ultimately historical. Stephen R. Kandall, a neonatologist and paediatrician, testified as an expert witness on Johnson's behalf. The experience caused him to wonder how one disadvantaged black woman's case became a prosecutorial battlefield in the war on drugs. This book is the product of Kandall's search through the annals of medicine and history to learn how women have fared in this conflict and how drug-dependent women have been treated for the past century and a half. Kandall's sleuthing uncovers a troubling story. Opium, laudanum, and morphine were primary ingredients in the curative "powders" and strengthening "tonics" that physicians freely prescribed and pharmacists dispensed to women a hundred and fifty years ago. Or a woman could easily dose herself with narcotics and alcohol in the readily available form of "patent" medicines sold in every town and touted in popular magazines. For the most part unaware of their dangers, women turned to these remedies for "female complaints", such as "womb disease" and "congestion of the ovaries", as well as for "neurasthenia", a widespread but vague nervous malady attributed to women of weaker, more sensitive natures. By the latter half of the 19th century the majority of America's opiate addicts were women. This text shows how, though attitudes and drugs may vary over time - from the laudanum of yesteryear to the heroin of the 30s and 40s, the tranquilizers of the 50s, the consciousness-raising or prescription drugs of the 60s and the ascendance of crack use in the 80s - dependency remains an issue for women. Kandall traces the history of quesionable treatment that has followed this trend. From the maintenance clinics of the early 20s to the "federal farms" of mid-century to the detoxification efforts and methadone maintenance that flourished in the wake of the Women's Movement, attempts to treat drug-dependent women have been far from adequate. As he describes current policies that put money into drug interdiction and prisons, but offer little in the way of treatment or hope for women like Jennifer Johnson, Kandall calls our attention to the social and personal costs of demonizing and punishing women addicts rather than trying to improve their circumstances and give them genuine help.
Publisher: Harvard University Press
ISBN: 9780674853614
Number of pages: 376
Weight: 527 g
Dimensions: 234 x 156 x 19 mm
Edition: New edition
---
MEDIA REVIEWS
This careful, well-documented survey will be of special interest to anyone seeking a historical perspective on the complex problems of women and drugs.
In his book, Dr. Kandall traces the woeful history of women's treatment for drug dependence over the past century and a half and, in the process, reveals the roots and costs of today's oftentimes punitive policies toward addicted women.
A fascinating new book... which views our history from a pharmaceutical perspective...Kandall's approach is sober, thoughtful--and passionately critical of the carelessness of doctors who have been so quick to prescribe narcotics for their female patients.
Although the historical literature is replete with references to drug use by males, female drug-users have remained largely invisible. This book reduces that discrepancy by providing a comprehensive historical examination of women, drug use, and addition. The book is not simply an epidemiology essay; rather, it exposes the interrelationship of women, drug use, medicine, and politics. It is all the more impressive because of the dearth of historical information on the subject.
[A] fascinating new book...[which views] our history from a pharmaceutical perspective...Kandall's approach is sober, thoughtful--and passionately critical of the carelessness of doctors who have been so quick to prescribe narcotics for their female patients.
This book pursues several main themes and statements: women have always made up a significant proportion of drug users and addicts; to an important but largely hushed-up extent, their addiction experiences have been supported by inappropriate and excessive medication by physicians and pharmacists, and attention to these problems have only come late in the day; women as childbearers and the relationships between female sexuality and drug use are central to the story...[This is a] much-needed antidote to other books that equate drug addiction with male experiences.--Jordan Goodman "Social History of Medicine [UK "
As a historical account, the book succeeds. It is a well-researched chronology of women's use of and dependence on drugs, starting with the 19th century, when the majority of opium addicts were women who obtained the drugs legally from physicians, druggists, or charlatans. For readers interested in the development of federal treatment and research programs for women or personal accounts by addicted women, "Substance and Shadow" is an excellent source of references. Particularly rich are the early chapters, which document the major role of iatrogenesis in drug abuse and dependence among women at the turn of the century..."Substance and Shadow" offers a solid, useful chronology of women's involvement with drugs and society's response to it; I will use it often for reference purposes.--Sally Satel "New England Journal of Medicine "
Stephen Kandall's "Substance and Shadow" is a clearly written, comprehensive history of women and addiction. Beginning with the mid-1800s, Kandall carefully traces women's use of psychoactive substances as well as society's reaction to that use, including physician prescribing practices, treatment, and punishment. "Substance and Shadow" is sure to become a classic in the drug field, and I look forward to having this comprehensive work in my library to be used again and again as a reference.--Marsha Rosenbaum, Associate Director, The Lindesmith Center
A thoroughly researched and accessible book on one of the most important women's issues of our time. For decades women addicts have been demonized and punished rather than helped. Kandall examines the cultural, economic, and social forces that both draw women into drug addiction and then deny them treatment. His book is a powerful and welcome call for change.--Jean Kilbourne, creator of "Killing Us Softly: Advertising's Image of Women"
You may also be interested in...
Simply reserve online and pay at the counter when you collect. Available in shop from just two hours, subject to availability.
Thank you for your reservation
Your order is now being processed and we have sent a confirmation email to you at
When will my order be ready to collect?
Following the initial email, you will be contacted by the shop to confirm that your item is available for collection.
Call us on or send us an email at
Unfortunately there has been a problem with your order
Please try again or alternatively you can contact your chosen shop on or send us an email at