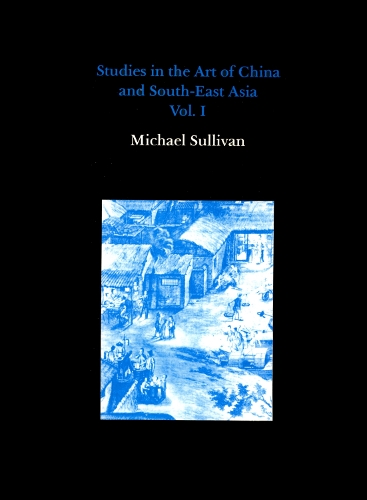 Studies in the Art of China and South-east Asia: v. 1 (Hardback)
Michael Sullivan
Hardback
Published: 01/12/1991
Can be ordered from our supplier
Professor Sullivan is a leading authority on the art of China, and has published a number of standard works on both traditional and modern Chinese art. These two volumes bring together for the first time his papers on the subject, and include a number of important studies on the related art of South-East Asia. The first volume concentrates on traditional Chinese art. In its long and relatively uninterrupted development over a period of two thousand years, Chinese art can only be compared with the art of ancient Egypt. The author gives a resume of the stages of this development in his first paper, and isolates certain recurrent themes and attitudes in the four studies that follow. Other papers deal with screen and scroll painting in the early period, and with the excavation of a T'ang emperor's tomb. The period of the Ming and Ch'ing emperors is also covered, leading up to the first contacts with Western art in the seventeenth and eighteenth centuries, and the work of European artists in China. The volume concludes with a number of Professor Sullivan's reviews of works by other scholars on Chinese art, and of exhibitions, and an appreciation of the work of Arthur Waley. There is a new preface and index, and the author has supplied additional notes to the original articles which draw attention to subsequent research. Contents: Preface The Heritage of Chinese Art Some Notes on the Social History of Chinese Art The Magic Mountain Fantastics and Eccentrics in Chinese Painting Pictorial Art and the Attitude toward Nature in Ancient China Notes on Early Chinese Screen Painting On Painting the Yuen-t'ai-shan A Further Note on the Admonitions Scroll A Forgotten T'ang Master of Landscape Painting The Excavation of the Royal Tomb of Wang Chien The Night Market at Yang-ch'eng The Ch'ing Scholar-Painters and their World The Chinese Art of Water Printing, Shui-yin Art and Politics in Seventeenth-century China Some Possible Sources of European Influence on Late Ming and Early Ch'ing Painting The Chinese Response to Western Art Sandrart on Chinese Painting Chinnery the Portrait Painter The Barlow Collection of Chinese Bronzes, Jades and Ceramics Reviews of Books and Exhibitions Reaching Out Additional Notes Index.
Publisher: Pindar Press
ISBN: 9780907132417
You may also be interested in...
We would love to hear what you think of Waterstones. Why not review Waterstones on Trustpilot?