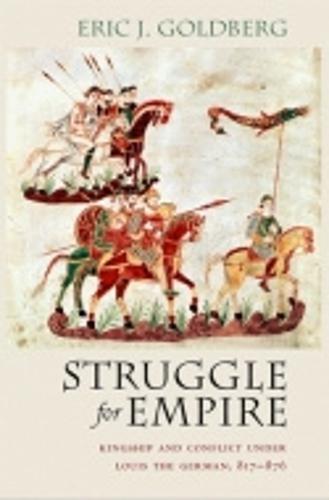 Struggle for Empire: Kingship and Conflict under Louis the German, 817-876 - Conjunctions of Religion and Power in the Medieval Past (Paperback)
Eric J. Goldberg
(author)
Paperback
416

Pages / Published: 05/03/2009
Struggle for Empire explores the contest for kingdoms and power among Charlemagne's descendants that shaped the formation of Europe. It examines this pivotal era through the reign of Charlemagne's grandson, Louis the German (826-876), one of the longest-ruling Carolingian kings. Eric J. Goldberg's book brings the enigmatic Louis to life and makes a vital contribution to recent reevaluations of the late Carolingian age.
In the Treaty of Verdun of 843, Louis inherited the eastern territories of the Carolingian empire, thereby laying the foundations for an east Frankish kingdom. But, as Goldberg emphasizes, Louis was never satisfied with his realm beyond the Rhine. Louis was a skilled and cultured ruler who modeled himself on Charlemagne, and he aspired to rebuild his grandfather's empire. This ambition to reunite Europe brought Louis into repeated conflict with other rulers: Carolingian kings, Byzantine emperors, Bulgar khans, Roman popes, and Slavic warlords. While Louis ultimately failed to reunify the empire, his fifty-year reign produced a period of remarkable political consolidation and cultural creativity in central Europe.
By highlighting the ways in which dynastic rivalries, aristocratic rebellions, diplomacy, and warfare shaped Louis's reign, Struggle for Empire uncovers the dynamism and innovation of ninth-century kingship. To trace Louis's evolving policies, Goldberg moves beyond the evidence traditionally used to study his reign-the Annals of Fulda-and exploits the visual arts, liturgy, archeology, and especially charters. The result is a remarkably comprehensive and colorful picture of Carolingian kingship in action.
Publisher: Cornell University Press
ISBN: 9780801475290
Number of pages: 416
Weight: 624 g
Dimensions: 235 x 156 x 5 mm
---
MEDIA REVIEWS
"Carolingian rulers did not know that by the year 888 death and the failure to produce legitimate heirs would so reduce their bloodlines that the Frankish nobles would turn elsewhere to enhance and authorize their own power. Thus they never gave up the dream of reconstituting Charlemagne's empire. Eric Goldberg's detailed and nuanced account of the life and reign of Louis the German nicely illustrates that fact, conveying both the success and the tragedy of the dynasty. This is a beautifully designed book, both in concept and in execution. The author uses a wide variety of sources-charters as well as chronicles, along with seals and clothing, books and paintings, and architectural and archaeological remains-to great effect."-Speculum
"Louis the German is known mainly in the context of the Treaty of Verdun and the 'birth' of Germany. Eric Goldberg has written a valuable and stimulating book that scrapes away those anachronisms and puts Louis back into his proper context. Cornell has done a superb job producing this book, which has attractive illustrations."-German Studies Review
"Struggle for Empire is enjoyable to read. Goldberg's approach is clear and the style of his prose will capture the attentions of even a nonspecialist audience. His knowledge of the sources and his willingness to incorporate a broad range of methodologies into his study provide a strong framework for the book."-H-German, H-Net Reviews
"A highly readable and well-illustrated account of an important stage of the early Middle Ages."-American Historical Review
"This is a wonderful book by a gifted historian."-International History Review
"I predict the book will be a classic."-Medieval Review
"Eric J. Goldberg's Struggle for Empire deserves to have a large impact in early medieval political and cultural history. While the ninth century has been reevaluated from various standpoints in recent historiography, this thoroughly contextualized, sinewy analysis of Louis the German and his regime has a distinctive contribution to make to our understanding of the making not only of Germany but also of Europe. Goldberg's success results from his thorough knowledge of the historiography and from his impressively mature command of the sources. His deployment of the charter evidence is especially remarkable. Louis the German certainly saw himself as Charlemagne's successor. The achievement of Goldberg's book is to show Louis as, at the same time, the creator of a kingdom of Germany, which needed not subjects but allies beyond its eastern frontiers. In both respects, his reign has some significance for the subsequent history of Europe."-Janet L. Nelson, King's College London
"In this meticulously researched biography, Eric J. Goldberg eschews anachronistic arguments over whether or not Louis the German was the founder of Germany to present this ninth-century ruler within the context of politics and aspirations of his father, Louis the Pious, and his grandfather, Charlemagne. In the process, he rediscovers the political and ideological landscape of East Francia, the lust for power and territory that drove Carolingian monarchs and their noble supporters, and the constraints imposed on them by social and cultural tradition. In so doing he establishes himself as a leader in the new political history of the early Middle Ages."-Patrick J. Geary, UCLA
"This is a vivid portrait of a tough and resourceful ruler in a challenging landscape. Written with exemplary clarity and with sovereign command of the evidence, Eric J. Goldberg's book guides us through the conflicts, intrigues, and rituals of a dynamic world. That world is brought before us in all its detail: the great fortresses of eastern Europe, the rich clothing of courtiers, the tasty freshwater crabs that were prized items of trade. Above all, Louis the German's relentless effort in building a kingdom in the harsh environment of early medieval Europe comes into clear focus. This is a fine study of medieval rulership."-Stuart Airlie, University of Glasgow
"Eric J. Goldberg's book poses new questions about a crucial period in European history. Eschewing centuries of historiography, shaped by the eventual emergence of France and Germany, which have presented the ninth century in terms of Carolingian 'decline and fall,' Goldberg convincingly questions received assumptions about the coherence of the eastern and western Frankish kingdoms after the division of the empire. Through a closely observed study of the first east Frankish king, Louis the German, Goldberg reinstates court, dynasty, and kingship as basic political forces of the Carolingian world. Vigorously and lucidly written, Goldberg's book reflects all the best traits of the new historiography of early medieval Europe: close engagement with primary sources and insistence on understanding them in their original context. This is the first study to exploit the full potential of the documentary riches of the charters in addition to narrative sources such as the Annals of Fulda to explore Louis's kingship. Struggle for Empire is a must-read for all those interested in this formative period of the European past."-Matthew Innes, Birkbeck College, University of London
You may also be interested in...
Simply reserve online and pay at the counter when you collect. Available in shop from just two hours, subject to availability.
Thank you for your reservation
Your order is now being processed and we have sent a confirmation email to you at
When will my order be ready to collect?
Following the initial email, you will be contacted by the shop to confirm that your item is available for collection.
Call us on or send us an email at
Unfortunately there has been a problem with your order
Please try again or alternatively you can contact your chosen shop on or send us an email at