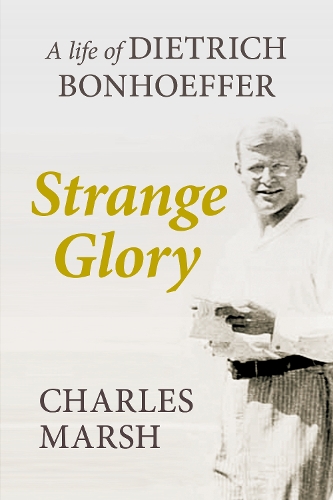 Strange Glory: A Life Of Dietrich Bonhoeffer (Paperback)
Charles Marsh
(author)
Paperback
512

Pages / Published: 21/08/2013
We can order this from the publisher
This elegantly written biography offers the most intimate, detailed, rounded and supremely human portrait yet painted of the great Christian thinker and martyr. Draws on writings only recently made accessible - including the correspondence between Bonhoeffer and his teen-age fiance, Maria von Wedemeyer. Fresh insights into the duplicity into which Bonhoeffer was drawn, with intriguing quotes from the bogus diary and letters he composed to distract the Gestapo from his real activities. Packed with fascinating extracts from Bonhoeffer's own letters and papers, creating a vivid sense of the momentous times in which he lived, and of his innermost thoughts and feelings at any given moment.
Publisher: SPCK Publishing
ISBN: 9780281073139
Number of pages: 512
Dimensions: 234 x 156 mm
---
MEDIA REVIEWS
A good biography takes a reader beyond the life of its subject into the times and places in which they lived. A great biography can leave us with the impression we know a stranger better than we know our friends. Charles Marsh's biography of Dietrich Bonhoeffer does all these things. No recent biographer of Bonhoeffer knows his theology or his historical and intellectual context better than Charles Marsh who has, for the past two decades, been the finest Bonhoeffer scholar of his generation. Yet none of this would matter if one did not want to turn the pages. Strange Glory tells Bonhoeffer's story with accuracy and insight but more than that, it is a joy to read. * Stephen J. Plant, Dean of Trinity Hall, Cambridge *
Dietrich Bonhoeffer is one of my heroes - a Christian theologian and pacifist who was nevertheless involved in the July 1944 plot to kill Hitler and was brutally hung in the last weeks of the war. This new biography gave me a much less heroic man, and yet a more deeply inspiring one. Bonhoeffer was born in 1906 into upper middle class wealth; his family were nominally Lutheran (the Prussian state church). An older brother returned from the trenches an atheist, but Dietrich chose academic theology and obtained his first doctorate at 21. Bonhoeffer loved to walk in the hills and thirsted for new experiences. His church placements in both Barcelona and London saw young people attracted to him because he took them seriously. Through his travels, Bonhoeffer built up an ecumenical network of contacts and friends. Hitler's 1933 Aryan laws forbidding Jewish Christians to attend worship outraged Bonhoeffer theologically - theology was always his starting point. Within those few Confessing Church congregations who resisted the new laws, he founded a training school for ministers where he met Eberhard Bethge - the friend (perhaps love) of his life. The school was soon closed down; ministers were called up, or shot if they refused. All the time Bonhoeffer was writing theology on how to live as a Christian in those circumstances and what the future of Church might be given its current betrayal of the Gospel. Due to his family contacts with senior army figures, who employed him to travel abroad - trying, unsuccessfully, to get support from the Allies for an army coup - Bonhoeffer avoided call up and arrest until 1943. He acted as pastor to the plotters, wrestling theologically with the tension between Christian faith and a plot to kill. In prison, Bonhoeffer was pastor to other prisoners and even to guards. The inspiring thing about this unlikely hero is that, the more he was stripped of his privileged life - of his career, his ministry, family, friends, even of a clear conscience - the more free and even joyful he became. That is true Christian freedom. -- Sheila Maxey * Reform Magazine *
Charles Marsh's new venture into biography has produced a thoroughgoing work of scholarship which has the distinction of being at the same time both a page-turner for Bonhoeffer students, in that it has finally shed light upon vast swathes of Bonhoeffer's lifewhich have hitherto been veiled in obscurity, but,muchmore than even this, it is also a highly accessible and enjoyable read for anyone coming to the subject for the first time. The field of Bonhoeffer scholarship is introduced through this work to a character one always sensed was there, but never quite had the courage (and evidence) to acknowledge. Marsh has exposed the virtually impenetrable interpretative framework of Eberhard Bethge's terrific loyalty, with the consequence that in this biography we are introduced to a man who actually behaves poorly at times, can be overly demanding and has moments of pique, yet remains thoroughly believable. Marsh records that for Bonhoeffer, when on his pre-ordination parish stint in Barcelona, 'if his theology was being stretched and shaken, certain habits of mind did not change at all. He would continue to cajole his parents for money.' Marsh is too polite to point out the stark contrast this affords with Bethge's version of events which depict Bonhoeffer as unswervingly a man of unstinting generosity. Although Bethge is reputed to have had the gift of 'clear, open and reverent seeing' it has taken Marsh to bring us the reality of this Bonhoeffer who (while in Barcelona) was prone to 'drink hardly any water, but rather exclusively wine . . . spent most of his day in the bathtub, and fretted mightily over his wardrobe' (p. 81). Bonhoeffer's time in London brings up further discrepancies between Bethge and Marsh where the former depicts him as a workaholic oppositional pastor and the latter as one whose evenings were for the theatre and the cinema, followed by drinks and dinner and more conversation, often continuing until well after midnight, the flow of meditation, music, theology and storytelling 'all following one another, blending into one another till 2 or 3 a.m.' (p. 201). Marsh then goes on to describe in unforgettable terms one of the Bonhoeffer/Barth wartime meetings in Switzerland: not so well timed, which he (Bonhoeffer) gathered from the fretful demeanour of Barth's wife, Nelly, when she greeted him at the front door. Things were uneasy within the plain three-storey house on the Bruderholtzallee, for the great Reformed theologian, who, as noted earlier, had single-handedly retrieved the language of Christian Orthodoxy from its modernist reductions, had performed an even more astonishing feat: he had managed to move his beautiful assistant, Charlotte von Kirschbaum, [with whom he was having an affair] into the household. (p. 311) The reader is left reeling in shock at the thought of arguably the greatest theologian of the last century living almost openly in a menage a` trois. Not only this, Marsh, in scholarly fashion, makes the case that the Bonhoeffer/ Bethge relationship was for Bonhoeffer an affaire du coeur, reciprocated only so far by Bethge. Details that hitherto have seemed only trivial suddenly appear in a wholly new light when the full implications of this assertion are taken into consideration. There is sufficient depth of analysis provided to unsettle the reader's previously held convictions (or assumptions) regarding Bonhoeffer's inner life as details of their 'bromance' are laid bare. Marsh's related contention about Bonhoeffer's engagement to Maria von Wedemeyer is shocking in its straightforwardness: Bethge 'left' Bonhoeffer to become engaged to a seventeen- year-old young woman and Bonhoeffer's response was to 'get hitched' so as to 'get even' or 'back in favour'. Those who find this too hard to digest will take small comfort from the details of Bonhoeffer's will, which Marsh adduces as powerful evidence in favour of his contention. Along similar lines, readers of every persuasion will welcome the debunking (finally!) of the previously accepted fabrication and sanitization of the actual details of Bonhoeffer's death. For me, this publication is an excellent companion to Bethge. Here, time has perhaps cleared minds, and the perspectives Marsh provides are welcome. Indeed, with the advent of Strange Glory, has Bonhoeffer biography turned from the phraseological to the real? -- John H. McCabe * Theology journal *
This is a prestigious and exhilarating book - a study of Bonhoeffer's life by a scholar, in Charles Marsh, who has been through in his research. It had been endorsed by significant people in the field and I add my few words with humility. It is a long book, with extensive notes to assure the reader of the veracity of the sources of information. At first I questioned the detail in the writing and wondered at its significance. But, as I read further, Bonhoeffer came alive, as a person, in the descriptions of events, places and people. Bonhoeffer was born into a wealthy German family and experienced the level of financial support and comfort throughout his life that many of us can only dream of. Even in his final days in prison he was still being supplied with suitable clothes, food, writing materials and books that he requested. His family stood by him although they could not have expected that he would become a theologian. He was not a devout Christian as a child. His studies at University took him into philosophy and hence to theology. His doctoral thesis was titled "Sanctorum Communio" - The Communion of Saints, with a sub-title "A Theological Study of the Sociology of the Church". He defended this and was awarded his doctorate in 1927. During his early life Bonhoeffer travelled significantly and his time in Italy and America was influential in the development of his views on Christianity. He moved between academics study and his work as a pastor (in London for a time), never really settling to be completely one or the other. He wrote extensively; letters to friends, papers of his developing views, and much of his writing has been preserved. The picture of his early family life gives an understanding of how he became the person he was. He was a twin, having a twin sister Sabine, and they were 6 and 7 of a family of 8. He was loved and protected and somewhat indulged, whilst also being given the opportunity to become his own self. At first my own feelings were that he has a very easy life and that the lack of deprivation would not have given him insight into the suffering of others. But what it did do was to give him the luxury of time to reflect and to study, safe from the trails of having to earn a living. He did work for payment but was always supplemented with resources from his parents. For me the most startling and interesting part of the book is in the explanation of the rise of Hitler and the attitude towards the Jewish people. We all know that Hitler hated Jews and set about exterminating them but I don't think I had previously understood that this was linked to a denial of the Old Testament and the supremacy of Jesus Christ. The birth of the German Christian Church under Hitler (previously Lutheran) was not dissimilar to the establishment of the Church of England, with the head of state as head of the Church. But Hitler took this a stage further to claim that the Jewish people were the murderers of Christ and therefore not the people of God and must be removed. The descriptions in the Marsh book help us to see the insanity in Hitler and the way he used his charismatic power to control everyone. In the end there was only one choice for German people - obey or die. Leading academics and people of influence plotted to kill Hitler in order to defend people who could not defend themselves. The plot was discovered and many people, including Bonhoeffer, were imprisoned. It was to take two years before an incriminating letter was found, but when it was, he was executed. Marsh has captured the essence of Bonhoeffer in his writing. He has charted the development of the German Christians, connecting to Luther and assisting in deeper understanding. The book is called Strange Glory and it is while Bonhoeffer is in prison that he writes to his close friend Bethge to summarise what he has learned by the age of 38, that "the word of God does not ally itself with the rebellion of mistrust, but reigns in the strangest of glories". This led to the title of the book and the culmination of the years of study which took Bonhoeffer to his position of acceptance of the mystery of God and the "strange glory" of knowing that we don't know, we can only accept and trust. It felt daunting to pick up a book of such weight (literally as well as figuratively) and moment. Bonhoeffer has left us with many valuable wrintings, some of which have fallen into regular parlance. The seventeen volumes of his work are essential reading for serious theologians. His indivudal works provide inspiration for all in their meditations with God. His journey to faith and acceptance that God's will be done is captured beautifully by Charles Marsh and we should thank him for this. -- Pat Frankish * Faith and Freedom *
You may also be interested in...
×
Download the Waterstones App
Would you like to proceed to the App store to download the Waterstones App?
Reserve online, pay on collection.
Or,
add to basket
, pay online, collect in as little as 2 hours, subject to availability.
Thank you for your reservation
Your order is now being processed and we have sent a confirmation email to you at
When will my order be ready to collect?
Following the initial email, you will be contacted by the shop to confirm that your item is available for collection.
Call us on or send us an email at
Unfortunately there has been a problem with your order
Please try again or alternatively you can contact your chosen shop on or send us an email at