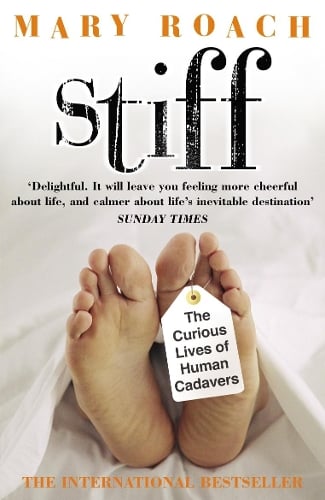 Stiff: The Curious Lives of Human Cadavers (Paperback)
Mary Roach
(author)
Paperback
304

Pages / Published: 01/07/2004
What happens to your body after you have died? Fertilizer? Crash Test Dummy? Human Dumpling? Ballistics Practise? Life after death is not as simple as it looks. Mary Roach's Stiff lifts the lid off what happens to our bodies once we have died. Bold, original and with a delightful eye for detail, Roach tells us everything we wanted to know about this new frontier in medical science. Interweaving present-day explorations with a history of past attempts to study what it means to be human Stiff is a deliciously dark investigations for readers of popular science as well as fans of the macabre
Publisher: Penguin Books Ltd
ISBN: 9780141007458
Number of pages: 304
Weight: 224 g
Dimensions: 198 x 129 x 17 mm
---
MEDIA REVIEWS
''As weird as the book gets, Roach manages to convey a sense of respect and appreciation for her subjects."
Expect the insightful with the hilarious. -- Bridget Kinsella (05/05/2003)
Outrageously funny, irreverent"-but respectful....so delightfully written, this book is difficult to put down. -- Brian Richard Boylan (05/11/2003)
Every detail is fascinating. -- Henry Kisor (04/13/2003)
A joy to read....this is wonderful stuff. -- Tim Redmond (05/28/2003)
A quick and compelling, if slightly uneasy, read. -- Justin Bauer (06/26/2003)
A very funny book....full of surprises. -- Craig McLaughlin (07/27/2003)
An unflinching, often hilarious cultural history. -- Erica C Barnett (10/30/2003)
Bizarrely entertaining. -- Susan Ellis (08/14/2003)
Every page fairly drips with dark humor. -- Matt Palmquist (04/30/2003)
Her morbid subject-perverse, unsettling and voyeuristic-makes her book hard to put down. -- Dean Narcisco (05/27/2003)
Mary Roach is an extremely funny science writer -- Laurence A Marschall
Well written, with a reader-friendly format. -- Howard S Pitkow
Well-written and deadly funny. -- Bruce Willey (06/19/2003)
Whimsical, hysterical and terribly interesting. -- Katy Human (05/31/2003)
Acutely entertaining, morbidly fascinating.
An informative, gently funny but never irreverent look at the various uses society makes of the dead.--Tom Pantera (06/01/2003)
[A] mordantly witty history of the scientific contributions made by the no-longer-living.
Bizarrely entertaining.--Susan Ellis (08/14/2003)
Expect the insightful with the hilarious.--Bridget Kinsella (05/05/2003)
Roach's deliberate carefulness diminishes the topic's gore and sets a comfortable, comic tone that finds solace in its own oddity.--Tom Lynch (05/22/2003)
Droll, dark, and quite wise, Stiff makes being dead funny and fascinating and weirdly appealing.--Susan Orlean
Outrageously funny, irreverent" but respectful....so delightfully written, this book is difficult to put down.--Brian Richard Boylan (05/11/2003)
An unflinching, often hilarious cultural history.--Erica C Barnett (10/30/2003)
[Roach's] knack for detailed research and loose Dave Barry-ish style makes "Stiff" a leisurely and enjoyable read.--Tom Westin (05/11/2003)
Roach displays her metier in tangents about bizarre incendents in pathological history.--Gilbert Taylor (03/15/2003)
Bring[s] alive a subject that has the potential to be deadly dull.--Steve Fiffer (06/29/2003)
Despite the irreverent, macabre title, this is a respectful and serious examination of what happens to cadavers, past and present.--Michael D Cramer (03/01/2003)
Delightful....authoritative, endlessly curious and drolly funny.--Adam Wong (05/11/2003)
Our own instinctive discomfort with death provides fodder for Roach's dry sense of humor throughout the book--Ana Marie Cox (06/04/2003)
Mary Roach is an extremely funny science writer--Laurence A Marschall
Roach...goes into gruesome detail, but she also succeeds in not making the subject at hand too morbid.--Kim Colton (05/21/2003)
Roach's conversational tone and her gallows humor bring her subjects to life....Morbidly entertaining.--Alex Abramovich (06/02/2003)
Every detail is fascinating.--Henry Kisor (04/13/2003)
Roach's dry, irreverent wit makes for a delightful though never disrespectful read.--Les Simpson (04/17/2003)
As weird as the book gets, Roach manages to convey a sense of respect and appreciation for her subjects.
Roach traces the use of the cadaver...and describes odd, behind-the-scenes moments perfect to halt all discussion at dinner.--T.D. Mobley-Martinez (06/12/2003)
Her morbid subject perverse, unsettling and voyeuristic makes her book hard to put down.--Dean Narcisco (05/27/2003)
Though the cover...will draw many readers to this book, its deft prose will keep them returning.--Fred Bortz (07/27/2003)
Well-written and deadly funny.--Bruce Willey (06/19/2003)
What saves the subject matter from intolerable gruesomeness is Roach. Her interest is genuine, despite her droll tone.--B.T. Shaw (05/25/2003)
Every page fairly drips with dark humor.--Matt Palmquist (04/30/2003)
Roach exhibits both a keen sense of humor and a sincere respect for the dearly departed.
This bizarre tome will shock, disgust, intrigue and entertain you all at the same time.--Mary Morrison (09/25/2003)
Whimsical, hysterical and terribly interesting.--Katy Human (05/31/2003)
[Roach] has written a curiously funny, touching and respectful study.--Nancy Summers (08/17/2003)
A laugh-out-loud funny book....one of those wonderful books that offers enlightenment in the guise of entertainment.
[Roach] manages to make material that normally comes with a warning for the faint-hearted somehow light-hearted.--Jill Wolfson (04/27/2003)
As fascinating as it is funny.... The research is admirable, the anecdotes carefully chosen, and the prose lively; and they combine to produce a book that everyone in the health care field should "have" to read, and everyone else will want to.--Caleb Carr, author of The Alienist
A joy to read....this is wonderful stuff.--Tim Redmond (05/28/2003)
Genuinely funny and destined to be a classic read.--Donald A Collins (06/01/2003)
Surprisingly entertaining. Similar in tone to Bill Bryson's travel books, Roach manages to be humorous yet respectful.--Rick Mathis (08/03/2003)
Well written, with a reader-friendly format.--Howard S Pitkow
A fascinating book and, once you pick it up, you won't likely put it down.--William R Wineke (09/14/2003)
A quick and compelling, if slightly uneasy, read.--Justin Bauer (06/26/2003)
It's a rare talent that can make people want to throw up and laugh at the same time.--Roy Rivenberg (07/03/2003)
As informative and respectful as it is irreverent and witty....Impossible to put down.
Fascinating, unexpectedly fresh and funny look at the multiplicity of ways in which cadavers benefit the living.... entertaining, absolutely.
Roach is a masterful writer....Irreverent? Maybe a little. Disrespectful? Emphatically no.--Lisa Parsons (06/19/2003)
A very funny book....full of surprises.--Craig McLaughlin (07/27/2003)
Lively and quirky....the writer's style is genuinely warm...she has a keen eye for observation of unique and ironic details.--Michael Jaffee (06/01/2003)
[Roach] artfully and humorously unwraps the mystery of the dead body....an interesting and informative read.--Deborah Love (09/21/2003)
Fascinating and oddly fun.
The numerous tidbits of information derived from the author's travels and interviews make [this book] uniquely appealing.--Joseph H Davis, MD (07/16/2003)
You may also be interested in...
"Stiff"
This is not a book for either the faint of heart or those that are easily offended by references to death, bodies (or the parts thereof) or by the more relaxed approaches to the hereafter. Roach takes the reader... More

"The life of after life"
Ever wondered what happens to our bodies after we die? If so, then this book is for you. Roach tackles the adventures of cadavers destined for donation with care and consideration, but is not one to shy away from the... More
Simply reserve online and pay at the counter when you collect. Available in shop from just two hours, subject to availability.
Thank you for your reservation
Your order is now being processed and we have sent a confirmation email to you at
When will my order be ready to collect?
Following the initial email, you will be contacted by the shop to confirm that your item is available for collection.
Call us on or send us an email at
Unfortunately there has been a problem with your order
Please try again or alternatively you can contact your chosen shop on or send us an email at