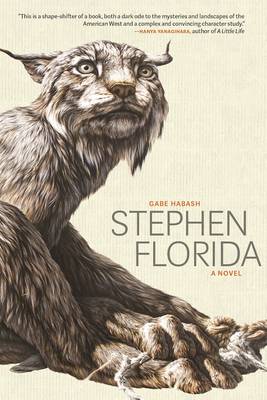 Hardback
304

Pages / Published: 22/06/2017
"In Stephen Florida, Gabe Habash has created a coming-of-age story with its own, often explosive, rhythm and velocity. Habash has a canny sense of how young men speak and behave, and in Stephen, he's created a singular character: funny, ambitious, affecting, but also deeply troubled, vulnerable, and compellingly strange. This is a shape-shifter of a book, both a dark ode to the mysteries and landscapes of the American West and a complex and convincing character study."
--Hanya Yanagihara, author of A Little Life
Foxcatcher meets The Art of Fielding, Stephen Florida follows a college wrestler in his senior season, when every practice, every match, is a step closer to greatness and a step further from sanity. Profane, manic, and tipping into the uncanny, it's a story of loneliness, obsession, and the drive to leave a mark.
Gabe Habash is the fiction reviews editor for Publishers Weekly. He holds an MFA from New York University and lives in New York.
Publisher: Coffee House Press
ISBN: 9781566894647
Number of pages: 304
Dimensions: 229 x 152 mm
---
MEDIA REVIEWS
Foxcatcher meets The Art of Fielding, Stephen Florida follows a college wrestler in his senior season, when every practice, every match, is a step closer to greatness and a step further from sanity. Profane, manic, and tipping into the uncanny, it's a story of loneliness, obsession, and the drive to leave a mark.
Finalist for the 2018 Young Lions Fiction Award
"What a strange, strange, utterly intriguing novel... Writing like this takes guts." --Roxane Gay, author of Bad Feminist
"Habash has created a fascinating protagonist in Stephen, a hard-driven athlete with a convincingly thoughtful mind..." --The New York Times Sunday Book Review
"A striking, original, and coarsely poetic portrayal of a young man's athletic and emotional quest." --Publishers Weekly, boxed and starred review
"[Habash's] writing is powerful and magnetic, with a quality that suggests it has been worked over to strip it bare of ornamentation but still leave it with a rare beauty that the greatest sportspeople, in a ring, on a court or on a pitch, can achieve." --The Guardian
"Habash writes about the raw physicality of wrestling better than anybody this side of John Irving. . . . A lively, occasionally harrowing journey into obsession." --Kirkus
"Stephen Florida's grim portrait of ambition led astray captures how competitiveness and masculinity can unravel those who blindly follow its codes." --The Atlantic
"Habash has a great eye for the ways in which our public identities and private insecurities are shaped by happenstance. Stephen Florida is full of vim and invention, good jokes and built-up bodies, unexpected sentences." --Paris Review Daily
"Stephen Florida is an obsession, but not just with wrestling -- he is the taut, erratic, boundless contradiction of what it means to be alive." --Los Angeles Review of Books
"An early candidate for BEST COVER OF THE YEAR AND MAYBE ALL TIME, Gabe Habash's debut novel of love, obsession, and wrestling is yet another compelling reason to avoid college sports." --Literary Hub
"In this novel, wrestling is really a pretext to introduce us to a powerful and engrossing new consciousness--Stephen's struggle is to come to grips with the grinding willfulness that both enables and hobbles everything he does. Plus, Habash's prose is dryly hilarious." --Publishers Weekly
"Stephen Florida is brash and audacious; it's not just one of the best novels of the year, it's one of the best sports books to come along in quite a while. It's an accomplishment that's made all the more stunning by Habash's status as a debut novelist: It's his first time on the mat, and he puts on a clinic." --
NPR
"The prose is dizzyingly good." --
Huffington Post
"In this burningly, bitterly funny tale of college student Stephen, who throws himself into wrestling to face down his fears... Habash effectively relates the raw physicality of wrestling and the raw emotions of growing up."
--Library Journal
"For the person who wants sentences tight as rope, as tendons, as muscles, and just as sinuous."
--Nylon
"The reader comes to know [Stephen's] every interior thought, even through injury, manipulation and his ill-fated forays into emotions beyond the wrestling mat."
--MPRNews
"Habash describes his protagonist's bouts with brio and expertise. He also conveys the young man's single-minded obsession powerfully, even poetically."
--Star Tribune
"Stephen Florida is relentlessly inventive, utterly unyielding to expectation, and there's not a dull line in the thing."
--Bookforum
"I'm pinned to the mat by this one." --The Quivering Pen
"[Stephen Florida] reads as a confessional -- like a diary that's had its lock ripped off of it and the pages written in blood."
--Electric Literature
"[Stephen is] fixated on his last chance to win the state championship, and the true pleasure of the novel is the revelation of Stephen's interior life as contrasted with the regimented, joyless routine of his exterior one. This is a fantastic book, starring one of the most fully-fleshed characters you'll meet this summer."
--Barnes & Noble Reads
"Dark, engrossing, and unendingly weird, Stephen Florida is a tribute to the beauty and terror of obsessive madness."
--Necessary Fiction
"Gabe Habash's brand new novel Stephen Florida puts you in a literary headlock and holds you there until you like it."
--Maudlin House
"In a novel that interrogates the dangerous allure of hubris and examines the depths to which pure dedication sometimes leads, the stakes of Habash's ambition and his confident control of craft leave the most lasting impressions."
--Blackbird
"[Stephen Florida is] a dark and twisty tale of ambition: ambition in overdrive, ambition that hauls its dark heavy tarp over everything else in your life."
--Vol. 1 Brooklyn
"Habash's debut is a memorable portrait of obsession to the edge of madness and the loneliness that follows so single-minded a pursuit. Yet readers will gladly accompany the complex, thoughtful, not-always-likable Stephen through the season as he battles his own dark fears as much as any opponent." --
Library Journal, starred review
"Like the other great obsessives that populate American literature -- their common forebear is Ahab -- Stephen's seeming singularity reveals something essential about ourselves. His eccentricity doesn't lead into crabbed corners but opens out onto philosophical expanses. What Habash offers in this powerful novel is a sad, sometimes funny, finally devastating anatomy of American loneliness." --
Electric Literature's Recommended Reading
"Stephen Florida is relentlessly inventive, utterly unyielding to expectation, and there's not a dull line in the thing." --
Bookforum
"Debut novelist Gabe Habash, bores deep into Stephen's psyche, whose telescoping on his ultimate goal is terribly more intense--and limiting--than your average set of blinders. It's a thrilling, sweaty ride."
--Extra Crispy
"Stephen Florida is a detour down the dark alleys of a driven mind."
--Lincoln Journal Star
"The writing is so stellar, the journey so fully earned, and the ending is as satisfying as they come. Stephen Florida is a novel I'll come back to as much for its literary merit as for its storytelling..."
--The Masters Review
"The tale that Habash has picked up to tell us - which looks at first like any other old pebble in the driveway--reveals itself as a fire opal: full of shifting lights, seductive flashes of colour and mutability." --
TANK
"As a character study, Stephen's is convincingly, comically, realistically weird, his seeming every thought marvelously relayed. This, plus beautiful sentences and an evocative North Dakota setting in the not-so-distant past, mark a promising debut." --
Booklist
"In Stephen, author Gabe Habash has created an unforgettable protagonist, whose wry, dark voice has a peculiar strength to it; it's impossible, while reading, not to feel like the sentences are almost stalking you, wrapping themselves in and around you, pinning you down for the count. . . . Surrender, and see how far you can push your mind's limits." --
Nylon
"Gabe Habash wrote a very good book... Habash has a serious knack for taking a dense subject and pacing or parsing it dynamically enough to be compelling."
--National Pos
"I think this is the best book about sports since The Art of Fielding."
--Talk of Iowa
"Stephen Florida is not so much a book about college wrestling as it is a book about wrestling with how we strive for identity and purpose." --Petoskey News Review
"A spellbinding coming-of-age novel. . . . It's a deeply satisfying peek into the mind and heart of a troubled young man trying desperately to rein in the chaotic and multiplying forces of a world he cannot control."
--Toronto Star
"Everyone needs to read this immediately because I'm dying to talk about it, which is something I never thought I would say about a book with this much wrestling in it." --
Catapult Community
"This is no niche novel aimed solely at wrestling enthusiasts. Habash's oddball narrator will charm anyone who roots for an underdog--or, in his words, who 'falls for life's left-behinds.'"--
The National
"Ultimately, it's what we don't know about Stephen that seeps into the narrative space like an intoxicating, noxious vapor, and Habash's exuberantly dark prose is the tragicomic filter." --The Collagist
..".Stephen Florida is gruesomely compelling, a crackling psychological portrait of a young man whose obsessive determination creates its own justification." --Huffington Post
"With darkly funny and electric, affecting prose, Habash has created an oddball for the ages. Stephen Florida is not to be missed."
--BuzzFeed Books
"You'll ache, you'll fear, you'll rage, you'll hurt, and you'll hate along with Florida as he wrestles for glory. There's not one word of this novel I didn't love." --Writer's Bone
"Florida's goal of winning his division's annual championship is an end-all, be-all, self-obliterating desire, and never has athletic pursuit been so nightmarishly rendered... every sports fan should read this novel." --Longreads
"[Stephen Florida is] gritty and raw and wonderfully strange... If you've been wondering what goes through the mind of a male on the edge of adulthood, here's your chance." --Salisbury Post
"You want to be Stephen Florida, if just for a little while, to relive past glories or to just ponder the path not taken." --BookPage
"Stephen Florida is less sports fiction and more fiction about sports - an undeniably fine distinction, but a significant one. It is a book about the power of obsession and isolation, one told with a complex and vivid voice."
--The Maine Edge
"Stephen Florida is a wonderful, refreshing book with especially intimate access to Stephen's loneliness and obsession." --Powell's Books
"An investigation of masculinity that's in turns funny, creepy, and devastating, Stephen Florida does for the half-nelson what Whiplash did for drum fills." --Type Books
"One of the best sports novels I've ever read, and surely one of the year's best novels, period." --Diesel Bookstore
"Stephen is one of the more exceptional characters in recent literature, and his voice, as he tries to move forward through his tightly circumscribed life, is both haunting and hilarious." --Powell's Books Blog
"A fascinating character study, that somehow happens to be thrilling and even horrifying. I'm so glad I read this book!" --Unabridged Bookstore
"This novel is strange, singular, surprising, and a supremely delightful read." --Subtext Books
"Funny, compelling and weird. None of us could put [Stephen Florida] down." --Judy Blume
"In Stephen Florida, Gabe Habash has created a coming-of-age story with its own, often explosive, rhythm and velocity. Habash has a canny sense of how young men speak and behave, and in Stephen, he's created a singular character: funny, ambitious, affecting, but also deeply troubled, vulnerable, and compellingly strange. This is a shape-shifter of a book, both a dark ode to the mysteries and landscapes of the American West and a complex and convincing character study." --Hanya Yanagihara, author of A Little Life
"Stephen Florida is an unforgettable addition to the canon of great literary eccentrics. At once a chronicle of obsession, a philosophical treatise, and a deeply affecting love story, this singular novel is perhaps most profoundly an anatomy of American loneliness. Gabe Habash is a writer of powerful gifts, and this is a wonderful book." --Garth Greenwell, author of What Belongs to You
"Habash has created something bizarre, comic, and truly engrossing in Stephen Florida. Florida's first-person interiority, painted in masterful, jagged brushstrokes of insight and narrow-mindedness, gains in understanding, and selfish short-sightedness, does a remarkable job of mirroring the thought patterns of young males while creating the most gripping eccentric protagonist since Confederacy of Dunces. Through Florida's unique lens, Habash provides a fascinating, fresh look at estrangement, competition, isolation, the American Midwest and West, and devotion to a cause. I already can't stop talking about this one!" --Annie Harvieux, Magers & Quinn
"In Gabe Habash's hands, Stephen Florida is utterly engrossing. The compelling voice of this book drew me in right away, and it wasn't long before this character was a real person to me, and someone who I found myself loving and rooting for." --Dan Chaon, author of Ill Will
"In the middle of Stephen Florida, the narrator's love interest, his art class crush, says of their college, 'I didn't learn anything I didn't want to learn. It was a reality I wasn't surprised by. When I met you I felt like someone was trying to make it up to me.' Reader, that's how I felt after finishing Stephen Florida. Years of reading ho-hum, predictable fiction were all at once cancelled out by the many thrills and occasional chills of Stephen Florida's kinetic, irresistibly strange voice. Habash's novel zeroes in on the forces that act on obsessive, competitive, and disturbed persons. Or person: Stephen Florida, a name for the ages. Habash seems deeply concerned with the thinning borderline between innocence and experience. His narrator attempts for almost three hundred pages to figure out, and sometimes exceed, the limitations of his mind and body. Lucky is the reader who gets to spend time parsing Florida's only seemingly limited intellect and seeing/feeling his skills and abilities in the wrestling ring. I couldn't look away, even when Habash lowered the lights and sent his reader to the ledge of an abyss. Pick up his book, read its first lines, and be glad to follow him there." --John Francisconi, Bank Square Books
"Not since The Art of Fielding have I read a sports novel this captivating. Stephen Florida is about a wrestler's quest for glory. Stephen, a senior at Oregsburg College, has his mind set on winning nationals at 133 in Kenosha, Wisconsin. Each practice and match brings him closer to his goal, and delivers him further from his sanity. This novel shows how compulsively people pursue greatness, and the anguish felt at each shortcoming. Stephen Florida, in short, is a novel of a man slowly losing his mind in pursuit of greatness." --Hunter Gillum
You may also be interested in...

"What a unique, authentic voice - an extraordinary debut novel. "

At the beginning of this book the reader is told "My mother had two placentas, and I was living off both of them." The fact that Stephen Florida's twin brother died in the womb offers the first intimation... More
Simply reserve online and pay at the counter when you collect. Available in shop from just two hours, subject to availability.
Thank you for your reservation
Your order is now being processed and we have sent a confirmation email to you at
When will my order be ready to collect?
Following the initial email, you will be contacted by the shop to confirm that your item is available for collection.
Call us on or send us an email at
Unfortunately there has been a problem with your order
Please try again or alternatively you can contact your chosen shop on or send us an email at