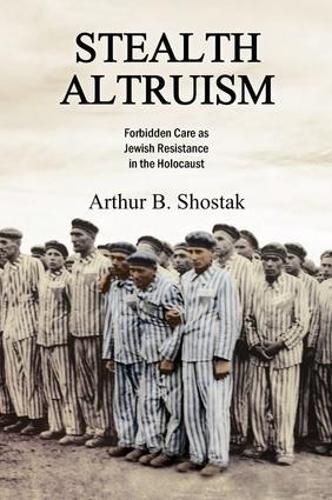 Stealth Altruism: Forbidden Care as Jewish Resistance in the Holocaust (Hardback)
Arthur B. Shostak
(author)
Hardback
320

Pages / Published: 10/05/2017
Though it has been nearly seventy years since the Holocaust, the human capacity for evil displayed by its perpetrators is still shocking and haunting. But the story of the Nazi attempt to annihilate European Jewry is not all we should remember. Stealth Altruism tells of secret, non-militant, high-risk efforts by "Carers," those victims who tried to reduce suffering and improve everyone's chances of survival. Their empowering acts of altruism remind us of our inherent longing to do good even in situations of extraordinary brutality.
Arthur B. Shostak explores forbidden acts of kindness, such as sharing scarce clothing and food rations, holding up weakened fellow prisoners during roll call, secretly replacing an ailing friend in an exhausting work detail, and much more. To date, memorialization has emphasized what was done to victims and sidelined what victims tried to do for one another. "Carers" provide an inspiring model and their perilous efforts should be recognized and taught alongside the horrors of the Holocaust. Humanity needs such inspiration.
Publisher: Taylor & Francis Inc
ISBN: 9781412865036
Number of pages: 320
Weight: 612 g
Dimensions: 229 x 152 mm
---
MEDIA REVIEWS
"As a survivor of the Holocaust I have witnessed and experienced the tremendous efforts the Nazis made to destroy us, not only physically, but psychologically, by trying to take away our dignity, self-esteem, and humanness. But they failed because there are many instances of inmates who have maintained their principles and their dignity, and have committed acts of selfless generosity towards their fellow prisoners. Professor Shostak deserves much credit for identifying this issue and researching it thoroughly."
-Magda Herzberger, survivor of Auschwitz-Birkenau, Bremen, and Bergen-Belsen
"As past director of the Yad Vashem Department that honors thousands of non-Jews who risked their lives and that of their loved ones to help save the lives of Jewish victims, I welcome the extensive research into forbidden care researched by Professor Arthur Shostak. I am especially appreciative of his drawing on survivor memoirs, as these unique stories offer nuanced sensitive material that too often eludes academic notice. Professor Shostak's concept of stealth altruism adds a valuable conceptual tool to the field, as does his chapter on reform recommendations, many of which could soon help get what he aptly calls the `Help Story' added to our long memorialization which focuses only on the Horror Story. I hope the book gets well-warranted attention, as the `Help Story' - that of non-Jews and Jews alike - offers much in humanistic and moral support to us all."
-Mordecai Paldiel, Ph.D., author of Saving One's Own: Jewish Rescuers during the Holocaust
"[This] work makes a strong case for giving much needed attention to `Carers'. In fact, those people who provided acts of kindness and compassion, even at risk of cruelty and death, are the heroes who allow us to maintain our moral balance and our faith in humankind. [Shostak's] strong research and writing make this very clear, and provide a needed contribution to Holocaust and general humanities literature."
-Jacqueline Silver, Seattle University
"Arthur Shostak has spent more than a decade exploring perhaps the single most neglected aspect-the `Help Story' of present Holocaust scholarship. He has provided a very thorough, and, therefore, more balanced account of Jews helping fellow Jews, via stealth altruism. Whether covert, or overt, these `tools of the heart, mind, and soul' often helped keep a fellow prisoner's `moral self' intact at tremendous risk to oneself. Shostak believes it is time the Horror Story, of which there is abundant evidence and display, be balanced with, or maybe against, the Help Story. It is crucial that, as we move from personal narratives to communal memory to institutional memory, we get the larger story right."
-Bill Younglove, Holocaust educator, speaker, and writer
"It's about time. When we make the suffering of the Holocaust the central component of Jewish identity and communal Jewish discourse with global reality, we can destroy any innate ambitions of young people to remain Jewish. What healthy person wants to spend his entire life in everlasting mourning about the past? Young Jews, like young people everywhere, are looking for something of value for their own futures, and not an obsessive preoccupation with terrible past events. An identity of whining is singularly unattractive. Art Shostak has provided a healthy antidote to the 'poor us' self-pity of much of modern Jewish identity. He has deconstructed the negative Nazi narrative of the Holocaust and reconstructed a new, affirmative Jewish narrative. He has made it a story of Jewish dignity and grace and humanity in the face of the worst terror in human history. When you read these stories you are not depressed, you are uplifted. This is a Jewish identity that can inspire, that can provide examples of how to live one's life in stressful situations in no way comparable to those experienced by the inmates of the camps."
-Tsvi Bisk, co-author, Futurizing the Jews: Alternative Futures for Meaningful Jewish Existence in the 21st Century
"I could not agree with [Shostak] more! I have long argued similarly with respect to Holocaust survivors that most of them are proof of human strength. . I have heard first-hand stories of altruistic giving and incredible mutual assistance, and admire [Shostak's] dedication to focusing on the positive."
-Chaim Waxman, professor emeritus of Sociology and Jewish Studies, Rutgers University; senior fellow, Van Leer Jerusalem Institute
"I found this book to be an insightful analysis that provides a new perspective on the Holocaust by examining the ways in which concentration camp prisoners defied their Nazi captors in the most subtle way: by caring for each other. The book documents and analyzes the myriad of ways in which prisoners provided mutual help, keeping both communal and religious moral injunctions alive in the harshest of settings. In this, the book shifts attention from the atrociousness of the perpetrators to the resilience of the victims, and provides a fascinating case study of altruism, morality, and social solidarity under extreme conditions."
-Shai Dromi, junior fellow, Center for Cultural Sociology, Center for Comparative Research, Yale University
"Arthur Shostak's Stealth Altruism offers a necessary, important `attitude adjustment' for all who write about or study the Second World War, and the European Gentile and Jewish resistance to the Third Reich, especially of the overlooked non-militant variety. I think it will become a classic. It is already a must-read that will join such outstanding preceding volumes as Eva Fogelman's Conscience and Courage: Rescuers of Jews during the Holocaust. Shostak highlights Jews who, at risk of life and limb, dared to try to care for other Jews, and left us as a legacy a timeless model of upstanding behavior worth emulation worldwide."
-Diana Mara Henry, independent scholar
"Arthur Shostak has explored an aspect of the Holocaust that has been sorely neglected-the courage of altruistic human beings under great stress and danger. When I speak to students, they sometimes do ask whether Jews ever tried to help each other and now I'll have an eye-opening answer for them."
-Peter J. Stein, Scholar, Ph.D., North Carolina Council on the Holocaust and Sociologist and Associate Director, University of North Carolina Institute on Aging
"The author's writing is clear and moving. This book is clear, cogent, haunting, and accurate. Shostak uses references that are impeccable and varied. His focus upon forbidden acts of kindness is equally important and necessary for the world to learn."

-Charles S. Weinblatt, New York Journal of Books
"Stealth Altruism is an important book. It persuasively argues that the prevailing (and dismal) social construction of the Holocaust -- the "horror story," which is fixated on Nazi atrocities and the victimization of Jews -- should be balanced by telling an inspiring "help story." ... No discussion of the Holocaust is complete without making this essential correction."ã ã
Matthew T. Lee, University of Akron

You may also be interested in...
Simply reserve online and pay at the counter when you collect. Available in shop from just two hours, subject to availability.
Thank you for your reservation
Your order is now being processed and we have sent a confirmation email to you at
When will my order be ready to collect?
Following the initial email, you will be contacted by the shop to confirm that your item is available for collection.
Call us on or send us an email at
Unfortunately there has been a problem with your order
Please try again or alternatively you can contact your chosen shop on or send us an email at