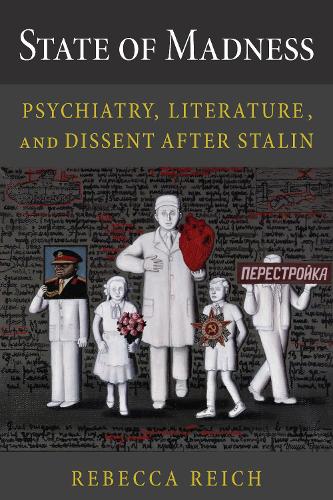 State of Madness: Psychiatry, Literature, and Dissent After Stalin - NIU Series in Slavic, East European, and Eurasian Studies (Hardback)
Rebecca Reich
(author)
Hardback
283

Pages / Published: 13/03/2018
What madness meant was a fiercely contested question in Soviet society. State of Madness examines the politically fraught collision between psychiatric and literary discourses in the years after Joseph Stalin's death. State psychiatrists deployed set narratives of mental illness to pathologize dissenting politics and art. Dissidents such as Aleksandr Vol'pin, Vladimir Bukovskii, and Semen Gluzman responded by highlighting a pernicious overlap between those narratives and their life stories. The state, they suggested in their own psychiatrically themed texts, had crafted an idealized view of reality that itself resembled a pathological work of art. In their unsanctioned poetry and prose, the writers Joseph Brodsky, Andrei Siniavskii, and Venedikt Erofeev similarly engaged with psychiatric discourse to probe where creativity ended and insanity began. Together, these dissenters cast themselves as psychiatrists to a sick society. By challenging psychiatry's right to declare them or what they wrote insane, dissenters exposed as a self-serving fiction the state's renewed claims to rationality and modernity in the post-Stalin years. They were, as they observed, like the child who breaks the spell of collective delusion in Hans Christian Andersen's story "The Emperor's New Clothes." In a society where normality means insisting that the naked monarch is clothed, it is the truth-teller who is pathologized. Situating literature's encounter with psychiatry at the center of a wider struggle over authority and power, this bold interdisciplinary study will appeal to literary specialists; historians of culture, science, and medicine; and scholars and students of the Soviet Union and its legacy for Russia today.
Publisher: Northern Illinois University Press
ISBN: 9780875807751
Number of pages: 283
Weight: 28 g
Dimensions: 229 x 152 mm
---
MEDIA REVIEWS
"Reich's work is not primarily a history of psychiatric practice but, rather, a cultural study of literary inuences on Soviet (usually Russian) psychiatry and late Soviet literature's engagement with psychiatric medicine and the theme of madness. State of Madness: Psychiatry, Literature, and Dissent after Stalin will be of interest to historians of medicine seeking to understand the discursive environment that made psy-chiatric abuse possible; Reich makes an important contribution to the question from this angle.... [W]ith readings of both psychiatric and literary texts through cultural studies lenses, Reich has illuminated the literary dis-course that permeated psychiatric reasoning during the period. She makes a vital contribution to the study of this feature of the Soviet police state after Stalin."
* Isis *
"Reich demonstrates that literature was a key site for contesting psychiatric diagnoses, becoming a 'source of diagnostic authority' in its own right (p. 6). State of Madness is always working with and through contested dichotomies; there is neither dissent nor madness without a norm. Sanity then becomes a question of who is responsible for dening and assigning the diagnostic categories.... By applying a formal literary analysis to clinical documents, Reich convincingly demonstrates that the discipline of psychiatry was structured according to an 'established aesthetic framework' borrowing from the 'literary doctrine of Socialist Realism' (p. 27, p. 29). Psychiatrists framed their diagnostic practices as a kind of artistic endeavour and pathologised aesthetic modes that deviated from the standards of Socialist Realism."
* History of the Human Sciences *
"The inherent slipperiness of diagnostic categories such as 'schizophrenia' is the subject of Rebecca Reich's fascinating and impressively nuanced new study."
* Times Literary Supplement *
"Psychiatric incarceration as a form of repression against dissidents belongs to the staples of the history of the Soviet human rights movement. Rebecca Reich's study contributes to a reexamination of this question from an interdisciplinary perspective, as she navigates skillfully among the literary, historical, and medical realms. Moving beyond the traditional representations of forced hospitalization, she draws a more complex picture by examining the works of dissenting poets and writers whose psychiatric experience was generally not coercive but whose works challenged psychiatric discourse by pointing to its subjectivity and who sought to depathologize dissent through literary discourse.... Reich's approach to the nexus of psychiatry, literature, and dissent is certainly original, and she raises many thought-provoking ideas."
* Kritika *
"Reich revisits the Soviet practice of questioning dissidents' sanity and placing them in psychiatric institutions... However, Reich is not interested in yet again documenting and analysing for political purposes the various instances of abuse of psychiatric care. Instead, she offers a new and sophisticated take on the subject by approaching it from the perspectives of literature and of dissenters' engagement with the psychiatric discourse.... Her analysis is both concise and insightful.... [H]er book makes a valuable contribution to the understanding of punitive psychiatry and dissent in the USSR. It is important for scholars of the post-Stalin era, as well as for students who wish to gain a more in-depth understanding of these topics."
* History of Psychiatry *
"In her book, Rebecca Reich opens up a new perspective on the post-Stalin era's psychiatric discourse. While presenting it through the prism of dissenting authors' literary works, she also approaches the psychiatric phenomenon of madness, raising such fundamental questions as: 'Who is sane and who is insane? And who is authorized to tell the difference?'... Reich's work is a signicant contribution to both the literary discourse of mental illnesses and the literary interpretations of the Soviet 'different thinkers' of the post-Stalin era. It is a well-structured book which effectively proves its premises, sustaining the readers' interest until the end by illustrating the literary analyses with medical interviews and biographical episodes."
* Canadian Slavonic Papers *
"[A] fascinating study.... While socially and politically specific, the exploration of psychiatric abuse and dissident responses also benefits in Reich's interdisciplinary study from a longer perspective that considers the theme of madness in the Russian literary tradition.... Reich performs her own close and contextually sensitive analyses of literary works by late Soviet authors, including poems by Aleksandr Volpin and Joseph Brodsky, prose works by Andrei Siniavskii, and the drama of Venedikt Erofeev."
* Slavic Review *
You may also be interested in...
Simply reserve online and pay at the counter when you collect. Available in shop from just two hours, subject to availability.
Thank you for your reservation
Your order is now being processed and we have sent a confirmation email to you at
When will my order be ready to collect?
Following the initial email, you will be contacted by the shop to confirm that your item is available for collection.
Call us on or send us an email at
Unfortunately there has been a problem with your order
Please try again or alternatively you can contact your chosen shop on or send us an email at