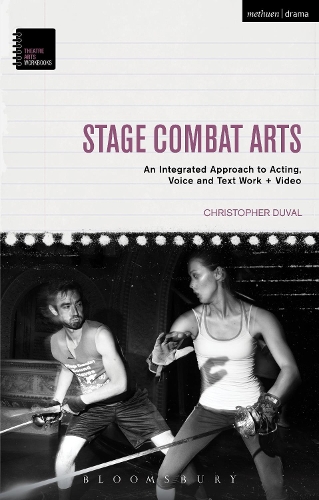 Stage Combat Arts: An Integrated Approach to Acting, Voice and Text Work + Video - Theatre Arts Workbooks (Paperback)
Christopher DuVal
(author)
Paperback
304

Pages / Published: 28/01/2016
The art of armed and unarmed stage combat thrills actors and audiences alike the world over. This book details many of the foundational techniques used by actors studying stage combat and actor-movement disciplines. A variety of specific training exercises are described that connect the actor's imagination to a cohesive and meaningful actor-training curriculum - integrating stage combat with the actor's process of developing a fully embodied awareness of the physical life of the character. Developing physical awareness and dexterity is an essential component of an actor's training and rehearsal processes. Engagement, connection, the ability to listen and respond with authenticity, clarity, flexibility, intentionality, tactical response, variety are all helpful aspects for the actor studying combat movement. With practical exercises and expert advice, Stage Combat Arts allows the actor to further hone their emotional connection and extension, breath and voice, intention and focus, movement and freedom, and their ability to connect physically to imagery and text - disciplines that are at the foundation of actor-training - all through the art of combat movement.
Publisher: Bloomsbury Publishing PLC
ISBN: 9781472526656
Number of pages: 304
Weight: 418 g
Dimensions: 216 x 138 x 20 mm
---
MEDIA REVIEWS
I've had the pleasure of working closely with Chris DuVal as both actor and fight director; his theatrical instincts are unerring, and his intelligence and heart shine through in this useful book * Bill Rauch, Artistic Director, Oregon Shakespeare Festival *
. . . I encourage you to add this book to your shelf today. It is an indispensable asset and an invaluable tool for integrating acting, voice, and movement technique in teaching the combat arts. * From the "Foreword" by Paul Dennhardt Professor, Illinois State University M. AmSAT Teacher of the Alexander Technique Society of American Fight Directors - Fight Director/Certified Teacher Dueling Arts International - Master Teacher/Master Fight Director *
Chris DuVal is one of the most talented, insightful performers that I know. He combines rigorous discipline with a lighthearted perspective and he's a thoughtful, patient teacher. Read this book, it will make you a better combatant/actor/person. * Ty Burrell, Emmy-award winning actor, "Phil Dunphy" on Modern Family *
How exciting to immerse myself in such a thoughtful, innovative, and practical take on using aspects of Fitzmaurice Voicework and other disciplines to enhance stage combat. We need more teachers like Chris-teachers who take the time to delve deeply into multiple disciplines to discover how they can serve each other. His book, when not only understood but also practiced and internalized, is a kind of elixir with the power to bring stage combat to life. * Saul Kotzubei, Director of the Fitzmaurice Institute *
This book is an invaluable resource for those who teach voice, stage violence, or acting. Mr. DuVal approaches the integration of voice and violence from a practiced, careful, generous perspective. The methodical, logical progression of concept to video demonstration to application through text examples and exercises is brilliant. Anyone serious about the craft of acting should have this book on their shelf! * Jonathan Cole, Ph.D. Associate Professor, Willamette University, Certified Teacher, Society of American Fight Directors *
So often stage combat is just a series of techniques. Chris Duval, a wonderful actor and mover himself, has found a way to communicate a process that explores where the need for violence comes from, how to make it connect seamlessly to the action of the moment, and how to link it to voice and the movement of the character as a whole. This simple, clear process is how he teaches his students and how he works as an actor - with curiosity, imagination, ease, and joy. * Ursula Meyer, Professor in the MFA Graduate Acting Program at UC San Diego, Professional Voice and Text Coach *
This is truly a unique book. I know of no other text that assembles so much valuable and varied information about acting, movement and voice as this one. DuVal's perspective is a practical one informed by his considerable experience as a professional actor and fight director. The refreshing practicality of a practitioner is everywhere apparent in this book: in the concepts, the exercises, the explanations and in the clarity of purpose. I enthusiastically recommend this book to every student and teacher of acting. * John Sipes, Professor, University of Tennessee *
In our current academic environment that favors radical specialization, this compendium stands apart, boldly focusing on the integration of craft, and the reunification of a performer's body, mind and spirit. Mr. DuVal has successfully blended the systems he espouses here, and in so doing, he has also brought together Eastern and Western practices, traditions, and philosophies. This is an invaluable resource for any student or teacher delving deeply into their study of performance and the martial arts. * Adam Noble, Associate Professor of Acting & Movement - University of Houston, Fight Director & Southwest Regional Representative, Society of American Fight Directors *
Chris DuVal does a fantastic job interweaving safety, technique, and actable exercises together to create easily applicable training moments. This is a must have book for both teachers and students interested in the theatrical combative arts. * DC Wright Professor, Western Illinois University Certified Teacher, Society of American Fight Directors Master Instructor, Dueling Arts International *
Chris DuVal's curiosity, warmth, and keen eye for synchronicity are evident on every page. Drawing from a remarkable breadth of concepts, approaches and material, Chris has written a user-friendly resource for students and teachers that reflects his desire for clarity and harmony. His ability to connect the dots is inspirational, and I'm eager to integrate his work into my own. * Kevin Rich, Artistic Director, Illinois Shakespeare Festival Assistant Professor of Acting, Illinois State University, Associate Teacher of Fitzmaurice Voicework *
Acting is said to be the physical manifestation of an internal world. Christopher DuVal's innovative approach nudges the actor out the safety of the cerebral and in to the dynamic tangibles of breath, voice, speech and movement. A must-have teaching resource for the 21st century! * Anne James, Associate Professor, California State University, Fullerton, Associate Teacher of Fitzmaurice Voicework *
Chris DuVal interweaves principles from foundational pedagogies in Stage Combat Arts. Exercises and reflections are parsed out in precise and patient ways. Drawing on the work of great teachers in the US and the UK, the book serves as a starting point and a compass for teachers and students. * Jack Young, Artistic Director, Houston Shakespeare Festival Head, Professional Actor Training Program, University of Houston *
Chris DuVal approaches theatre as an emerging art form, informed by his rich understanding of the actor's drive to interpret, respond to, engage with, and speak about the human experience. Voice and body, shape and space, mind and emotion -- he offers a fresh perspective on an ancient craft that provokes reconsideration of the storytelling possibilities of the stage combat arts. * Kamella Tate, MFA, EdD Owner-Principal KTA/LLC *
Few texts about stage combat seamlessly bridge physical technique and "actor technique". This book is one of them. There is a simplicity and directness in Chris' approach that is so amazingly refreshing and encouraging. In the same manner that he uses to reconnect us to the most natural of functions (breathing), Chris' approach and encouragement to "explore with curiosity" removes for the student any sense of apprehension about the seeming complexity that so often accompanies stage combat or other movement training. This book is indispensable for anyone who values true integration of the physical instrument in the art over simply acquiring another `skill' * John J. O'Hagan, Associate Professor, Theatre Creative Arts and Communication Unit Head, Principia College *
I've been teaching Voice, Speech and Shakespeare for 25 years, but never had any formal stage combat experience. Chris' book has helped me understand the vocabulary of stage combat as a performer, and has given me invaluable tools to share with my students. He has added a whole dimension to my teaching. * David Kelly, Actor at the Oregon Shakespeare Festival, Teacher and Director at Southern Oregon University *
This book is a holistic approach to the skill of acting - calling upon the actor to approach their craft like an athlete in training. Each structurally consistent chapter gently invites the reader to develop a curiosity for their often unconscious physical and mental habits that limit their abilities on the stage. There is then a strong motivation to apply the subsequent exercises which effectively raise awareness, release tension and re-direct focus for optimal connection on stage and off. Chris DuVal's thorough, disciplined and gentle approach to the skill of acting is a rare and welcome teaching agent for acting students at any level. * Nancy Lee-Painter, Professor of Theatre, National Playwriting Program Chair Region VII, Kennedy Center American College Theatre Festival, Lewis-Clark State College *
What a gem of a book! Chris has written an educators dream book that clearly links acting, movement and voice like no other. Superbly outlined examples, discussion prompts, video links, drawings, teaching tips and further reading suggestions...this book is a must have for any educator looking to integrate the art of stage combat into the teaching of their acting process. * Jason Spelbring, Assistant Professor, Utah State University *
With comprehensive, specific, and easy to follow exercises, Chris Duval has created a user friendly teaching guide for the melding of acting, voice, and stage combat. * Michael Polak, Dueling Arts International, Associate Instructor AEA, SAG-AFTRA Actor *
In his book, Chris deftly ties training in the skill of Stage Combat with the necessary mindset and attitude of creating believable, open characters onstage. Students will certainly benefit in their pursuit of greater proficiency and knowledge of Stage Combat, but will ultimately be better actors if this book is applied to their growth as artists. * Michael Harding, Associate Professor of Theatre, Dixie State University, Actor / Director / Playwright *
Stage Combat Arts' focus on the integration of voice, intention and technique toward generating safe and effective moments of staged violence is truly remarkable. The specificity Chris provides in combination with visual aids offers a unique paradigm shift in the study of staged violence. This is a must read/have for any practitioner, teacher, and/or scholar of theatre, performance, acting, voice, and stage combat. * Michael Mueller, Certified Teacher, Society of American Fight Directors Associate Editor, The Fight Master *
Simple and genuine, Professor DuVal has crafted such a useful manual, guiding all levels of the combat artist for creative and careful use in the classroom, tv/film and the stage. Having had the pleasure of working with him, Chris is a profoundly gifted and experienced teaching artist. * Kelly Quinnett, Professor, University of Idaho *
This is a book for anyone interested in the mysteries of integrating stage combat with text, voice, and ultimately good acting. Those who participate in the theatre at any level will find Christopher DuVal's book an insider's guide par excellence. * Michael Elich, Regional Theatre Actor *
Chris DuVal has carefully, and clearly, crafted an ideal manual for integrating voice, movement, martial arts, and stage combat into a unified course of study for actors. His heart-felt and generous approach to the work makes the book readable and so useful for actors - and teachers - at all levels - a must read! * David Lee-Painter, Professor, University of Idaho *
Chris DuVal's book is the ultimate guide to incorporating voice and stage combat techniques into the art of great acting. His clear concise approach and his deep knowledge and experience in the field makes it a "must have" for every actor, teacher and theatre enthusiast. * Robin Goodrin Nordli, Actress at the Oregon Shakespeare Festival *
At last: a book that synthesizes physical and vocal work for actors by providing a series of imaginative exercises that link breath, sound, movement, and action. Stage Combat Arts readers will undoubtedly find that this book offers a background and rationale for integrating acting skills and working wholistically. This is a must have for any theatre teacher or student. * Jillian Campana, Ph.D. Professor - Head of Performance and Practice, University of Montana *
Stage Combat Arts provides an innovative yet practical approach to the integration of acting, voice work and stage combat. While the integration of these approaches is essential for any actor, getting there can be difficult. Guiding others through this process can be tricky - at best. Whether you are a performer, a teacher of performers or both, this book provides a clear, effective guide on how to achieve greater specificity, flexibility, and artistry when engaging in stage violence. * Anne Marie Nest, Associate Teacher of Fitzmaurice Voicework, Assistant Professor of Voice and Speech at University of Iowa *
Chris DuVal has managed a rare feat in writing a manual that is clear, enlightening, creative and ultimately, immensely useful, that can, and will, be used extensively by teachers of Stage Combat, Acting, Movement and Voice alike. There is much in this book to recommend. It deserves a place front and center on every theatre artist's bookshelf and desk. * Robin McFarquhar, Ph.D. Professor and Chair of Acting, University of Illinois, Urbana - Champaign. Fight Director / Teacher, Society of American Fight Directors Alexander Teacher, AmSAT *
DuVal (Univ. of Utah)...goes beyond the simple teaching of stage violence techniques and supplements the volume with a number of videos. ... Strengths of the volume include the author's discussion of safety and his effective integration of stage violence into the larger context of performance. The volume is further enhanced by consistent formatting across chapters and the inclusion of boxed teaching tips, advice from numerous teachers of stage violence, and the video supplement. --K. J. Wetmore Jr., Loyola Marymount University Summing Up: Recommended. * CHOICE *
This book is a wonderful curricular resource. There are dozens of exercises, covering a whole range of breathing, movement, and vocal work that acting teachers would find very useful to add to their repertoires. The exercises promise to be richly productive in rehearsal ... From the standpoint of actor training, integrating stage combat as a training tool for other skills is an experimental move that seems likely to bear fruit. Stage Combat Arts is a worthwhile first step in that experiment. * Methods: A Journal of Acting Pedagogy *
You may also be interested in...
Simply reserve online and pay at the counter when you collect. Available in shop from just two hours, subject to availability.
Thank you for your reservation
Your order is now being processed and we have sent a confirmation email to you at
When will my order be ready to collect?
Following the initial email, you will be contacted by the shop to confirm that your item is available for collection.
Call us on or send us an email at
Unfortunately there has been a problem with your order
Please try again or alternatively you can contact your chosen shop on or send us an email at