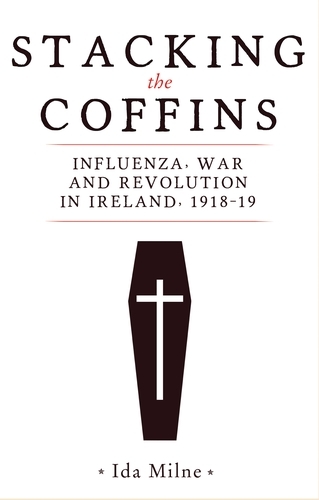 Stacking the Coffins: Influenza, War and Revolution in Ireland, 1918-19 (Hardback)
Ida Milne
(author)
Hardback
280

Pages / Published: 22/05/2018
In stock online

Free UK delivery
The 1918-19 influenza pandemic disrupted Irish society and politics. Stilling cities and towns as it passed through, it closed schools, courts and libraries, quelled trade, crammed hospitals, and stretched medical doctors to their limit as they treated hundreds of patients each day. It became part of a major row between nationalists and the Government over interned anti-conscription campaigners. When one campaigner died days before the 1918 general election, Sinn Fein swiftly incorporated his death into their campaign. Survivors interviewed by the author tell what it was like to suffer from this influenza; families of the bereaved speak of the change to their lives. Stacking the coffins is the first Irish history of the disease to include statistics to analyse which groups were most affected. It also draws on the memories of child sufferers telling their stories.
Publisher: Manchester University Press
ISBN: 9781526122698
Number of pages: 280
Dimensions: 216 x 138 mm
---
MEDIA REVIEWS
'Long in the making, this is the definitive study of a major but largely neglected disaster that ravaged Ireland a century ago. Milne tells the story with empathy, objectivity, and flair. She is thorough and convincing on the Great Flu's peculiar demography and on its chronology and geography, and excellent also on how officialdom tried to cope with the crisis and on how the politics of the day influenced the discourse around it. A real highlight is the chapter on the oral history of the Flu, which includes interviews with a few centenarians! A very fine book on an important topic.' Cormac O Grada, author of Ireland: A New Economic History and Famine: A Short History '"Take regular meals to keep the body in peak condition, and if you get home wet or late take a hot glass of lemonade immediately. Inhale eucalyptus from a piece of cotton wool several times a day. Go to bed immediately if you get the flu." Such was the medical advice in the midst of the 1918 influenza epidemic, Ida Milne reports, which would have provided little solace in the face of the worst holocaust of disease in modern times. Milne has produced a fascinating account, based on meticulous and wide-ranging research, including oral histories, of responses to this epidemic in Ireland. The chapter dealing with oral histories is particularly poignant and priceless. In this book, Milne explores the ways in which the epidemic penetrated and impacted on all aspects of Irish society, at a time when the country was going through rapid and sometimes traumatic societal and political changes. The book makes an important contribution to the modern social history of health and medicine and to the history of Ireland in the twentieth century. Throughout she ponders: "why was a disease that dominated the columns of newspapers, was so immersed in the popular psyche, connected to the growing nationalism, a disease which was part of a big international story, left out of Irish historiography for almost 100 years?" Milne admirably remedies that omission.' Professor Linda Bryder, University of Auckland 'Stacking the Coffins is an important new addition to the social history of the 1918 influenza pandemic. Milne carefully uncovers the ways in which influenza heated a bubbling stew of war, politics, and a failing medical system in Ireland. Stories of suffering told by survivors bring human voices and experiences to the cold count of 20,000 Irish dead. The survivors' vivid memories, and Milne's meticulous mining of archival sources, reveal a forgotten crisis that ruptured families and played a role in reconfiguring twentieth-century Irish society.' Ann Herring, Professor Emerita, McMaster University 'The first-hand memories of over 25 people who lived through Ireland's "Black Flu" alone make this book moving, dramatic and engrossing reading.' Howard Phillips, University of Cape Town, author of 'Black October': The Impact of the Spanish Flu Epidemic on South Africa 'This book is a useful addition to the growing literature on the 1918-19 influenza pandemic as it affected Ireland. The author makes good use of hospital, school and prison archives to deepen our understanding of institutional responses, while her interviews with elderly survivors add to the oral history of this event, and the histories of emotion and memory.' Geoffrey Rice, author of Black November: the 1918 influenza pandemic in New Zealand (2005) and Black Flu 1918: the story of New Zealand's worst public health disaster (2017) 'This is a very fine book on a fascinating but, until recently, curiously neglected tragedy, which turned out to be the largest acute epidemic disease in twentieth century Irish history. The author traces the progress of the three waves of the Spanish influenza pandemic which moved across Ireland from June 1918 to February 1919, infecting one fifth of the population and killing over 23,000 people. In a splendid piece of research written in readily accessible style she has conducted 50 personal interviews with survivors, mined contemporary government reports, newspapers, memoirs, private letters and academic material from a variety of disciplines to set the experience against contemporary Irish and international affairs. She is especially good in tracing how the haggardly response of overwhelmed local and central government helped to further erode public confidence in the British administration and was skilfully exploited by Sinn Fein in the War of Independence. But Dr. Milne never loses sight of the fact that this was the Irish version of an intensely human global tragedy coming on the heels of Irish losses in the world war and the 1916 Rising.' Mervyn Busteed is Honorary Research Fellow, University of Liverpool 'Recent years have seen a revival of public and scholarly interest in the global devastation wrought by Spanish influenza in the wake of the Great War. Integrating social, medical and political perspectives, Ida Milne's compelling study provides an authoritative account of the pandemic's calamitous impact during a period of remarkable upheaval in Ireland.' Professor Fearghal McGarry, Queen's University Belfast 'This is a welcome addition to historical scholarship on Influenza. A compelling and thoughtful social history, it uses newspaper accounts, reports from public health officials, and hospital records to situate the Irish story of the Great Flu in a well-established international historiography. Subsequent chapters focus on the uniquely Irish experience of the pandemic, situating the crisis against the rising tide of Irish nationalism. It skilfully combines quantitative and qualitative accounts, from statistics to oral history, to reveal how both sectors of society and individual people were indelibly marked by the "Black Flu" a century ago.' Dr Sasha Mullally, University of New Brunswick 'Milne brilliantly reports on interviews she has done with survivors or with the families of people who died in the pandemic. Her material, collected in 2006 is unique, and gives an understanding of the contemporary suffering and long-lasting pain associated with bereavement that cold statistics cannot give.' Professor Svenn-Erik Mamelund, Oslo Metropolitan University 'Stacking the coffins is a superb new book on how this influenza affected Ireland. [.] I cannot recommend it enough.' Dr Maurice Gueret, Editor of the Irish Medical Directory 'The Irish part of the disease's global history has long been overlooked, as have the experiences of the families and communities it afflicted. By telling their stories, Milne's thorough book makes an important contribution to our social and medical history.' Christopher Kissane, The Irish Times 'Stacking the Coffins is an excellent and very accessible study of a crisis that can be over-shadowed in hindsight by the drama of war and political upheaval, but which had a profound impact on those who lived through it. By taking a genuinely holistic approach, it illuminates much besides its subject matter. It is a study of a society in the grip of a crisis and, as such, offers a significant and distinctive contribution co an understanding of Irish life in a period usually defined by its revolution.' John Gibney, Books Ireland, November 2018 -- .
You may also be interested in...
Simply reserve online and pay at the counter when you collect. Available in shop from just two hours, subject to availability.
Thank you for your reservation
Your order is now being processed and we have sent a confirmation email to you at
When will my order be ready to collect?
Following the initial email, you will be contacted by the shop to confirm that your item is available for collection.
Call us on or send us an email at
Unfortunately there has been a problem with your order
Please try again or alternatively you can contact your chosen shop on or send us an email at