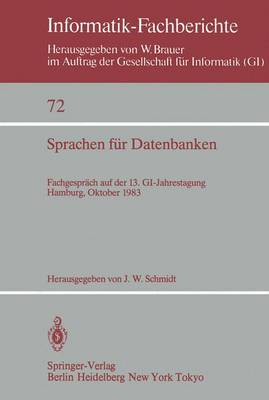 Sprachen fur Datenbanken: Fachgesprach auf der 13. Gi-Jahrestagung Hamburg, 3. - 7. Oktober, 1983 - Informatik-Fachberichte / Subreihe Kunstliche Intelligenz 72 (Paperback)
J. William Schmidt
Paperback
Published: 01/09/1983
In Oatenbanken wird Information verwaltet, die im allgemeinen von einem groBeren Benutzerkreis zusammengetragen und ausgewertet wird. Einzelne Benutzer stellen dabei an die Hilfsmittel, mit denen sie Da- ten definieren, verarbeiten und kontrollieren wollen, unterschiedli- che Anforderungen. Aus diesem Grunde bieten Datenbankverwaltungs- systeme verschiedene Schnittstellen an, die sich hinsichtlich Funk- tionalitat, sprachlicher Form, Interaktionsmodus etc. erheblich unterscheiden konnen. Die Einladung zum Fachgesprach "Sprachen fOr Datenbanken" richte- te sich an einen Teilnehmerkreis mit Erfahrungen in der Benutzung, im Entwurf und in der Realisierung von sprachlichen Datenbankschnitt- stellen. Von den eingegangenen Beitragen wurde die Halfte ausgewahltJ sie lassen sich den Schwerpunkten - NatOrlichsprachlicher Datenbankzugang - Nichtkonventionelle Datenbankanwendungen - Weiterentwicklung von Datenbankmodellen - Entwurfs- und Zugriffssprachen zuordnen. Da die Kommunikation zwischen Benutzer und Datenbank in vielen Fallen als Dialog Ober computergesteuerte Bildschirme verwirklicht wird, hat die Gestaltung dieser Form der Mensch-Maschine-Schnitt- stelle eine besondere Bedeutung fOr dieses Fachgesprach. Deshalb wurde Herr Professor Dr. Nievergelt, ETH ZOrich, um seinen, ebenfalls in diesem Band enthaltenen Hauptvortrag gebeten. IV Oas Fachgespr~ch geht wesentlich auf die Initiative des Fachaus- schusses "RechnergestOtzte Informationssysteme" und seines Vorsitzen- den, Herrn Dr. A. Blaser, Heidelberg, zurOck. Dank gebOhrt auBerdem dem Programmkommittee, bestehend aus den Herren A. Blaser, Heidelberg M. Jarke, New York F. Kopitsch, MOnchen P. Page, Darmstadt H. -J. Schek, Heidelberg G. Schlageter, Hagen J. W. Schmidt, Hamburg (Vorsitz) W. Wahlster, Hamburg H. Wedekind, Erlangen C. A. Zehnder, ZOrich Die sehr gute Zusammenarbeit mit den Vorsitzenden des Organisa- tions- und des Programmkommittees der 13.
Publisher: Springer-Verlag Berlin and Heidelberg GmbH & Co. KG
ISBN: 9783540127338
You may also be interested in...
We would love to hear what you think of Waterstones. Why not review Waterstones on Trustpilot?