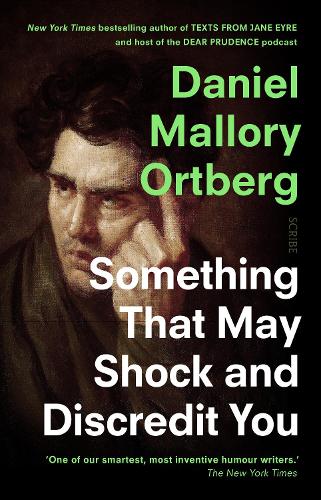 Paperback
Published: 03/04/2020
A New York Times bestselling feminist author's sparkling memoir of gender transition (among many other things).
Reasons for Transitioning: Want to impress good-looking ex; Want to upset good-looking ex; Bored of existing wardrobe, looking for excuse to buy all-new clothes that don't fit in a new way; Younger siblings getting too much attention; Neoliberalism??; Want to sing both parts of a duet at karaoke; Something about upper-body strength; Excited to reinforce a different set of sexist stereotypes; Cheaper haircuts; Just love layering shirts ...
From the beloved writer behind The Toast and Slate's 'Dear Prudence' column comes a personal essay collection exploring popular culture, literature, religion, and sexuality. With wit and compassion, Daniel Mallory Ortberg revisits beloved cultural and literary figures in the light of his transition.
Publisher: Scribe Publications
ISBN: 9781913348144
Dimensions: 210 x 135 x 18 mm
---
MEDIA REVIEWS
'Ortberg's playful takes on pop culture as he explores everything from House Hunters to Golden Girls to Lord Byron, Lacan, and Rilke … Ortberg's writing is vulnerable but confident, specific but never narrow, literal and lyrical. The author is refreshingly unafraid of his own uncertainty, but he's always definitive where it counts … You'll laugh, you'll cry, often both at once. Everyone should read this extraordinary book.' STARRED REVIEW
'At last, we have the work of transgender bathos we didn't know we needed, but very much do … Ortberg's narrative is anything but linear: It skips back in time to mythic Greece, traipses across the landscape of contemporary pop culture and, in one wonderfully fabulist entry that would make Carmen Maria Machado proud, slips outside of time altogether … One of our smartest, most inventive humour writers, Ortberg combines bathos and the devotional into a revelation … By broadening what transgender memoir can do, the author is in good company with Viviane Namaste, who decades ago diagnosed autobiography as 'the only discourse in which transsexuals are permitted to speak.' Ortberg partakes of neither the damaging trope of tragic transness nor the sentimental sanctimony that we are "permitted," offering instead the comic and the transcendent.'
'A wonderfully weird book from one of America's most original young humourists.'
'Ortberg does not simply narrate his experience of transition; he also grapples with the challenge of doing so, toggling skillfully between criticism, personal essay, and literary pastiche … Animated by Ortberg's Christian faith and eclectic cultural enthusiasms, the book is a syllabus of sorts — a road map for navigating one remarkable writer's mind.'
'Deeply honest and often sidesplittingly funny.'
'Daniel Mallory Ortberg's Something That May Shock And Discredit You is three eloquent books in one: memoir, essay collection, and treasure trove of cultural analysis, all coming in under 250 pages. Ortberg is as nimble a storyteller as they come, so the shifts from painful personal revelations to pithy observations about Lord Byron turn on a dime while still mostly feeling part of the same whole … The details are all Ortberg, as is the ability to turn eschatology into something more accessible and less judgmental.'
'[A] memoir comprised of the humorous essays that have become his trademark … Some are essays and some are scripts or imagined conversations; at first the chapters and interludes are distinct, but at a certain point they start to blend together. All are hilarious, infused with the type of magical thinking Lavery excels at. They weave Lavery's life experiences together with his historical and pop-cultural obsessions.'
'A moving and insightful account of a complex emotional and physical journey, Something That May Shock and Discredit You is told with humour and takes shapeshifting form, leaping easily from pop culture references to biblical analysis, finely-tuned argument to satirical listicle, then back again.'
'This book is clever and strange and lovely and sad and hysterical and poignant. These are the qualities that make up most of my favourite people and all of my favourite books. You really need to read this now.'
'Slate advice columnist Ortberg (Texts from Jane Eyre) brings the full force of his wit and literary depth to this genre-bending essay collection. Describing it as 'memoir-adjacent,' Ortberg intersperses searingly honest passages about his journey as a transgender man with laugh-out-loud funny literary pastiche ... Ortberg provides an often hilarious, sometimes discomfiting, but invariably honest account of one man's becoming.'
'Like all of his work, Something That May Shock and Discredit You is a stand-alone pillar in Ortberg's remarkable canon, one in which the lines typically drawn around topic and genre are obliterated, resulting in a wide-open field of possibility.'
'[A] hybrid of incisive cultural criticism and heartfelt rumination on transitioning and queer identity.'
'With this collection of essays, he will make you laugh and cry with stories of transition, family, culture and William Shatner.'
'[Ortberg] puts his dazzling wit and humour on display in a 'memoir-adjacent' collection of essays that touches on topics as wide-ranging as Lord Byron, the Bible and House Hunters in his exploration of self as a transgender man.'
'The 'Dear Prudence' columnist and expert culture commentator returns with his sharpest, wittiest collection yet, a survey of pop culture ranging from scathing to plain weird.'
'[A] fusion of old and new Ortberg work. It's a collection of chapters and fragments, pieces that refuse single identities … The intensity of emotion and self-centredness are stripped of their high language, and become vividly queer, utterly recognisable, and essential to the gender mode that Ortberg himself is learning to express throughout this collection … Ortberg is perhaps closer than any other writer to functioning as the voice of progressive millennials … Every movement of Ortberg's writing as he considers gender is hesitant, and his use of upspeak inflection both satirises the femininity associated with that questioning tone and engages with it genuinely. There must be a space between being prepared to mock gender norms and being deeply uncertain about them. The sincerity beneath the humour is new in Ortberg's work, and powerful and well as disconcerting … The book is emotionally effective, but not always entirely accessible. In many ways, Ortberg's transition is likely to be less alien to many readers than his deep Biblical knowledge … Ortberg's least accessible book, but also his most important. Unlike his earlier work, Shock and Discredit must be read slowly, and with reflection. It's not always easy. The breezy humour sometimes dives deep into New Testament referentiality without actually gesturing to deep faith. Read slowly to keep from flailing. Ortberg's writing will wait for you to catch up.'
'A bundle of short, eclectic and wonderfully funny essays.'
'A … kind of glee animates Ortberg's writing, and it rushes all the way through this thoughtful, joyous book. Even when Something That May Shock and Discredit You delves into difficult material … Ortberg always writes with a sense of profound and honest delight: What luck, it's another day where he gets to be a man. And reading, you can't help but be delighted with him … This book is odd and self-satisfied and bizarrely specific, in all the best possible ways. Consistently, it's funny … But Something That May Shock and Discredit You is also tenderly, gently thoughtful about gender and about what it means to transition, especially for someone like Ortberg, who built a public reputation as a feminist running a women's website before coming out … Something That May Shock and Discredit You is not precisely an explanation for everyone who was wondering why the person they first knew as Mallory Ortberg is now Daniel M. Lavery. It is neither apologetic nor self-justifying, and Ortberg remains very clear on the fact that he does not owe an explanation about himself or his gender to anyone … Instead, this book reads like an exploration — a funny, gentle, thoughtful exploration — of how Ortberg sees the world, and how transitioning affected the lens through which he sees it. Reading it feels like reading the Toast felt in 2013, which is to say it feels like coming into contact with a restless and smart mind of profound and specific hyperfixations. It's a joy.'
'Something That May Shock and Discredit You offers a vital account of transition and gender identity … [It] allows space for confusion and uncertainty, while also offering the wisdom of hindsight … [It] is funny while remaining sincere, and is inventive in its use of different forms to explore various aspects of his experiences.'
'Daniel Lavery ... has penned a book ostensibly about the experience of transition, but effortlessly traverses religion, philosophy… and William Shatner? In Something That May Shock and Discredit You Lavery's innermost expressions of vulnerability are rendered with remarkable candour in some passages. Other passages are flat-out hilarious. All, however, are poignant.'
'Inimitably witty.'
'Ortberg gracefully slips between the memoirist's lucid personal narrative and the essayist's more topical ruminations. Passage after passage sees him refining a riveting intertextual portrait of his life and transness fit for the pages of an illuminated manuscript … Discarding any distinction between high and low cultures, Ortberg's Something that May Shock and Discredit You most certainly astonishes and amazes — it may even be transformative.'
'Written almost as a stream of consciousness, this genre-bending work by Slate columnist Ortberg blends memoir, social commentary, and biblical exegesis in a series of essays that reflect an evolving sense of identity. Similar to his work as co-founder of The Toast, Ortberg's brief chapters here expand on topics serious and challenging, humorous and trivial … This account of a vulnerable life makes for contemplative reading.'
'For those who have no firsthand experience of gender transitioning, this book is an education in empathy, solidarity and compassion, and an ode to the courage and resilience of transgender people. It'll make you think, laugh and maybe reconsider some of your preconceptions about gender. If nothing else, you'll never look at the Bible the same way again.'
'Part satire, part confessional and all utterly original, Lavery's third book is a wild rollercoaster of a read that defies definition. It's a riotous stew of diarist self-examination, taut comic sketches, and queer readings … At a moment of renewed global transphobia, when Leslie Feinberg's tragic Stone Butch Blues remains the touchstone of transmasculine literature, Lavery's kaleidoscopic memoir is a refreshing reminder of the possibility of trans irreverence, trans peace — even trans joy.'
Praise for The Merry Spinster:
'A wholly satisfying blend of silliness, feminist critique, and deft prose makes this a collection of bedtime stories that will keep you up at night for all the right reasons.' STARRED REVIEW
Praise for The Merry Spinster:
'Unlike most modern versions of fairy tales, Ortberg's sly, scathing renditions avoid clichés and self-referential edginess, and instead strike directly at the heart … The book brings the shock of the new and the shock of recognition into play at the same time; it's a tour de force of skill, daring, and hard-earned bravura.'
A New York Times bestselling author's sparkling memoir of changing genders whilst remaining a feminist.
Praise for Texts from Jane Eyre:
'Humourist Ortberg offers a side-splitting take on famous literary characters from Gilgamesh to Hermione Granger by peeking into their imagined text messages … Ortberg charmingly captures, in short, palatable bytes, what is most memorable about famous books and their indelible characters.'
You may also be interested in...
×
Download the Waterstones App
Would you like to proceed to the App store to download the Waterstones App?
Reserve online, pay on collection


Thank you for your reservation
Your order is now being processed and we have sent a confirmation email to you at
When will my order be ready to collect?
Following the initial email, you will be contacted by the shop to confirm that your item is available for collection.
Call us on or send us an email at
Unfortunately there has been a problem with your order
Please try again or alternatively you can contact your chosen shop on or send us an email at