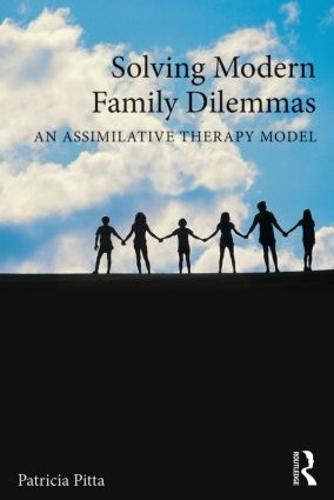 Solving Modern Family Dilemmas: An Assimilative Therapy Model - Routledge Series on Family Therapy and Counseling (Paperback)
Patricia J. Pitta
(author)
Paperback
346

Pages / Published: 14/08/2014
Context is the unifying principle that guides a therapist's formulation of the modern family's presenting dilemmas, functioning, relationships, and attitudes. We can no longer assume that a family is comprised of a mother, father, and children; the composition and systems a family operates within can be fluid and ever-changing, requiring an equally elastic model. The Assimilative Family Therapy Model is sensitive to the many unique contexts presented by the modern family and is shaped by the inclusion of necessary interventions to address the specific dilemmas of a client or family.
In Solving Modern Family Dilemmas, readers will learn about many schools of thought and experience their integration to help heal clients through differentiation, anxiety reduction, and lowering emotional reactivity. There is also no need for readers to abandon their theoretical framework; theories, concepts, and interventions can be inserted into the model, enabling readers to create their own model of family therapy. End-of-chapter questions enable self-examination, and readers are treated to references for further exploring theories, concepts, and interventions. Family therapists, psychologists, social workers, and mental health counselors find this book essential in their work with all clients, and professors use it in courses to teach different modes of integrating theories, concepts, and interventions.

Publisher: Taylor & Francis Ltd
ISBN: 9781138775138
Number of pages: 346
Weight: 516 g
Dimensions: 229 x 152 x 19 mm
---
MEDIA REVIEWS
"Dr. Pitta's work in Assimilative Family Therapy provides the specialty of family psychology with an integration of Bowenian (foundational theory), Cognitive-Behavioral, Psychodynamic, Communications, and other Systemic theories embedded within the importance of contextual variables. Her work is an integration of science and evidence based practice with a coherent progression from theory to practice punctuated by case conceptualizations. Readers benefit from Dr. Pitta's wisdom and clinical perspicacity in treating individuals, couples, and families. This book belongs on the shelf of every systems oriented practitioner." -- Frank R. Ezzo, PhD, ABPP, Fellow, American Psychological Association
"Dr. Pitta's book on family therapy is a must-read for today's family therapist or any family struggling with problems. In our diverse society, one better understands family dynamics by taking into account ethnicity, race, age, religion, culture, and sexual orientation. The author wisely understands that family therapy is not a one-size-fits-all enterprise." -- Herb Gingold, PhD, Psychoanalyst, Co-founder of Noir Institute, President and Clinical Director of The Kew Gardens Center for Psychotherapy and Psychoanalysis
"The Assimilative Family Therapy Model introduced in this book represents an important step forward that provides the necessary framework that distills what is best of various theoretical models. The material covered in this book is certainly likely to increase the understanding of a variety of clinical situations we are now encountering in our offices. Most importantly, it provides clear and well overdue guidelines to respond effectively to the increasing complexity of human dilemmas likely to afflict our patients. This book could be of great benefit to new and established therapists, but the greatest beneficiary is our patients." -- Rafael Art Javier, PhD, ABPP, Professor of Psychology, Director of the Postgraduate Professional Development Programs, St. John's University
"An important contribution to the therapist's library, this book highlights the value of an integrated, assimilative approach in working with families. The case examples presented by Dr. Pitta give therapists a theoretical framework and practical techniques to apply to even the most challenging families. Her expertise in working with the modern family in its myriad structures and constellations is an excellent addition to even the seasoned therapist's bookshelf." -- Karen Zager, PhD, Co-author, The Inside Story on Teen Girls and Finding Your Voice: A Woman's Guide to Using Self-Talk for Fulfilling Relationships, Work and Life.
"Dr. Pitta addresses psychotherapy through an integrative Assimilative Family Therapy model using family systems, psychodynamic, cognitive behavioral, and communications techniques. The illustration of a step-by-step approach to several contemporary cases including grandparents who parent, issues in sexual coming out, and current adolescent dilemmas are beneficial for both beginning and experienced psychotherapists. Dr. Pitta summarizes the session-by-session treatment and details specific interventions, thus enabling readers to easily follow and replicate the AFT method in their own practice." -- Sandra Haber, PhD, Past President, Division of Independent Practice of the American Psychological Association
"Solving Modern Family Dilemmas accomplishes what no other comparable work has done. Remarkable in its scope and clarity, this exceptional volume systematically provides a unique way to explore the issues faced by today's families. Fascinating case studies are invaluable to students and those with impressive clinical experience. This is an exciting and unique contribution to clinical psychology." -- Leah Klungness, PhD, Psychologist; Co-author of The Complete Single Mother
"Dr. Pitta teaches therapists how to guide couples and families to inner peace, effective communication, mutual satisfaction, and constructive living. This encyclopedic text is an excellent tool for the serious study of family therapy" -- Daniel L. Araoz, EdD, ABPP, Author, The New Hypnosis in Family Therapy; Founder, American Journal of Family Therapy
"An important key to effective integrative thinking and practice is consideration of context. When context is not taken into account, formulations and methods that are potentially compatible can appear to clash and their potential synergies can be outside the therapist's competence to apply. Dr. Pitta's new book illustrates well how therapeutic work can be more effective and comprehensive when a contextual perspective is applied, and her attention to context, moreover, enables her to effectively address the diversity of ways that families are defined and organized in contemporary society." -- Paul L. Wachtel, PhD, CUNY Distinguished Professor, Doctoral Program in Clinical Psychology, City College of CUNY
"Dr. Pitta has elegantly pulled together the basic and effective theoretical approaches that psychologists and psychotherapists use who work with families. These approaches have been evolving with the needs of modern families of the 21st century. She distills, defines, and clarifies in a step-by-step manner how to treat families through the life cycle. This book will teach the practitioner how to apply the Assimilative Family Therapy model to the variety diverse families who seek our services." -- Elaine Rodino, PhD, private practice; Past President, Division of Independent Practice of the American Psychological Association; Past President, The Society for Media Psychology & Technology
"Rarely have I read a book that makes such a positive contribution to the field theoretically and clinically as does this work by Patricia Pitta. Her integrative approach to understanding and treating the modern family is a flexible, powerful base from which to approach the many interactions of families who cross our doorways, and it is an important contribution to the field of psychotherapy integration as well. Dr. Pitta provides many clear and useful clinical examples of her approach, and her descriptions of her contextual approach are easy to follow and will lead to an enhancement of clinical skills on the part of those who are lucky enough to have this volume in their libraries." -- Jerry Gold, PhD, ABPP, Professor of Psychology, Adelphi University; Past Editor, Journal of Psychotherapy Integration
"In this excellent and scholarly guide, Dr. Pitta's Assimilative Therapy approach integrates multiple psychotherapeutic techniques, producing a grand design of theories from which a therapist can chose an approach that fits the patient's situation. Through its multiple extended case illustrations this book helps one chose which therapeutic approach would best serve in resolving dilemmas that threaten the dissolution of couples, families, and groups in a multitude of contexts. When the priorities of therapy exclude personality reconstruction for individual fulfillment, other approaches that fit are provided by Dr. Pitta. This book is recommended for psychologists, psychiatrists, psychoanalysts, nurse-practitioners, social workers, and anthropologists." -- Charles A. Sarnoff, MD, Private Practice; Lecturer in Child Development, Columbia University Center for Psychoanalytic Teaching and Research; Author, Latency and Symbols in Structure and Function
"This is real person and family centered psychotherapy. Framed with family systems theory, Solving Modern Family Dilemmas is an integrative approach that speaks to practitioners who are not satisfied with simple answers to complex problems. Pitta skillfully guides us through family systems, psychodynamic, cognitive behavioral, and communication approaches, selecting the `home theory' and intervention based on the patient/family, their problem, and their context. It is a thoughtful and systematic approach to common problems of modern family life, such as Baby Boomers who are caught in the `sandwich generation' dilemma of caregiving. Eminently practical, Dr. Pitta provides us with case illustrations that include a pre-treatment genogram and contextual summary, evaluation of the `resistance,' initial case conceptualization questions and summary followed by a treatment summary, session-by-session summaries, a post therapy genogram and summary, as well as final questions to ponder. Illustrations are drawn from the variety of family forms now common." -- Susan H. McDaniel, PhD, Dr. Laurie Sands Distinguished Professor of Families & Health, Director, Institute for the Family, Department of Psychiatry, Associate Chair, Department of Family Medicine, University of Rochester Medical Center
"Building on the contributions of decades of theory and practice, Dr. Pitta charts methods to help therapists help the people who comprise today's families. Both students and therapists will understand families and their members by fully appreciating the variables Dr. Pitta defines as the context, incorporating previous models of family and individual dynamics, and offering creative opportunities for more effective interventions. The author holds herself to the evidence based standards that are required by modern, scientific psychological standards. While I recommend her text, you and your clients will be the ultimate judge. I predict that you will be a better therapist for having read it." -- Paul A. Greene, PhD, Professor of Psychology, Iona College
"In this engaging and clearly written volume, Dr. Patricia Pitta has succeeded beautifully in presenting a theoretically rich and clinically astute assimilative model of family and couple therapy. This is first book devoted entirely to an integrative assimilative psychotherapy; it takes full account of context, common factors, and the benefit of importing psychodynamic, cognitive-behavioral, and other interventions when working within the family system. Fascinating case material dealing with the many varieties of modern family composition makes it an especially valuable text for novice and seasoned clinicians alike. I heartily recommend this outstanding contribution to the psychotherapy integration literature." -- Stanley B. Messser, PhD, Dean and Distinguished Professor, Graduate School of Applied and Professional Psychology, Rutgers University
"Dr. Patricia Pitta is a well-known family psychologist with years of experience in working with diverse families. Her new book incorporates this experience into a rich and readable text on helping modern and diverse couples and families. She integrates multiple systems oriented theories and shows the reader how to use them in effective ways. This is a valuable contribution." - James H. Bray, PhD, Baylor College of Medicine
You may also be interested in...
Simply reserve online and pay at the counter when you collect. Available in shop from just two hours, subject to availability.
Thank you for your reservation
Your order is now being processed and we have sent a confirmation email to you at
When will my order be ready to collect?
Following the initial email, you will be contacted by the shop to confirm that your item is available for collection.
Call us on or send us an email at
Unfortunately there has been a problem with your order
Please try again or alternatively you can contact your chosen shop on or send us an email at